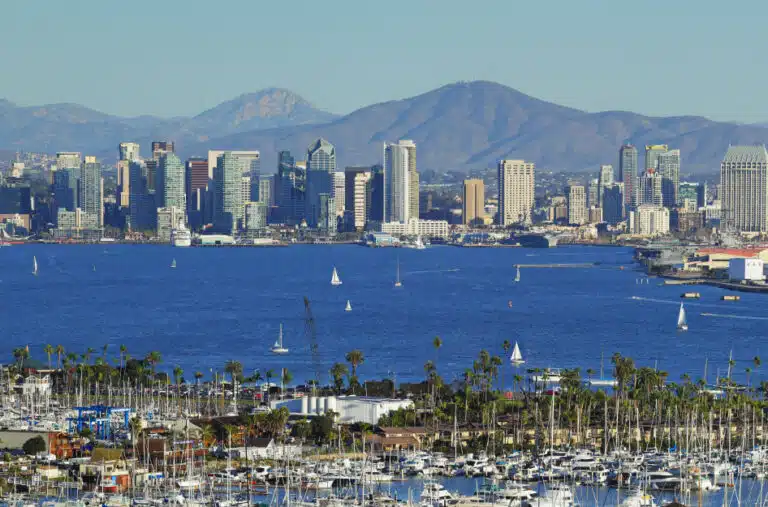 San Diego Living: 16 Essential Things to Know
Did you know San Diego's nickname is "America's Finest City"? Sure, it may sound old fashioned, but there's actually a strong case to be made that San Diego's perfect weather, nice people, amazing beaches, and booming economy are about as fine as it gets.
San Diego has a lot to offer, and we want to prove it to you. But whether you're considering a cross-state move or a cross-country move to the city, the decision shouldn't be taken lightly. In fact, we think there are 16 things you should know about living in San Diego. After all, it's not just about what San Diego has to offer in general — it's about what San Diego has to offer you.
San Diego Living at a Glance
Want a glimpse of how great the city is? Take a look at this short video:
1. The cost of living in San Diego is high (but not too high)
One of the first things you'll want to know if you're considering moving to San Diego is the cost of living, of course. We're not going to lie, it's not the cheapest place to live. 
According to PayScale, San Diego is 47% more expensive than the nationwide average. But we have to consider San Diego living costs in context. As a large, vibrant city, you'd expect rent, food, and other basic commodities to be pricier than a small town in Arkansas, for instance. 
Living in San Diego is definitely less expensive than other big cities, like San Francisco and New York. And before you get too worried, remember that San Diego has a bunch of well-paying jobs that keep up with the rising cost of living. Which brings us to our next point . . .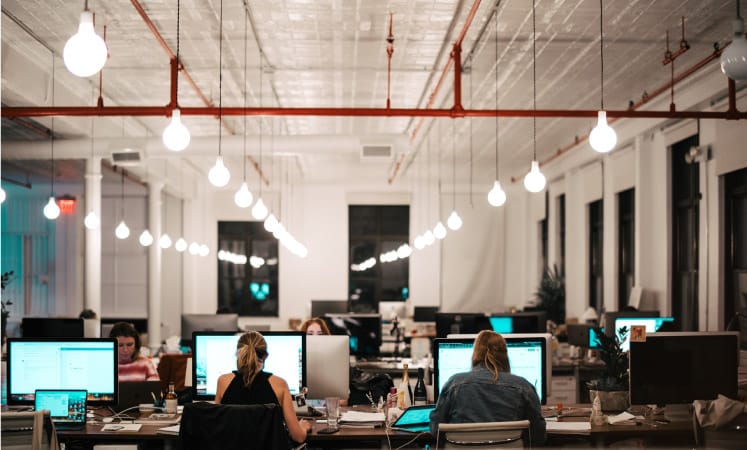 2. There are plenty of great jobs in San Diego
Like Dallas, Los Angeles, and other booming Southwestern cities, San Diego has a lot of economic opportunity to offer newcomers. According to the U.S. Census Bureau, the median household income in the city was an impressive $89,457 in 2021.
In December 2022, San Diego's unemployment rate dropped to 2.9%, thanks to incredible job growth. The city added 7,900 new jobs in that month alone, hitting the highest seasonally adjusted level since the pandemic started. San Diego has continued to outpace the rest of Southern California, boosted by its big industries that include health care & social assistance, educational services, and professional, scientific, & technical services, among others. 
The top employers in San Diego County include the United States Navy, with almost 42,000 people at the San Diego Naval Base; The University of California San Diego, with almost 39,000; and Sharp HealthCare, with nearly 19,000 employees.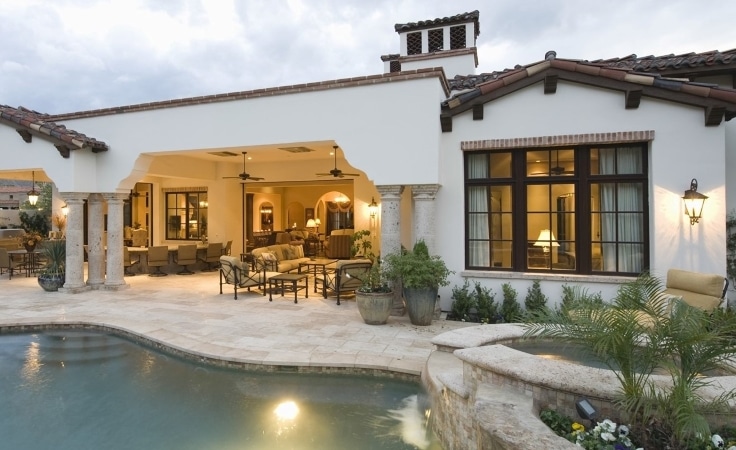 3. You won't have trouble finding a gorgeous home for sale (or for rent)
Living in a beautiful city is great. But living in the perfect house in a beautiful city is even better. Lucky for you, San Diego is full of cute oceanside cottages, rambling hillside villas, and new craftsman-style homes.
According to Zillow, the typical home value in San Diego is $873,825 — up 6% from a year ago. Now, that might sound like a lot, but there are plenty of less expensive homes available, as well. 
The best part? If you don't want to commit to buying right away, San Diego's rental market is as vibrant as its housing market. There are tons of apartment complexes, condos, and rental homes available throughout the city. 
4. The best neighborhoods are dispersed all over the city
San Diego has so many incredible areas to live in that it's hard to choose favorites. But if you're looking at San Diego real estate, be sure to include the following neighborhoods in your search.
Downtown Neighborhoods: 
• Little Italy 
• East Village 
• Hillcrest 
Coastal Neighborhoods:
• Ocean Beach
• La Jolla
North County Neighborhoods:
• Encinitas 
• Leucadia 
• Carlsbad Village 
Q: Which part of San Diego is best to live in?
A: San Diego is the second-largest city in all of California, so picking one neighborhood is practically impossible. But if we had to narrow it down, we'd go with East Village, a mixed-use urban district with endless options for living, playing, and relaxing.
Neighborhood Spotlight: East Village
The energy is hard to match in this vast downtown neighborhood, stretching across 130 blocks that are home to more than 40,000 residents and scores of shops, restaurants, performance spaces, and parks. The spark that lit up the former industrial district was the opening of the San Diego Padres' PetCo Park, in 2004, which attracted a thriving mix of retail and rooftops to make the district one of the best in the region. Bonus: No car required, thanks to the San Diego Metropolitan Transit System — a free electric shuttle — and dedicated bike lanes. 
Converted warehouses and apartments make up most of the housing options in the East Village, with rents averaging $2,947 per month. Check out the urban-chic Pioneer Warehouse Lofts, once a gritty trucking and storage hub that now sports luxurious open layouts with concrete floors, high ceilings, exposed columns, and oversized windows to let in that San Diego sunshine.   
There are single-family options, too — and they're pricey: The typical home value in East Village shot up 5.6% over the past year to $632,052. Luxury condos are also on the market, from about $400,000 to $1.5 million and more. 
Entertainment and dining options in the neighborhood are beyond abundant. Besides taking in a Padres game or a concert at Petco Park, a local favorite for theater, dance, and music is the  10th Avenue Arts Center, home to a 107-seat black-box theater, a smaller 40-seat space for more intimate productions, an art gallery, and a studio space for working artists. The restaurant scene is thriving, too. Get a taste of Neighborhood, a sophisticated but casual spot for an innovative spin on traditional dishes, and Breakfast Republic, a must-have morning favorite (Pro Tip: Try the banana split French toast).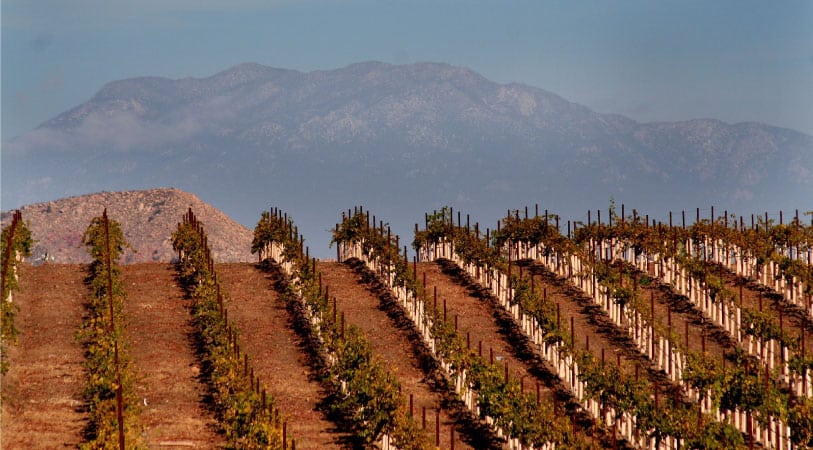 5. San Diego is, surprisingly, a farm town
When you think of San Diego, you may not think of farms. But San Diego County actually has more small farms (1–10 acres) than any other county in the country! The sheer number of farms and the ideal growing conditions make San Diego a surprisingly productive agricultural area. San Diego is also the number one producer of avocados and nursery crops in the country. And it has the most part-time farmers in the nation. So if you've been thinking of dabbling in a little farming on the side, San Diego is the place to go!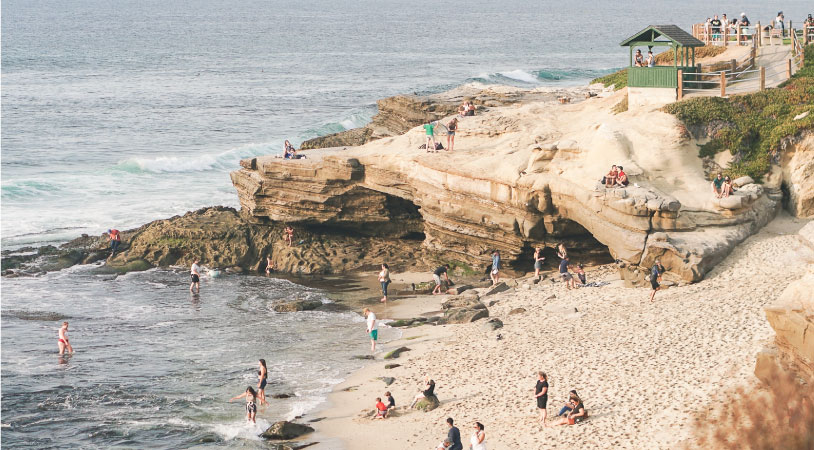 6. San Diego's beaches are exceptional
You don't have to go all the way to Hawaii or Florida to get world-class beaches in the United States. San Diego has beaches for everyone, whether you're into surfing, sunbathing, going for a run, or just enjoying incredible views.
These are some of the best beaches in San Diego:
La Jolla Cove Beach
Pacific Beach
Solana Beach
Mission Beach
Flat Rock Beach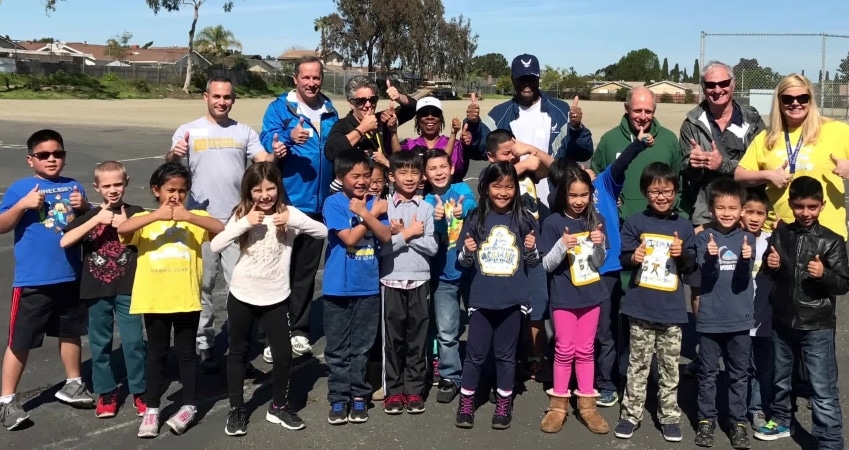 7. There are great schools in San Diego, CA
If you're looking to bring your family to San Diego (or start a family once you get there), you'll have plenty of great educational opportunities to choose from.
There are several school districts that serve the city, including San Diego Unified, San Dieguito Union, and Poway Unified. Each of these districts has some amazing schools that receive 9/10 or 10/10 ratings from GreatSchools.org.
There are also plenty of secular and religious private schools, such as The Bishop's School, Lutheran High, The Grauer School, and Halstrom High School.
8. And there are plenty of opportunities to pursue higher education, as well
If you're moving to San Diego and you have kids who will be college-aged soon, they won't have to go far from home to get a great education. There are some amazing universities in the city, including:
University of California, San Diego
University of San Diego
San Diego State
National University
And there are over a dozen other private and public institutions for higher education in San Diego. Many of these schools offer night classes and non-credit courses, as well, for those who want to enrich themselves without doing a full four-year degree.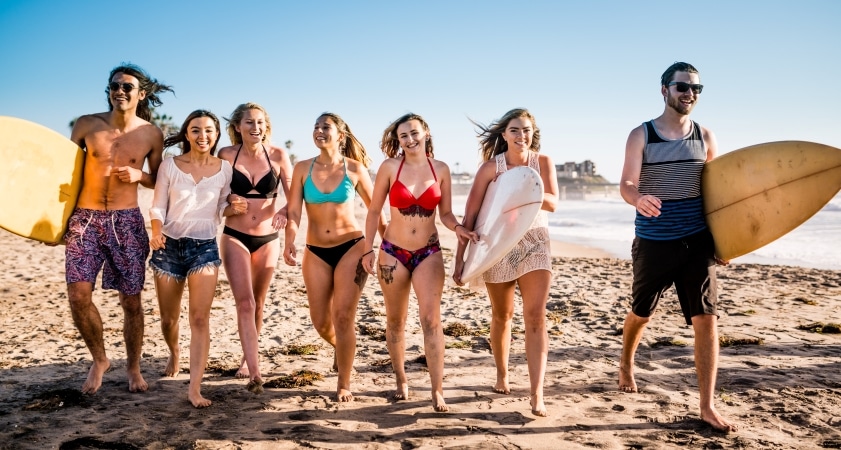 9. Tons of people are moving to San Diego
If you're moving to San Diego, you won't be the only newcomer there. As we said earlier, the city is growing fast. In fact, the San Diego metro area population has hit 3,319,000, up 0.73% from 2022. And while that's a slower growth rate than in some other major cities, it's still plenty to keep San Diego feeling vibrant with new energy.
10. People are leaving San Diego, too (making room for you!)
Even the best cities lose residents to other places for various reasons. In recent years, the number of people leaving San Diego has actually increased. Maybe it's the rising cost of property or the taxes, because it definitely isn't the weather that's driving people away. Want to know something interesting, though? California ranked as one of the states with the highest migration of residents to and from the state during a one-year period in a recent U.S. Census survey. 
Regardless of the reasoning, all of this moving in and out of San Diego means that moving companies can get busy fast, especially in the peak moving months (during the summer). This means it's more important than ever to find a reliable moving company and book your move early. 
Snagged your perfect San Diego home? Compare moving costs for rental trucks, full-service movers, and portable containers. To get a personalized moving quote on local moves, visit PODS, or call 855-706-4758 for long-distance moving.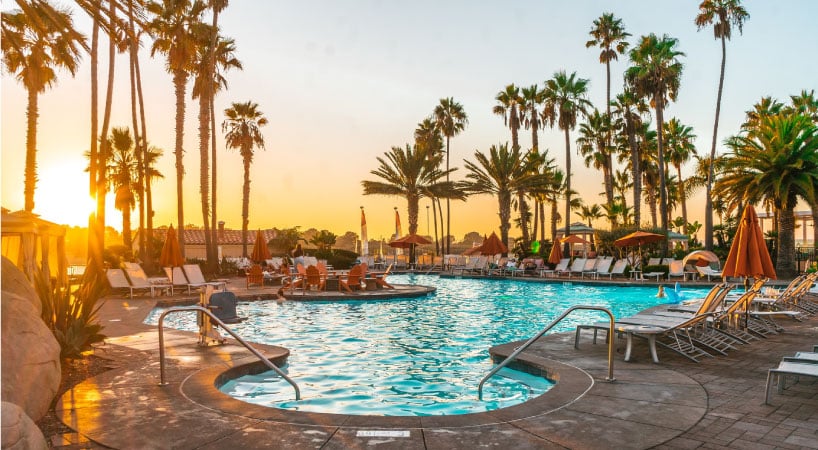 11. The weather? It can't be beat
We probably don't have to tell you this, but San Diego has awesome weather. Unless you prefer the rain and cold, that is. In that case, you should probably look at other options.
The city experiences an average of 146 sunny days and 117 partly cloudy days per year. There are some rainy days, but those are generally concentrated during the winter months. And even then, temperatures rarely drop far below 50°F. 
A normal day in San Diego tends to look like this: There's a bit of fog in the morning, then the sun comes out midday and it gets to a perfect temperature of about 72°F, which means it's time to hit the beach.
Q: What are the negatives of living in San Diego?
A: There's not much to dislike about this SoCal hotspot. But let's face it: Every city has its flaws. For San Diego, they're sparse – but traffic and cost of living are the top two things that might be challenging for new residents:

• Traffic: Like most big cities, San Diego is sprawling and car-happy. But the city also has a pretty good public transportation system, the San Diego MTS, that helps alleviate the clogs in busy times. Trains, bike lanes, and a downtown trolley also cut down on traffic. 

• Cost of living: California in general has a well-earned rep for being pricey, and San Diego contributes to that in a big way as the state's second-largest city (behind Los Angeles). For starters, the state income tax rate is the highest in the nation, at 13.3%. Of course, residents get an abundance of advantages in exchange, from California's focus on environmental protection to services for the homeless and housing options. Still, the cost of living is a whopping 47% higher than the national average. That's a lot.
12. San Diego has less crime than other major cities
San Diego is a large metropolitan area. But there's a lot less crime than you might think in a city of its size.
According to Bestplaces.net, San Diego has a rank of 24.4 out of 100 on the crime scale for violent crime and 31.4 out of 100 for property crime. Those are pretty decent scores. For comparison, Los Angeles, California, ranks 29.1 out of 100 and 35.1 out of 100, respectively. 
If you're moving in San Diego and are concerned about crime rates, be sure to look at the specific data on the neighborhood level. Some neighborhoods are definitely safer than others.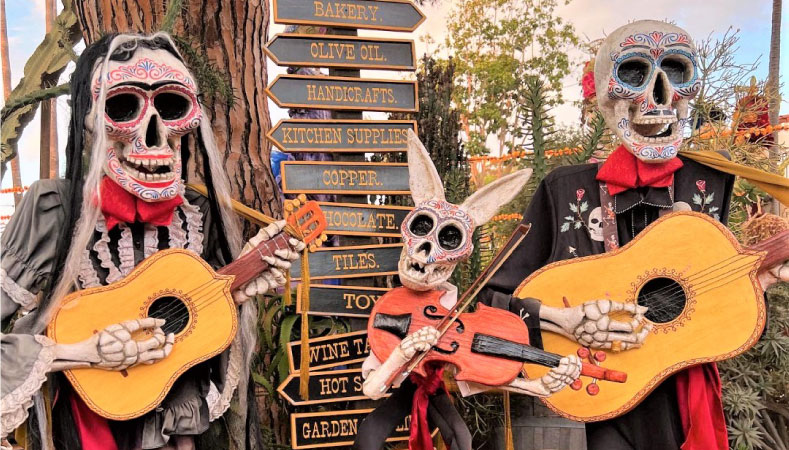 13. San Diego has unique border-town qualities
San Diego hasn't always been part of the United States (hence the Spanish name). The city retains rich architecture and culture from its time as part of Mexico, and it's still being influenced by Mexican culture today.
Over 30% of the city's population identifies as Hispanic or Latino, and you're likely to hear Spanish words thrown into daily conversations. Neighborhoods like Barrio Logan are great places to explore if you want to grab a bite of amazing Mexican cuisine or check out the murals in Chicano Park. 
Some other important sites of Mexican culture in the city include:
Old Town San Diego State Historic Park
The annual San Diego Latino Film Festival
Centro Cultural de la Raza
Of course, you can always experience much more if you're willing to drive a few miles. Whether you want to visit relatives or just visit Tijuana as a tourist, the Mexican border is close by.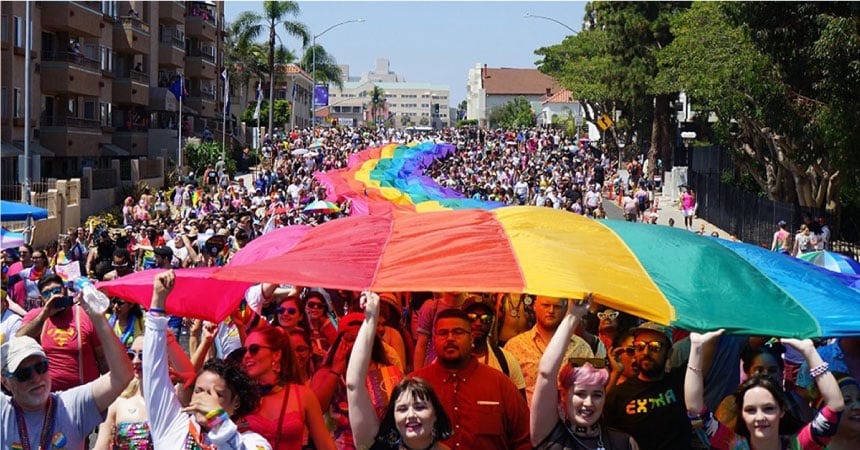 14. San Diego has a vibrant LGBTQ+ community
For decades, San Diego has been a beacon for lesbian, gay, bisexual, transgender, and queer individuals who want to visit and live in a friendly place. Today, there are scores of institutions — such as the San Diego LGBT Community Center and San Diego Pride — that carry on this legacy, as well as a generally supportive vibe throughout the city.
Many of the city's LGBTQ+ hubs are centered in the Hillcrest neighborhood, but you can find allies in establishments and communities throughout the entire city.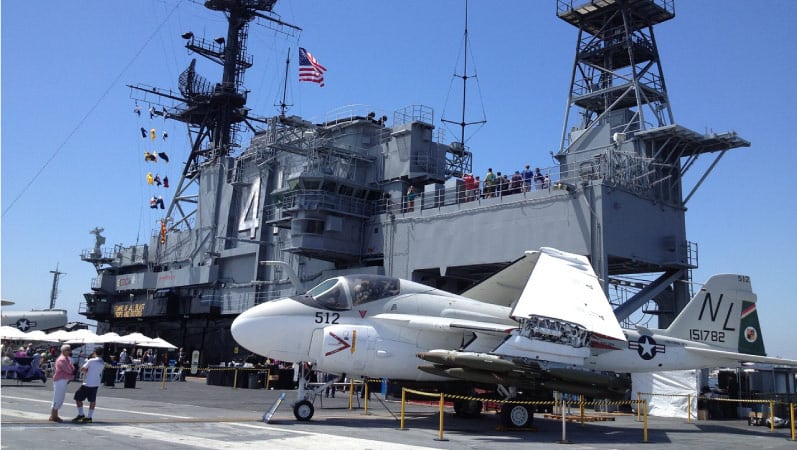 15. The military is a mainstay in San Diego
If you've ever visited San Diego, you probably noticed the huge number of warships docked along the coastline. That's because San Diego is actually home to the second-largest naval base in the United States. 
Naturally, that means there are military personnel throughout the city (approximately 110,700!). It also means there's a lot of military influence on the culture and landscape in San Diego. The USS Midway Museum and the San Diego Air and Space Museum are just a couple of the fascinating ways to learn more about San Diego's military history. 
16. With all of this in mind, the 10 best things to do in San Diego include . . . 
Going to the beach (duh!)
Visiting the San Diego Comic-Con (it happens every July)
Getting some amazing Mexican food (tacos, burritos, and so much more)
Checking out La Jolla Cove (for the best snorkeling and scuba diving around)
Strolling through Balboa Park (be sure to visit the botanical garden there)
Visiting the San Diego Zoo (home to over 12,000 animals)
Seeing the fish at the Birch Aquarium (it's easier than scuba diving)
Visiting the USS Midway Museum (it's literally on an aircraft carrier)
Watching the sunset at Sunset Cliffs Natural Park (it will blow you away)
Grabbing a bite in Little Italy (home to some of the best San Diego restaurants)
So what do you think? They don't call it "America's Finest City" for nothing, right? Go ahead — research some moving companies and start that moving checklist. From the beaches to the zoo, we won't be the least surprised if beautiful San Diego becomes the perfect home for you.
---
Easton Smith works as a freelance writer and researcher, reviewing technology trends and the moving industry. He's moved all around the continent, from New York to California.
Get a Quote
Choose the service you need
Comments
Leave a Comment
Your email address will not be published. Required fields are marked *