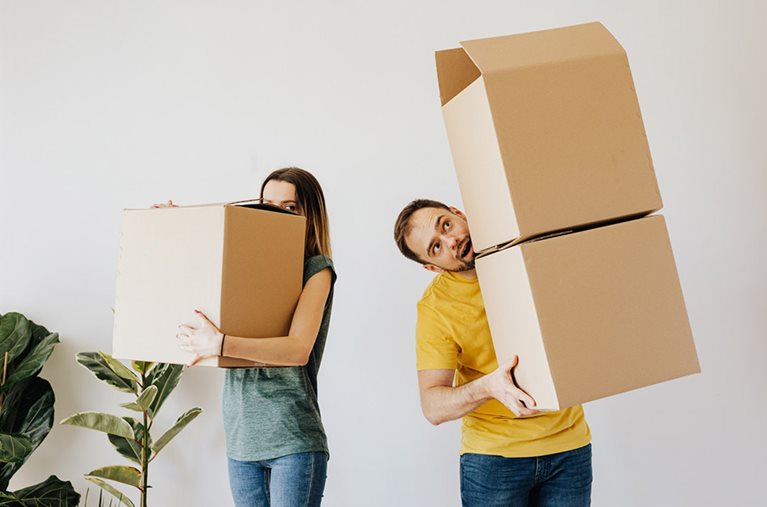 Pack Hacks to Get Your Things Safely to Your New Home
These last couple of years have been crazy for many reasons — not least of all the booming housing market. While things are definitely slowing down, many families are still upgrading to new living quarters, taking advantage of the relatively low interest rates and recently discounted (though still pretty friggin' high) house prices — cha-ching! So for those of you with impending moves on the horizon, check out eight of the best moving hacks and tips to make packing easy-breezy — if not altogether fun!
1. How to Pack Cords
Laptops, tablets, headphones — oh, my! We live in a futuristic world with technological conveniences and (ugh!) tangled electrical cords. Lucky for you, one of our packing hacks for moving takes care of that!
Use a binder clip to neatly pack up your headphones.
Repurpose twist ties to get charger cords in order.
Use an eyeglass case to keep all chargers in one place.
Tie up extension cords and other cables to protect them from chaos.
2. How to Fold Fitted Sheets for Packing
We'd be lying if we said that simply rolling your fitted sheet into a ball and throwing it in a box wasn't an option, but we'd be remiss if we didn't also tell you how to fold one neatly (like a bona fide adult). Follow these steps to tackle the dreaded fitted sheet.
Lay the sheet flat on the floor with the elastic facing up.
Tuck the bottom end of the sheet into the top end.
Fold it in half, then fold it into thirds.
Finish up by folding it into a square for easy packing or storing.
3. How to Pack an XL Mirror
Packing fragile items can be daunting to say the least, and (superstitious or not) nobody wants to unpack and find a broken mirror. To keep the bad juju away and your XL mirror intact, use this moving hack.
Make an X across the face of the mirror using painter's tape.
Place all hardware in a plastic bag and tape it to the back of the mirror for safekeeping.
Wrap the mirror in a blanket and secure it with twine.
Pack it in cardboard (and don't forget to label it "Fragile").
4. How to Pack a Rug
Rugs can be expensive, and if they aren't packed right, they can become warped, damaged, or unnecessarily dirty in transit. Use this simple pack hack to keep your rugs in tip-top shape during your move.
Vacuum the top and bottom of the rug.
Lay it face down and roll it up loosely.
Use twine to tie the ends and middle of the rug.
Wrap it with craft paper and secure with tape.
5. How to Pack a Photo Gallery Wall
When you've put a lot of thought and care into hanging pictures and art in your current home, it can be a bit daunting to take it all down and start over in a new space. Just remember: Putting the gallery up in your new house will make it feel like a home that much faster. Use this pack hack to simply and safely move your glorious wall of art and photos to your new abode.
Snap a pic of your gallery wall before taking any art or pictures down.
Make an X across the face of any glass using painter's tape.
Cut pool noodles to fit and slip them over the frame edges.
Wrap frames with bubble cushioning roll.
Stack pictures vertically in a moving box.
6. How to Pack Gardening Supplies
Gardening tools and supplies can sometimes fall by the wayside when it comes time to pack. But that soil is really good! And those tools aren't cheap! This packing hack for moving will keep your gardening supplies protected on the journey to your new home. Then you can put that green thumb back to work, beautifying your new yard.
Store soil in air-tight bags.
Bundle and wrap long tools (rakes, hoes, shovels, etc.) together in a moving blanket.
Protect sharp tools (or rather, protect other things from sharp tools) by wrapping edges with bubble cushioning roll.
Keep small gardening tools together in a tool box.
Stack plant pots by size and pack them in a moving box. If they stack too loosely or seem like they could crack in transit, simply place a layer or two of newspaper between each pot. Fill any gaps in the box with crumpled newspaper for a secure fit.
Q: Want to know what to pack first when you're moving?
A: Holiday decor or other items that are only in your home for visual appeal (as opposed to some practical use) are good things to pack first. And if you're moving in the winter, you could go ahead and pack up all your gardening supplies, as well, since you won't be needing them any time soon.
7. How to Pack a Floor Lamp
Floor lamps are an awesome and convenient lighting option, since they don't need a table to sit on and can easily be moved around a room to fit any interior arrangement. Packing them, however, isn't as convenient — until now! Here's one of our moving hacks to get your trendy floor lamp from point A to point B without any mishaps.
Remove the lamp shade and light bulb (pack these loosely in a box with crumpled newspaper or bubble cushioning roll).
Wrap the power cord around the base of the lamp.
Cover the lamp stand in bubble cushioning roll.
8. How to Pack Your Moving-Day Cooler
Okay, so packing a cooler may not be what comes to mind when you hear "pack hack." But hear us out — you're probably gonna have a bunch of friends come over to help you carry all your boxes and furniture to your moving container, right? Well, they're gonna get thirsty. Be sure to have a well-packed cooler ready with chilled beverages to keep everyone's spirits (and energy levels) high. And feel free to use this pack hack for beach days, tailgates, and picnics, as well.
Open one end of each of your drink boxes.
Place the boxes side-by-side in the cooler with the open sides down.
Fill the cooler with ice.
Remove the boxes to reveal perfectly stacked beverages, as chill as can be.
Cheers!
Q: How do I make a moving day easier?
A: Here are some top moving-day tips for making moving day easier.

— Start by putting a moving checklist together well in advance. This will give you time to work your way through the list bit by bit — much easier than trying to cram a move into a couple of weeks.
— Get a portable moving container delivered to your driveway so you can start packing and loading early. By the time moving day comes around, you may only need to move a few larger pieces of furniture. Now doesn't that sound nice?
— When the moving day finally arrives, surround yourself with kind, helpful friends. And remember that some tasty pizza and a well-stocked cooler will keep them helpful longer.
Think we only have eight hacks up our sleeves? Of course not! So what are some moving hacks and tips to add to the list? From packing shoes to shipping plants, here are 10 more of our packing hacks for moving. Enjoy!
---
Heather Magness is a member of the PODS Blog creative team. When she's not formatting images and blog layouts, you can find her writing a song, watching a movie, or enjoying the great outdoors.
(Source for image featured a top: Karolina Grabowska via Pexels)
Get a Quote
Choose the service you need
Comments
Leave a Comment
Your email address will not be published. Required fields are marked *