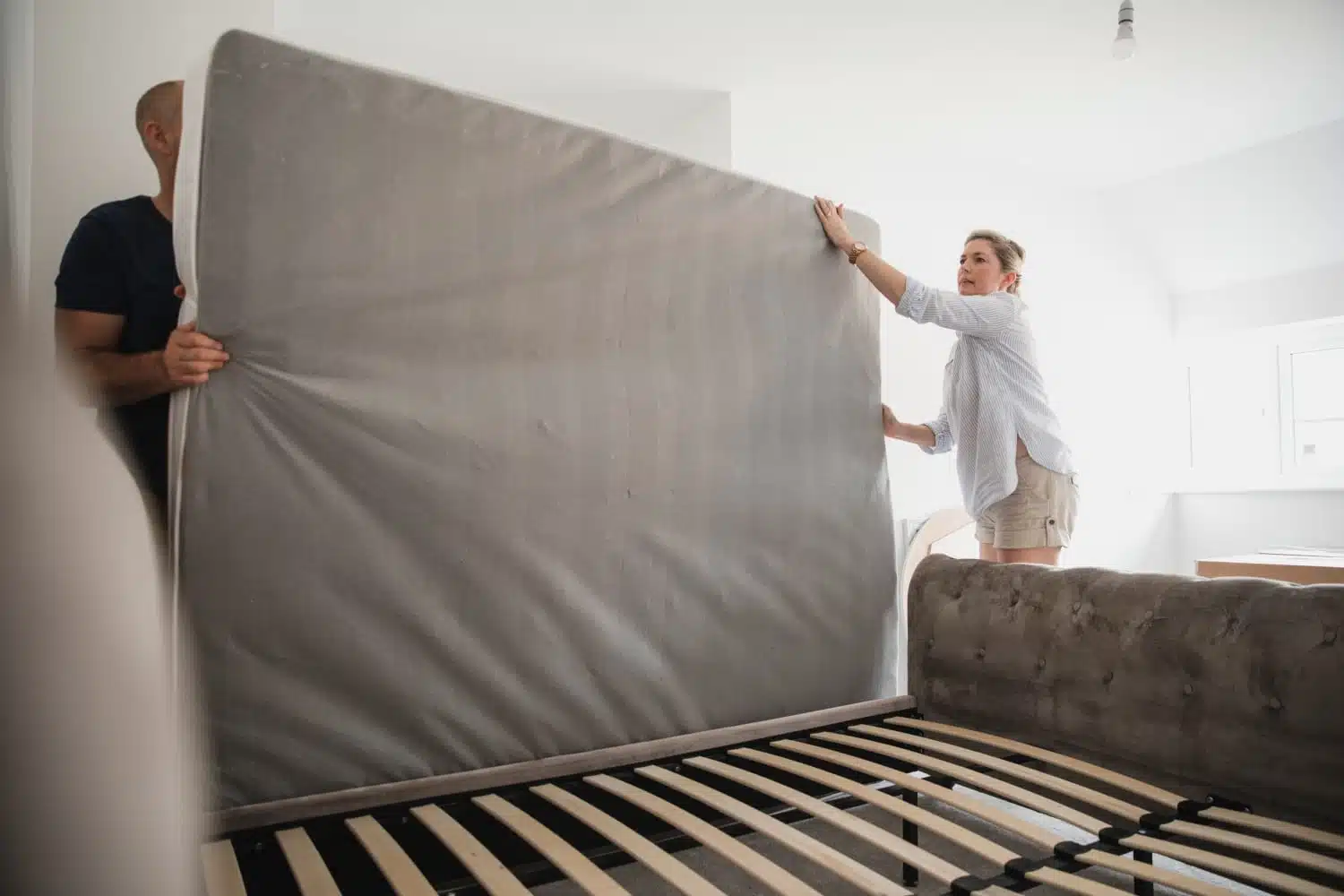 Moving a Mattress? How To Move & Store Your Mattress
I'll always remember when I became an expert on moving a mattress. When I started my sophomore year of college, my mother bought me the mattress of my dreams. It was a gift she insisted on and referred to as an investment. Initially, I thought the idea was ridiculous. However, the joke's on me because more than a decade after parting ways, I still daydream about that mattress — frequently. (No joke: My friends used to come over just to take naps on this mattress!)

It wasn't long before the mattress became one of my must-keep items whenever I moved, whether I was packing and moving across town or full-on across the country. Who ever would have thought that moving a mattress would be such a priority? Anyone who's ever cherished a good night's sleep (ergo, your health), believes a great mattress is a worthy investment, or doesn't have the extra budget for a brand new bed — that's who.

Real talk: It's likely not worth the hassle to move every single mattress you'll ever own, but if you find yourself with a mattress that's a keeper, here are our best tips on moving and storing a mattress — all while keeping it in stellar, sleep-worthy condition.
A step-by-step guide to moving a mattress
Follow these eight steps on how to move a mattress easily, quickly, safely, and successfully.
Step 1: Measure your mattress
Pull out your tape measure! When moving a mattress, it's key to not only know the standard size — twin, double, full, queen, king — but also its exact dimensions. This will determine everything from the size of the mattress bag you'll need to deciding on the best moving path, moving method, or
storage space
.
Step 2: Gather all your supplies
You'll need things like mattress bags, moving tape, scissors, straps, or ropes to secure the mattress, and a mattress dolly. (We've included a detailed supply list below.)
Step 3: Make sure there's enough working space
Give yourself enough room to prepare your mattress for moving. Pro tip: Packing up your mattress last will help free up space in the room and also give you something to sleep on up until the night before your move.
Step 4: Enlist a helping hand (or two)
Mattresses are heavy, awkward, and love to flop around. If you're trying to figure out how to move your mattress by yourself — don't. Even professional movers use more than one person when moving mattresses. Instead, try to enlist the help of a friend, neighbor, or family member. You can also hire help through a freelance labor service like TaskRabbit or Handy, or get hourly professional moving help if you want specialists to take care of more heavy lifting.
Step 5: Place your mattress in a heavy-duty mattress bag
This will help protect your mattress during the move and if you're putting it in storage. Moving mattress bags are sold in standard mattress sizes, but you'll need to know the depth of your mattress to make sure the bag is big enough. They usually come in packages of two, so you can use one for your box springs, too.
Step 6: Clear a path for moving the mattress
Remove any breakables along the way, like lamps, hanging pictures, or anything else that could possibly be a casualty in the face of a wobbly mattress.
Step 7: Flip the mattress on its side so it's easier to move
Usually this means flipping it horizontally so the mattress is longer than it is tall. It's rare to be able to move a flat-positioned mattress, especially since you'll likely have to go through doorways.
Q: How do you carry a mattress from one place to another?
A: The best way to carry a mattress is on its side with at least one person holding the corner of each end. .
Step 8: Use the mattress to fill any empty space
A mattress's shape is one of its biggest advantages — it can fit in thin spaces with ease! Leave a narrow space between your stuff and the wall of the container, then slip your mattress into it by standing it on its side. This guarantees easy access when you get to your new home — and the faster you unload, the sooner you get to take a power nap.
Note: Only do this if you plan to unload quickly. If you leave the mattress standing horizontally for a month or so, it will come out warped. If you need to leave your mattress in storage for a while, place it flat on top of a solid surface. This will keep it from deforming over time.
Step 9: Load and secure the mattress
If possible, check with your manufacturer for any special transport instructions. Positioning can depend on the type of mattress. Here are general moving position recommendations by type:
Traditional Innerspring or Encased Coil Mattress
Position on its side length-wise or flat, on top of a flat surface (in the same position as for sleeping), with nothing on top.
Memory Foam or Hybrid Mattress
Position flat, on top of a flat surface, with nothing on top of it.
Box Springs
Can be positioned flat or on the side, with nothing on top (unless it's the mattress).
Important note: When storing a mattress, all types should be laid flat. (See our tips on storing below).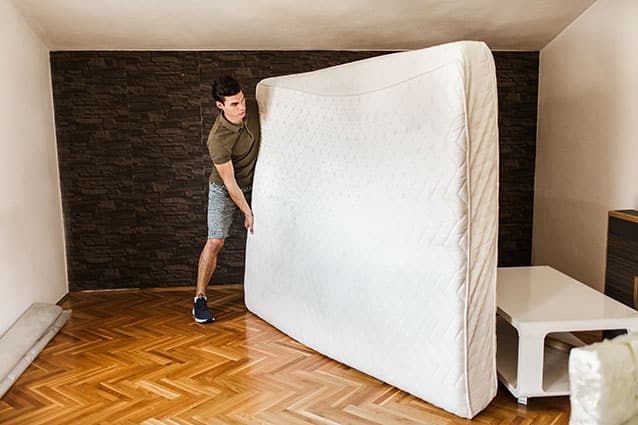 How to Load and Secure a Mattress (For Different Situations)
Q: Is it OK to fold a mattress for transport?
A: You should never fold a mattress, as it may compromise the integrity of the item. Even if your mattress arrived rolled up as a bed-in-a-box or doesn't have springs, it shouldn't be folded.
Moving Trucks, Portable Containers, and Cargo Vans (for Moving Only)
Load the mattress on its side lengthwise, using an interior wall of the vehicle or container for support. Use rope or ratchet straps to secure the mattress in place. PODS containers, most moving trucks, and cargo vans have built-in tie-down handles, which make this a cinch. You can also pack in furniture or heavy boxes on the exposed side for extra support. Avoid putting anything on top of the mattress, though.
Cars and SUVs
Some smaller-sized mattresses may actually fit inside a passenger van or large SUV, if you take out the seats. To find out if yours will fit, remove the seats and measure the cargo space against the dimensions of your mattress. You can also strap most mattresses to the top of a car, but this is the riskiest option, and I don't recommend it. It's extremely hard to secure the mattress and can cause damage to your mattress or car — or worse, an accident. Plus, if done so improperly, it can lead to a fine or even a hefty jail sentence.

If this is your only option, cars and SUVs with flat roofs and roof racks are the way to go. Place the mattress on the roof and secure it by tying it directly to the roof racks. Do this in as many places as possible to really anchor the mattress to the top of the car.
Storage Containers or Units
If you'll be storing the mattress in a storage unit or storage container, be sure to place it flat and avoid putting anything on top. If a mattress is stored on its side for an extended period of time, it can damage the internal integrity and shorten the life of the mattress.
Supplies You'll Need to Move a Mattress
Here's a handy breakdown of all the essential items you'll need to make moving and storing your mattress a success.
Mattress Bag
A mattress bag is basically a huge, mattress-sized plastic bag that will help keep your mattress clean and dry during your move. Since these can sometimes rip during the moving process, I like to double-bag my mattress and box springs for extra protection. Be sure to buy the right size mattress bag, especially when it comes to depth. To measure depth, just lay your mattress flat on the floor and use a tape measure or ruler to measure how far off the ground it is. For reference, a typical mattress is between 8-14 inches thick. When in doubt, go with the larger-sized mattress bag.
Moving Tape
If you're in the process of moving, you should have a healthy supply of tape on hand. This will come in handy after you've placed your mattress inside the plastic moving mattress bag and need to seal it all up.
Scissors
Some folks will recommend using a box cutter to get your mattress out of the mattress bag, but I've found out the hard way that box cutters make it way too easy to accidentally slice through your moving mattress bag and ruin your mattress. Scissors are a safer bet.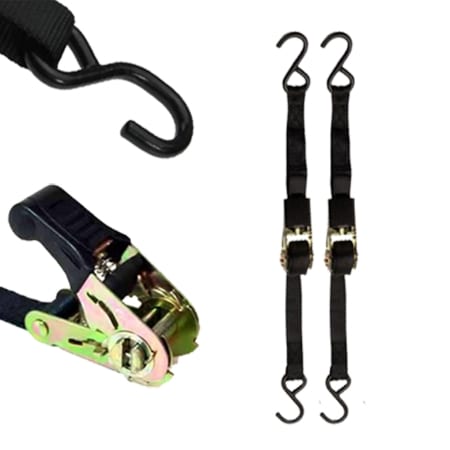 Rope or Ratchet Straps
Once you get your mattress out of your house or apartment, you'll want to use either rope or ratchet straps to secure it inside your chosen moving vehicle. Ratchet straps — also known as tie-down straps — are thick straps with hardware fasteners that are specifically made to secure cargo in place. Grab a few more than you think you'll need, just in case the bed ends up being bigger than you estimated and you need to extend the length of the ratchet straps by hooking on some extra straps. If you're using rope, get a thick, industrial-grade rope — and completely skip those bungee cords that can give too much, which results in an unsafe, unsecured mattress.
Furniture Dolly (Optional)
It's perfectly fine to hack your way through the actual process of physically moving a mattress (for starters, you can either push it along or rest it on top of a large piece of cardboard), but it's easier to use a dolly. While a mattress dolly is ideal — it comes with a sturdy slot to keep your mattress in position — rentals can be hard to find. You can opt for renting a four-wheel furniture dolly instead and use it to help move other household items and heavy boxes.
How to Measure a Mattress
While the standardized mattress size can help you understand the general size of your mattress, the exact measurements can vary among makers, so it's important to measure your mattress. You'll want to measure it for length, width, and depth (thickness).
Length: The longest side of the mattress. When lying down, this is the side that runs from your head to your toes.
Width: The shorter part of the mattress.
Depth: Another term for the thickness of your mattress. A typical mattress is between 8 and 14 inches thick.
Storing a Mattress: What to Do & What Not to Do
We tend to not think much about our mattresses beyond whether or not they are holding up their end of the bargain when we sleep. However, as it turns out, there are rules on how to store a mattress properly.
DO clean your mattress before and after you put it in storage
Vacuum it down on all sides, use an upholstery cleaner or disinfectant spray, and then let it thoroughly air dry. (Here's a handy step-by-step guide on how to deep clean a mattress.)
DO use storage mattress bags to store your mattress
Actually, you can just keep your mattress and box springs in the protective plastic mattress bag you used for moving. It helps save a few steps while also providing extra protection from dust and other possible contaminants while in storage. The important thing is to make sure the mattress is entirely dry before you cover it, and then make sure it's well sealed inside the cover.
DON'T store your mattress on its side
We can't stress this enough: Side-storing a mattress can compromise its interior integrity and ruin the mattress — regardless if it is a spring, foam, gel, or hybrid style. I found this out the hard way after storing a wonderful, all-foam Tuft & Needle mattress (and putting things on top) for two years. It was never the same. If you must store it on its side, try to rotate its position every 30 days or so.
DON'T expose your mattress to extreme temperatures or humidity
High heat, freezing temperatures, and moisture can damage your mattress. For this reason, you should avoid storing your mattress in an attic, basement, or garage. If you're using a storage facility, ask about the temperature range and humidity control.
DON'T store anything on top of the mattress
This can cause your mattress to become misshapen and ruin its structural integrity.
Additionally, for anyone curious about how to move or store a mattress topper, here's some good news! It's a lot easier. Just roll it up tightly, wrap it in plastic and tape, and toss it in the storage unit or pack it in a box alongside your linens.
At the end of the day, moving a mattress can be hard work, but doing it right is well worth it. Once your head hits the pillow on your favorite bed in your new home, you'll know it was worth every second and any second-guessing.
---
Alex Keight is a freelance writer based in Los Angeles who has moved 20+ times because she loves to experience new places.
Get a Quote
Choose the service you need
Comments
Leave a Comment
Your email address will not be published. Required fields are marked *