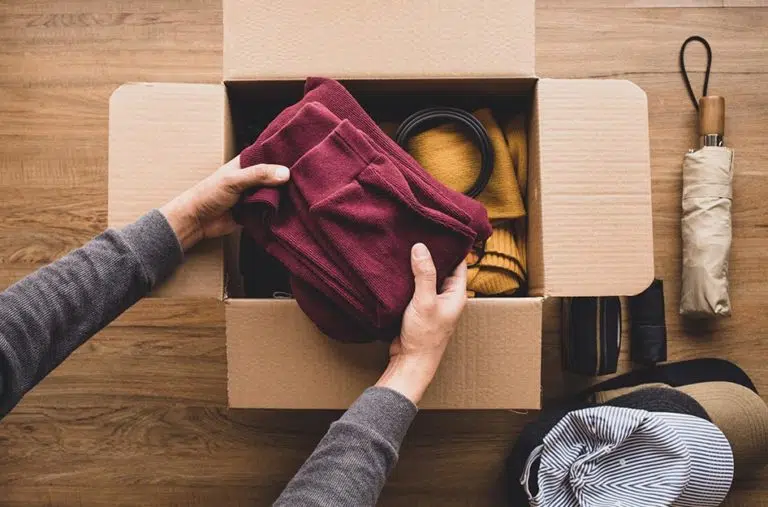 How To Pack Clothes for a Move: 10 Hacks You Have To Try
Packing for a move is no easy feat. So much of your time is spent doing things like disassembling furniture, deciding what to do with large items, and prepping your fragile pieces for a safe trip. And spending all that time focused on those tasks often results in throwing more casual things — clothes, in particular — haphazardly in bags at the last minute.
While this isn't the worst way to pack, it can waste a lot of space and time (later) — not to mention leave you with a wrinkled and damaged wardrobe. Instead, make the entire moving process easier on yourself in the long run by learning how to pack clothes for a move the best way with these 10 packing hacks for clothes.
1. Purge your closets
One of the best things you can do when packing clothes for moving is get rid of clothing you no longer want or need. If you haven't worn it in a year, there's no reason to pack it. This may seem like obvious advice, but moving can be overwhelming, leaving little time to do extra work like sorting through closets and dressers. Taking the time on the front end, though, will save lots of unpacking time later.
2. Set aside a laundry day
Once your sell or donate pile is out the door, you're left with the clothes that will be making the journey to your new home. If some of those clothes are dirty, wash them before packing. It can be tempting to take a laundry sack with you, but the last thing you're going to feel like doing after unpacking is a load of laundry. Plus, stained, soiled clothes are only going to worsen after time spent in boxes and suitcases. Having everything fresh and clean before it's packed makes unpacking much more pleasant.
3. Sort by season
When should you start packing clothes for moving? You can start as soon as you've put your house on the market or you've put your name on a new lease (unless you're a believer in jinxing things). Chances are, you're packing and moving during one season. That means you can pack up your out-of-season clothes without sacrificing your style.
If it's summer, go ahead and box up those winter items. If it's winter, you're not going to need those bathing suits any time soon. And if you're experiencing wild weather mood swings, pack the items you know you won't need for months. You may think you're going to unpack all of those boxes as soon as you get to your new home, but you'd be surprised how a few can escape for weeks — or even months — without being touched. Fun fact: Americans take an average of six months to finally unpack that last box, according to a recent study.
4. Compress bulkier items
Unless you're going to need all of those bulky winter jackets, ski bibs, and cold weather coveralls during your move, save space by putting those clothing items in compression bags. There are several vacuum storage bags on the market that are fairly inexpensive. And not only are the compression bags great for clothes, but they're also perfect for pillows, comforters, and other large, soft homegoods that can take up a significant amount of box space if left as-is.
5. Save space with the army roll
There are a few schools of thought on how to roll clothes for packing. While some argue that a flat fold is best, we recommend the army roll because it maximizes space while minimizing wrinkles. Because a skill like this is best taught through visuals, here's a video that walks you through the process:
Alternate idea: Not having any luck with the army roll? You can always use a more casual roll instead.
6. Use wardrobe boxes
If you're pressed for time, you're likely wondering, "What is the most efficient way to pack clothes?" The answer: wardrobe boxes. Take your hanging items, put them directly in a wardrobe box, and — boom! — you're done. It's a quick and easy method for packing hanging clothes.
If you do have time, though, try not to rely too heavily on wardrobe boxes. They're typically more expensive than regular packing boxes and take up a decent amount of space on a moving truck. If you're already moving suitcases and dressers, that's free space you can use for packing casual clothing like T-shirts, jeans, and undergarments. Use the wardrobe boxes for more delicate clothing items that either need more protection or are prone to excessive wrinkling.
Q: What is the cheapest way to pack clothes for moving?
A: Make use of space you already have by putting clothing in suitcases, duffel bags, and even your dresser drawers (be sure to secure them with plastic wrap before transit). You'll still need some boxes, though, so make sure you're getting a good deal on supplies and not paying a premium for shipping. When you purchase moving materials on PODSboxes.com, you'll not only find a variety of moving boxes and packing supplies to suit any relocation, but you'll also receive free and fast delivery right to your door.
7. Pack boxes heavy to light
It's tempting to load up a big box with lots of shirts and pants. But you'll be surprised how quickly this will weigh the box down. When packing clothes for moving, use small- to medium-sized boxes instead of large ones. And to create a sturdy base, load the box with heavy items first — like jeans, sweaters, and jackets — then move to your lighter ones — like T-shirts, socks, and underwear.
8. Stuff your shoes
Throwing shoes in boxes with your clothes will likely cause creasing and possibly even damage. This may be fine for tennis shoes and flats, but nicer pairs should be left in their shoe boxes or a similar style of container. If that's not an option, or if that's going to take up too much space, you can purchase shoe bags.
Be sure to stuff the insides of the shoes with tissue paper (or even socks!) so they'll keep their shapes. Also, like your clothes, this is the perfect time to give those shoes a proper cleaning before they're packed away. Don't bring dirt into your new closet.
Pro Tip: Looking for a cheaper option for boxing up your shoes? Wine boxes with dividers make great shoe caddies. You can probably find some free ones outside your local wine store.
9. Pack accessories separately
It's always a good idea to keep valuable items close to you during the move. Insurance only covers so much, and sometimes the unexpected happens. If there's jewelry you can't replace, put it in a small pouch, pair it with other important possessions, and keep it with you while you drive or fly to your destination.
10. Have a moving day suitcase
Once you get to your new home, the last thing you'll want to do is sort through boxes trying to find your pajamas and toothbrush. Pack a duffel bag or suitcase with the essential items you'll need to get you through the first two or three days. And don't forget the coffee mugs!
Want more packing tips? Visit the PODS Blog for additional packing hacks, packing advice straight from the pros, and more!
---
LB Gabriel is a freelance writer who lives with her husband, daughter, and Golden Retriever in Memphis, TN. A frequent PODS Blog contributor, she's a sucker for any tip she can find on downsizing, cutting clutter, or minimalist living. When she's not on a deadline, you can find her on a tennis court or golf course.
Get a Quote
Choose the service you need
Comments
Leave a Comment
Your email address will not be published. Required fields are marked *