Take advantage of our limited time offer. Enter promo code HOLIDAY25 to save up to 25%.
See offer details
.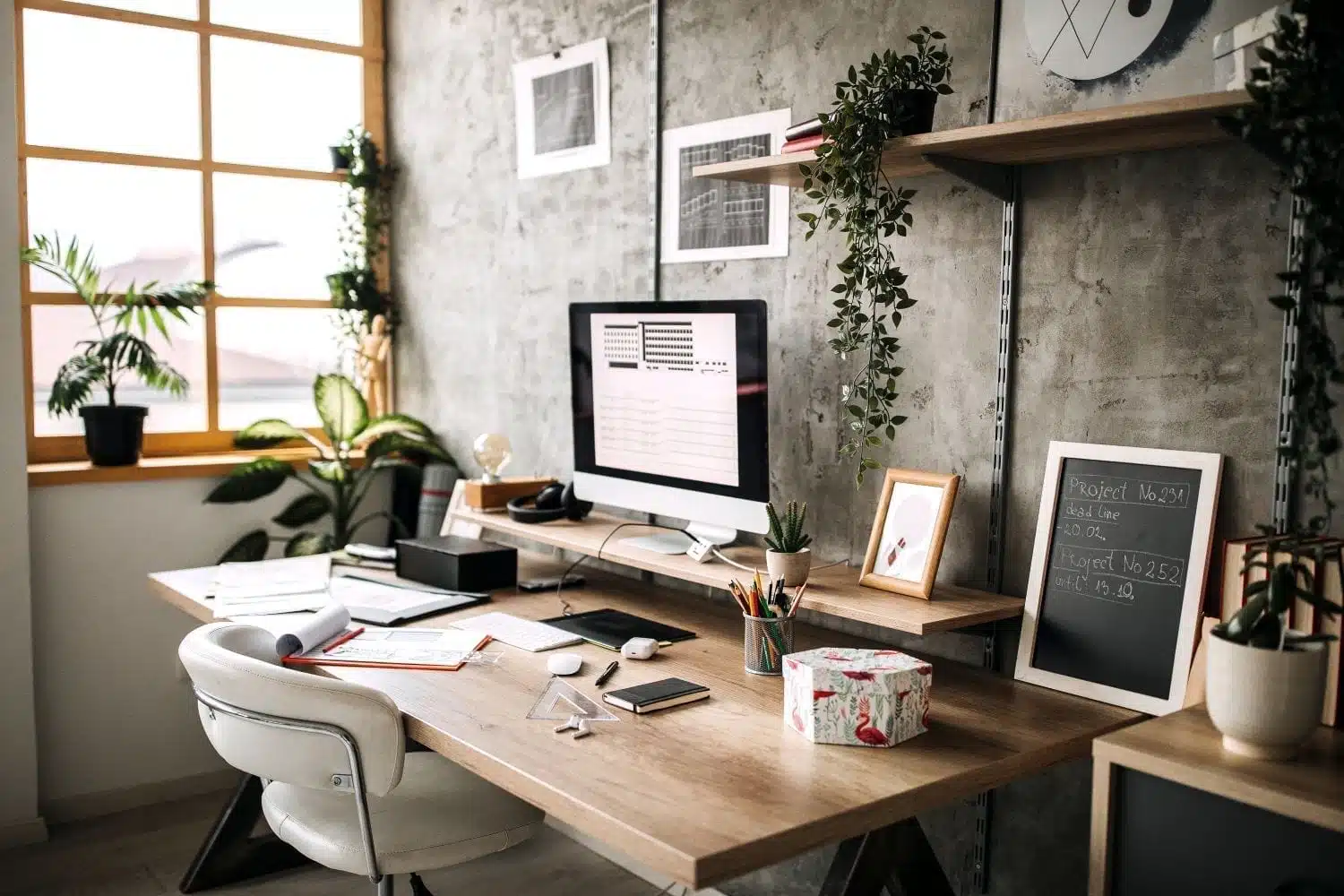 Home Office Setup Ideas That Will Up Your WFH Game
It's not surprising that the number of people primarily working from home tripled between the years of 2019 and 2021. What was once somewhat of a pipe dream for many is now simply a way of life.
But working from home full time is not like that time you telecommuted because there was a huge snowstorm or your kid was sick. To make it work, you need an office that's worth coming back to, day after day — not just the dining room table.
So we're here to help you figure out the ins and outs of your home office setup. Take a look at our basic suggestions and, from there, you can trick out your office with a wish list of extra features and gadgets. We'll also talk about how you can pay for all this stuff (hint: you might be able to get your employer to foot the bill).
Let's get to work!
Best home office setup ideas at a glance
Home office necessities: 
Excellent Internet and Wi-Fi Connection
A Functional Computer
Monitors, Keyboards, and Mice
A Chair You Love
An Awesome Desk
Dedicated Office Area 
Home Office Wish List:
More Space
Plants
A High-Performance Computer
Premium Speakers
Cell Phone and Accessories
Lighting
Exercise Equipment 
Q: What do I need for a home office setup?
A: Of course, every job has different needs. At a minimum, though, you'll need a dedicated space with a dedicated table and chair. You'll also need a computer with a WiFi connection.
Home office necessities
Of course you're excited to buy that nifty USB cup heater you saw in the in-flight magazine last year. But no amount of warm coffee is going to make up for a sub-par office chair. So, before we talk about extra luxuries, let's take care of the basics for your home office setup.
Excellent internet and Wi-Fi connection
Before we dive into this section, take this online speed test real quick. How did your internet do?
If you're looking at speeds of 50 Mbps or more, then you've likely got plenty of bandwidth for most basic office functions, like email, browsing, streaming, Zoom calling, and uploading files. If your internet is slower than 50 Mbps, it's time to upgrade.
While you might be able to scrape by with 25 Mbps or less, you'll start to run into problems with basic functions, like downloading files. You'll also notice major slowdowns when your spouse is streaming The Mandalorian or your kids are playing Roblox using the same WiFi connection.
Spending a few extra bucks a month to upgrade to a faster internet connection (and a decent Wi-Fi router) is one of the easiest and most essential things you can do to get the best home office setup.
A functional computer
Of course, your great internet connection isn't going to get you very far when your computer is still running on Windows 7. Heavens forbid, Windows XP.
If your employer doesn't provide you with a laptop, but your personal computer just isn't cut out for work-from-home life, you're not alone. Computer sales went through the roof after the coronavirus pandemic began, although they saw a decline in 2022. But upgrading your device doesn't have to break the bank.
Most companies' digital infrastructure works best with Windows, and most core office job functions are best done on that platform. If you're on the same OS, it'll be easier to work with your company's systems, so we recommend you opt for a Windows machine. Common quality brands include Dell, Lenovo, and Acer. If you're in the design space and have the money, then consider a beautiful, ultra-powerful Macbook Pro.
And if your work doesn't require any serious video editing or other software, then look into buying a Chromebook. These stripped-down machines cost just a few hundred dollars and can perform all the essential work-from-home functions you need.
Monitors, keyboards, and mouses
Have you always wanted to look like one of those cool hacker-genius characters from 90s action movies? Then it's time to get yourself a second (or even a third) computer monitor.
Seriously, looking at a little laptop screen all day is a surefire way to burn out. Getting a second, larger monitor will help you focus, stay organized, and multitask more effectively. Buying a monitor for around $100 is a no-brainer for your home office computer setup. 
And while you're at it, get yourself an ergonomic keyboard and a wireless mouse. This will save you a ton of time and energy daily, not to mention a great deal of wrist pain later in life (ergonomic keyboards can help prevent arthritis).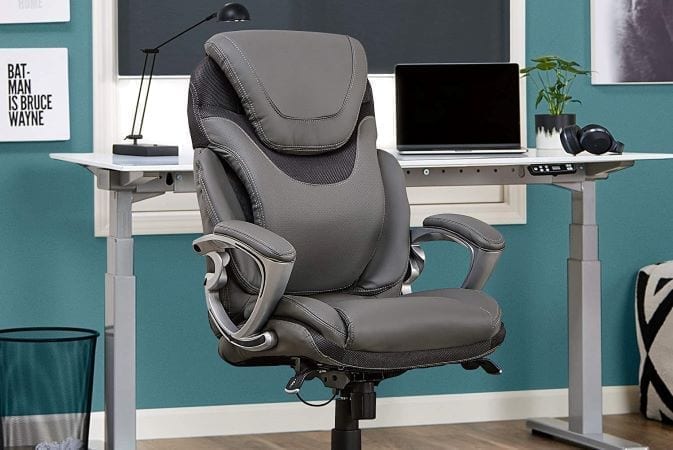 A chair you really love
The average office worker will sit for several hours a day. So if you're reading this while slumped over on a hard, wooden chair you stole from your dining room, then it's time for a change.
You can buy a perfectly good office chair with lumbar support, adjustability, swivel action, and comfortable fabric for $100-$150. Your back and your gluteus maximus will thank you. Or, you can get one of those balance ball chairs, if that's what you're into. You do you. Just do it comfortably.
An awesome desk
Your kitchen table serves many functions, from breakfast spot to children's art studio. But an office desk, it is not.
Get yourself a desk that makes you want to work. This is your sanctuary. Make sure you have enough leg room, storage space, and work surface so you don't feel cluttered. You can even look at Pinterest for some home office desk ideas and inspiration.
Do you remember what we said about how you'll be sitting for several hours a day? You might want to consider a height-adjustable desk so you can also work while standing. You can buy these for just a couple hundred dollars, and they can help improve your health (and make you feel tall).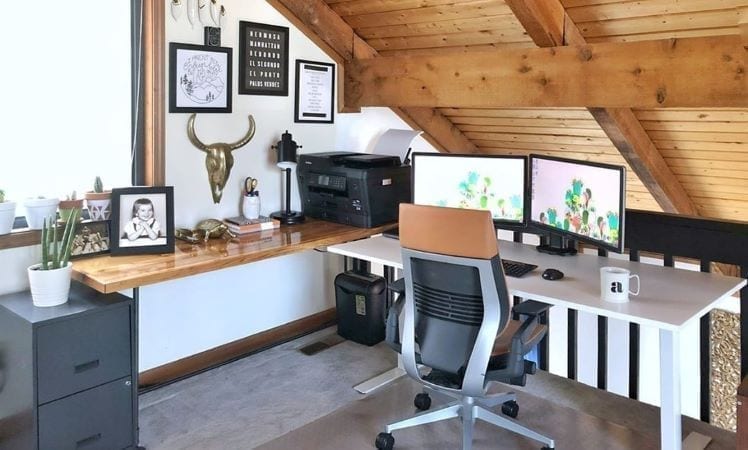 Dedicated office area
Your home is where you relax, sleep, cook, eat, socialize, and do everything else you love. If you're not careful, your work can seep into these other activities. Setting up a dedicated office space is essential, so working from home doesn't turn into living at work.
If you live in a house or a large apartment with a spare bedroom, a half-full storage room, or an unfinished basement, then setting up a home office for remote work shouldn't be too hard. Just be sure that everyone knows it's your office now and not a playroom for the kids.
You might be asking yourself "How can I work from home when I live in a one-bedroom apartment?" But if you take some time to declutter your home or move some of your stuff into portable storage, you can probably find a suitable nook or corner that feels sufficiently separated from the rest of your home.
Try clearing out a large closet or setting up a bookshelf to divide a larger room. Some very innovative work-from-homers have even turned a wide hallway into an office. If you look online for small home office ideas, you'll almost certainly find someone who's found a way to make it work with less space than you have.
Home office wish list
Now that we've covered some basic home office design ideas, let's move on to the fun stuff, like house plants, stereo systems, and exercise bikes. Here are the things that should be on your wish list if you want to perfect your home office setup.
More space
Sure, you can work at that tiny desk you set up in the lightless corner of your living room while your kids run around screaming about lord-knows-what. But wouldn't it be nice to have a 10' x 10' room with some natural light and a door to keep everyone out?
People move for jobs all the time, and this isn't any different. Consider moving into a home with an extra room or a basement that can serve as an office. If you're still working from home in two years, you'll be very glad you invested now.
Insider Tip: If you're ready to make the move to a bigger home, check out PODS portable containers for a flexible, more personalized way to schlep your stuff to your new spot.
But there may be ways to get more office space in your home without moving. Have you considered framing and finishing that dingy basement room? Have you looked at putting an insulated shed in the backyard? If you've got a little DIY spirit, the internet is full of clever home office design ideas.
Plants
We all love a good houseplant. But did you know that having a little cactus or spider plant on your desk can actually lower your stress and anxiety levels? So go ahead. Buy yourself some green, leafy friends. 
A high-performance computer
We already talked about the need for a functional computer. But if you're looking to invest in a truly fantastic home office that you can work in for years to come, you might want to up your computer budget.
This is especially true if you work with any professional software, like video editing, photo manipulation, or drafting programs. Having to tell your boss or your client that you can't complete a project because your computer is an old clunker is not a good strategy.
No matter your industry, a faster processor, more memory, and a solid-state drive can help shave a few minutes off daily tasks. Those minutes add up. Plus, you won't have to worry about upgrading your computer as often if you shell out for a higher-end device now. 
Premium speakers
You don't need an awesome stereo system in your home office. But how else are you going to bump the new Drake album to help you get through that last hour of the workday? Those laptop speakers just aren't going to cut it.
One of the reasons to work from home is that you can play your music as loud as you want, right?
Cell phone and accessories
Unless you want to go retro and get a home office landline, you will be doing some work on your smartphone. That's a great reason to nab a new phone — you may be able to expense your phone bill, too, depending on your company. (One of the benefits of working from home? You get to keep all of the cool gadgets.) 
You may also want to invest in a higher-end headset, so no one hears your kids screaming in the background of your calls and Zoom meetings.
Lighting
If you've ever worked in an office with fluorescent lighting, then you know how it can make everything feel, well, terrible. Do your poor, weary eyes a favor and buy some natural light bulbs for your overhead lighting and a soft light lamp for your desk.
Now your home office setup will look a little bit less like the inside of a Walmart and more like the inside of a serene and beautiful temple of productivity.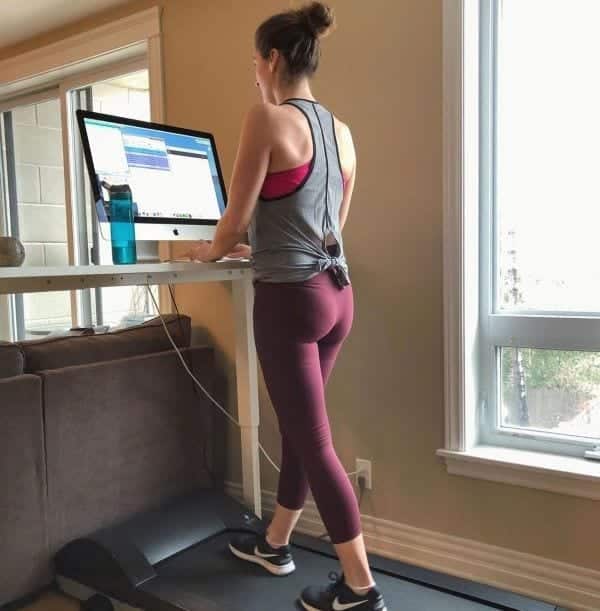 Exercise equipment
If the pandemic didn't make you invest in a home gym already, maybe your home office setup is the perfect excuse.
How would you like to take your business calls while you burn some calories on your Peloton bike, or write your emails while taking a lovely stroll on your treadmill desk? The health benefits of moving while you work are enormous.
If you don't have an extra $1,000 lying around to invest in exercise equipment, don't worry. Even outfitting your home office with a yoga mat can remind you to take a break to stretch in the middle of the day.
Pro Tip: Unroll your yoga mat on your office floor at the end of the night so you remember to do some stretches before you even sit down at your computer in the morning. Take it from a long-time work-from-homer (me).
Art
Nothing is less inspiring than a blank white wall. So take a few minutes to spruce up your home office with artwork.
Some popular home office design ideas include: putting bookshelves (and books) up on the wall, framing your kids' artwork, and, of course, inspirational posters (my old boss had a framed picture that said "Get S*** Done" hanging in front of his desk).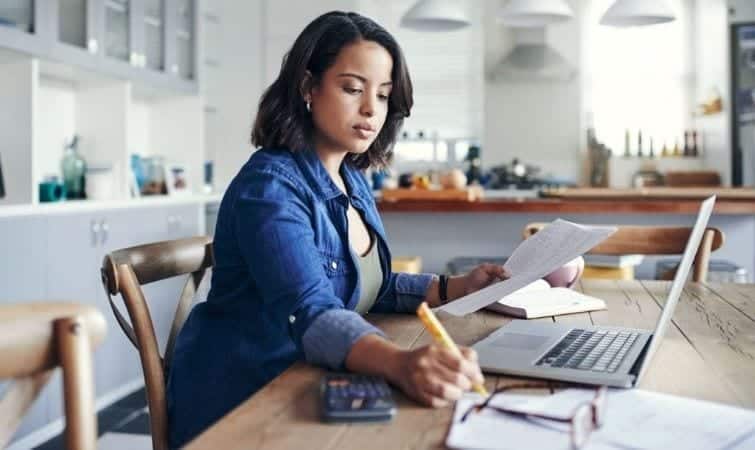 How to budget for your home office
It can be easy to go a bit overboard with your coronavirus home office ideas. How are you going to pay for all of this, especially in a time of such economic uncertainty? We've got some tips to help.
Ask your boss about a home office budget
The best way to pay for your home office is to not pay for it. Get your employer to front the bill. (Or if you're self-employed, get Uncle Sam to help by deducting it from your taxes — just be sure to check with your CPA.)
As companies push their employees to work from home more frequently (or indefinitely), many create funds to help staff offset costs. After all, employers save a boatload of money by not heating/cooling the office, cutting complimentary snacks/coffee, and, in some cases, getting rid of the office altogether. 
If your company hasn't already talked to you about a budget for your home office, ask about it. You can point out that basic expenses, like high-speed internet, are essential to your position and should, therefore, be paid by the employer.
Use the money you're saving
You may have noticed that you've saved some money on gas since you stopped commuting to work. Maybe you're also saving money on food by making yourself a salad instead of ordering lunch from the food truck outside your office.
Those expenses, and any others that you're saving on while working from home, can be redirected into your home office budget.
Take Advantage of Home Improvement Loans
If you're considering renovating your house in some way to make more space for your home office — finishing your basement, putting in a new wall, or building an extension, for example — then you might want to get a home improvement loan to help you pay the cost. 
Maximize Tax Deductions
If you're self-employed or an independent contractor, you can probably write off many of the expenses related to your home office setup. In many cases, you'll be able to deduct $5 for each square foot of your home that is used as office space (that's $1,000 for a 200-square-foot office).
Unfortunately, due to changes in the tax code, employees will not be able to deduct office expenses from their taxes. So if you used to work in an office but were just told to work from home because of the pandemic, you probably don't qualify. Even more reason to ask your boss about a home office budget!
Making the most of your home office
Hopefully these best home office setup ideas have helped you get excited about working from home, whether it's a short-term adjustment or the new normal.
Remember, your new home office is your special zone, your sacred place to get things done. If you put in some work now, it will give back to you for years to come.
---
Easton Smith works as a freelance writer and researcher, reviewing technology trends and the moving industry. He moved all around the continent, from New York to California, before landing back in his hometown of Salt Lake City.
Sources:
1. Bureau of Labor Statistics, "American Time Use Survey"
2. CNBC, "The PC is suddenly cool again ... for now"
3. Healthline, "Tips for Preventing Arthritis in Hands"
4. Washington Post, "Health experts have figured out how much time you should sit each day"
5. CNBC, "This 3-minute, $3 habit could lower your stress at work"
6. Wiley Online Library, "Treadmill desks: A 1-year prospective trial"
7. Forbes, "Working From Home? Your Home Offices Expenses Are Probably Not Tax-Deductible"
Get a Quote
Choose the service you need
Comments
Leave a Comment
Your email address will not be published. Required fields are marked *