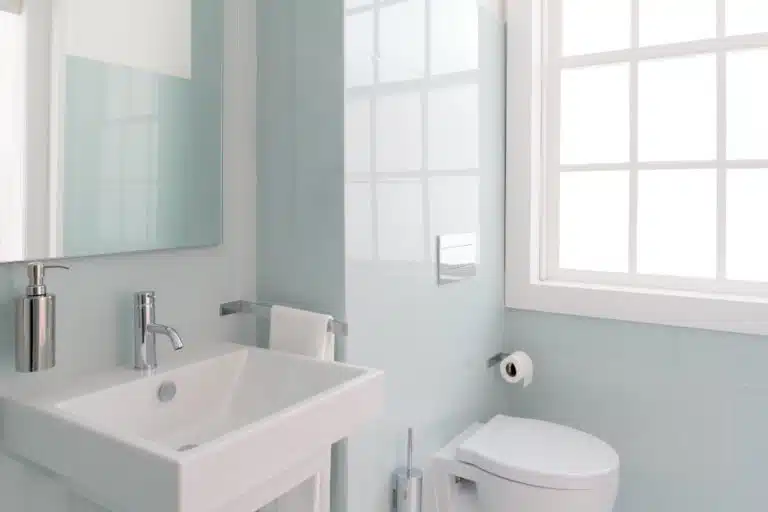 Your How-To Guide: 29 Half Bath Remodel Ideas for Any Budget
Your half bath is a small space, but if it's outdated, it can have a big impact on the overall look of your home. Whether you want to modernize, increase energy efficiency, or anything in between, there are great half bath remodel ideas for a wide range of budgets. And, bonus, because of the room's size, the timeline is usually faster than a primary bathroom renovation! Who doesn't like some semi-instant gratification?
If you're interested in giving your powder room a makeover, here are some of our favorite half bath remodel ideas, along with estimated costs, advice on how to prepare, and what you can expect along the way.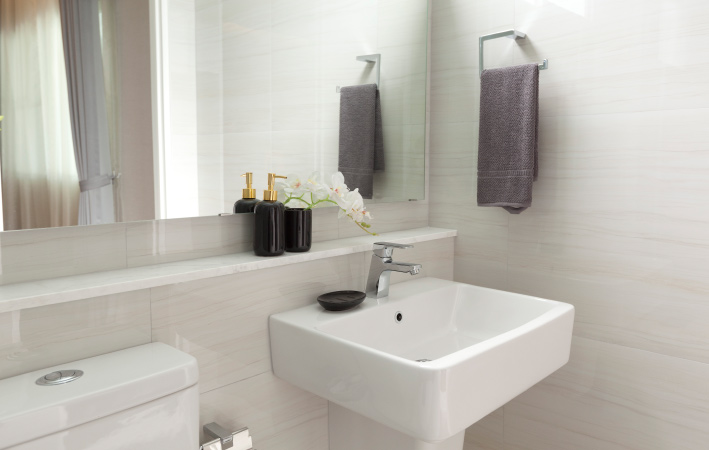 Cheap Remodeling Ideas for Small Bathrooms
By nature, powder rooms are small and can make you feel trapped in a tight space. But if you're looking for half bath ideas on a budget, these will make the space look and feel larger than it really is.
Cheap Remodeling Ideas for Small Bathrooms
By nature, powder rooms are small and can make you feel trapped in a tight space. But if you're looking for half bath ideas on a budget, these will make the space look and feel larger than it really is.
1. Skip the Vanity
Half bath vanities are useful for storage but occupy a significant percentage of the overall space. Consider replacing your vanity with a pedestal sink and installing one or two floating shelves for soaps, hand towels, and one or two small decorative items. This is also a smart way to save money, as cabinetry is usually a more expensive bathroom element.
2. Try a Corner Sink
If you're dealing with a super small space, there's no rule that says you have to have a full sink. There are several corner sink options on the market that will give your half bath a chic feel instead of an inside-an-airplane one.
3. Avoid Dark Colors
Dark colors and wood can make the already-tight space feel even more cramped. Visually open the bathroom by choosing a light color, like white, gray, or blue.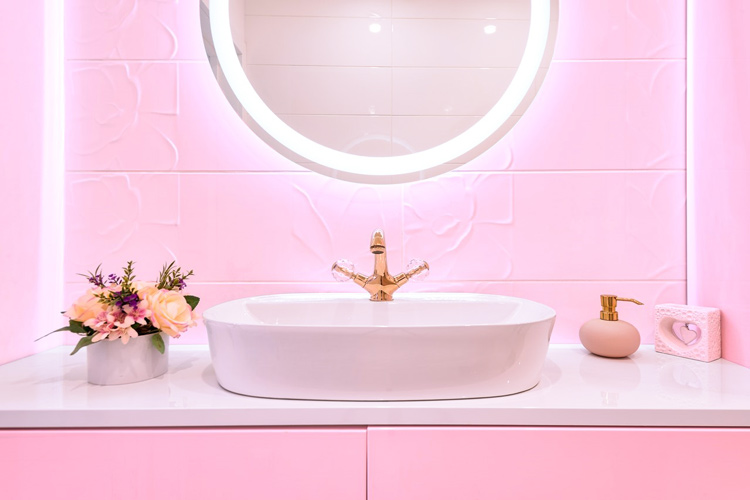 (Source: Max Vakhtbovych via Pexels)
4. Paint the Cabinets the Same Color as the Walls
Painting the bathroom cabinets with this same light hue as the walls creates a monochromatic look that tricks the eye into thinking the space is wider than it actually is. This is the way to go if you want a more modern-looking bathroom.
5. Paint the Ceiling, Too
While we're on a monochromatic roll, try painting the ceiling the same color or a few shades darker than the walls. You may be tempted to paint the ceiling white, but if your walls aren't white, this won't make your ceiling look any higher. A darker ceiling, though, tricks the eye and adds elevation. Trust us, this tip works!
6. Make Strategic Lighting Choices
There are some really cool hanging light fixtures that will add a fun touch of drama to your bathroom. But choose one that's too large or hangs too low, and that drama will quickly turn messy. Use something small or try wall sconces instead that reflect the light upward.
7. Cut the Clutter
Don't undo your hard work by filling your half bath with toiletries. Since this isn't your primary bathroom, it only needs soap, a hand towel, and maybe a little bottle of lotion and a candle.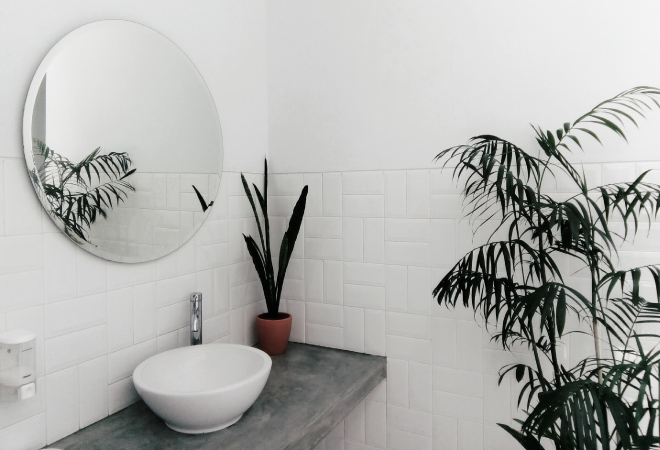 (Source: intan Indiastuti via Unsplash)
8. Get a Bigger Mirror
Because mirrors reflect light, they brighten up any room and give the illusion of more space. Swap your small mirror for a larger one that's either frameless or has a thin frame.
9. Backlight the Mirror
Instead of making extra room for light fixtures or scones, backlight your mirror to add light without adding more hardware. It also creates some drama without going overboard.
10. Try a Mirrored Wall
While we're on the mirror topic, if you have the space, consider mirroring a whole half bath wall. This will really trick the eye into thinking the bathroom is larger than it is.
Half Bath Decor Ideas
Your powder room doesn't need a lot of knick-knacks to make it aesthetically appealing. Making a few sleek design choices will do the heavy lifting in that arena.
11. Choose a Few Nice Accessories
Wondering, "How can I make my half bath look fancy?" You don't have to add gold plating to every element of your half bath to make it look expensive (in fact, that would probably have the opposite effect). All it takes is a nice towel bar and faucet to add an elegant look.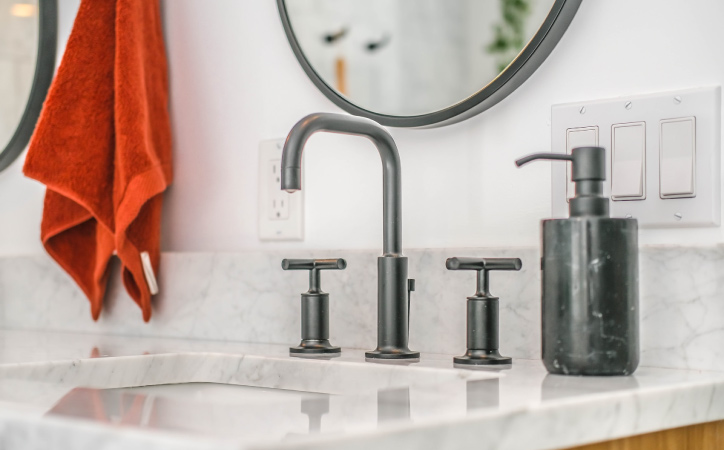 (Source: Zac Gudakov via Unsplash)
12. Add a Pop of Color
White half bathrooms are incredibly popular because they visually open the small space. That doesn't mean you have to abandon color altogether, though. Give your half bath some personality by choosing a fun hand towel, accent rug, or small piece of art.
13. Use a Ladder
Think you don't have enough room for shelves or cabinets? Think again. Use a ladder bookshelf, like this one from Amazon, to display your towels and maybe a candle, plant, or bath products.
14. Try a Theme
If you're a fan of florals or a lover of literature, this is your chance to show off your passion through decorative touches. You could have a flowery wallpaper or even line the walls with pages from your favorite books. Use your creativity!
15. Swap Your Faucet
If you don't want to spring for a new sink, you can get a new faucet instead. Choose one in a bold color for a show-stopping effect, or get one with expensive-looking hardware. You'll be surprised how much of a difference it can make!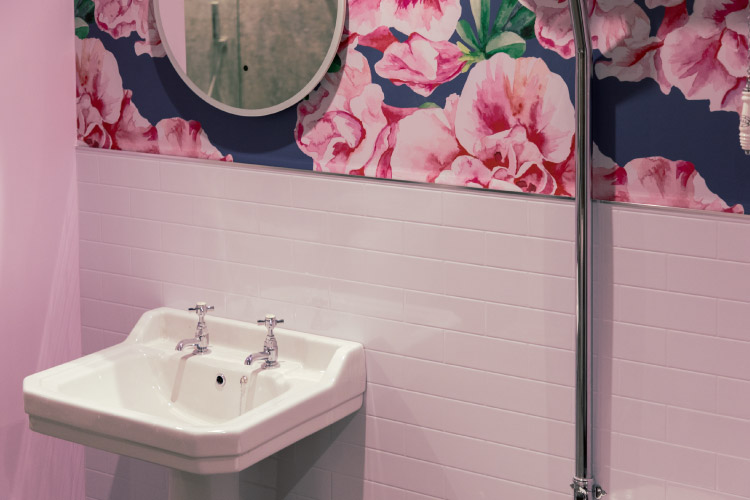 16. Try Wallpaper
Wallpaper can transform any room, half baths included. And if you don't want to cover all the walls, you can select just one for an accent. The good news about wallpaper, too, is that it doesn't have to break the bank. Sure, there are costly options out there, but there are also peel-and-stick wallpapers that you can apply yourself in minutes.
17. Go Green
No, we're not talking about making energy-efficient half bath upgrades — although we will get to that in a minute. Adding a few small plants to your half bath is a great way to give it some life. Choose a small vase and fill it with a rose or two, or try a few succulents if you're the type who likes to set it and forget it.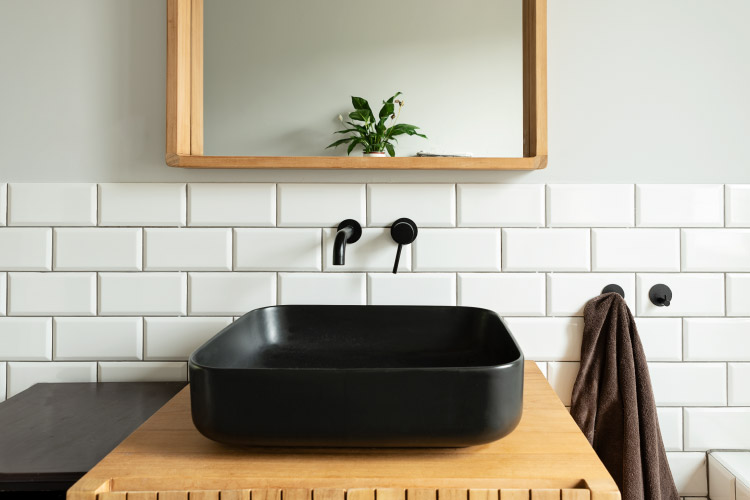 18. Get Funky
You may like a more traditional aesthetic in the main rooms of your home, but the half bath is a fun spot to add some artsier choices without shifting the house's entire vibe. Maybe you want a more modern, earthy look with a stone vessel sink, or perhaps you have a wall that's big enough to handle a full-length mirror with unusual features, like this wavy one from Wayfair. If you're ready to have some fun, this is the time and place to do it!
19. Incorporate Small, Luxurious Touches
We've talked about alternatives to marble countertops, but also keep in mind that using marble for a half bath is much more affordable than putting it in your primary bathroom. If you only need a few square feet, this is an inexpensive way to add some luxury to your space. The same goes for higher-end hardware, faucets, and lighting. A sconce by the mirror not only adds light, it adds a touch of class.
Q: How do I make my half bath look better?
A: You don't have to take your half bath down to the studs to transform the space. A fresh coat of paint, an accent wall created with peel-and-stick wallpaper, some new hardware and fixtures, and a few smart decor choices can greatly revitalize the space.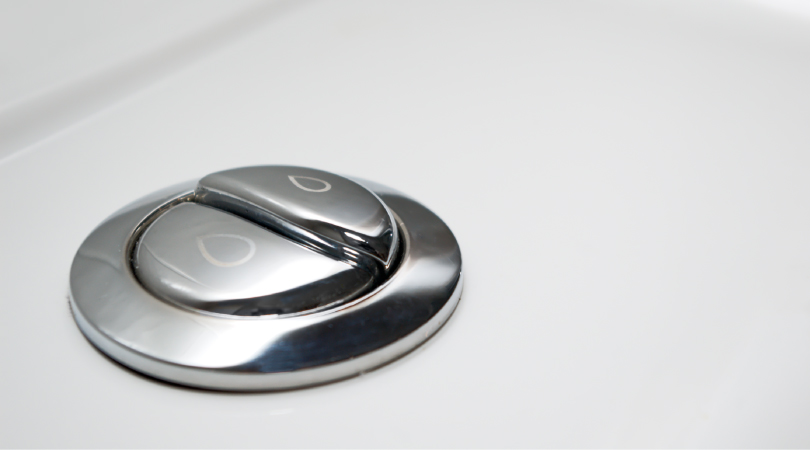 Energy-Efficient Half Bath Remodel Ideas
Half bath remodel ideas that look good are great. But half bath remodel ideas that do good are incredible. As energy efficiency becomes increasingly important for all homes, there are easy and affordable ways to incorporate this benefit into your remodel plan.
20. Let's Talk Toilets
Did you know that toilets are, by far, the main source of water use in your house? It's true! And, what's more, older toilets can use more than six gallons of water per flush. That's a ton of wasted water (and money). Remove your old toilet and replace it with a high-performance, water-efficient option, like a dual-flush toilet. Doing this can save almost 13,000 gallons of water a year.
21. Don't Forget the Windows
Although the toilet is the main culprit of energy inefficiency in your half bath, there's also energy escaping through your window (if applicable for your half bath). Replacing your old window with an ENERGY STARⓇ-certified one will make it easier to heat and cool the bathroom without draining your home's HVAC system.
22. Fix the Faucet, Too
A very small and simple addition you can make to your half bath sink is to add a faucet aerator. This is a small, round mesh device that screws onto the tip of your faucet. The mesh works as a filter to create a consistent stream of water. WaterSense faucets and aerators limit your water use to 1.5 gallons of water per minute, which can reduce water flow by 30 percent.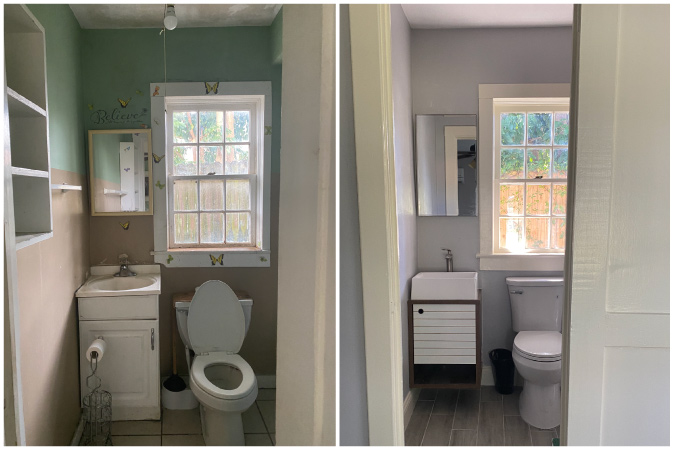 Before & after half bath remodel
(Source: Big Al's Construction Services LLC)
Complete Half Bath Renovation Ideas
Maybe the issues you have with your half bath can't be fixed by paint and a few houseplants. It may be time for a full makeover if you're tired of the countertops, sink, and more.
There's a reason these aren't included in the "Cheap Remodeling Ideas for Small Bathrooms" section. But spending a little money on the front end and getting what you really want is better than putting money into fixes that may ultimately leave you dissatisfied.
While every half bath remodel is different, if you're doing a complete renovation, the process will look something like this:
Demo: This is where things get messy. To bake a cake, you've got to break a few eggs. And, in this case, those eggs are your existing fixtures, sink, bathroom tiles, etc. Out with the old, in with the sledgehammer.
Plumbing and electric: If necessary, any plumbing and electrical needs will be changed to accommodate the new toilet, sink, and lighting.
Tile and paint: New bathroom tiles are laid, and the walls and ceiling are painted.
Installation: Once your space is prepped, it's time to install the new light fixtures, bathroom cabinets, vanity, sink, and toilet.
Final décor touches: Last but not least, add the bathroom accessories.
How Much Does It Cost To Redo a Bathroom?
We know the main question on your mind is "How much does it cost to update a half bathroom?" Let's get down to brass (fixture) tacks: According to
an article featured on Angi
, the average cost of remodeling a small bathroom is $6,500. The room may be called "half bathroom," but that doesn't necessarily mean that renovation is half the price of a primary bath. While it will likely cost less because powder rooms don't have showers or tubs, they still share many of the same elements. And, if you have a penchant for higher-end fixtures, you could be looking at a steeper final bill.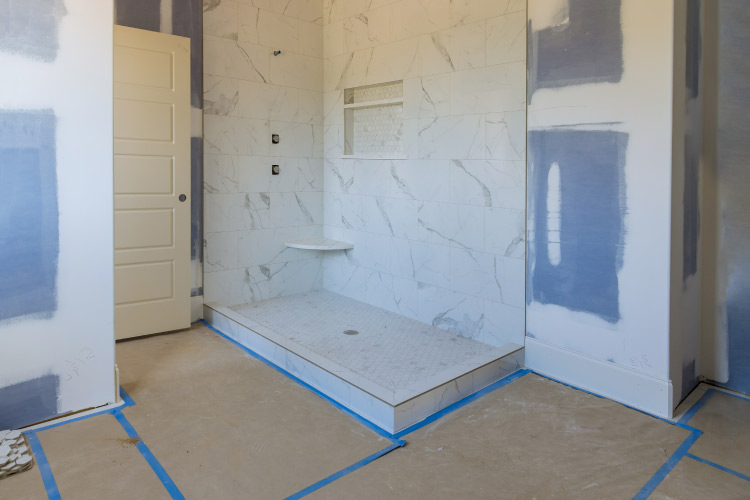 How Much Does It Cost To Turn a Half Bath Into a Full Bath?
You will need a bigger budget if you've got bigger plans for your half bath remodel. Turning a half bath into a full requires adding a tub, shower, and other electrical and plumbing elements. You'll likely need a contractor, too, as you likely will need to knock down some walls to fit the shower. A new shower installation can run between $1,000 and $4,000 alone. Adding more to the plan will, obviously, add more to the bottom line.
How Much Does It Cost To Turn a Half Bath Into a Full Bath?
There's a lot to consider when tackling a half bath renovation, but it's a project that's
worth the investment
. Not only will you and your guests enjoy the refreshed space, but it
will also add value to your property
. Now that's a win-win.
According to Zillow data
, bathroom remodels get the biggest return on investment when you're ready to sell your home. In fact, for every dollar you spend on cosmetic changes, you can see a $1.71 increase in home value.
Before you start ripping out fixtures, though, you'll need a plan of attack. Here are some considerations to take before you go full demo.
23. Create a Schedule
If this half bathroom isn't essential to your everyday living, you may have more time for remodeling. However, if you're getting ready to sell your home, host an event, etc., use this date as a guideline for the project's completion.
Since many home projects take longer than expected, factor this into your timeline. If you're using a contractor or any hired labor, ensure they understand your desired end date well before the project and can accommodate the timeline.
24. Set a Budget
With the average cost of remodeling a small bathroom being $6,500, ask yourself how that number compares with your expectations. Have no fear if you were hoping for a smaller final total, perhaps around $1,500. This number can fluctuate significantly, depending on a few factors. For example, labor can account for 10 percent to 20 percent of your project cost. If you can make some upgrades yourself, this can save some money (more on that in a minute).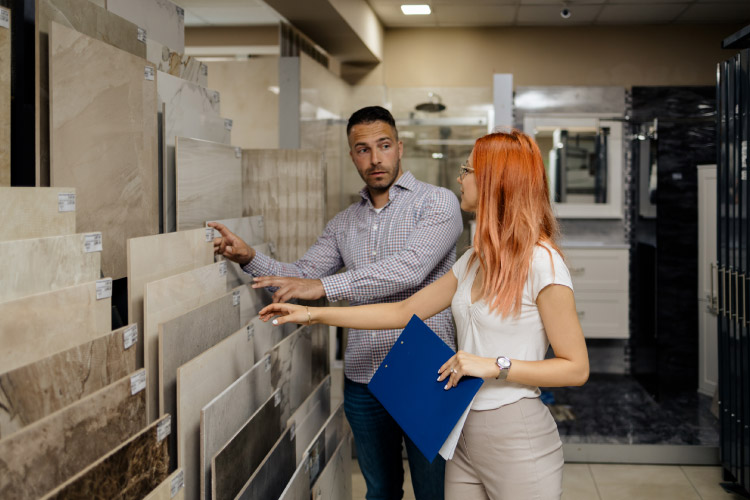 25. Pick Your Materials Carefully
Materials make a noticeable difference when it comes to your final bill. Your half bath remodel ideas may include surfaces like marble, but those can range from $40 to $100 per square foot. Instead, you can easily substitute real marble for cultured marble (a faux marble made from natural marble dust and liquid polyester resin) for half that price. The same goes for flooring. Maybe you want luxury vinyl plank or natural stone tile, but there could be standard vinyl or ceramic tiles that look just as good for a fraction of the price.
26. Decide If You're Going To Hire a Contractor or DIY
Since you're dealing with a smaller space that doesn't have a shower or tub, you may be interested in doing this renovation yourself. This can be the cheapest way to add a half bath, as you'll be cutting out labor costs. And, thanks to the abundance of home renovation TV shows, websites, and other resources, you have plenty of
pros to turn to for advice
.
Fair warning, though: It may seem like a simple job, but you'll have to handle some plumbing and electrical tasks, and if those aren't done properly, you could be spending all of that saved money on costly repairs. For peace of mind — and a protected home — consider using an electrician and plumber for light fixture installations and pipe connections.
Not confident in your DIY skills? There's no shame in handing the entire project off to a
qualified contractor
who can ensure the renovation runs smoothly from beginning to end.
27. Do a Partial DIY: Bathroom Floors
If you've decided that you can't handle all of your half bath remodel yourself, but you'd like to take care of a few tasks to cut down on labor costs, consider the DIY route for replacing features like your bathroom floors. Then you can call in the pros for the larger jobs and electrical work.
Wondering how to redo a bathroom floor? This YouTube tutorial breaks down the process in an easy-to-understand way:
28. Do a Partial DIY: Bathroom Countertops
As we stated above, the half bath countertops are likely something you could remove and replace yourself. This short video lays out how to redo bathroom countertops (and, no, you don't have to be a doctor to handle the job):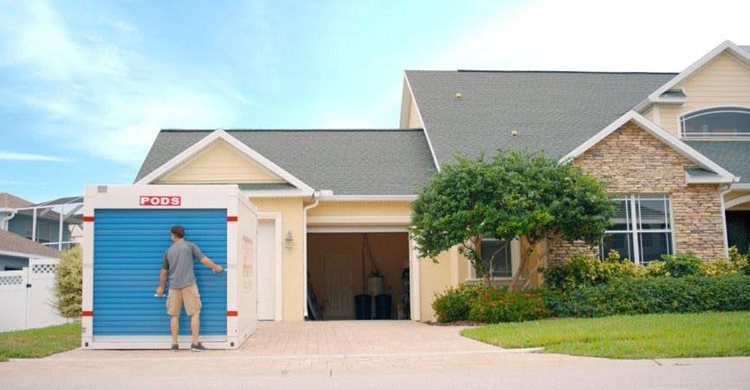 29. Make Room for Your Half Bath Remodel
No matter which route you choose — DIY, contractor, or a mix of both — you'll need to clear the space before the work occurs. You can store your things or hold rental equipment in a PODS portable storage container. Keep it in your driveway so items are out of the way but within reach during remodeling, or keep your container at one of the secure PODS Storage Centers for as long as you need.
For more home remodeling tips, check out the PODS Blog. We've covered everything from fixing up a fixer-upper to creating your dream home!
No matter your budget, you can transform your small space into the half bath of your dreams with these half bath remodel ideas.
LB Gabriel is a freelance writer who lives with her husband, daughter, and Golden Retriever in Memphis, TN. A frequent PODS Blog contributor, she's a sucker for any tip she can find on downsizing, cutting clutter, or minimalist living. When she's not on a deadline, you can find her on a tennis court or golf course.
Get a Quote
Choose the service you need
Comments
Leave a Comment
Your email address will not be published. Required fields are marked *