Take advantage of our limited time offer. Enter promo code HOLIDAY25 to save up to 25%.
See offer details
.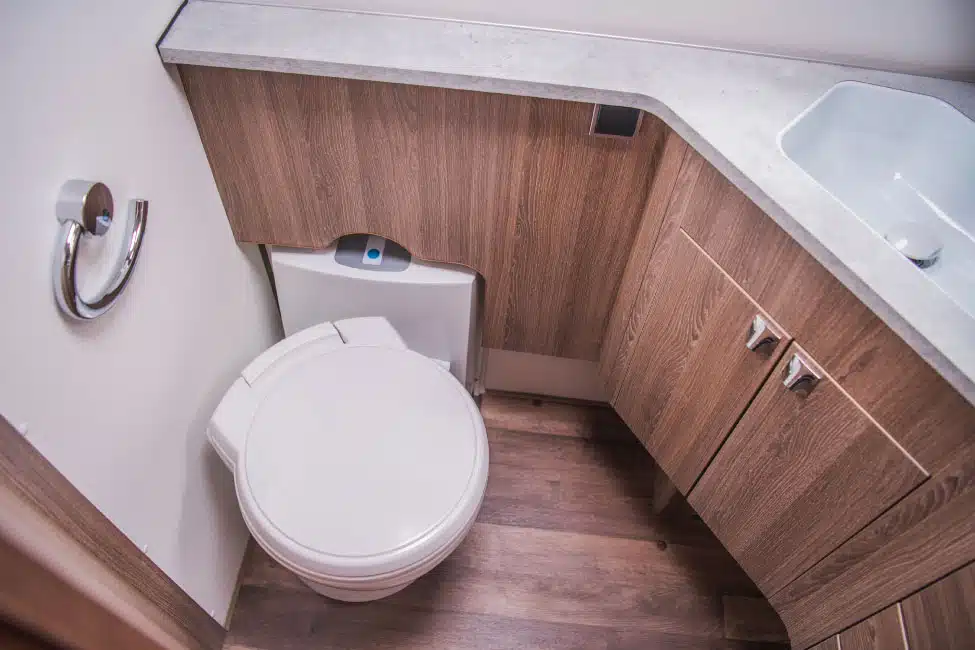 Your RV Bathroom Remodel: Tips For Transforming This Tiny Space
If you're in the middle of an RV remodel, there's one question you've probably asked yourself at some point: What can I do about this tiny bathroom? The answer may surprise you. Sure, an RV bathroom is only slightly bigger than the one you'd find on an airplane, but that doesn't mean it can't be functional and stylish. Take a look at our RV remodeling ideas to transform this wee little room into a Pinterest-worthy space. Because, as the saying goes, good things come in small packages.
How do you redo an RV bathroom?
No two renovations are alike, but here's a broad overview of a typical RV bathroom remodel, so you have a general idea of what to expect, as well as some RV bathroom ideas.
Insider Tip: If you're remodeling a camper trailer or RV top to bottom, we recommend checking out the PODS blog article on remodeling an RV bedroom, too.
Step 1: Do some demo
Chances are, if you have an RV that's more than a decade old, the first thing you'll need to do is take out the shower, toilet, cabinets, and sink. This may mean that you have to rip up the flooring and make some adjustments to the water lines and pipes. If you're not well versed in all things plumbing, it might be a good time to call in a professional for assistance.
Wondering what to do with the old fixtures? Or where to store the new ones while you're laying the groundwork for their installation? Since RV floor space isn't an option, consider having a PODS portable storage container delivered right to your driveway. Use it to store and organize remodeling tools and materials — all while keeping everything within arm's reach. Out of your way and out of your home but right where you need it. Hold on to the container for as long as you need to, and when you're all done, PODS will pick it up.
Step 2: Go "wall" out
A fresh coat of paint is one of the cheapest and easiest ways to give a room an instant makeover. If you want the space to feel bright and open, go for a light neutral color like white or gray. If you're someone who needs a splash of color in your life, try a bold gemstone hue like emerald or ruby. Before painting, sand the walls and add a coat of primer. Then, paint two to three coats of paint to get optimal coverage. Just be sure to give each coat of paint 24 hours of drying time before you add a new one.
Then again, if the thought of breaking out the brushes and painters' tape gives you pause, there are other options. Wallpaper, for example, is a fun way to add some personality to the space. Thanks to the abundance of affordable peel-and-stick options on the market, you can quickly add it to your walls and — voilà! — an instant look of luxury at a fraction of the price. Note, though, that regardless of whether you're using wallpaper that needs to be glued on or the peel-and-stick kind, you'll still need to sand your walls first.
Step 3: Focus on the floor
When it comes to RV flooring, you need to weigh practicality against aesthetics. For example, you may fall in love with some gorgeous marble tiling, but marble is a high-maintenance material that stains and scratches easily. Is that going to work when you're kicking off your muddy hiking boots? Or do you need flooring that's more durable?
Another factor you need to consider is weight. This isn't your traditional bathroom makeover. An RV can only accommodate a certain amount of weight before the load affects driveability. For a lightweight and durable floor, here are some options to consider:
Peel-and-stick porcelain tiles: They're lightweight, come in a variety of styles, and are easy to maintain. Plus, you may be an adult, but there's no shame in still getting joy out of stickers.
Vinyl flooring: It's cost-effective, water-resistant, and easy to clean. There's a reason why most RVs have vinyl flooring, but keep in mind that vinyl can fade over time.
Teak wood flooring tiles: Hardwood flooring is often too heavy for an RV. Get the look for less with stylish and durable interlocking teak wood tiles.
Step 4: Count on new countertops
Depending on your budget, there are a few ways to update your countertops. If you're looking to save a little money, there are peel-and-stick countertops in faux marble or granite that you can lay on top of existing ones. Or you can make cosmetic repairs and give the countertops a fresh coat of paint.
If you want to go all out, you can replace the countertops with laminate (less expensive) or quartz (a little more pricey). If you're looking for a durable material that's middle of the road, try Corian or soapstone. And for a rustic feel, IKEA makes a wood veneer countertop that will give your bathroom a fashionable farmhouse look and feel that would make Joanna Gaines proud. And speaking of IKEA, they've mastered the art of looking good without sacrificing (multi)functionality. Check out some of our other favorite IKEA small-space decorating hacks on the PODS blog.
Step 5: Get the light just right
No, you likely won't have room for that chandelier, but that doesn't mean you can't have some fun with your RV bathroom lighting. If you want something out of sight and out of mind, try a trio of recessed LED lights. They'll conserve energy, won't overheat, and are typically easy to install.
If you'd like your light fixture to be a bit more visible, try a small ceiling dome or a well-placed sconce by the bathroom mirror. Don't forget to open up the windows, too. Curtains or shades are great for privacy, but you'll really open up the room once you let the natural light flow in.
Step 6: Fixate on fixtures
Time to focus on the key elements of the room — the shower, sink, and toilet. Like we mentioned, weight is a factor when it comes to incorporating these items, so you'll need to keep that in mind as well as any unique plumbing needs. Doing some due diligence beforehand can prevent a lot of maintenance headaches down the road.
You may be surprised to learn that your RV can likely accommodate a normal bathroom sink. If you don't mind sacrificing your counterspace, this type of sink can make a big impression in your small room — in a good way. But if space is a concern, there are plenty of RV sink options that are miniature versions of the ones you're used to at home.
Q: Can you tile an RV bathroom?
A: Yes, but consider the following before going ahead with a tile job: Tiles will add extra weight to your RV, and you may want to use a flexible adhesive and grout to withstand the bumps and vibrations that come with life on the road.
As for the RV shower remodel, you can either install a prefabricated stall model or, as some people choose to do, tile a corner of your bathroom, install a shower floor, put up a curtain rod, and make your own corner model. If you want to really open up your floor space, check out the RV bathroom shower combo, which is a toilet that sits inside the shower. Wait, wait, wait. Hear us out! They're specifically designed for RVs and use two different drains for each — ahem — function.
And speaking of toilets, if the combo idea is just too close for comfort, there are lots of other RV toilet types. Obviously, you'll need one that fits the space, but you also need to decide if you're willing and able to handle the cleaning process. Here are some typical models:
Standard gravity-fed RV toilet
RV cassette toilet
RV macerator toilet
Composting toilet
Portable toilet
Dry flush toilet
A deciding factor may be your plumbing capabilities, specifically when it comes to the holding tank. This is what allows your RV to use water and sewage and dictates when you'll need to visit the dump station. The three holding tank types are freshwater, gray water, and black water. If your shower uses freshwater, this will deplete the freshwater tank. The gray water tank captures wastewater from the sink and shower, and the black water tank captures wastewater from the toilet.
Q: Can I replace my RV tub with a shower?
A: Absolutely, and that's not a bad idea, since a shower can take up less space and use less water. Just make sure everything is sealed correctly, since the profile of a shower pan is lower than a tub.
Step 7: Add finishing touches
Now that your RV bathroom remodel is mostly complete, it's time for some decor. Don't laugh — you're not working with much wall and counter space, but you can hang a towel ring and a cute decorative hand towel. You might even find a spot for a tiny succulent or two. Here are some other small-space decorating tips that might provide a bit of inspiration.
And if you're wondering where to store your toiletries, we suggest making the most of the cabinet under your sink, if that's an option. If not, you may want to consider storage options in other parts of your RV. The best piece of advice we can give? Continually purge your toiletries to ensure you've only got the necessities on hand. As you can imagine, this small RV bathroom can become cramped pretty easily.
Now onto the next RV remodeling project…
---
LB Gabriel is a freelance writer who lives with her husband, daughter, and Golden Retriever in Memphis, TN. A frequent PODS blog contributor, she's a sucker for any tip she can find on downsizing, cutting clutter, or minimalist living. When she's not on a deadline, you can find her on a tennis court or golf course.
Get a Quote
Choose the service you need
Comments
Leave a Comment
Your email address will not be published. Required fields are marked *