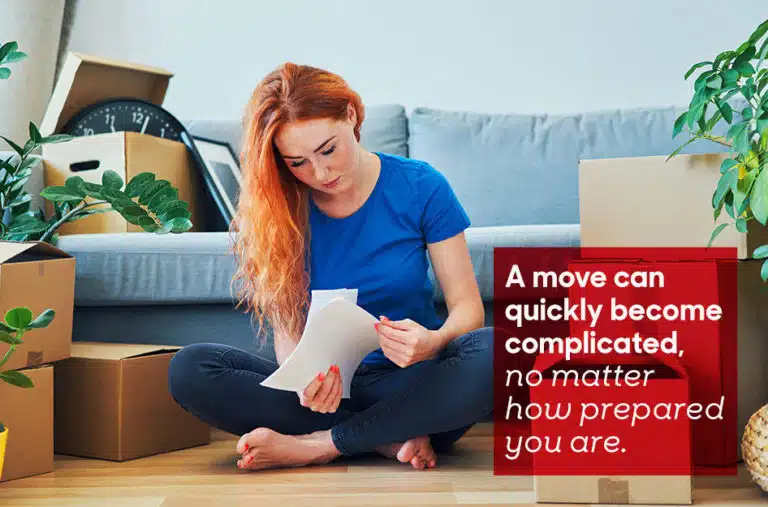 Complex Moving Situation? See How PODS Moving and Storage Can Help
Let's be honest: Is a move really ever just a move? Something unexpected is bound to come up at some point during the process, right? But what if that "something" ends up being a quite large thing? Say… your home's closing date changed. Or you get a call from the builder saying your home won't be complete as originally scheduled. Or how about from your new employer asking you to change your start date and bump your relocation timeline? You now have to worry about temporary housing and short-term storage in addition to everything else on your moving to-do list.
You did not plan for that kind of unexpected surprise!
But alas, sometimes a move just ends up turning into a logistical challenge for everyone involved, regardless of how well you planned in advance. And it's during that time, a traditional solution just won't cut it for your particular needs. So what are your options?
Let's take a look.
What are the different types of movers?
The good news? You have options. Go ahead. Breathe that sigh of relief. Everything's going to be just fine. The bad news? There are so many options that it may be a little overwhelming at first.
To help you avoid choice paralysis, here's a quick guide to the moving options you'll likely encounter and need to narrow down:
Local, long-distance, and international movers: This is pretty self-explanatory. They offer standard service, but the main difference is the distance between your current and new homes. In these cases, checking track records and avoiding any hidden costs should be your main priorities.
Specialty movers: This one's for art collectors, antique collectors, or any others transporting very valuable (and usually delicate) items. There are also specialist car movers, in case you need to send your vehicle somewhere.
Small-move experts: This is for when you need to send a small number of items that don't justify hiring a bigger service but that, at the same time, are too big to be mailed.
Full- or partial-service moving companies: Full-service movers will help you pack, load, unload, and even unpack. Partial ones offer combinations of these services but not all of them at once.
Truck rentals: Renting a truck may be the most affordable option for your move, but you have to do all the work, and the responsibility for logistics falls on your shoulders.
Portable container companies: They offer a "you pack, we drive" model that's usually more flexible than DIY truck rentals, but they can also offer other complementary services in addition to the basics. They're generally the most flexible movers all around, so they're also the better choice for complex moves that don't involve leaving the country.
How do you choose which moving option is right for your move?
You need to consider the specifics of your move. Are you just moving a couple of doors down? Maybe you can hire a couple of friends and neighbors to move everything by hand. Does your lease end date line up perfectly with your move-in date? Grab a truck and get it done in a day. But when things get fuzzy (do you need to find a new school for your kids? Closing date in flux? Not sure what neighborhood you want to be in?), you'll really want to think about this.
Since this particular move is a little more complex than a typical move, you'll need to take different considerations into account. For instance, consider which moving solution will most efficiently cater to your specific moving situation — especially if there are more than two destinations involved. Likewise, who can cover all your non-negotiables and leave room for necessary changes that could come along? And who can do all this without charging you an arm and a leg?
After settling that, if you also need to have your things stored for a period of time, you should research moving companies with storage, how long those companies will store your stuff without tacking on additional fees, and whether their terms are flexible.
What's typically the most flexible option? That's a moving and storage container. The option to rent it for as long as you need means you don't need to flood your new place with boxes all at once as soon as you arrive.
Why choose PODS over other movers?
PODS moving and storage containers should be your go-to solution when dealing with complex moves. Chances are, we've been down that road before (see what we did there?), so you can focus your energy on making your transition into your new place a peaceful one.
PODS also offers advantages such as:
Pay-as-you-go pricing, so there's no guesswork ahead of time
Cost-effective solutions, so you can stay within budget
Flexible terms when it comes to renting containers, so you can pay month to month as long as you need to
We even take care of the driving, so you don't need to worry about gas or navigating any traffic!
The best part? PODS' flexibility means storage is built into every move — even the complicated ones. So whether it's across town or out-of-state moving, if you suddenly need extra time to load or unload your container — and even if you need short-term or long-term storage at a secure PODS Storage Center — PODS has you covered.
Want more advice about your move? Head to the PODS Blog. From tips about what not to pack to packing hacks that are sure to impress even the most experienced mover, we've covered it all!
---
Ivonne Spinoza is a freelance writer and a frequent contributor to the PODS Blog. Her work has appeared in Matador Network, PBS' Independent Lens, and The Chicago Tribune, among others. When she's not snuggling her cats, she's either Kondo-ing someone's life or fighting jet lag at some airport.
Get a Quote
Choose the service you need
Comments
Leave a Comment
Your email address will not be published. Required fields are marked *