Looking For A Home In Brookhaven, GA? Get Insider Tips On Neighborhoods And Life In This Popular Atlanta Suburb
Looking for a way to blend your cosmopolitan lifestyle with a more suburban feel? If you're moving to Atlanta and want a classic family-friendly community with shopping, restaurants, great schools, and a short drive into the heart of the city, then Brookhaven may be just the right spot for you.
To get to know the area and its many offerings, we asked Brookhaven resident and top local Realtor Natalie Blalock to give us her insider perspective on Brookhaven life, the home buying market and schools.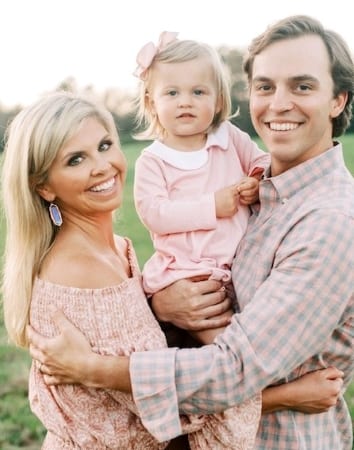 Representing Atlanta Fine Homes Sotheby's International Realty, Blalock has ranked as Top Producer with the Atlanta REALTORS® Association 2017-2020, having achieved more than $42 million in sales. She lives in Brookhaven's Ashford Park neighborhood with her husband, Chad, their daughter, Berkeley, and their Goldendoodle, Bailey.
What attracts people to Brookhaven, GA?
Brookhaven is a new city – incorporated in 2012 – but it still has a lot of quintessential historic Atlanta charm. With a population of just under 50,000, it's large enough to boast some great amenities but still has a communal feel.
"Many families are attracted to the area because it has great public and private schools, larger lots compared to other intown pockets, restaurants, shopping, and is only a 20-minute drive into Downtown Atlanta," Blalock says.
She adds that housing turnover is rare in Brookhaven because it's not only a great place for families, but young professionals and older couples alike.
Brookhaven is considered one of Atlanta's more affluent neighborhoods. Here's a quick look at Brookhaven by the numbers:
| | |
| --- | --- |
| Median household income | $87,252 |
| Residents with a bachelor's degree or higher | 67.4% |
| Median home price | $446,000 |
Sources: Census data as of 2019 and Niche.com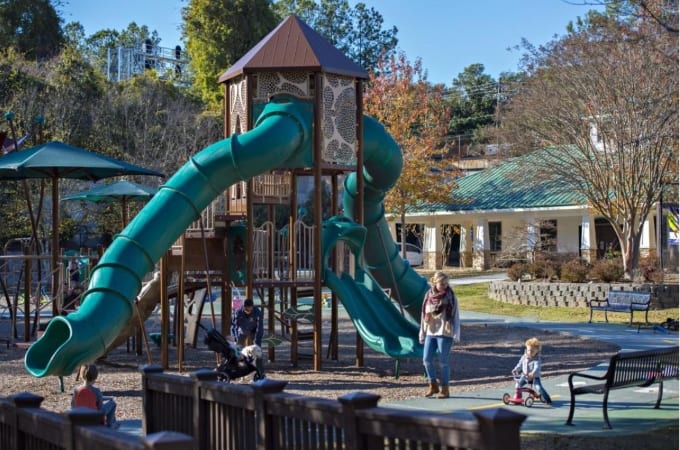 Best neighborhoods in Brookhaven, GA
Where are the best places to start when you're looking for a home in Brookhaven? "It depends on what the buyer is looking for," says Blalock. "Larger lots? Close proximity to restaurants and shopping? For the most part, the variety of price points and quickly moving inventory shows Ashford Park to be very desirable."
Ashford Park
This neighborhood features larger homes and lots – many new constructions. Not only is it close to shops and restaurants but parks and recreational activities. It also has easy access to MARTA – Atlanta's public transportation system. Ashford Park has many family-friendly amenities, including a community center, picnic shelter, tennis court, and playground area with a "Trike Track."
Drew Valley
Two other popular neighborhoods are Drew Valley and Lynwood Park. These areas offer a variety of price points, from $1 million new construction homes to $450,000 single family homes. These are great options for those open to areas outside of Ashford Park.
Drew Valley primarily features ranch-style homes with three bedrooms and two baths, but there are also several houses with more contemporary styles like farmhouse and craftsman. The neighborhood is conveniently located to lots of shopping and dining options in the Brookhaven and Buckhead areas.
Lynwood Park
True to its name, Lynwood Park encompasses a 10-acre park with a picnic pavilion, playground, mixed-use sports fields, and an abundance of greenspace. Outdoor lovers can enjoy their Community Center, which features a basketball court, swimming pool, tennis courts, and the Brookhaven Parks and Recreation headquarters.
Historic brookhaven
For those looking for homes with lots of character, check out the lovely Historic Brookhaven area. Many houses were originally built in the early 1900s, but there are also newer homes, too. Be prepared for a high price tag, though, as these expensive homes have a median list price of $1.6 million.
What's it like buying a home in Brookhaven?
In the city of Brookhaven, single family homes have greatly increased in value over the past few years. According to Blalock, entry-level prices for single family homes in the more affordable pockets are in the mid-400s. But on the opposite end of the spectrum, pricing appears to be entering the stratosphere. "We're also seeing tear-down lots available in the higher-priced pockets for close to $600,000," she adds.
"The market is hot!" says Blalock. In her recent experience, buyers need to be ready to make an offer the day a home hits the market, especially if the listing price is less than $1 million. That can put a lot of pressure on buyers, so what's her advice for navigating this competitive landscape?
"Have a conversation with a lender at the very beginning stages to know how to position yourself as a favorable buyer in a sellers' market," she says. "Also, consider working with an agent who has connections within the community and Brookhaven agent network. They're more connected to the sellers and may be able to help you purchase a house before it even hits the market."
One of the reasons the current market is geared toward sellers is because inventory is low. There's a lot of new construction in the area, but that still doesn't meet the high demand.
Blalock says buyers may have to wait for the needle in a haystack, but that's no reason to go beyond your budget. She advises buyers to have a back-up plan in place in case they need to sell a current home and aren't ready or haven't found the right house to buy. That plan may be living with family or renting, and keeping extra household items safe and out of the way in portable storage, where it will be ready to go when you find a home. It's all staying flexible right now!
Where can you find apartments in Brookhaven, GA?
While many young professionals flock to midtown and downtown Atlanta for condos and apartments, some are finding the Brookhaven area a nice retreat from the hustle and bustle of city life. The average rent in Brookhaven is $1,450 a month, comparable to other Atlanta areas, like Sandy Springs and Kennesaw.
"Most Brookhaven citizens are homeowners," says Blalock. "The rental market is strong, but there aren't a lot of options. Brookhaven and Chamblee have seen a need for this and added more mixed-use developments."
Village Place, a mixed-use community with apartments, townhomes, and condos offers walkability to many retail shops and restaurants, making it an attractive community for young professionals and older couples without children who want to be close to Brookhaven nightlife. Other Brookhaven apartment communities to consider include Ashford Apartments, walking distance from Blackburn Park, and Oleander, a new luxury rental community.
Schools in Brookhaven, GA
Brookhaven has several strong public and private school options. The public schools are part of the DeKalb County School District, Georgia's third largest system.
Public elementary schools include Ashford Park Elementary, Montclair Elementary, Montgomery Elementary, and Woodward Elementary. Kittredge Magnet School, also part of the DeKalb County School System, is ranked in the top 300 elementary schools in the state of Georgia, according to Niche. Ashford Park Elementary isn't far behind, in the top 350.
Chamblee Charter High School and the DeKalb School of the Arts are both highly ranked, named the 18th and 29th Best Public High Schools in Georgia, respectively.
Marist School, a private school for grades 7 through 12, is ranked the 14th Best Private High School in Georgia and the Second-Best High School in DeKalb Country.
Map: Brookhaven to Atlanta
How far is Brookhaven from Atlanta?
Just 10 miles north of downtown Atlanta, Brookhaven is a short drive – around 20 to 30 minutes depending on traffic. Even with Atlanta's infamous traffic, you'll have no problem commuting from Brookhaven.
If you want to take public transportation to the city instead of your car, Brookhaven is on MARTA's Gold Line and has access to Zipcars, a car-sharing service. While a car is obviously quicker, the bus is a reliable option.
Brookhaven is on the inner edge of the perimeter (also known as ITP – inside the perimeter), which means it's inside the loop made by Interstate 285 around Atlanta's downtown area. Inside and outside the perimeter (OTP) are significant distinctions for Atlanta residents, especially when it comes to real estate, with home prices typically being higher ITP and lower OTP.
Brookhaven shopping and dining
One location is all you'll need for all of your Brookhaven shopping and dining needs – Dresden Village. This pedestrian-friendly retail and restaurant experience along Dresden Drive has more than 29,000 square feet of street-facing boutiques and locally owned restaurants.
It's located to the east of the Brookhaven MARTA station and anchored by the Village Place and Village Park Place mixed-use developments. The village is bordered by Ashford Park to the north and Brookhaven Fields and Drew Valley to the south. Many Brookhaven residents are able to easily walk to Dresden Village, one of its many appeals.
If you want to drive a few minutes to the neighboring Buckhead area, there's great shopping at the larger Lenox Square Mall and Phipps Plaza.
Moving to Brookhaven, GA
If you're looking for a town that's great for raising a family, but still close to the culture and character of a large city, then Brookhaven is a solid choice. And Natalie Blalock is a wonderful resource for all of your home shopping needs.
If you're planning an upcoming move, it's important to research not only neighborhoods but your packing and moving options – take it from Atlanta mom Katherine Tuttle, who's moved eight times in six years! No matter if you're moving from one Atlanta area to another or across several state lines, it always helps to have a plan.
And, when you get here, don't forget to treat yourself to a big glass of sweet tea and a slice of peach pie!
Sources:
(Credit for photo featured at top: Historic Brookhaven, courtesy of Bailey Peterson, Dorsey Alston Realtors)
---
LB Gabriel is a freelance writer and frequent PODS blog contributor. When she's not on a deadline, you can find her on a tennis court or golf course.
Get a Quote
Choose the service you need
Related Articles
Luxury Atlanta Apartments: 7 Midtown, Downtown, and Buckhead High-Rise Apartments That Will Dazzle You
Read more
Comments
Leave a Comment
Your email address will not be published. Required fields are marked *