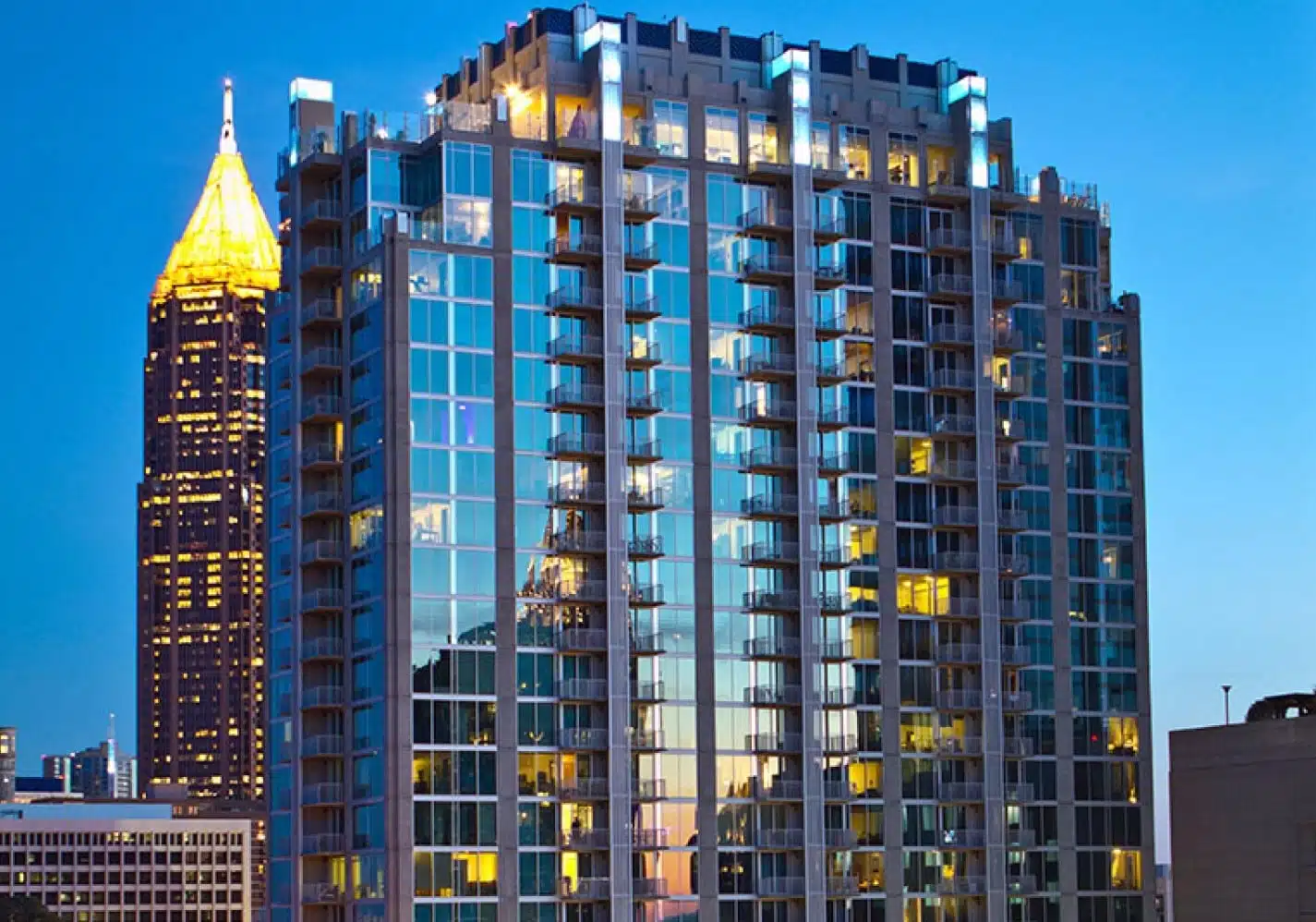 Luxury Atlanta Apartments: 7 Midtown, Downtown, and Buckhead High-Rise Apartments That Will Dazzle You
The word "apartment" may not always conjure up the most glamourous image ... I tend to think of Jerry's drab Manhattan apartment in Seinfeld. But there are apartments and then there are luxury apartments — places with that ideal mixture of comfort, class, and convenience. And for those looking in Georgia's capital, we're going to talk about the very best luxury Atlanta apartments here. From Midtown to Downtown to Buckhead, here's a look at some of the communities redefining what it means to rent. Our goal is to help you find a home that's perfect for your style, location, and budget, whether you're moving to Atlanta from across the country or you're an Atlantan just looking for an upgrade.
One interesting feature we found is that if you're looking for a short-term rental, a handful of these communities offer lease terms of just three or six months. If you're relocating to Atlanta and looking for the perfect home to buy or undertaking a major renovation, these places make a great option. They give you a chance to experience living in a resort-like setting while keeping the bulk of your household in
temporary storage
.
But before we start our tour of some of the best apartments to live in Atlanta, let's do a quick overview of the local rental scene.
Q: Are luxury apartments worth it?
A: Though luxury Atlanta apartments come with a higher price tag, they also come with amenities like concierge service, on-site gyms, skyline views, business centers, and rooftop pools that can make the rent worth it. Plus, there's a pretty wide range of luxury options, from studios going for $1,400 to penthouses renting for $10,000-plus.
Renting in Atlanta
There's no shortage of apartments, lofts, and condos in Atlanta. Still, the housing market in the city can feel a bit tight, meaning prices get inflated. Here's a look at the average cost of rentals in the city.
Cost of Renting in Atlanta
Average apartment size: 969 square feet
Average monthly rent: $1,852
Source: RentCafe
That rent might seem pretty high for normal apartments. The good news is, you can actually get a sleek luxury Atlanta apartment for just a few dollars more than the average, if you know where to look. So let's get to it.
Q: Is the cost of living in Atlanta high?
A: The cost of living in Atlanta, GA, is 2 percent higher than the national average — 8 percent higher when it comes to housing, but lower in average utility and grocery costs. That's not bad when compared to other major cities, though, like New York, which is 128 percent more than the national average, or Miami, which is 21 percent higher.
The Best Luxury Apartments and Lofts in Atlanta
Most of the best luxury apartments in Atlanta are located in three areas — Midtown, Downtown, and Buckhead. Each part of the city has its own unique vibe and pace. You can read our Atlanta neighborhood guide to learn more.
Best Apartments in Midtown Atlanta
Midtown has a bit of everything: art, food, nightlife, business, and convenient access to both the urban center and the beautiful green spaces at its edges. These three luxury apartments in Midtown Atlanta communities will show you the best of the neighborhood.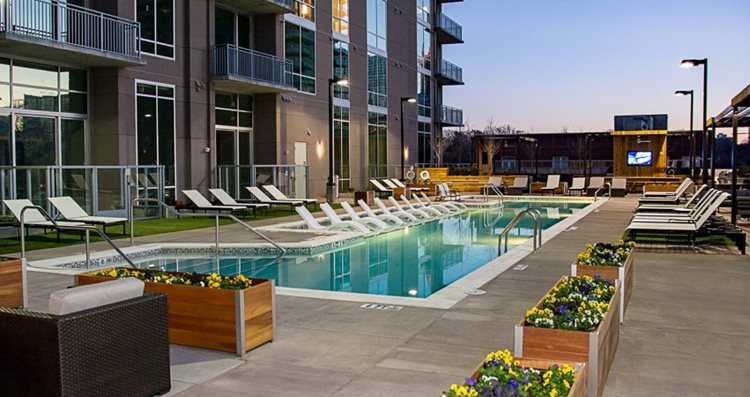 The pool at Piedmont House is the perfect place for residents to unwind on the weekend.
(Source: Piedmont House via Facebook)
Luxury living that puts you right next to Atlanta's largest and most beautiful green space
Location: 205 12th Street NE

Right at the southwest corner of Piedmont Park, the Piedmont House's Midtown location cannot be beat. You'll be within walking distance of dozens of restaurants and just over a mile from Trader Joe's. Did we mention the park? Seriously. It's one of Atlanta's most popular parks, full of walking and jogging trails, playgrounds, tennis courts, a lake, and both a community and botanical garden.
Building amenities:
Pool
Poolside cabanas
Clubhouse
Controlled access/gated
Covered parking
Elevator
Fitness center
High-speed internet
Sundeck and rooftop terrace
Grilling areas
Co-working spaces
What we love: One of the biggest draws to the Piedmont House is, obviously, its location right next to the park. But you shouldn't overlook the sheer beauty of the building's apartments. These units are equipped with pristine stainless steel appliances, perfect wood cabinets, huge windows, and a certain je ne sais quoi that will make you feel like you're in a James Bond movie.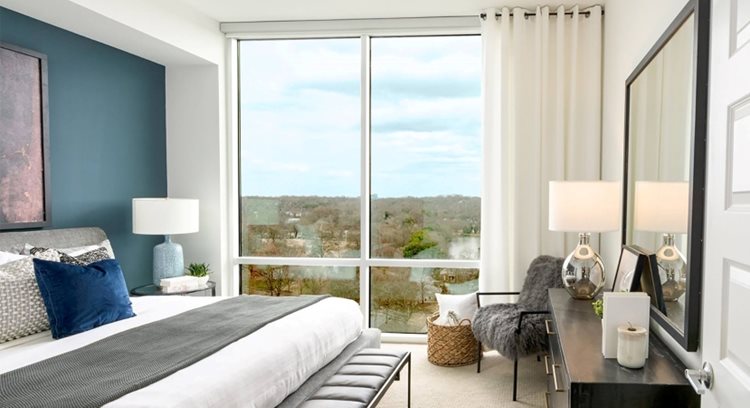 Many of Piedmont House apartments feature gorgeous views of the city's beloved Piedmont Park.
(Source: Piedmont House via Facebook)
What residents say: "We've lived at Piedmont House for almost two years now, and it has been great. The amenities are top quality, and it feels like living at a luxury resort. We love the rooftop, pool, and gym. The whole staff is great. The complex is always clean, and the maintenance team is the best we've ever dealt with. They are very helpful and always solve any issue quickly. We go to Piedmont Park almost every morning for a walk, since it's just next door. There is a nice cafe to grab coffee downstairs, as well. The whole neighborhood is great, and we've really enjoyed living here."
What makes it special: You can entertain your friends (and your dates) at the piano room and wine lounge. Yeah, this place is freakin' classy.
Floorplans: 1-bedroom, 2-bedroom, and 3-bedroom
Price: ~$2,200-$7,900/month
Lease terms: 5 to 15 months
Pet-friendly: Up to two dogs allowed per unit; max weight 100 pounds each; one-time fee of $400; $15/month
Perfect for: Urban professionals who love being close to everything, including pristine green space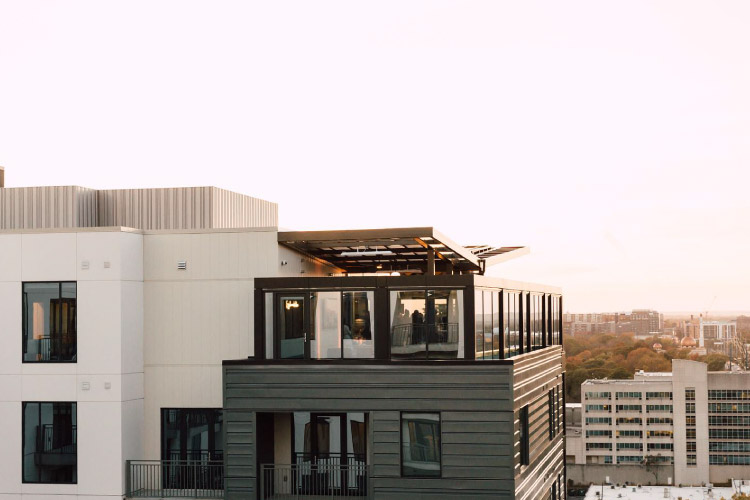 Novel Midtown
(Source: NOVEL Midtown Atlanta by Crescent Communities via Facebook)
High-end living with modern design and wellness-centric amenities for humans and pets alike

Location: 1140 Spring Street NW

One block away from Peachtree Street, one of Atlanta's most notable thoroughfares, and directly across the street from a Whole Foods, luxury Atlanta apartments don't get much more central than Novel. So long, strenuous walks with grocery bags, and hello, easy access to all of Midtown.

Building amenities:
Spa with a steam room, jacuzzi, and showers
Yoga room
Bike storage and repair shop
Fitness club (3,000 square feet large)
Infinity-edge pool
Co-working space
Land of a Thousand Hills cafe
On-site pet park and pet spa
What we love: Completed in 2022, this 14-story building is brand new and it shows. The units boast practical features like keyless entry and smart thermostats, as well as modern design choices like white quartz countertops and navy blue wood shaker cabinetry (with soft-close doors, of course).

On top of the variety of communal amenities, the building's ground floor cafe is not only a sweet spot to grab a coffee on your way out but also a convenient way to commune with neighbors.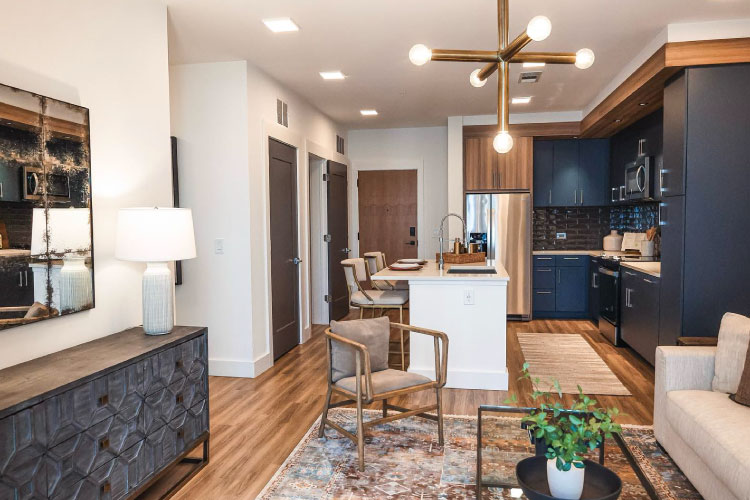 Novel Midtown apartments offer a chic and simple design that can work with nearly any decor style.
(Source: NOVEL Midtown Atlanta by Crescent Communities via Facebook)
What residents say: "I toured 8 apartments yesterday, and the Novel Midtown really stood out from the others! From the start, the amenities were SO impressive! From wine on tap and a steam room to the virtual personal trainer in the gym and the massage room, everything had me saying WOW. Also, their policy for visitor parking is one of the best in the city ... The apartment units themselves were also very nice and had personality (loved the navy blue cabinets). The floor-to-ceiling windows brought in good light, and everything about the unit felt very luxurious. I really enjoyed my tour here and was ready to put in an application by the end! Looking forward to my stay at Novel!"

What makes it special: The simple, clean-lined Scandinavian design showcased in each unit looks high-end and makes it easy to inject your own style into the space. And if you decide to bring a furry friend or two with you, you'll find that Novel's pet-friendly claim rings true — the building offers an on-site pet park and pet spa, so your four-legged friend can feel just as pampered as you.


Floorplans: Studio, 1-bedroom, 2-bedroom, and 3-bedroom
Price: ~$2,000-$6,200+/month
Lease term: 13-15 months
Pet-friendly: Yes!
Perfect for: Professionals and pet owners who value on-site wellness amenities and luxury living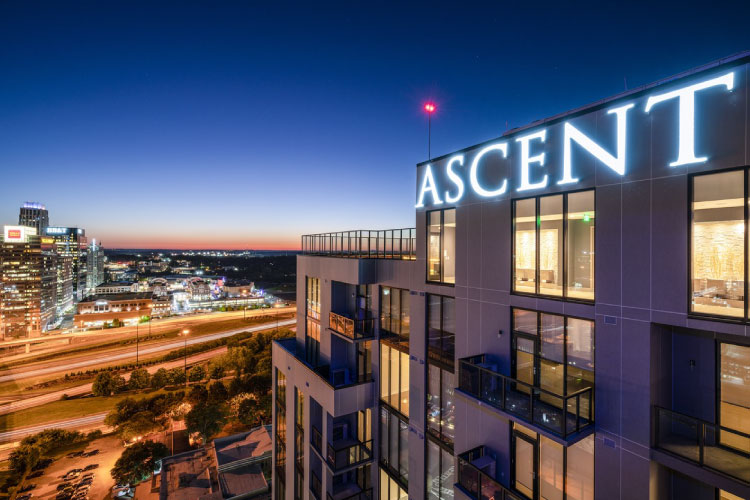 Ascent Midtown
(Source: Ascent Midtown - Atlanta, GA via Facebook)
Sophisticated living for active people in the historic heart of Atlanta
Location: 1400 West Peachtree Street NW
Ascent Midtown sits on Atlanta's most iconic stretch of road: Peachtree Street. These apartments will put you next to some of the city's most historic architecture. You can walk, bike, or drive to pretty much any part of the city in minutes.
Building amenities:
Terrace and pool
Bar area for cooking and socializing
State-of-the-art fitness center
Sun deck
Resident lounge
Covered parking
What we love: Ascent is a good name for these apartments because everything about them is high-class, high-style, and, quite literally, high up in the air. You can entertain your friends in the building's absolutely luxurious 28th-floor lounge, or you can take them to the beautiful pool out on the 7th-floor terrace.
These apartments may put you above the hustle and bustle, but they are ideal for true city lovers. You'll be right next to Atlanta's tastiest restaurants, best shopping, coolest hotels, and hippest nightlife.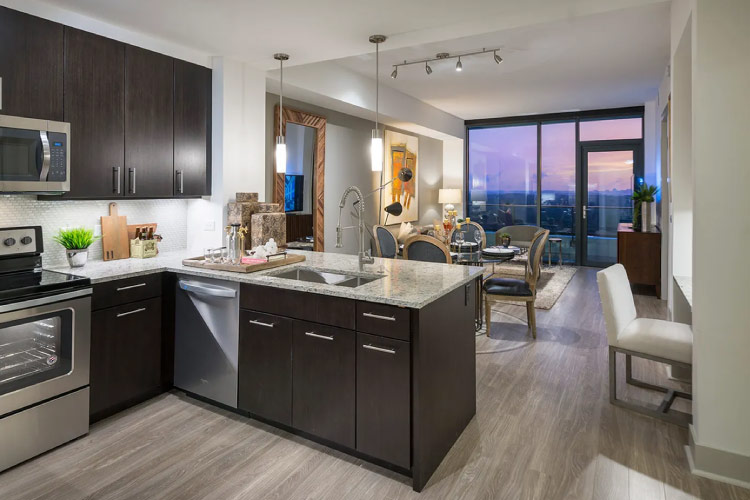 This Ascent Midtown apartment features large windows with an incredible view of Midtown Atlanta.
(Source: Ascent Midtown - Atlanta, GA via Facebook)
What residents say: "Ascent Midtown has an excellent location in Midtown, where I can walk to work, to Whole Foods, and so much entertainment. Piedmont Park is only a few minutes' walk. The interior finishes and high-end appliances make my home impressive and yet very functional. . . The concierge is amazing. They make the entire experience enjoyable and convenient with all services, alongside the management and maintenance team members! All needs are handled with a smile and patience. I truly just love it here!"
What makes it special: Ascent's fitness center is simply next level. This 4,000-square-foot facility features Peloton bikes and tons of other great equipment. You'll also get access to the building's "fitness-on-demand" personal training programming.
Floorplans: Studio, 1-bedroom, and 2-bedroom
Price: ~$1,800-$4,000+/month
Lease term: 2-15 months
Pet-friendly: Maximum of two pets per unit, some breed restrictions apply
Perfect for: Driven single professionals with refined taste and young couples who want to experience the very best of Atlanta


Best Apartments in Downtown Atlanta
Downtown Atlanta is full of important cultural, educational, political, and technological institutions. Whether you're there to learn, work, or just have a good time, these luxury Atlanta apartments will keep you safe and comfortable.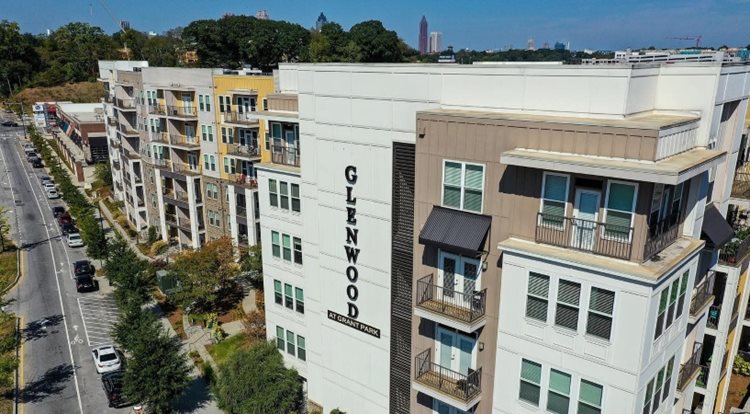 Glenwood at Grant Park
(Source: Glenwood at Grant Park via Facebook)
A hip apartment building in a hot part of Atlanta

Location: 860 Glenwood Avenue SE

While not strictly in downtown Atlanta, the Glenwood at Grant Park is an incredible community that's close to all kinds of amenities, entertainment, and transportation. These apartments are in the neighborhood of Glenwood Park, which is sandwiched between the trendy neighborhoods of Summerhill and East Atlanta Village.
Building amenities:
Modern clubroom with HDTVs, bar, ping pong, and more
Complimentary high-speed Wi-Fi in all communal areas
Resort-style saltwater pool and sun deck
24-hour gym
Bocce courtyard with fire pit and grilling areas
Business and conference center with communal working table
Controlled-access entry gates
Dog spa
Bike repair stations and storage
EV charging stations
What we love: The Glenwood at Grant Park is like your fun, eccentric friend who is always ahead of the trends. This spot is nestled in an exciting part of ATL that's rapidly transforming and attracting tons of artists, musicians, small restaurants, and boutique shopping.
Like the neighborhood it's in, The Glenwood has tons of character. What other apartment complex has a dog spa and a ping pong table? Where else can you enjoy a saltwater pool and a bocce ball court? All this, and the apartments themselves are absolutely stunning.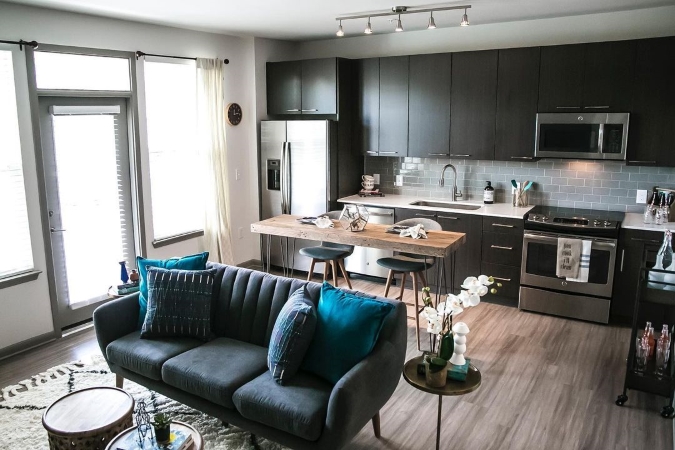 This apartment at Glenwood at Grant Park offers an open floor plan with plenty of natural light.
(Source: Glenwood at Grant Park via Facebook)
What residents say: "Glenwood at Grant Park has been a wonderful place to call home. It is in a great location with literally everything I need within easy walking distance — grocery store, UPS, gas station, dry cleaners, restaurants, the Beltline, etc. The front office and maintenance staff are both friendly and responsive. The apartment itself is nice, and if you're into cooking, the kitchen is beautiful! I searched in many areas, and I'm so glad that I chose Glenwood at Grant Park!"
What makes it special: Glenwood at Grant Park doesn't mess around when it comes to building a vibrant community. This place treats its residents with astounding care. One thing that nearly every review of this building mentions is the friendly staff, quick maintenance, and all-around good vibes.
Floorplans: Studio, 1-bedroom, and 2-bedroom
Price: ~$1,400-$2,500/month
Lease term: 2-15 months
Pet-friendly: Up to three pets allowed per unit; $400 pet fee for the first pet plus $200 for the second pet; monthly pet rent of $25; breed restrictions apply
Perfect for: Creative types who want to live in an exciting neighborhood full of beauty and potential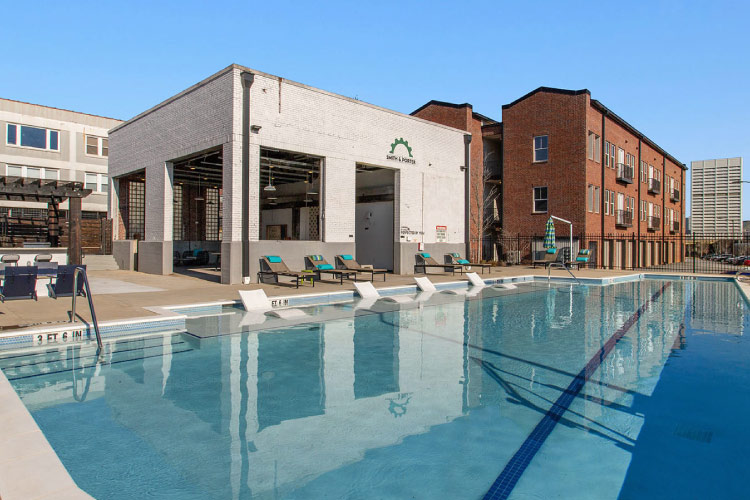 Smith & Porter Apartments
(Source: Smithandporterapts.com)
Trendy quarters for those looking to live in a hub of arts and culture
Location: 210 Peters Street SW
Though technically in the Castleberry Hill Neighborhood, the Smith & Porter apartments are just across the southwest border of downtown Atlanta.
Building amenities:
Co-working office spaces
Gated community with controlled access
Monthly resident events
State-of-the-art fitness club
Resort-style pool
Club room and terrace
Fire pit area
Dog park
What we love: Don't sleep on Castleberry Hill — the historic district is filled with art galleries, diverse dining options, and cool boutiques that make for great date nights and solo days wandering around the neighborhood. The area is easily walkable, plus the MARTA is never far away to access other parts of Atlanta.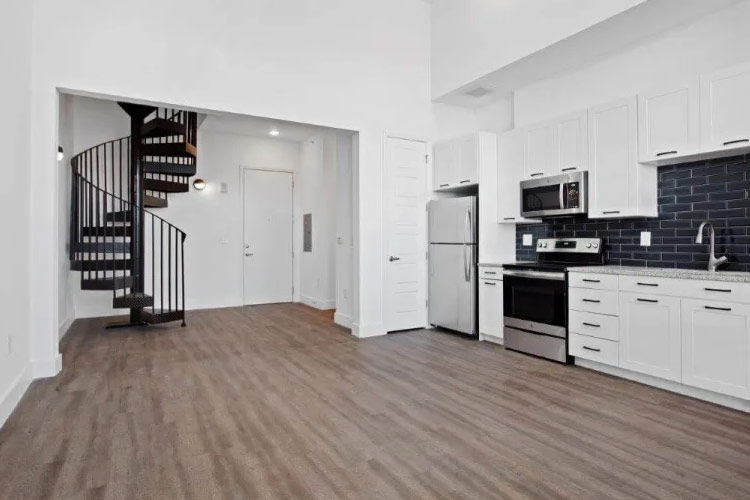 This two-story unit at Smith & Porter Apartments features a black spiral staircase and a crisp black and white color scheme.
(Source: smithandporterapts.com)
What residents say: "Choosing this place as my new home was the best choice I've made! The apartments are beautiful and modern. I also got to meet the new property manager, Nathaly, and she was the sweetest! She came out to greet me and left such a good impression."
What makes it special: The warehouse-inspired look of these luxury Atlanta apartments makes sense, as Castleberry Hill is a historic district and "represents the most complete warehouse district still surviving in the City of Atlanta," according to the official Castleberry Hill site. Think: Units with high ceilings (we're talking 9-12 feet), oversized windows, and an open-concept feel perfect for entertaining.
Floorplans: 1-bedroom and 2-bedroom
Price: ~$1,500-$3,500/month
Lease term: 3-13 months
Pet-friendly: Maximum two pets per unit; no more than 50 pounds each; breed restrictions apply
Perfect for: Hip singles and couples who want to be close to Downtown Atlanta while also living among the active arts scene and nightlife of Castleberry Hill
Best Apartments in Buckhead Atlanta
Buckhead is a large neighborhood north of Midtown Atlanta and accounts for basically the uptown portion of Atlanta. The well-off area is known for its mansions, the Lenox Square mall, and variety of restaurants, making it home to arguably some of the nicest apartments in Atlanta. Here's a look at some of the luxury Atlanta apartments Buckhead has to offer.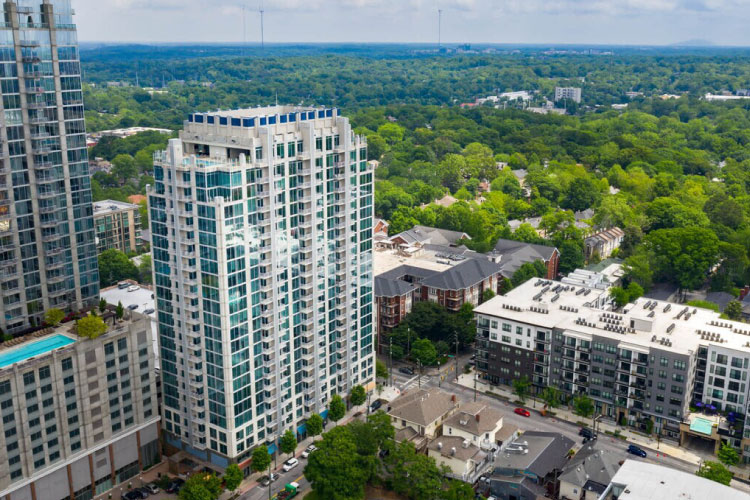 SkyHouse Buckhead
(Source: Apartments.com)
A modern uptown high-rise with floor-to-ceiling skyline views
Location: 3390 Stratford Rd
This uptown Atlanta building is almost equidistant to two shopping malls — Phipps Plaza and Lenox Square — meaning you're never far from a whole slew of stores, from Zara and Apple to Gucci and Nordstrom, not to mention tons of dining and hotel options, too. SkyHouse Buckhead is about 10 minutes walking distance from each mall (or faster, if you're running for the deals!).
Building amenities:
Two saline pools and a resort-inspired poolside lounge
Outdoor fireplaces with lounge seating
Outdoor kitchen with grilling area
Complimentary coffee bar
Conference room with Apple TV for presentations
Video gaming area
Lounge seating with charging stations
24-hour fitness center
What we love: One rooftop saltwater pool is nice, but you know what's even nicer? Two. SkyHouse's amenities are exactly what you'd expect from luxury Atlanta apartments. In particular, the complimentary coffee bar and 24-hour gym, complete with a yoga room and top-of-the-line strength and cardio equipment, sound pretty nice to us.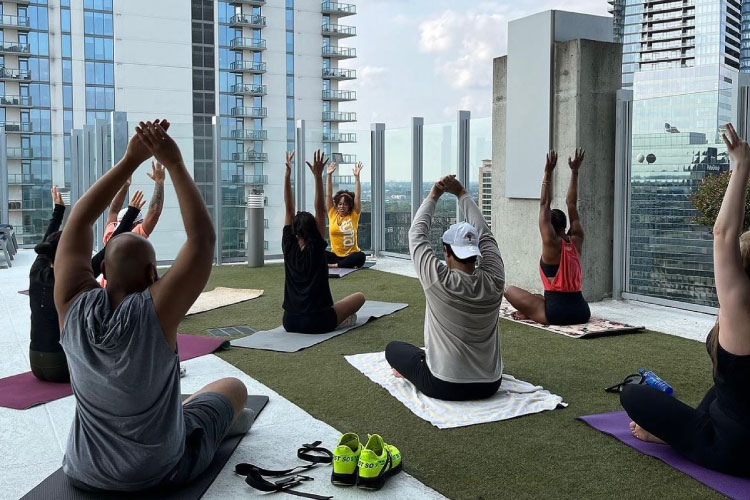 Residents enjoy a rooftop yoga session at SkyHouse Buckhead.
(Source: SKYHouse Buckhead via Facebook)
What residents say: "Nestled in a prime location, this apartment complex offers an unparalleled living experience. From the modern architecture to the meticulously landscaped grounds, every detail reflects sophistication. The spacious interiors boast top-notch amenities, creating a perfect blend of comfort and style. The attentive management team, specifically Jade, ensures residents are satisfied, making it a truly exceptional place to call home."
What makes it special: If skyline views are what you're hoping to find when searching "Luxury high-rise apartments Atlanta," you'll certainly find them here. The units, which feature hardwood floors and industrial cement ceilings, boast private balconies and floor-to-ceiling windows that allow for expansive views of Downtown Atlanta. And if it's your first time renting in a building like this, check out these 7 must-know moving tips for high-rise apartments.
Floorplans: Studio, 1-bedroom, 2-bedroom, and 3-bedroom
Price: ~$1,400-$3,000+/month
Lease term: 6 to 15 months
Pet-friendly: Up to two pets allowed per unit; max weight 75 pounds each; one-time fee of $500; $30/month; breed restrictions apply.
Perfect for: Professionals looking for luxurious taste, on-site amenities, and off-site shopping.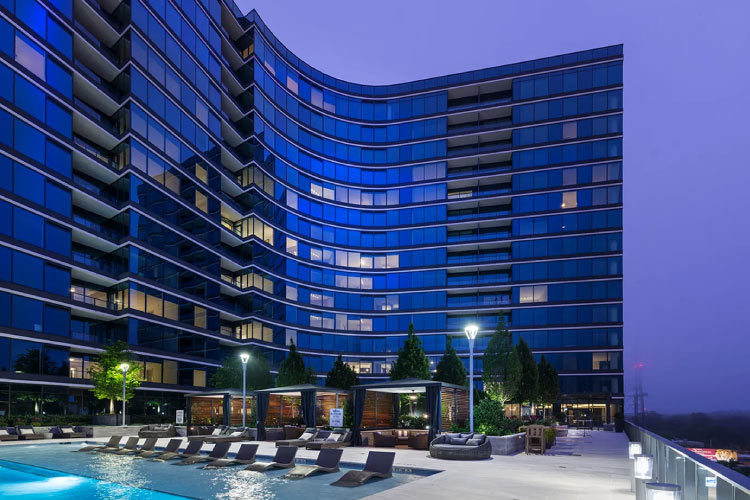 Hanover Buckhead Village
(Source: Hanoverbuckheadvillage.com)
High-end accommodations that nail luxury living
Location: 3150 Roswell Road NW
The Hanover is situated in Buckhead Village, one of Atlanta's chicest areas. Here's a brief overview from our guide to eight Atlanta neighborhoods to check out: "If you're moving to Atlanta and want to live in an area with an upscale metropolitan vibe, then Buckhead Village is about as good as it gets. The neighborhood puts you within strolling distance of chic Atlanta restaurants, hip bars, beautiful arts venues, and the huge Lenox Square mall." This high-rise is a 5-minute walk from Whole Foods or a 13-minute walk to Trader Joe's and is just 1.5 miles from shopping at Lenox Square.
Building amenities:
Resort-style pool with private pool-side cabanas and fireplace
24-hour fitness center with tablet-integrated cardio equipment
Private meeting room
Entertaining kitchen and social lounge with billiards table
Private dining room with terrace
Media room with 147 HD projector
Two-level resident-only amenity space
Concierge services
What we love: Living in the lap of luxury is to be expected at one of the nicest apartments in Atlanta, but the Hanover goes the extra mile to deliver on that promise. Even if you rent a studio (which start at just under $1,600 per month), you'll enjoy a residence brimming with high-end finishes and features, from quartz counters and Italian cabinets to walk-in closets and smart thermostats. (And if you go for a studio, be sure to check out this blog article on must-have small apartment furniture).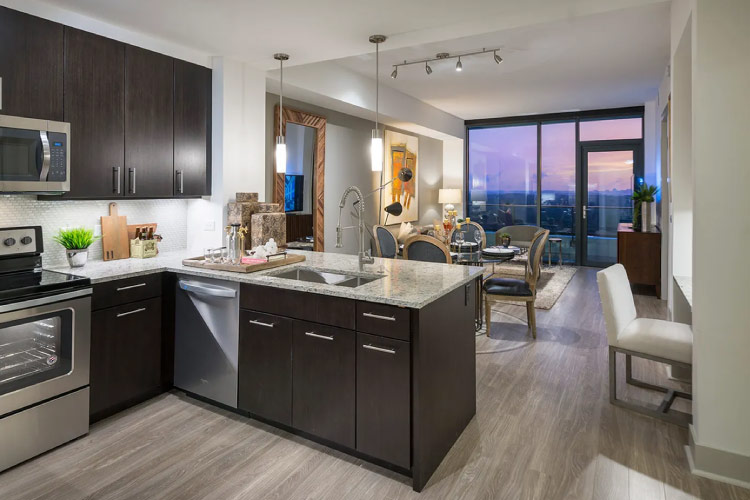 This Hanover Buckhead Village apartment features floor-to-ceiling windows, offering residents an incredible view of Buckhead and Midtown.
(Source: Hanoverbuckheadvillage.com)
What residents say: "We recently moved here from another apartment down the road, and it is a night and day difference! Great crowd, well-managed and clean property, beautiful amenities, spacious floor plans, wonderful location, and we feel safe here, which is a huge step up from how we felt at our old place. Can't say enough good things about this spot!"
"I've been living here for about 10 months and absolutely love it. It's quiet, safe, and extremely well maintained. They routinely have community events and fun things for the residents …The whole team is stellar: super attentive, friendly, work orders are done immediately … Elevators are quick and reliable. I also love the location, as it is walkable to shops, restaurants, grocery stores, and so much more. I really enjoy being a part of this community. Overall, I see myself living here for a while."
What makes it special: Don't be put off by the high end of the rental price range — there are many units in the low thousands. But if you're looking for the ultimate luxury Atlanta apartments, the penthouses at Hanover Buckhead Village are cream of the crop. The three-bedroom, three-bathroom top-floor unit spans over 3,000 square feet and is currently listed for $10,366 per month.
Floorplans: 1-bedroom, 2-bedroom, and 3-bedroom
Price: ~$1,600-$10,000+/month
Lease term: 6 to 15
Pet-friendly: Limit of two pets per apartment with a fee; some dog breed restrictions apply
Perfect for: Renters looking for top-of–the-line luxury, no matter which size of unit you rent
Finding the Best Apartments in Atlanta for You
We hope this guide has given you a good idea of your choices of luxury Atlanta apartments. If you're looking for an apartment or rental home that will get you close to Atlanta but away from the hustle and bustle, then you might want to check out the Sandy Springs and Marietta neighborhoods. No matter where you end up moving, though, be sure that you know your rights as a renter and make a moving plan to save time, stress, and money.

Easton Smith works as a freelance writer and researcher, reviewing technology trends and the moving industry.
Get a Quote
Choose the service you need
Related Articles
Insider's Guide to Marietta, GA: Top Realtor Talks Neighborhoods, Schools & Finding Your Next Home
Read more
Comments
Leave a Comment
Your email address will not be published. Required fields are marked *