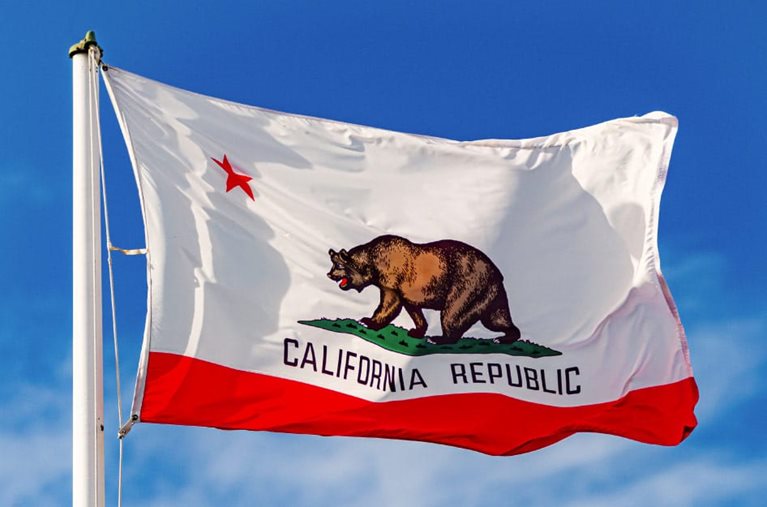 From the Mountains to the Coast: Explore the 12 Best Small Towns in California
Considered one of the most beautiful and livable places in the country (and with a population of over 39 million people), California is definitely a popular place to live. Commonly referred to as the "Golden State," California offers a number of great living perks such as beautiful weather, diverse culture, breathtaking views, and endless business opportunities. It's no wonder that California remains a top moving destination on the wishlists of many Americans — in fact, a recent report by HomeBay found that more than a quarter of people surveyed named California as their dream state.
Big California Cities vs. Small Towns in California
Well-known metros like San Francisco, San Diego, and Los Angeles offer plenty of entertainment, hustle and bustle, and all the amenities that come with big-city living. But the smaller towns have their own perks as well. For those of you considering moving to California (or leaving Los Angeles for somewhere a little less crowded), here are a few of the common advantages to small-town living in Cali:
Less traffic
Fewer crowds
More affordable housing market
Slower pace
Unique charm
Rich history
Vibrant art scene
Lower crime rate
Tight-knit community
Less air pollution
Small Towns in California - FAQ
Q: What is the best small town to live in California?
A: Some of the best small towns to live in California include St. Helena, Half Moon Bay, and Pacific Grove.
Q: What is the coolest town in California?
A: Some of the coolest towns in California include Julian and St. Helena.
Q: Is there a charming town in California?
A: One of the most charming towns in California is Healdsburg, located in Sonoma County (California's Wine Country). Here you'll find a historic town square with a plethora of cute shops, tasting rooms, and amazing restaurants.
Q: Where is the prettiest city in California?
A: Avalon, Ferndale, and Sonoma are among the most beautiful towns in California. From the Mediterranean feel of Avalon to the Victorian-esque charm of Ferndale and the vineyards of Sonoma, beauty abounds in the Golden State.
Best Small Towns in California
With laidback atmospheres and some of the most picturesque views in the country, small towns in California have something for everyone — whether you're just starting out as a young adult or preparing to enjoy your golden years as a retiree. While the U.S. Census designates a small town as one with a population under 5,000, we've included some larger (but still small-ish) towns because they're just too good to exclude. Any town with a population over 25,000 will be noted. Now, let's jump into our list of the best small towns in California.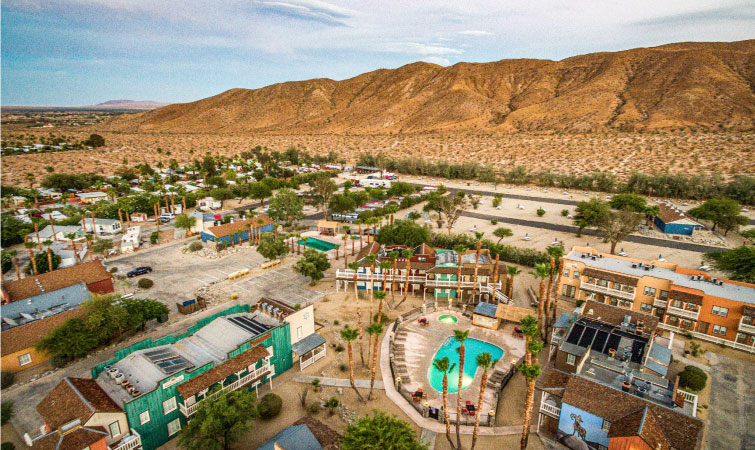 1. Borrego Springs, CA
Located in California's San Diego County, the small town of Borrego Springs has some unique qualities. For one, it's the only California town completely surrounded by a state park. And that park — Anza-Borrego Desert State Park — was actually dubbed one of the most beautiful places to visit in California by Travel + Leisure.
It's not just the natural desert scenery that draws people to Borrego Springs. Scattered throughout the area, there are over a hundred large metal sculptures of mythical beasts, modern and prehistoric animals, as well as important figures from history. At night, locals get together for backyard stargazing parties, and Borrego Springs is the perfect place for it, thanks to the community's efforts to reduce light pollution. In addition to being a charming place to live, Borrego Springs is a popular winter destination for snowbirds.
2. Julian, CA
Julian is a small town near San Diego that's popular with tourists during the winter season, located in the Cuyamaca mountains. At an altitude of 5,000 feet, it's interesting to see how the landscape changes as you go up. Green vegetation covers the paths throughout this small California town, providing the town with unique and beautiful scenery!
Being a mountain town, Julian is an ideal location for snow sports and other outdoor activities. When you're in the area, you can also visit the nearby casinos, Cuyamaca State Park, and the historic Eagle and High Peak Mines, where visitors can pan for gold.
3. Guerneville, CA
In 1978, Philadelphia native Peter Pender opened Fife's, the area's first resort marketed to the LGBTQ+ community. Now, decades later, the town is a welcoming and friendly place for everyone! Located in Sonoma County, the town of Guerneville is known for its wine, natural beauty, and LGBTQ+-friendly community.
Guerneville is surrounded by beautiful redwood forests and Sonoma Wine Country, offering a variety of activities to suit anyone's taste. You can get your blood pumping on a hike through towering redwoods or relax during a float down the cool, crisp river. Dine at one of the chic restaurants or a hip cafe, and finish off the day with wine-tasting.
4. Healdsburg, CA
In the heart of Sonoma Wine Country, beside the Russian River, you'll find the city of Healdsburg. This charming small town, just 15 miles north of Santa Rosa, is most commonly known for its local cuisine and fun outdoor events.
The town's historic town square is known as the Plaza. Here you'll find a variety of restaurants, bars, tasting rooms, and shops, offering everything from books and boutique clothing to ice creams and pastries. Healdsburg is a great place to explore by bike, with several trails running through town as well as out into the countryside.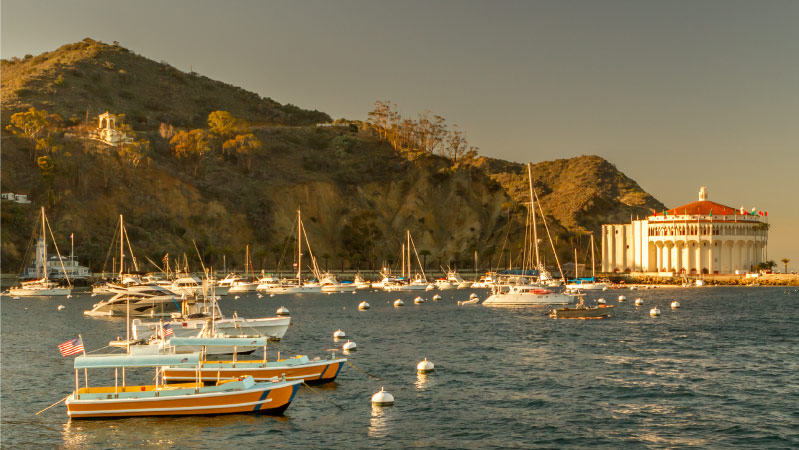 5. Avalon, Santa Catalina Island, CA
Located off the coast of California in the Channel Islands, the town of Avalon on Santa Catalina Island is one of the best small towns in Southern California. The island is served by the Catalina Express, which runs 30 daily trips from various ports in the region.
There's always something to do on Catalina Island. In town, locals and visitors alike can explore quaint shops, bars, and cafes. Then it's time to head to the water for sunbathing, kayaking, snorkeling, and scuba diving. Family's can can zip line over a canyon or hike along the island's 165 miles of scenic trails. The Catalina Island Conservancy's eco tours will also introduce you to the island's history and ecology, as well as some of its native animals.
6. Ferndale, CA
Between California's Lost Coast and the majestic Humboldt Redwoods State Park, you'll find the charming and historic town of Ferndale. With many beautifully preserved Victorian-era buildings and a main street brimming with charming shops and restaurants, Ferndale is a great place to settle down or just visit for the weekend!
Nature lovers can hike along the Lost Coast or traverse through the nearby redwood forests. And History buffs can explore the Historic Cemetery and the Ferndale Museum, or simply stroll through the town's Victorian Village for a glimpse into the past.
7. Sonoma, CA
Although it's not as well-known as its sister city Napa, the wine region of Sonoma is still special. There are over 425 wineries in the county, including some of the oldest in the nation. Visiting the wineries will require a car, so either plan to bring a designated driver along or join one of the many tours that runs in the area.
While most of the things to do in Sonoma tend to center around the local wineries, other activities include hiking in nearby Sugarloaf Ridge State Park, taking in the incredible NoCal vistas, and dining at one of the many acclaimed restaurants in town. After a long day exploring the region, visitors and locals alike can unwind and relax at one of the local spas.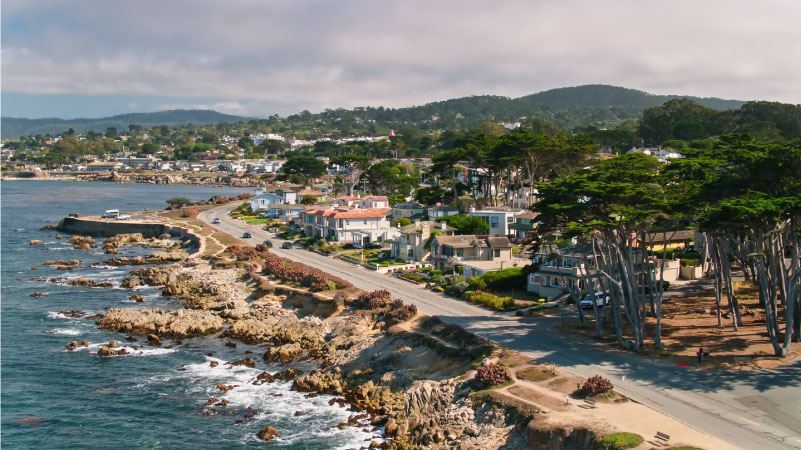 8. Pacific Grove, CA
Pacific Grove is a little beach town off Monterey Bay and one of the best small towns in Northern California. Known by some as "America's Last Hometown," Pacific Grove offers up a healthy serving of historic downtown, charming houses, breathtaking ocean vistas, and outdoor fun for the whole family. And according to Niche, it's one of the best small towns to retire in California.
Spend the day tide pooling at Asilomar State Beach, or go for a surf at Lovers Point Beach. In the winter months, you can visit the Pacific Grove Monarch Sanctuary to see thousands of monarch butterflies that migrate to this area each year to spend winter in the mild climate. Oh, and we can't forget to mention the nearby Monterey Bay Aquarium — regarded as one of the best in the nation!
9. Laguna Beach, CA
Situated in Orange County, Laguna Beach is an artistic and diverse community in Southern California. This famous town is a sort of California Paradise, overfilling with classic SoCal surf culture and diverse, culinary delights.
There are more than 30 beaches and coves in Laguna Beach, including Victoria Beach, Thousand Steps Beach, Crystal Cove State Park, and Crescent Bay. The waters here are pristine and there's abundant sea life — thanks to the fact that the area doubles as a marine reserve. Locals also enjoy Laguna Beach's many shops, museums, festivals, and beautiful landscapes (anyone up for some hiking?). You can even take a whale watching tour!
10. St. Helena, CA
Between Santa Rosa and Sacramento, St. Helena is a small Napa Valley town with big offerings. Visitors can easily spend an afternoon dipping in and out of shops, restaurants, and galleries along Main Street. As would be expected of any Napa Valley town, St, Helen features dozens of wineries offering tastings and tours, including HALL Winery with its own modern art collection. History Buffs will enjoy Bale Grist Mill State Historic Park, where visitors are invited to witness milling demonstrations performed by its 36-foot water wheel.
St Helena features beautiful residential neighborhoods that are chock full of character and the public schools are highly rated, making it one of the best small towns in California to raise a family. Actually, Niche.com dubbed it the #1 Best Place to Live in Napa County!
11. San Juan Capistrano, CA
San Juan Capistrano is a historical and cultural gem located in Southern California's Orange County. Its Spanish heritage can be seen in the architecture and design of the city's buildings and gardens, as well as in the restaurants and museums throughout the city. Other notable attractions include Zoomars at River Street Ranch (great for families) and the historic 18th century Mission San Juan Capistrano, a beautiful example of Spanish architecture. The Mission — with its stunning architecture, gardens, and fountains — is known to draw visitors from all over.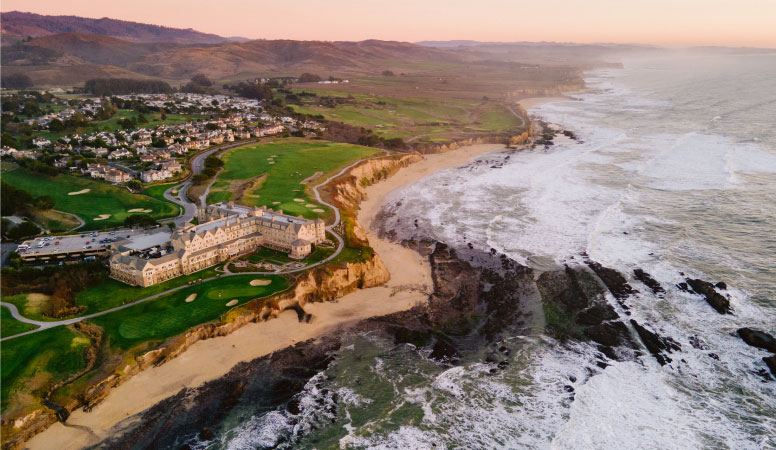 12. Half Moon Bay, CA
Half Moon Bay is a Pacific Coast town with beautiful beaches and a historic downtown. It's one of the best small beach towns in California and has long been a popular destination for residents of San Francisco — just 35 minutes away. Half Moon Bay locals enjoy highly-rated schools, a tight-knit community, and breathtaking sunsets on the regular.
You can explore the many shops, art galleries, and restaurants in town or spend the day at one of the many amazing beaches. There's Surfers Beach and Poplar Beach and Francis Beach and Dunes Beach, and, and, and (you get the picture). Half Moon Bay Golf Links offers stunning views of mountains and coastline, and you can celebrate a good day golfing with a sunset drink at The Ritz-Carlton!
PODS Can Help You Move to Any Small Town in California
Once you've found your slice of small-town heaven in California, let PODS help you get there. Have a portable moving and storage container delivered right to your driveway where you can pack and load at your own pace. When you're ready, PODS will pick it up and take it to your new home. One month's storage is included in every move, so you can unload on your own schedule without feeling rushed.
---
Editor's note: Monthly rental prices were rounded to the nearest $25 and home values were rounded to the nearest $100 for ease of reading.
Get a Quote
Choose the service you need
Comments
Leave a Comment
Your email address will not be published. Required fields are marked *