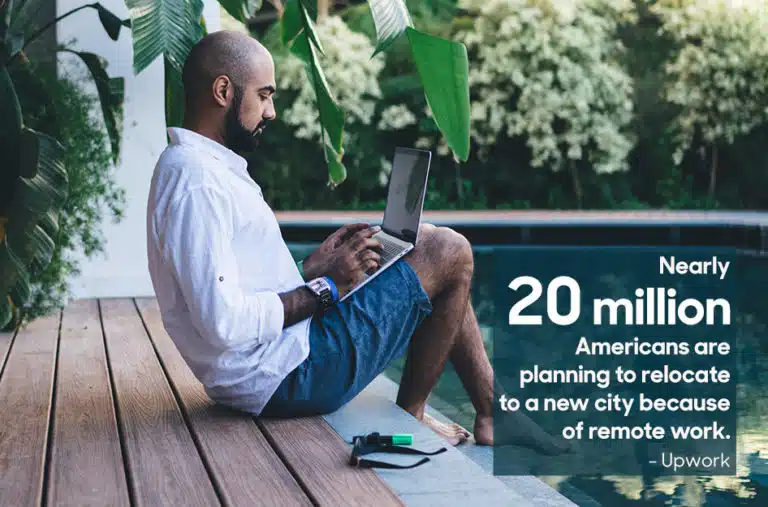 Working From Home? Find The Best Places To Live In 2022
We previously published a similar article for 2021. You can check out that post here.
For decades, large metro areas like Los Angeles, New York, and Chicago had major advantages over smaller cities — diversity, entertainment, restaurants, and increased job opportunities to name a few. These factors pulled many people, especially young professionals, into these markets despite high property costs, traffic, crime, and other less-appealing factors.
But now, thanks in part to significantly more employees working remote and the emergence of vibrant cultural scenes in many other cities and towns, more people find themselves questioning if they really want to pay the big price tag that comes with a big city.
As relocation becomes a more feasible option for many Americans, people are looking at the entire nation to pick a new place for planting roots. And while that's an exciting opportunity, it can certainly be overwhelming having so many options at your disposal.
So if you're looking for advice on the best places to live in the U.S. and the best places to work from home, here are some suggestions, courtesy of Dwellics' Best Cities to Work Remote in 2022 list.
BEST PLACES TO LIVE WHEN WORKING FROM HOME
Remote work isn't just changing how we live; it's changing where we live. Upwork, a site dedicated to helping freelancers find jobs, recently released a report on working trends over the past two years. They conducted a survey, asking more than 23,000 people in the U.S. if they've moved or are planning to move. The results? Almost 20 million Americans are planning to relocate to a new city because of remote work.
So where is the best place to live and work in the U.S.? Dwellics evaluated more than 50,000 cities, then came up with a top 100 list. They analyzed factors like internet speed, climate, safety, infrastructure, housing cost stability, and finances.
Their top 10 cities are:
Pullman, Washington
Catalina Foothills, Arizona
Oak Ridge, Tennessee
Sugar Land, Texas
Gainesville, Florida
Lakeway, Texas
Frisco, Texas
Murphy, Texas
Tempe, Arizona
Tanque Verde, Arizona
Now that you know the contenders, let's dive into these cities and find the best fit for you.
Q: What is the best state to work remotely?
A: If you're looking at Dwellics' top 100 places, Texas outshines the other states on the list with a whopping 17 listed locations — all within the top 40! Of course, the best state for someone else may not be the best state for you. Take all of your lifestyle preferences into account when choosing a new location.
1. Pullman, Washington
Although the Pacific Northwest isn't well represented on this top 10 list, it does boast a number one spot holder with Pullman, Washington. Home to Washington State University (affectionately known as Wazzu), this historically agricultural town of around 30,000 people has a tight knit suburban feel and some urban amenities, which is nice because the nearest metro area (Spokane) is still 75 miles away. Other larger cities in the region — Boise, Seattle, and Portland — are all around 300 (or more) miles away.
Don't worry. You won't be making road trips every time you're searching for something to do. In fact, residents have a variety of entertainment options, from enjoying a hike at Kamiak Butte County Park, taking in a WSU game at Martin Stadium, or visiting the campus's Charles R. Conner Museum, which features the largest collection of birds and mammals in the geographical area. Plus, Pullman is home to one of the best creameries in the country with a legendary cheese called Cougar Gold.
And while Pullman does have a strong rental market — likely because of the college campus — typical home values are around 28% lower than for the state overall, at approximately $439,000, according to Zillow.
2. Catalina Foothills, Arizona
This is not the home of the Catalina Wine Mixer of Step Brothers fame. Catalina Foothills (also called "The Foothills") is located just north of Tucson, Arizona, and is known as a locale that has it all. There are restaurants, golf courses, resorts, shops, highly rated public schools, and more — all of which are surrounded by breathtaking mountain views. These perks don't come cheap, though. Catalina Foothills is an affluent community with some of the highest property values in Arizona.
You do get a lot for your investment, though. While some Tucson suburbs have smaller lots and more modern-styled homes, Catalina Foothills has larger lots and a more historic architectural aesthetic. This character and charm, not to mention the high safety statistics, really draw people to the area.
3. Oak Ridge, Tennessee
Oak Ridge is a place that may surprise you. When you picture small-town Tennessee, some preconceptions may come to mind, but Oak Ridge is here to put those stereotypes to rest. With a vast array of artistic offerings — including the ballet and symphony, some of the best public schools in the area, the U.S. Department of Energy's largest multi-program lab, and several thriving small businesses — this is a community with tons to offer on a cultural, educational, and professional level. Plus, (and this is a big one) no traffic!
But the pro column doesn't stop there. Oak Ridge also has an incredibly affordable housing market, with typical home values hovering around $248,000, according to Zillow. That's lower than the Tennessee average of $282,592 and much lower than the national average of $337,560.
4. Sugar Land, Texas
If you're interested in being in the Greater Houston Area but want a little distance from the city center and enjoy a suburban feel, Sugar Land, Texas, might be the town for you. Located twenty-five minutes southwest of downtown Houston, Sugar Land is filled with master planned communities and features lots of shops and restaurants — especially in the popular Sugar Land Town Square.
The cost of living in Sugar Land is a little more expensive than Houston, in general, but it's still less than other, more affluent suburbs like Bellaire and West University Place. This mostly has to do with the housing costs. According to Zillow, the typical Sugar Land home value is around $421,000.
5. Gainesville, Florida
If you're going to live in Gainesville, Florida, you'd better love gators. And, by gators, we mean the beloved mascots of the University of Florida. Like most college towns, Gainesville has a lot of perks. Residents can play all day at Depot Park, take in some local art on the 352 Mural Tour, and, of course, watch the home team play at Ben Hill Griffin stadium, aka "The Swamp." Plus, thanks to Gainesville's convenient location, you're only a couple of hours away from the St. Augustine beaches, Walt Disney World, and three major metro areas: Jacksonville, Tampa, and Orlando. Now that's a great way to spend the weekend!
Don't forget to bring your sunscreen, though. When you're in the Sunshine State, you need to be prepared for hot weather almost all year long — and the occasional storms that come with it. Locals call it "Rainesville" for a reason. Because of the high temps, utility bills can run a little higher than average in Gainesville. Don't worry too much about the bills, though, because Gainesville does have a fairly reasonable cost of living, especially compared to cities like Brooklyn and Chicago.
6. Lakeway, Texas
If Austin's mission is to stay weird, Lakeway's mission is to stay awesome. Located about half an hour from downtown Austin, Lakeway is located on the water in Texas's gorgeous Hill Country. This haven for outdoor lovers began as a retirement community but now attracts lots of families who want to live the lake life all year long and take advantage of the highly regarded Lake Travis Independent School District.
Like other picturesque areas on this list, getting those great views comes with a high price tag. While Lakeway was once considered the more affordable alternative to Austin, that's not the case anymore. Home values in Lakeway average around $938,000, which is a pretty big jump from Austin's average home value of $676,077.
7. Frisco, Texas
While we're on our Texas tour, let's check out one of the most popular cities in the Dallas-Fort Worth metroplex, Frisco. Home to the Dallas Cowboys and nicknamed "The City That Plays," this city offers a lot more hustle than many smaller, quieter counterparts on this list.
It's hard to believe that just 30 years ago, Frisco was a sleepy town with fewer than 10,000 people. Today, more than 200,000 people call it home, and Money magazine even named it the best place to live in the nation in 2018. Families are attracted to the area because of the strong Frisco Independent School District, low crime rate, and abundance of outdoor spaces.
However, if you're looking to get the most bang for your buck, Frisco might not be your ideal spot. The cost of living is higher than the Texas average and the typical home value is more than $661,000 according to Zillow.
8. Murphy, Texas
If you want something a little smaller and more rural than Frisco, take a look at another DFW suburb, Murphy, Texas. With a population of just over 21,000, Murphy has the quintessential tight-knit, small-town feel, but it's located just 40 minutes from downtown Dallas. And while Murphy's enjoyed a "hidden gem" reputation for a while, this may be quickly changing, thanks to its walkable neighborhoods, high-performing public schools (the Plano and Wylie Independent School Districts), and low crime rates.
The cost of living in Murphy is worth noting, however. While the typical home value isn't quite as high as Frisco, it's still around $597,000, according to Zillow. This is higher than the U.S. average, and the overall cost of living is higher, too.
9. Tempe, Arizona
According to this list, college towns must have a special sauce that keeps the roads leading into them hot with activity, and Tempe, Arizona, is no exception. Located just east of Phoenix and home to Arizona State University, one of the largest universities in the U.S., Niche named Tempe the 7th best suburb to live in Arizona. With more than 180,000 residents, Tempe is big enough to offer lots to do while still having a quaint, suburban feel.
Tempe offers dozens of neighborhood choices, several high-ranking public school options, and a vibrant nightlife, thanks to the Mill Avenue District. If you want to be in a more active, urban part of Tempe, take a look at downtown Tempe or McClintock. For a more suburban, family-friendly community, try The Lakes or South Tempe.
10. Tanque Verde, Arizona
If you want something that feels more authentically old-Arizona, check out the Tucson suburb of Tanque Verde. Located close to Catalina Foothills, this community has a population of a little more than 16,000 and a distinct rural vibe. It's home to many retirees, but there's plenty to offer families, too, including great schools, parks, and privacy.
While you probably already know that Arizona has a mostly arid, hot desert climate, Tanque Verde citizens can escape the heat by driving about an hour to the top of neighboring Mt. Lemmon, which is typically around 20 degrees cooler than the temps in the city.
And although Tanque Verde and Catalina Foothills have a lot in common — beautiful views, strong schools, and safety — the homes in The Foothills are a little more expensive (although Tanque Verde is no bargain). Plus, there are options for townhomes and apartments in The Foothills, and it's close to the action with more restaurants and shopping located right in the middle of the community. Tanque Verde is mostly single-family homes, and it's considered a little more quiet and secluded.
TIPS FOR FINDING YOUR BEST PLACE TO LIVE IN 2022
Even with a list like this and plenty of research on your side, it can be tough narrowing down your options and finding the best places to live while working remotely. In fact, you may even want to test out a few cities before making a long-term commitment.
If that's something you'd like to explore, a PODS portable moving container can give you that flexibility. Store the big things in our secure storage center while you visit a few cities to see which you like best.
Next comes the fun part — finding a new house with the perfect home office. The real estate market is experiencing unprecedented growth, which we talk about in detail in a PODS Blog article about the current housing bubble and its chances of popping. Buying a home in 2022 is more competitive than years past, so you'll want to position yourself for success in the following ways:
Get pre-approved for a loan. While making a cash offer or waiving financing is likely to give you an advantage in a bidding war, this isn't possible for most home buyers. If that's the case, buyers should be pre-approved for the loan before making an offer. One of the factors that lenders will consider is your debt-to-income ratio (DTI). While the required DTI will vary depending on loan type, the goal should be to have a DTI of 50% or lower. See these home-buying tips for more tips on getting pre-approved for a mortgage.
Sell your own home first. It's a sellers' market, which means that homes are more likely to receive several competing offers. If one offer is contingent upon the sale of a current home, it's less desirable. If necessary, consider temporary housing and portable storage as a way to bridge the gap between selling your own home and moving into a new one.
Be flexible on the move-in date. You never know your seller's situation. For example, your seller may be building a new home, which — as anyone who's been there will tell you — has an unpredictable timeline. If you're able to be flexible with your move-in date, it goes a long way toward creating a winning offer.
If you're fortunate to work from home on a permanent basis, the new freedom this brings in terms of where you choose to live is truly a game changer. Enjoy expanding your horizons and exploring cities that you once thought you'd never be able to inhabit.
And that container you've had in storage? PODS will bring your things directly to your new home when you find that perfect place. No more traveling required on your part. Now that's easy!
Pro Tip: If you're planning a move in 2022 and need a helping hand, use our ultimate moving checklist, as it's never too soon to start planning.
---
LB Gabriel is a freelance writer who lives with her husband, daughter, and Golden Retriever in Memphis, TN. A frequent PODS Blog contributor, she's a sucker for any tip she can find on downsizing, cutting clutter, or minimalist living. When she's not on a deadline, you can find her on a tennis court or golf course.
Get a Quote
Choose the service you need
Comments
Leave a Comment
Your email address will not be published. Required fields are marked *