Take advantage of our limited time offer. Enter promo code HOLIDAY25 to save up to 25%.
See offer details
.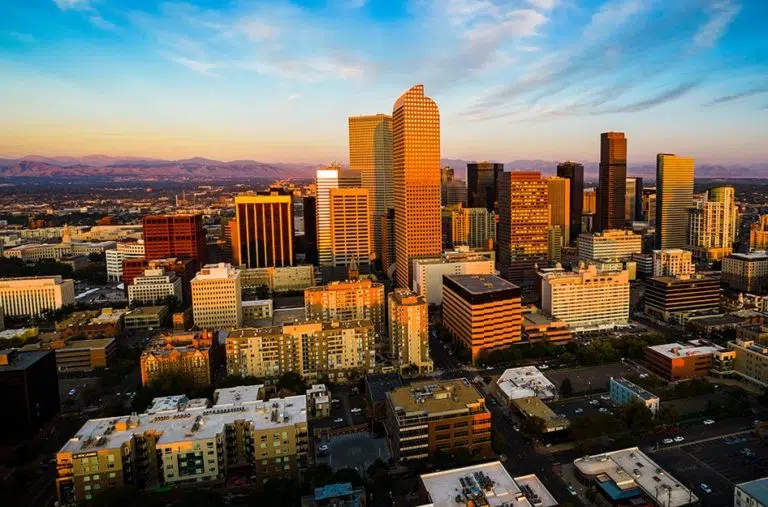 The Best Denver Movers for Any Budget
Got an exciting new job in Denver? Coming to the Mile High City to be closer to friends and family? Dreaming of living close to the mountains? Whatever your reason — and whether it's from another state or from a nearby neighborhood — you can't go wrong with hiring moving and storage companies to help make the process as smooth as possible. Professionals ensure that all of your items are safely packed and transported and arrive at your destination on time. They're professionals, after all. But how do you know which Denver movers are right for you? Let's find out.
Did you know? PODS offers moving and storage services throughout Denver:

— Your container is delivered straight to your home.
— You can take your time loading the container.
— When you're ready, PODS will pick up and deliver your container to any location in the Denver area.
— If your plans change or you're not quite ready for your container to land at your final destination, you can store your container at any of the local PODS Storage Centers for as long as you need to.
Determine What Type of Denver Moving Company You Need
If you've never had to move before, it may seem like all moving companies are the same — that they simply transport your items from your current location to your future home. And, yes, if you're only thinking about the big picture, that's correct. But there's a lot more to it. In fact, there are several options to choose from when it comes to movers and many ways for you to stay within your budget.
Full-Service Movers
This type of moving service is also referred to as white-glove service. Full-service movers can assist you with each step of your move — giving you the freedom to take the logistics of the actual move off your mind. Typically, they'll offer the following services:
Wrapping and packing. Full-service movers come with everything they need to get your house packed up and ready to go — you don't need to lift a finger. Boxes? Bubble cushioning? Packing paper? They've got it handled.
Disassembly. In addition to wrapping and preparing your belongings to go on the truck, they'll also disassemble any larger pieces, so they'll fit securely. This includes items such as beds, dressers, TV stands, couches, chairs, and tables. After they're disassembled, they can then be safely wrapped and prepared for the truck.
Loading. Professional full-service movers will then start to load the truck. Depending on how many items you have, this could take some time, as they want to make sure your household items are safely transported to your destination.
Unloading. When they arrive, a full-service moving company will then start to unload all the items.
Reassembly. After the items are in the new location, they'll then move them to their new place inside your home and reassemble any large pieces of furniture.
Pros:
If you don't have the time to pack or are not able to, this is a great time-saver.
They take care of all the heavy lifting, so if a lot of your belongings are bulky or heavy, this is the best option.
Cons:
Because this moving service does everything from start to finish, they tend to be the most expensive option.
Having someone else wrap and load your items can be stressful for some people, so if you'd rather do this part yourself, consider a partial moving service instead.
Partial-Service Movers
If you don't feel like you need white-glove moving services, here's another option: using a company that offers partial moving services. Many moving companies are amenable to customers who just need assistance with part of their move. If you feel like this might be a better option, look into Denver movers who can help you with:
Moving heavy items. If you're moving an entire house, chances are you're going to have some heavy, bulky items to move. Moving companies have all kinds of experience moving these kinds of belongings, and they know how to protect both your things and themselves from harm. It's difficult to move big items like beds down the stairs and into a moving truck or container, which is why many people choose to get assistance with this.
Packing services. If you need help packing fragile or awkward-shaped items, you may want to hire the professionals to assist you. If you feel that you can pack up the rest of your household yourself, you can just hire the moving company to assist with packing those specific items and moving them into the truck or container.

Driving the truck. Don't have a truck or don't want to drive one? Not a problem! You can hire partial moving services to pick up and deliver your items. Depending on the moving company, this service could already be included with the loading and unloading process.
Pros:
This is a budget-friendly way to move because you do as much as you want and hire the professionals for the rest.
If you don't need to pay for movers to pack and move boxes that you can fit in your car, you won't have to with this option.
You'll prevent any injuries to yourself or family/friends because movers know how to pack and load larger, heavier items.
The items that the movers pack and put on the truck will be safely wrapped and secured, protecting them during transport.
You can combine the use of a partial-service mover with other moving options, such as a rental truck or a moving container. For instance, if you move with PODS, they can refer you to local moving help to load the unit.
Cons:
You will need to work out what items you think you can pack and move — and get to work.
You'll need to ensure you have the right supplies and that you have enough space in your truck or container to get all your belongings to your new space.
Moving and Storage Containers
Portable storage containers allow you to move to Denver on your schedule. Once you decide on the size that works best for your household, all you need to do is pack and load up your items — whether that takes a few days or a few weeks — from the comfort of your driveway. This alleviates a lot of stress that typically comes with moving all your items in one day. Instead, you can take your time and pack and secure each item properly. And the best part? If your plans change, it's no problem. Just keep the container as long as you need to or have it stored at a local Denver storage center. Once you've solidified your plans, you can have your container shipped to wherever you end up. PODS Moving and Storage offers the following services:

Various container sizes. You can mix and match container sizes so you only pay for what you need for your move.

Referral to trusted moving partners. If you need help with packing, lifting, or loading, PODS can connect you with local moving help. Similarly, if you need to have your car shipped to your new Denver home, PODS can refer you to a trusted car-shipping partner.

Built-in storage. One month of storage is built into every move. You can keep your container on your property or have it stored in a secure PODS Storage Center.

Flexibility. PODS will work with you to keep your move on your schedule — even if your plans change.
Insider Tip: If you're moving to downtown Denver or another packed part of town, you face your own unique set of challenges. But PODS City Service is built to handle just that — from navigating your container through the city streets to staying with your belongings while you unload to working with city ordinances, PODS has your back.
Pros:
A moving container is delivered to your driveway, where you can pack and load at your convenience on your own schedule.
Storage is often built into your move (as is the case with PODS), making your move even more flexible.
You don't have to worry about driving a large moving truck or towing a trailer over unfamiliar and/or icy roads.
You can create an "a la carte" moving experience. Pack and load the container yourself, or hire local help to take care of the grunt work.
Cons:
You'll need to ensure you have adequate space available to place a storage container on your property or arrange to have it stored at a storage facility.
Truck Rentals
If you have a smaller space or an apartment, you may want to look into renting a truck for the day. When you go this route, you'll be responsible for packing, loading, driving, and unloading all your items. If you feel like this is something you and a few friends and family can handle, go for it. Just be advised that this can be taxing physically, and it can be pretty time-consuming, as well. A truck rental is usually just that — rental of a truck. This is often the cheapest moving option, so it comes with the fewest bells and whistles — though some companies offer add-ons like dollies, blankets, etc. (for a fee, of course).

Pros:
This is a very economical option — especially if you don't have that much to move or you're just moving within the city.
You get to be in control and oversee the entire moving process.
Truck rental companies typically offer insurance coverage options for your move.
Cons:
You are responsible for doing all the planning and heavy lifting — literally everything.
You'll need to ensure you have all the proper packing supplies for small and large items alike to safely transport your things to their new location.
You're responsible for replacing any gas that you use — and once the truck is full, boy does it use gas!
If you're doing a one-way (or long-distance move), low advertised pricing typically won't apply. You'll likely pay more than you originally thought for your truck rental.
Do Your Research on Denver Movers
How do you choose a Denver mover?
When you're ready to research movers in Denver, consider some of the options we outlined above. Determine how much you intend to move, and get a few quotes from moving companies. Depending on what your budget is, they can help you decide whether or not flat-rate or hourly movers would be best for you. You can also discuss with them if you're interested in full- or partial-moving services.
IMPORTANT! Any moving company you're considering should tell you upfront in writing:

— That they are insured and licensed.
— If they have additional fees for going over your time limit, very heavy items, hazardous weather, small elevators, stairs, etc.
— Their policy toward damaged or broken items.

Carefully read reviews of the company in order to help get a feel for how their customer service works.
How much do movers cost in Denver?
That depends on the type of moving service you choose for your Denver move. If you are moving long-distance, interstate, or intra-state, the price will be based on how far you're moving your household and the weight of the truck. These options will be more costly, and will depend on your original location.
However, if you're moving within Denver, or from a nearby location, you will find a variety of movers that you can either pay by the hour or agree to an initial flat rate.
Find the Denver Mover That's Right for You
Hourly Denver Movers
After doing some research, you'll find that hourly Denver movers can cost anywhere from a little more than $400 for a studio to a little less than $4,000 for a 5+ bedroom. The price you'll pay comes down to how large your household is, the distance of your move, and if you choose to go with full- or partial-service movers.
If you're looking to move within Denver, or from somewhere close by, you may want to go with movers by the hour.
Denver Door to Door Movers
The professional movers at Denver Door to Door Movers are ready to help you each step of the way. Their skilled employees can help create a plan to determine how long it will take to move your belongings and then come up with an affordable rate. They'll start with an initial walk-through of your space and be involved with your move as much or as little as you want. You can choose to have them move the bulky items and drive the truck, or you can choose to have them pack, load, and unload. It's all up to you.
Altitude Movers
Altitude Movers have been helping people move locally in Denver for over 10 years. Their professional employees take the time to customize each move to meet the needs of their customers. They can cut down on the stress involved with packing and organizing your items by assisting with the part of the process. Or you can use them to just help with loading and unloading your larger items. Either way, you're going to get experienced movers who ensure your household belongings are transported with care.
The Other Side Moving and Storage
A novel concept, The Other Side Moving and Storage gives people who have been incarcerated, homeless, or addicted, an opportunity to turn their lives around in a healthy way. Students, as participants are called, enroll in a 20-month program and participate in work programs including moving and storage, a thrift boutique, and construction. If you're looking to move with an affordable, efficient company with a wonderful cause, these are your people.
All My Sons Moving and Storage
All My Sons Moving and Storage is a full-service moving company in Denver that can customize your move to best fit your situation. Whether you need help packing and loading or just want them to help with the heavy items, this family-owned Denver moving company is ready to assist you. When you're ready to move, one of their certified Denver moving consultants will work with you to make your upcoming move day as stress-free as possible.
Flat-Rate Denver Movers
If you are moving to Denver from further away or you just want help with the large, bulky items of your home, you may prefer to pay a flat-rate for moving services.
PODS
It couldn't be easier to figure out how much it would cost to move to Denver with a PODS moving and storage container. In fact, you don't have to even make a phone call! Just visit PODS.com for a quick, no-obligation quote. The best part, though? PODS emphasizes flexibility. Even though you can get an accurate quote from the start (with no surprise fees later on), if your plans change, your PODS plans can change right along with them without any penalties.
Local N Long Distance Movers
You can rely on the professionals at Local N Long Distance Movers to give you an accurate and fair quote to move your items to Denver. This moving company takes the time to create an individual moving plan for each of their customers because no two moves are the same. They are known as both local and long-distance movers who offer reliable services at great rates.
Legacy Moving Denver
Legacy Moving Denver is a great option, whether you're moving locally or coming to Denver from further away. This moving company strives to work with customers to create a moving plan that works for them. Whether you need them to pack up your items, or just want help loading and unloading their truck, these professionals are always ready to step in and assist. If you're moving in from out of state, need assistance with a lot of heavy items, or just want to know the entire cost of the move upfront, this moving company can give you a fair rate.
Once you've narrowed it down and have done your research, it's time to choose a Denver moving company. Our best advice? Choose the movers who have a fair price, can move all your items, and are willing to help as much or as little as you need them to. Once that is decided, you can check that off your list and officially dive in to your moving preparations for the Mile-High City.

For more on moving like a pro (and with the pros), visit the PODS Blog. From packing to road-tripping, we've covered it all!
Get a Quote
Choose the service you need
Comments
Leave a Comment
Your email address will not be published. Required fields are marked *