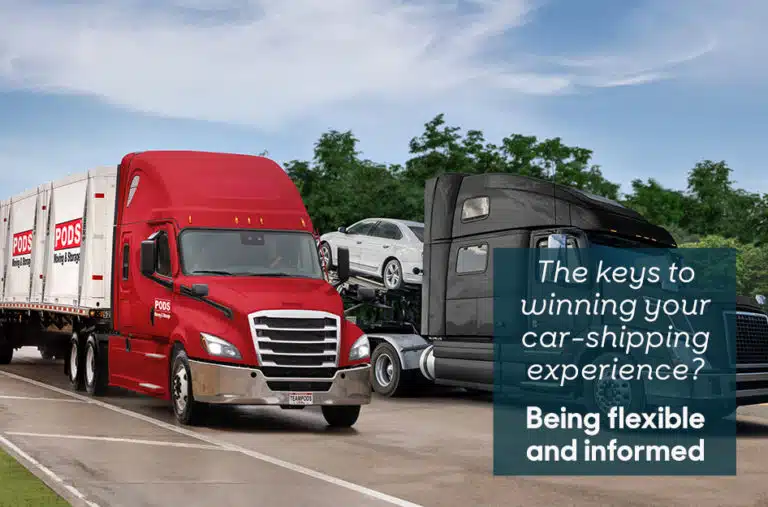 Shipping a Car? Here's Some Insider Advice You May Not Have Considered
Planning for a long-distance move requires a lot of, well, planning. You're not just packing up your current home and moving to a new one; you're doing it from hundreds — perhaps even thousands — of miles away. It's kind of like that famous Ginger Rogers quote about having to do everything Fred Astaire did but backwards and in high heels; it adds an element of complication. And if you're not driving your car yourself, one additional thing you're likely dealing with is shipping a car to your destination.
Since car shipping isn't usually handled by instantly recognizable household names, you may not know where to start or who to trust. That's where we come in. We talked with Holly M. and Lindsay M., two moving experts who've had their cars professionally transported, and they've shared their insider knowledge and tips.
So before you go down the Google rabbit hole, take a look at these top lessons they learned about shipping a car.
1. Searching for car transportation services is tough. It helps to have a trusted, reliable referral.
It's tempting to fire up the search engine and look up auto transporters, but this inquiry can lead to confusing and misleading results. Both Lindsay and Holly said that online searches were overwhelming because they generate tons of options, and the names aren't recognizable, so you're not sure exactly what you're getting into or whom you're dealing with. Holly said that it took her days to finally decide on a car shipper — definitely the most time-consuming part of her auto transportation journey.
Lindsay mentioned one thing to look out for: giant lead aggregators. At first glance, these companies or people look like they offer car shipping services, but in actuality, they're conduits for other auto transportation companies. The aggregators get your information and then give that data out to car shipping providers. Those providers will then proactively contact you, asking for your business. If you don't want your phone ringing off the hook, be wary of giving out any information to anyone who isn't a trusted broker or carrier.
Did you know? Brokers act as intermediaries between you and the carriers. They'll give you car shipping quotes with their fees included. Carriers are the ones who actually ship the cars. They can be harder to find online, but working with them means working directly with the companies or people who will be shipping your car.
The moving industry, unfortunately, has its fair share of scammers who are looking to take advantage of people. You're dealing with enough right now. Avoid unnecessary stress by doing your research and getting a recommendation from a reliable source. But who's a reliable source, you ask? Sometimes, if you're relocating for work, your new employer can connect you with a car shipping company. If that's not an option, PODS can refer you to one of our preferred car shipping providers to safely transport and deliver your car to your new home.
2. Shipping a car takes a relatively long time. It helps to be flexible with pickup and delivery dates.
One of the biggest topics Holly and Lindsay brought up was timelines and the need for flexibility and patience. For starters, if you have an exact pickup date, you need to book as far in advance as possible to ensure that date can be accommodated. But even with advance planning, you may have to tweak your date slightly.
Car shippers pick up vehicles in batches, usually from different states, so you can note your preferences, but the driver and truck you're matched with may not be able to work around a tight schedule. It helps to have some wiggle room built in.
The same rule of thumb applies to your car's arrival date, too. The car shipping company will give you a window, but there are certain variables that can affect delivery, like weather and traffic. Holly transported a car from Connecticut to Honolulu, so it took six weeks to get her car to its end point. This is a slightly extreme example because it involves oceanic travel, but shipping a car still takes a good bit of time. Lindsay shipped a car from Tennessee to Florida, which took around two weeks. Both parties rented cars in their new cities to bridge the transit gap. That being said, if you're relying on a rental car until your regular car arrives, be prepared to extend your rental timeline.
3. Ask some key questions before signing on the dotted line.
Ultimately, you want to know that it's safe to leave your car in the company's hands, right? So with that in mind, make sure you ask these questions before making the commitment.
Q: Are all fees included in my quote?
A: Before committing to one car transportation service provider, get a few car shipping quotes for comparison. Each quote should include the cost of shipping a car as well as any possible fees. If not clarified on the quote, ask the auto transporter if there's a cancellation policy.
Holly recommends asking specifics, like if there's a time when you can cancel without penalty, what the fee would be if you did cancel after a certain date, etc. While you may not foresee changing your plans, it's smart to have a plan for the unexpected.
Q: Do I need extra car insurance?
A: Another thing you need to ask or note is whether you need to purchase additional car shipping insurance. Car shipping providers are required to carry liability insurance, but many do not offer cargo insurance. Ask your provider what they cover and if you need to purchase additional car shipping insurance to ensure your belongings are covered in the event of an accident or shipping damage.
Q: Is your company licensed and registered?
A: Make sure your auto transporter has registered through the U.S. Department of Transportation by asking for their DOT number. Using this number, you can verify their status and view any safety reports filed against them.
4. Closely inspect your car before pickup and after delivery.
Does shipping a car damage it? Likely not. But now's the time to know your car like the back of your hand, just in case. Take a close look at the interior and exterior and note anything you see that's out of the ordinary before you relinquish the keys. It helps to take a few pictures, too. Not only is this information helpful for your auto transporter, but you can also use it as a reference point to inspect your car once it's delivered. A few bumps or scrapes could go unnoticed otherwise.
5. Prepare your car for the trek before you drop it off.
Most car shipping services require you to remove all of your things from your car before it can be shipped. You can keep your registration and owner's manual in the glove box, but all personal items need to be removed. This protects both you and the shipper. Other questions and common answers include:
Q: How do I prepare my car for transport?
A: Besides giving your car a good decluttering session, you'll need to put a little gas in your car, probably around a quarter of a tank, but clarify this amount with your provider.
Q: How do I know if a car is okay for shipping?
A: Your car needs to be in good working order. If your vehicle can't steer or brake, this will likely be an issue for shipment. Notify the auto transportation service of any car defects or problems prior to shipment to ensure it can be loaded and unloaded without issue.
6. Take someone with you to drop off your car.
Here's a simple tip you may not have considered: After you drop your car off, make sure there's someone who can take you home or wherever you need to go. You'll probably have to meet your car shipping provider in a large parking lot, so have a friend or family member follow you, so they can give you a ride afterward. The same goes for picking your car up. You don't want two cars at your pickup location.
7. Don't let the car shipping process intimidate you.
Lindsay and Holly agreed that once you've found a reliable car shipping provider, the rest of the process is simple. Just do your research and prepare your car, and let the auto transportation service handle the rest.
Want more insight into the nuances of making a long-distance move? Check out the PODS Blog for packing and loading tips, suggestions for ways to turn the process into a fun adventure, and more!
---
LB Gabriel is a freelance writer who lives with her husband, daughter, and Golden Retriever in Memphis, TN. A frequent PODS Blog contributor, she's a sucker for any tip she can find on downsizing, cutting clutter, or minimalist living. When she's not on a deadline, you can find her on a tennis court or golf course.
Get a Quote
Choose the service you need
Comments
Leave a Comment
Your email address will not be published. Required fields are marked *