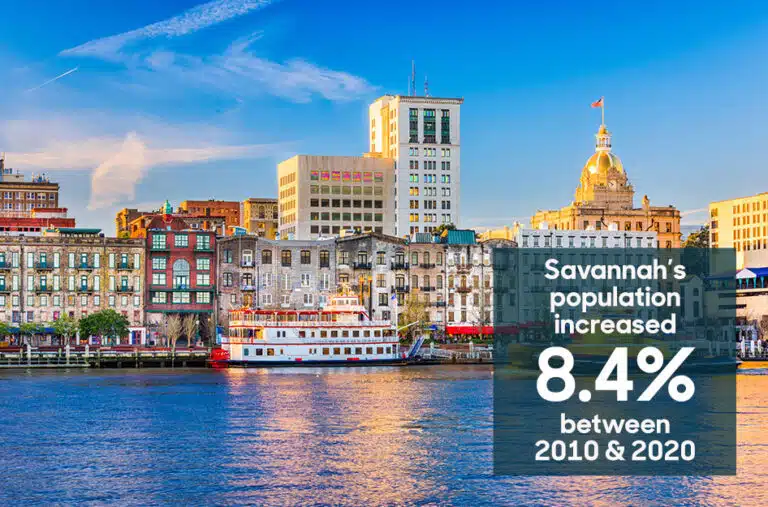 Moving to Savannah, GA, The City Steeped in Southern Sweetness
Life is like a box of chocolates… Did you know one of Forrest Gump's most famous scenes was filmed in Savannah's own Chippewa Square?
With the city's beautiful oaks draped in Spanish moss, distinct Southern charm, deep history, and plenty to do, it's no wonder why the directors chose to film here, and no wonder why it's been exploding as a prime destination for movers over the past 10 years.
This charming beauty of a city has a lot to offer — some of which may surprise you — and that's exactly why it might be worth considering moving to Savannah, GA, and making it your next home! So, come on. Put on those virtual walking shoes and take a stroll to the park bench with us.
About Savannah, GA
Savannah's not just a beautiful city, although those famous azaleas are what dreams are made of. It's also a place where historical architecture, top-notch culture, a great cost of living, and even trendy shopping options converge — with plenty of southern hospitality to boot. In fact, it's very unlikely for someone to get bored in Savannah because there's so much to see and enjoy.
Here's a little trivia for you: What's the oldest city in the state of Georgia? You guessed it! Sweet Savannah. It was a British colonial capital in the 1750s, and with its strategic geographical location, it became an essential logistical port, both during the American Revolution and the Civil War. Even now, the city is still an important Atlantic seaport and an industrial center for modern America. Yet another notch to add to its belt of impressive qualities.
Now here's something that may leave you shaking in your boots: Savannah is also known as one of America's Most Haunted Cities. Yep, you read that right. Kinda makes sense when you think about how old the city is and the logistical importance it's played throughout history. Want to hear some spooky tales of past residents and visitors? You won't have to look too hard!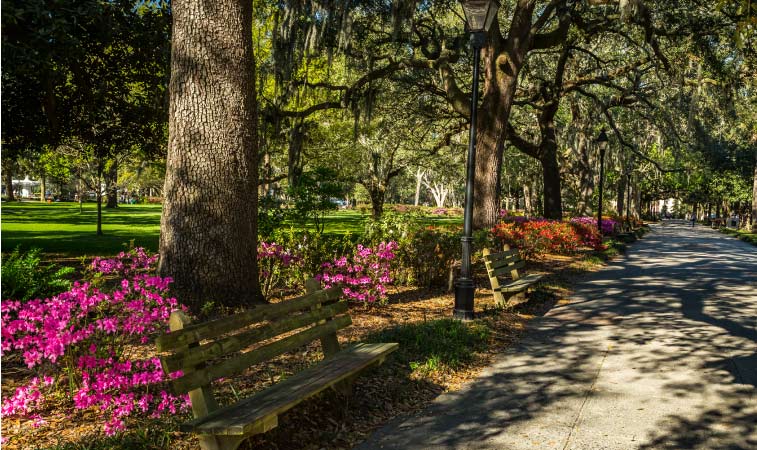 Is Savannah, Georgia, a good place to move to?
Apparitions aside, Savannah is a great mid-sized city to relocate to. It's so great, in fact, that the population increased nearly 10% between 2010 and 2020 — and it's still among the fastest-growing areas in Georgia. The cost of living is very reasonable when compared with similar cities around the country. Housing costs are in line with other areas considering the crazy housing market, and there's plenty to do and eat. Add the rich history, curiosities, and activities for all ages, and you've got a perfect place to call home!
Cost of Living and Housing
The cost of living in Savannah is a cool 10% lower than the national average. However, what sets Savannah apart is the fact that housing in the area is 33% lower than the national average! With a typical home value of $259,645, homebuyers may have more luck here than in other areas with high prices.
Savannah, Georgia, Weather
The weather in Savannah is generally comfortable in the non-summer months and definitely more predictable than other, more volatile regions of the country. With a high in the hottest month of July at 91 degrees Fahrenheit, you'll want to keep lightweight clothes handy and invest in a good water bottle or three. On the flipside, lows in the coldest month of January stay around 39 degrees. All you'll need there is a good pair of jeans and a jacket. 
You'll still experience some typical southern traits, like high (VERY high) humidity in the summer and no snowfall in the winter. But when it's pleasant outside — especially in April, October, and November — you wouldn't want to be anywhere else. And did we mention the amazing greenery in the city? The best time of the year to catch those postcard-worthy pictures of Savannah's beautiful blooms is in the early spring, particularly in March and April.
Food Scene
When it comes to foodie meccas, Savannah has joined the ranks of the nation's elite. You don't want to miss The Grey, a unique culinary experience inside a 1930s Greyhound Bus Terminal that was converted into a restaurant. There's also "Fancy Parker's," if you're looking for snacks and gourmet items to stock your pantry (while you stock up on gas for your car, too). And remember that talk about the ghost sightings? Many food establishments, like the famous Pirates' House, are the perfect places to catch a glimpse or two (or so they say).
For those of you who enjoy the finer things, Alligator Soul is a fantastic choice for a romantic evening, business dinner, or any occasion calling for an elevated experience. The restaurant's speciality is its namesake, alligator. It also serves fine steaks and seafood as well as highly exotic meats like ostrich, antelope, and even kangaroo for those adventurous eaters among us. And, of course, there's the famous Olde Pink House, a fine dining staple of Savannah, specializing in only the best of Southern cuisine.
Arts and Entertainment Scene
Regardless of your age or interests, you're sure to find plenty of culture throughout the city. For example, At Forsyth Park, you can have a relaxing picnic or leisurely stroll. The sunset over the Savannah River on the historic River Street? It's a can't-miss attraction. And if you want something a little more upbeat, there's always exciting shows going on at the Lucas Theater and the Savannah Theater.
Education Opportunities
When it comes to education, the arts education offered in Savannah is top-notch. The famous SCAD — The Savannah College of Art and Design — makes it an especially attractive destination for budding creatives, as it offers more than 100 degree programs to choose from.
Transportation
Not only is Savannah very walkable and bikeable, but it even has public transportation that's remarkably decent, as well. Oh, and did we mention there's a ferry? It connects the downtown area to Hutchinson Island — the perfect place for a few rounds of golf or a spa-like retreat!
Q: What are the pros and cons of living in Savannah, Georgia? 
A: Compared to the national average, you can see some significant cost-of-living savings in Savannah. The housing market is 33% lower, transportation costs are 3% lower, and grocery prices are 6% lower than the national average. However, living in Savannah, GA, you can expect to pay 9% more in utility costs than the average American.
For a pro and a con… Since Savannah is such a popular destination, home prices are rocketing. Great for homeowners, no good for potential buyers. 
What salary do you need to live comfortably in Savannah, Georgia?
Savannah (and Georgia, in general) has a lower cost of living than the national average, and the MIT Living Wage Calculator suggests an annual income of $37,870 to support a single adult with no children. Citywide, the median income is $46,149 per household. Having said all that, you'll need to consider your own standard of living, hobbies, whether you're a single- or double-income household, and any other extra expenses you're used to before calculating how much you would personally need to make to live up to your desired level of comfort.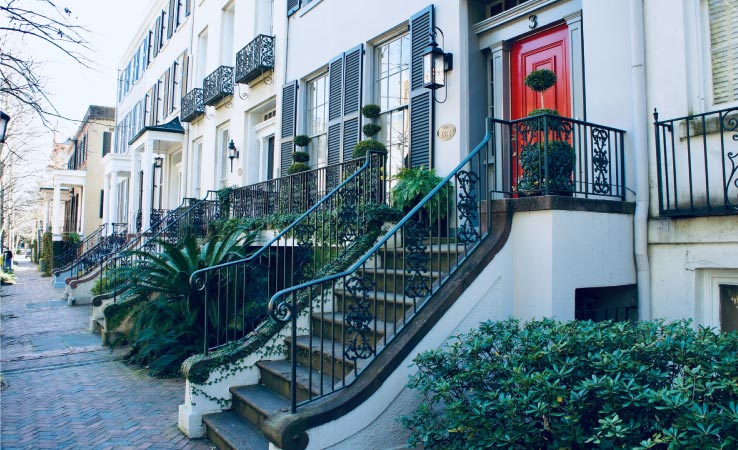 What are the best Savannah, Georgia, neighborhoods?
As with all cities, the best neighborhood will depend on your specific needs and preferences. Here are some of the most sought-after areas in the city that you may want to put on your radar, though:
Ardsley Park
Ardsley Park is the best family-friendly option in Savannah. While being very walkable and low-key, it's one of the oldest neighborhoods in the city, so there's plenty of old-time charm to enjoy. And those spacious property sizes? They're perfect for large families.
Downtown Savannah
Downtown is where Savannah's history really comes to life. It's also the perfect place if you want to be in the middle of everything. This is where you'll find museums (like the Telfair Academy that dates back to 1819, the Railroad Museum, and the Savannah History Museum), houses that are hundreds of years old, and of course, the 22 historic squares. And when it's time to grab a bite, you have plenty of options to choose from, like the can't-miss Mrs. Wilkes Dining Room, The Olde Pink House, and The Collins Quarter.
Tybee Island
Tybee Island Beach is the place to go when all you want is some saltwater and peace away from the city limits. This is a casual spot (with public access areas) that's perfect for relaxing and enjoying the sea whenever you need to recharge. It's a family-friendly area with interesting art galleries and shops — and delicious restaurants, of course. Not bad for a five-mile stretch of beach that's just a few minutes away from downtown Savannah, right?
Dutch Island
For those who want to be in Savannah but in an area with a more rural feel, this is the place to call home. It's a gated community with plenty of natural surroundings — perfect for hikers and those looking for a close-knit community feel.
Q: What should I know before moving to Savannah? 
A: Savannah is a perfect place to sit back, relax, and enjoy that southern lifestyle. It offers beautiful architecture, a low cost of living, and plenty of food options. Not to mention there are always plenty of things to do in Savannah, Georgia. However, it's definitely a hot spot when it comes to tourism, so you'll want to keep that in mind when deciding about making the move.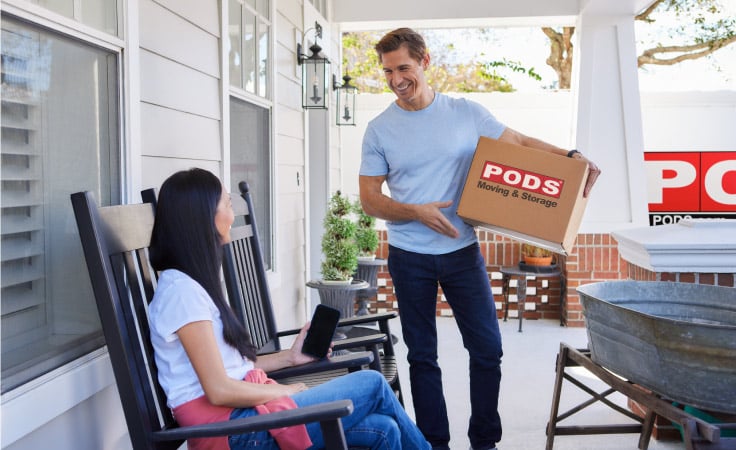 Moving to Savannah, Georgia
Savannah's tugging at your heartstrings, huh? Then it's time to start thinking about how you'll actually make the move. Consider which type of moving service fits your wants and needs, based on your specific circumstances:
Full-Service Movers
The most comfortable, but also the most expensive option for a move. Our advice? If you can afford it and prefer to have someone else deal with the heavy lifting for you, go ahead and hire a full-service mover. Before you do it, however, make sure to do some research, so you end up working with a reputable company that won't lose or ruin your belongings. Be sure to get all your dates lined up once you're ready to hire, too, as you'll be beholden to the company's schedule once it's time to move.
Rental Trucks
The classic move. These trucks are great for smaller moves, for when you need to stay within a tight budget, or if you just love DIY. That said, remember to take into account the rising fuel costs and additional insurance needed. And don't forget that this is the more labor-intensive choice for a move, so the cost savings need to be worth it in the end.
Portable Moving Containers
This is the most flexible option for those who want a good balance between price and features. No matter where you're coming from when you move to Savannah, you may be surprised at how complex your move gets. There are dozens of things to take care of, and you may find yourself wishing for just a little bit more time to pack up, load, or unload. That's where PODS portable moving and storage containers come in. Simply pick your container size and have it delivered right to your home, load it up on your own schedule, and then send it on its way to your new home when you're ready.
There's no need to rush to settle in; a month's storage is automatically included. Not ready to have it delivered to your final destination? No problem! You can keep your container in a secure PODS Storage Center for as long as you need.
In the meantime, be sure to stay one step ahead of your move by keeping up with a moving shopping list and keeping your moving anxiety at bay. Check out the PODS Blog for even more tips and resources to make your move go as smoothly as possible!
See you in Savannah!
---
Ivonne Spinoza is a freelance writer and a frequent contributor to the PODS Blog. Her work has appeared in Matador Network, PBS' Independent Lens, and The Chicago Tribune, among others. When she's not snuggling her cats, she's either Kondo-ing someone's life or fighting jet lag at some airport.
Get a Quote
Choose the service you need
Comments
Leave a Comment
Your email address will not be published. Required fields are marked *