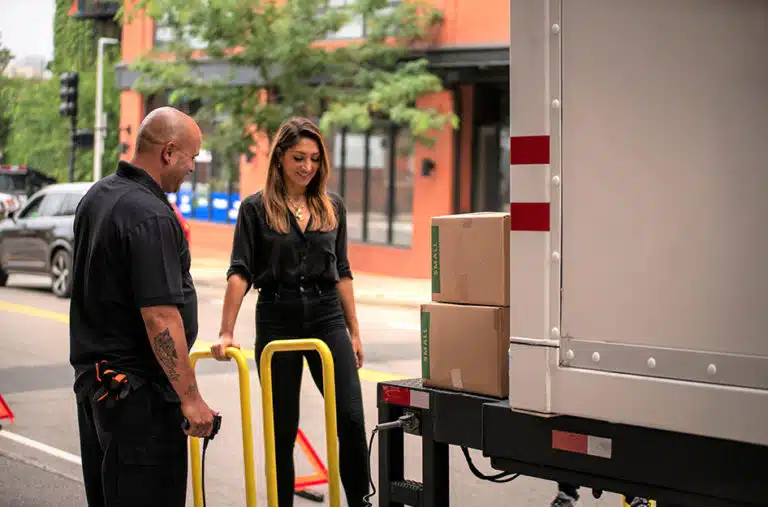 The PODS Survival Guide to Moving to a New City Alone
Thinking about moving to a new city alone? Moving by yourself to a new city can be scary, but it can also be one of the most rewarding things you ever do. How do I know? I've done it several times.
Insider Tip: PODS City Service can simplify your move to a big city. Avoid the hassle of driving a huge rental truck through busy city streets and let PODS handle the parking, permits, and HOA regulations. With new expansions into Dallas and Miami, City Service is now available in 13 markets in the U.S. and Canada.
Is moving to a new city hard? Yes, but moving in general is hard. Moving alone just adds an extra dimension of uncertainty — and freedom. Moving to a new city where you don't know many (or any) people can be daunting at any age, but that feeling is temporary. Once you get to know your new city, meet people, and make connections, you'll wonder how you ever lived anywhere else.
So how do you move to a new city and start over? Being open to making the move is the first step. As someone moving to a new city alone, you'll need to set expectations and put in the work to make your new city your new home. Get ready to put yourself out there in new ways. If you're freaked out, don't be! The process is challenging but more fun than you think.
Know that our pointers on moving to a new city still apply, but here are a few tips specifically for when you're moving alone.
Is moving to a new city a good idea? Moving to a new city is great for people who are looking to shake things up in their lives, grow as people, change up their surroundings, or take advantage of a new job or opportunity. Just remember, if you don't love it, you can always move again.
Know your options
Before you even pack a box, you'll need to know how to plan for a move to a new city. Do a deep dive into your budget and figure out what your spending limits are for either renting or purchasing a home. Once you've got a handle on what you can afford, start researching neighborhoods and the type and cost of housing available in the areas that seem most appealing to you.
Here are a few questions to keep in mind while you're deciding on what neighborhood might be the right fit:
How convenient is the area to work?
How do the local schools rate?
What's the overall vibe of the area?
Where are your peers currently living?
How safe is the neighborhood (remember, you'll be doing a lot of things on your own for the first few weeks)?
What is there to do in the area?
You may also want to consider different types of housing options. For younger transplants, co-living spaces offer a great way to meet people and often have flexible lease terms. You'd get your own private room (usually furnished), in a shared apartment (usually very modern) with a ton of amenities, and pay a flat rate (beware, it's usually way over market). That high price tag might be worth it, though, as you learn the city and figure out where you really want to be.
If you're not certain on what area you'd like to settle into, you can try a few areas out via Airbnbs, sublets, or other temporary housing options like an extended stay at a hotel. Starting off in temporary housing is an ideal way to really get the feel of a new neighborhood before signing onto anything long-term.
What to do when you just moved to a new city
First of all, congratulate yourself for making the move. Moving is a big deal — even more so when you've done it on your own.
Next, get yourself acquainted with your new city, check out what your new neighborhood has to offer, and find your people. Finding your favorite spots, knowing your way around, and having people to hang out with are key to making your new city feel like home. Be sure to take this step ASAP so you don't go stir-crazy or get homesick in your brand-new town!
Not quite sure how to get out there and meet people? Know that you may have to put yourself out there more than you're used to or normally comfortable with, but you won't make much progress from your couch.
Put yourself in social situations. Join a social sports club, check out different meetups, take a class, or sign up for a membership at the gym, a museum, or yoga studio. Get on the apps. Nextdoor is a great way to get to know what's going on in your neighborhood, while apps like Bumble BFF or Meetup pair you with people also looking for a plus one to do things with.
Also — and this is uber important — allow yourself to feel all the feels. The excitement of being somewhere new, the sadness of leaving your last home, the trepidation of the unknown, and the hope for creating something new are all part of the process. In the interim, invite friends and family to come visit. Being a tourist in your own city is a fun and easy way to get to know your new home.
Don't be shy when it comes to hiring moving help
Never underestimate the value of hiring moving help, especially if you're doing a solo move. Chances are your stress level will already be high in anticipation of living in a new city where you don't know many (or any) people. Enlisting a moving service to help with some of the labor and logistics can be a lifesaver.
One big — and often overlooked — difference when you move to a new city alone is the lack of friends and family around to help you in the unpacking process. Thankfully, PODS can also recommend local packing and loading services on either end of your move to help give you an extra hand, literally, during your move.
PODS knows the traditional dropoff and pickup service isn't always an option in dense cities with a lot of high-rise buildings, parking restrictions, and limited space, so they've tweaked the portable container moving service to work, even in big cities. PODS City Service is designed to work with the limited space available in bigger cities.
When you use PODS City Service, a driver will arrive at your location with your PODS container for same-day loading. Within the four-hour loading window, your PODS driver will operate a level-loading system as you load and unload the container with your belongings. Once you're done, your portable container will either be on its way to your new home, to a secure storage facility, if you need it stowed away for a while until you want it delivered, or whisked away if you're all moved in.
Here are the cities that currently offer PODS City Service:
Boston
Chicago
Dallas
Denver
Los Angeles
Miami
New York City
New Jersey
Philadelphia 
San Francisco
Seattle
Toronto
Washington, D.C.
PODS was created to help you survive and thrive, whether you're moving with friends or family, or taking the plunge solo. PODS is designed to help make your move easier, even if your move includes a big city. The full line-up of PODS moving and storage services have your back, from planning and packing through loading, storage, and settling-in, so you can spend more time focusing on making your new city your new home.
---
Alex Keight is a writer who has lived — and moved — all over the country and the world. She is an expert at packing, whether it's for a long-distance move or a short weekend trip. When she's not writing or on the move, Alex spends her time giving her cat booty pats, cooking up dishes in the kitchen, and buying way more books than she knows she'll ever actually get to reading.
Get a Quote
Choose the service you need
Comments
Leave a Comment
Your email address will not be published. Required fields are marked *