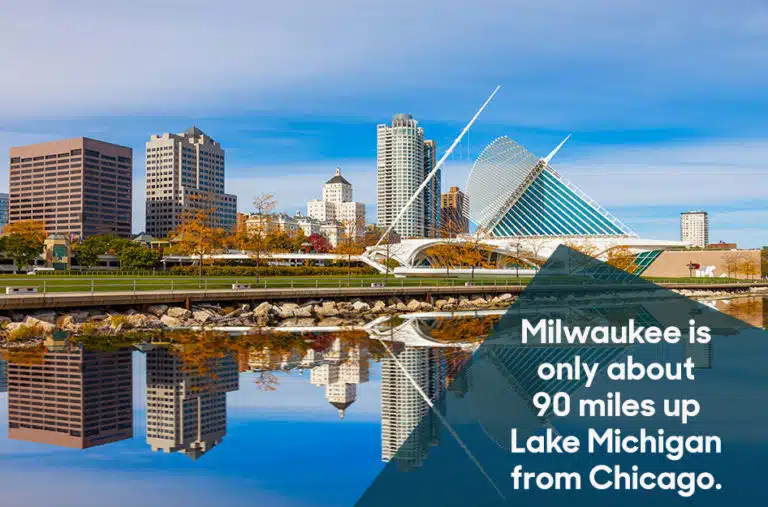 The City of Brews: Your Guide to Moving to Milwaukee
Brew City, Cream City, The Mil, Milburg — Milwaukee is a city with a lot of names and even more things to expect.
Sure, it's the birthplace of Pabst Blue Ribbon. And you're almost guaranteed to find bratwurst and frozen custard worth drooling over. But there's more to experience than food and beer. With lakefront beaches, diverse neighborhoods, and plenty of history, this Midwest city is the perfect place to plant your roots.
So whether you're looking to learn about things to do, the best neighborhoods, or the best method for moving to Milwaukee, this guide is here to take you through it all.
Living in Milwaukee
Milwaukee sits on the west coast of Lake Michigan and comes with 1,400 acres of beaches and waterfront parkland for you to explore. You can spend your day in the sand at Doctor's Park or downtown's Bradford Beach, or you can hike around the lakeside forested areas of the city like in Juneau Park.
Almost 580,000 people call the city home. For a size comparison, nearly 2.75 million live in the nearby city of Chicago, and Chicagoland itself is home to nearly 9.5 million. So while it's not quite as big as other cities, it definitely can't be written off as a small town. Meaning you're sure to find something to do and someone to tag along any time you want.
The four counties that make up Milwaukee's metro area are the aptly-named Milwaukee, followed by the WOW counties: Waukesha, Ozaukee, and Washington. That leaves you with plenty of schools, jobs, and neighborhoods to choose from.
Pro Tip: Moving with PODS portable containers means that storage is built in for a flexible move, you can plan your move according to your schedule (not the schedule of your movers), and you can take your time with loading and unloading. Oh, and did we mention you don't have to drive a big, awkward rental truck in an unfamiliar city? Yeah, PODS will take care of that, too.
Is Milwaukee a good town to live in?
Milwaukee is a great city to live in. There's something for everyone to enjoy, whether you're moving here with your family, your pet, or by yourself.
Cost of Living in Milwaukee
When compared to other big cities like New York, Los Angeles, and Chicago, Milwaukee's cost of living is pretty low. Although it has gone up almost 2 percent in the last year, it's still lower than the national average.
Milwaukee also boasts one of the nation's top public transport systems. In 2019, it ranked fourth in the nation for safety and reliability and 18th for its amount of resources. Thus, you can save some real cheddar on fuel and other transportation costs in the area.
Things To Do
When it comes to things to do in Milwaukee, you're going to find plenty of options. You can choose from walking tours, seeing street art, hiking, lakefront and sailing excursions, or you can explore the city's rich history. You can also plan a trip and pay a visit to the animals at the Milwaukee County Zoo. The best part? Breweries and restaurants as far as the eye can see, so you can make pit stops whenever you feel like it.
With four distinct seasons, some times of the year are going to be better for getting outside than others, but even on snowy days, you can grab a warm drink from one of the many coffee roasters in town and take a walk in the park.
Tasty Tip: Be sure to check out Odd Duck, a restaurant that many consider to be the best in Milwaukee. Offering small plates, big flavor, and a locally-sourced menu that evolves with the season, the chefs serve up something for everyone — from vegans to omnivores. Our recommendation? Literally, anything and everything.
Sports in Milwaukee
Between the Milwaukee Bucks and the Brewers, sports are a year-round affair in this city.
When the Bucks hit the playoffs during the spring, you're going to know about it — whether you're interested or not. You can catch one of the two-time championship winning team's games at Fiserv Forum in downtown, along with other events (concerts, anyone?) when they come to the city. Plus, the Deer District is home to some of basketball's most legendary parties.
If you're not into basketball, you can settle in at American Family Field for a Brewers baseball game, and you can see their playoff games during the fall. Or, hop on I-43 for a day trip to Green Bay and catch the Packers at Lambeau.
University of Wisconsin-Milwaukee
Another city staple is the University of Wisconsin-Milwaukee (or UMW). With plenty of students usually comes plenty of nightlife, but that also means the city is bustling for young professionals. There are 11 other colleges and universities in Milwaukee, as well, so you're going to notice some students during your day-to-day.
Job Opportunities
While Milwaukee's student population is sizable, there are still plenty of professional employment opportunities to be found. The city's most bustling industries, according to the U.S. Bureau of Labor Statistics, are office and administrative support, production, sales, transportation, and health services. The city's unemployment rate as of March 2022 (calculated together with neighboring Waukesha and West Allis) was 3.6 percent, the same as the national unemployment rate in April 2022. And, we would be remiss if we didn't mention Milwaukee's iconic brewing industry.
Q: Is it worth moving to Milwaukee?
A: With quick access to Lake Michigan and nearby Chicago, moving to Milwaukee is perfect for anyone searching for a home in the Midwest. It's an affordable place to live, but you don't have to sacrifice big-city living if that's your thing.
What are the best Milwaukee neighborhoods?
Whether you're moving to Milwaukee with your family, by yourself, or with your partner, there's a neighborhood here to welcome you home.
Best for Families
If you're a family moving to Milwaukee, you're likely to be looking for a single-family home with great education options, safety, and plenty of outdoor space. That's where Menomonee River Valley comes into play. With plenty of parks and trails along the Menomonee River, not to mention popular attractions like the Three Bridges Park and Harley-Davidson Museum, it's the perfect area for families just starting out — or anyone really. It's ranked first by Niche as the best neighborhood to raise a family in Milwaukee and the second best Milwaukee neighborhood overall. Plus, it has the Potawatomi Hotel & Casino when you need a date night away from the kids.
Mount Mary and Walker's Point are similar in having an urban feel. Both come with plenty of bars, parks, and other things to do. Most people in Walker's Point tend to rent their homes while families in Mount Mary tend to purchase. Mount Mary and Walker's Point both cost less to live in than Menomonee River Valley does, though.
Best for Retirees
For retirees, an accessible home with plenty of safe spaces to walk around and socialize definitely matters. Elm Grove, a suburb only 15 minutes from Milwaukee, has all of this — along with a #1 Niche rating for the best place to retire in Wisconsin. With easy access to plenty of coffee shops, restaurants, and parks, it's the perfect place to explore and return home to relax each night.
If you want a neighborhood with more people in it, then Brookfield is another great suburb to consider. With a population of nearly 40,000, there's plenty of people to meet at nearby restaurants and coffee shops, but you'll still have plenty of access to parks. It's also only 20 minutes away from the hustle and bustle of the main city.
Best for Young Professionals
For young professionals looking for a walkable neighborhood with plenty of outdoor access, Riverwest, Milwaukee, is a great place to search. Located on the banks of the Milwaukee River, not too far from Lake Michigan, Riverwest has been ranked the fourth best neighborhood to live in Milwaukee by Niche. In addition to parks, you'll also have quick access to bars and restaurants.
Menomonee River Valley is also a great neighborhood for young professionals to live (#2 according to Niche). There are plenty of bars, coffee shops, parks, and restaurants to explore in and around the neighborhood, and a lot of residents tend to rent their homes rather than buy.
Q: Why should you move to Milwaukee?
A: Milwaukee has plenty to offer, from historical architecture and lakeside scenery to local fare and professional sports teams — there's something for everyone, citizens and visitors alike. That means you'll enjoy living here, and any of your friends and family can expect a great time when they come to visit.
Moving to Milwaukee
Now that we've gone over all the biggest reasons people are moving to Milwaukee, do you think it's a move you would make? At PODS, we know moving to any new location can be stressful, but if you plan ahead and have everything ready to go before moving day arrives, you'll be able to settle in and explore your new city in a heartbeat.
With moving, there are a few options you have to choose from: full-service, rental trucks, or portable moving containers.
Full-Service Movers
Full-service movers do exactly what it sounds like they do. This is a great option if you can swing it, as you're handing the work off to a team of professionals. Full-service movers are going to be able to pack, move, and unpack everything you leave for them. They're especially great if you're making a cross-country move, but it's important to ensure you get everything in writing beforehand. This will help you avoid surprises later down the line.
Rental Trucks
If you're on a budget, then getting a rental truck might be your best bet. You don't have to worry about sticking to a mover's schedule, you can handle everything yourself, and you don't have to trust your stuff with a team of people you don't know. It's just as important to ensure you factor in things like fuel, insurance, food, and lodging expenses along the way, though, to make sure you're getting the best deal. You can also use our PODS vs. moving truck rentals comparison guide to see if renting a portable container would be a better option.
Portable Moving and Storage Containers
Whether you're moving across the country or across the state, you might find that PODS services are the best ones for your Milwaukee move. We have three different sized containers you can choose from, and they're delivered right to your driveway. From there, all you have to do is pack your container up (at your own pace, of course) and schedule a time for PODS to pick it up and take it to your new home. If delays happen during your move, then you can just place your storage container at a nearby PODS Storage Center.
With locations across the country, you can be sure PODS will be available to help every step of the way. For more tips to help you make it through your packing adventure, turn to the PODS Blog for pro advice and more.
---
Katlynn Mullins is a St. Petersburg-based freelance writer whose only roommate is their cat. A frequent PODS blog contributor, Katlynn loves finding ways to make moving into new spaces simple and stress-free. Between yearly apartment hopping, you can find them on the waterfront or experimenting with new ways to make coffee.
Get a Quote
Choose the service you need
Comments
Leave a Comment
Your email address will not be published. Required fields are marked *