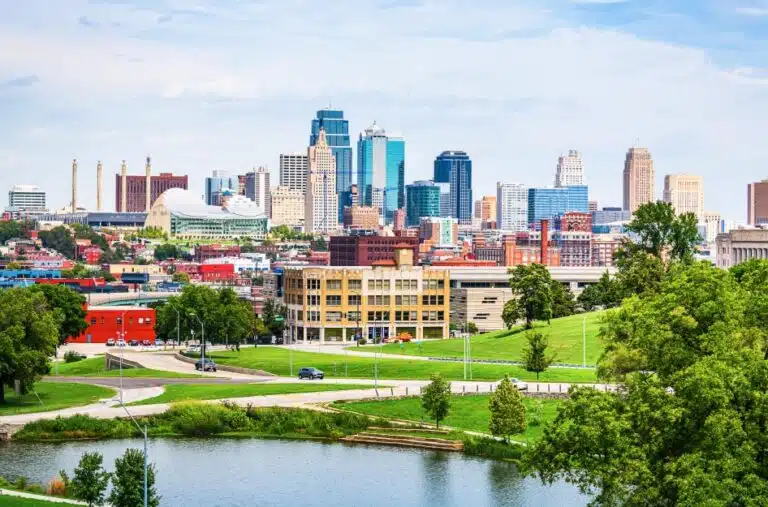 16 Things to Know About Living in Kansas City, Missouri
Whether you know it as Kansas City or Cowtown, there's always something new to discover in this beloved city. It straddles both Missouri and Kansas and comes with lots of history to explore, along with fun activities to partake in. And with a healthy job market and plenty of industries, Kansas City is a great place for young professionals and families alike to make their home. The low cost of living alongside a vibrant, creative community is a great bonus, too.
Kansas City, Missouri — At a Glance
Kansas City, Missouri – FAQ
Q: Is Kansas City a nice place to live?
A: With lots of job opportunities, affordable living, and fun activities, Kansas City is one of the nicest places to live in the U.S.
Q: What is a good salary in Kansas City?
A: The average annual salary in Kansas City is $55,180. However, with so many positions in tech and healthcare available, there are opportunities to make well over this amount.
Q: What are winters like in Kansas City?
A: The winters in Kansas City are very cold, snowy, and windy, with an average January temperature of close to freezing.
16 Things to Know about Living in Kansas City, Missouri
Check out these 16 things you should know about living in Kansas City, MO, including information about cost of living, the housing market, schools, and more.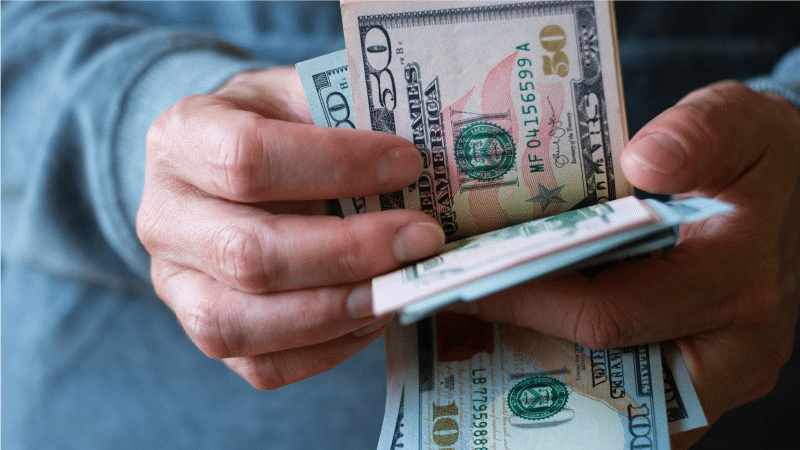 1. Enjoy a Lower Cost of Living in Kansas City
Among a plethora of reasons, the relatively low cost of living is a factor that drives so many people to Kansas City. In fact, the cost of living is five percent lower in Kansas City, compared to the U.S. average.
2. Assess the Pros and Cons of Living in Kansas City
Pros of Living in Kansas City
Affordable and diverse housing market
World-class BBQ
Lots of entertainment options
Another decade of Patrick Mahomes
Low cost of living compared to other major metros
Cons of Living in Kansas City
Possibility of tornadoes
Higher state taxes
Landlocked area
Hot, muggy summers and bitterly cold winters
3. The Kansas City Housing Market is Nothing to Sneeze At
Prices in the KC housing market have ballooned over the last few years. Home ownership is still attainable when it comes to living in Kansas City, but homebuyers should approach it with an open mind. Luckily, however, there's no shortage of great places to live. And with over 240 different neighborhoods, Kansas City has a variety of modernist and mid-century design houses. The average home value in Kansas City is $228,545.
4. Apartment Costs in Kansas City Have Been Rising, Too
Along with the homes in Kansas City, MO, apartment value and rents have grown significantly since 2020. This problem isn't unique to KC, as all of America has seen this price growth, but residents are definitely feeling the squeeze. The average rent for a one-bedroom apartment is $1,220, and the average size totals about 900 square feet.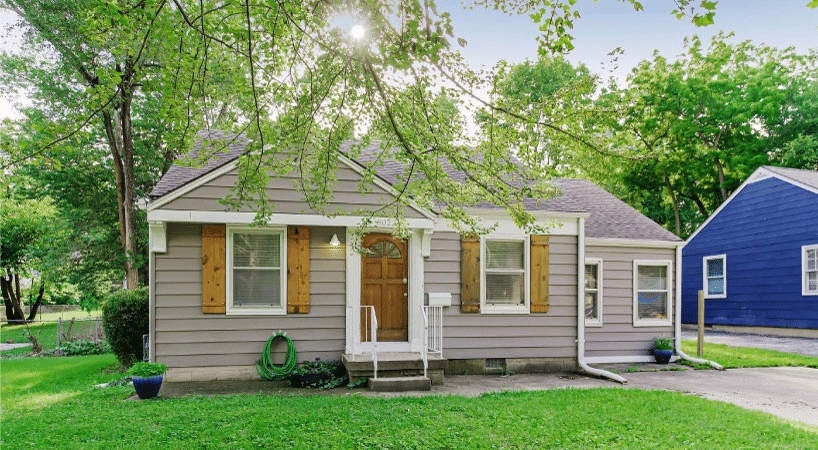 5. When It Comes to Best Places to Live in Kansas City, Several Areas Stand Out
Here are three of our favorite neighborhoods in Kansas City, MO.
Armour Hills
The quaint Armour Hills neighborhood is located in South Kansas City and offers a variety of home styles and housing options. This area is great for families with kids, as there are several private schools nearby. This community has plenty of events for families to enjoy, such as the Juneteenth Freedom Parade and the Ice Cream Social.
Blue Hills
The Blue Hills neighborhood in Southeast Kansas City is a great place for families to live. Its convenient location and affordability make it an ideal choice for growing families. One of the best high schools for the performing arts in the state — Paseo Academy — is located here.
There are also various higher educational institutions near the area, such as Rockhurst University and the University of Missouri-Kansas City. Residents of all ages in this neighborhood can take advantage of community projects, such as the Blue Hill Community Garden.
Waldo
The tight-knit community of Waldo is located in Kansas City, Missouri. It has plenty of activities for the whole family, such as the Waldo Fall Festival and the Trolley Run. This area also has access to a variety of educational institutions, including the Sherwood Autism Center and Kansas City Academy.
The spacious grounds of Waldo have an A rating on Niche and provide a variety of home styles and sizes. There are Tudor and small craftsman homes, as well as larger Colonial-style houses with large yards ideal for pets and kids.
6. Some of the Best Schools in the Nation Are in Kansas City
The Kansas City metro area has several excellent schools to choose from. One of these is the Blue Valley School District, which is regarded as one of the best in the nation. There are also other great school districts, such as the Park Hill School District and the Lee's Summit School District. All of these districts currently have A Niche grades.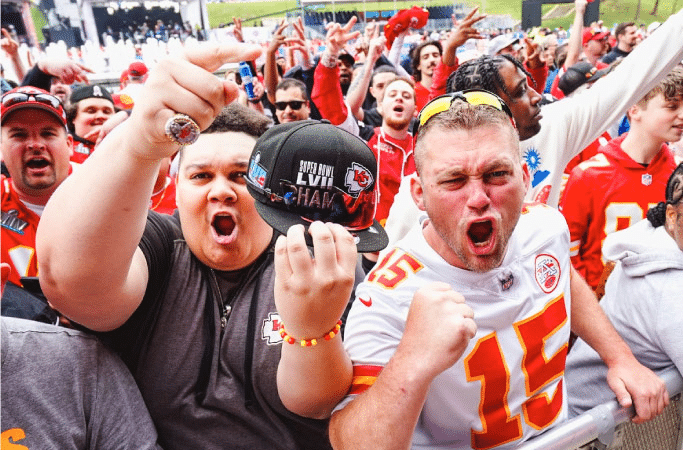 7. Sports Fans Love Kansas City
Kansas City is the perfect place to live if you love professional sports. The NFL's Chiefs are in the midst of perhaps their greatest run in their long history, led by superstar quarterback Patrick Mahomes, the surefire hall-of-fame coach Andy Reid, and historically great tight end Travis Kelce. Since 2019, the Chiefs have won two Super Bowls, been to four consecutive AFC Championship Games, and have won their division four times in a row to boot!
The MLB's Royals have a good semi-recent history, last winning the World Series in 2015 over the Mets, but are currently rebuilding. There is hope, though, with budding stars in Bobby Witt, Jr., and MJ Melendez giving fans something to look forward to in the coming years.
The Kansas City Monarchs are also a local baseball team, playing in the minor American Association of Professional Baseball (AAPB). You can catch them at Legends Field, or you can head over to Kauffman Stadium to catch the Royals. And hockey fans will find a home at Cable Dahmer Arena where they can watch the Kansas City Mavericks of the East Coast Hockey League (ECHL).
8. Safety in Kansas City Should Be a Top Priority
One thing you'll have to be vigilant about in the city is its crime rate.
While there are safe neighborhoods, it's estimated that a total of about 29,122 crimes happen each year. The majority are property crimes, while the remaining 7,400 are violent crimes. Crime is a little less frequent in Missouri as a whole, however, with a 1 in 187 chance of being a victim of violent crime versus a 1 in 69 chance in Kansas City.
9. Kansas City Weather Can Get Pretty Wild
It's safe to say that the weather in Kansas City can be pretty extreme at times. The city goes through each of the four seasons, with the winter and summer seasons considered to be the most volatile.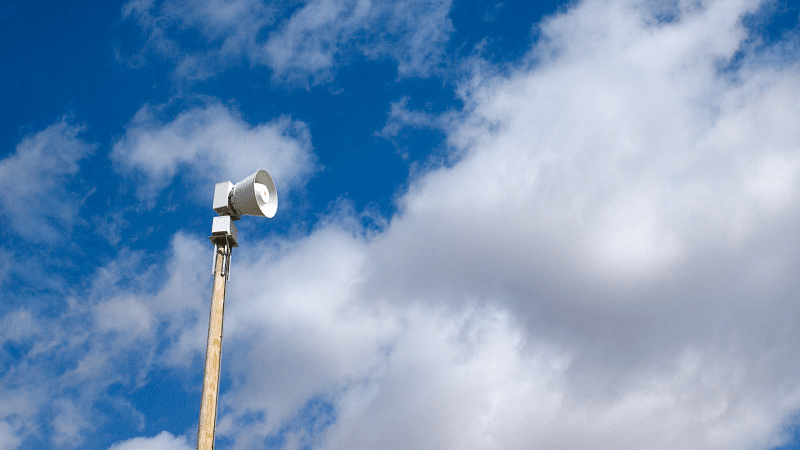 10. Be Prepared for a Tornado Warning or Two
Kansas City is right in the middle of tornado alley, which means that you will find that most homes have reinforced basements. Though numbers have decreased in the last decade, that lull isn't expected to last forever. In fact, four tornadoes hit the area in June of 2022 alone. It's very important that you stay up to date with weather alerts if you decide to move here.
11. There Are Thriving Job Opportunities in Kansas City
Kansas City is home to plenty of fabulous job opportunities, driving many young professionals to the area. The metro is known for its manufacturing, financial, and animal health industries.
There are also plenty of companies headquartered in the city — major organizations include H&R Block and Hallmark, but if you'd rather work at a smaller startup, look no further than PayIt, iOR, or Triple Blend.
12. Kansas City Has Low Unemployment Rates
In recent years, the unemployment rate in Kansas City ranged around 2.6-2.8%, which is a bit lower than the national average of 3.4%. Plenty of job opportunities and affordable housing have been main contributing factors as to why these rates have been so low.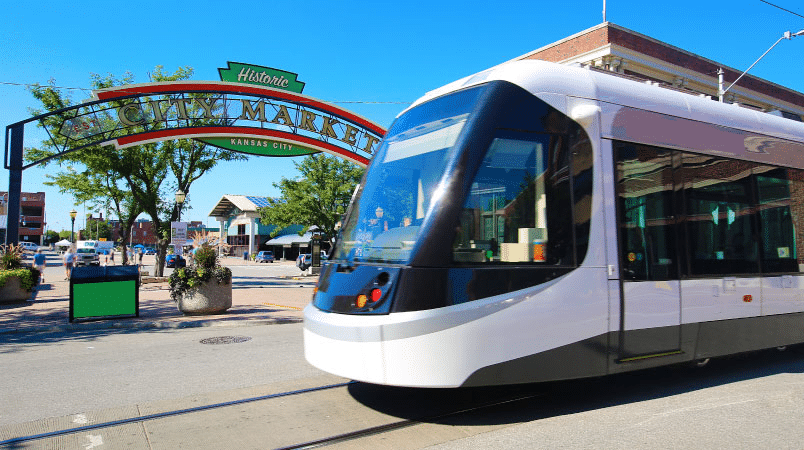 13. You May Have a Shorter Commute Time in KC
Kansas City's public transportation is generally good. One of the biggest drawbacks of living in a big city in the U.S. is the commute time. However, in the Kansas City metro area, most commuters spend less than 25 minutes traveling each way. This makes it one of the shortest commute areas in the country.
However, outside of the city, there is no public transit system. This means that most people have to buy a car to get around and into the city. If you're looking to ditch your drive, you might want to consider downtown living.

14. You Can Stay Up Late in Kansas City
Kansas City offers no shortage of fun. From concerts to bars, there are lots of entertaining places where anyone can have a good time.
The Kill Devil Club — a piano bar in Kansas City's Power and Light District — is one of the most popular places for a night out. It's been named one of the best new bars in the country by Food and Wine Magazine, and it offers plenty of shows performed by local talent. You can also try one of the club's signature drinks, like the Howlin' Mule — Tito's Handmade Vodka, Gosling's Ginger Beer, and fresh lime.
And since 1950, the popular, family-owned Uptown Ramblers Club has been established in Kansas City's Midtown. Originally a cocktail lounge, it's now a great place to meet up with friends and listen to live music.
15. There's an Abundance of Fun Things to Do in Kansas City
In the Kansas City area, there are over 220 parks that encompass over 12,000 acres of natural and recreational space. There are also over 150 miles of trails that connect various areas, including 29 lakes, several picnic shelters, eight museums, five public golf courses, and several athletic fields.
Along with outdoor activities, Kansas City also provides many great resources that families can use to develop their knowledge of arts and humanities. Here are a few places where you can do exactly that: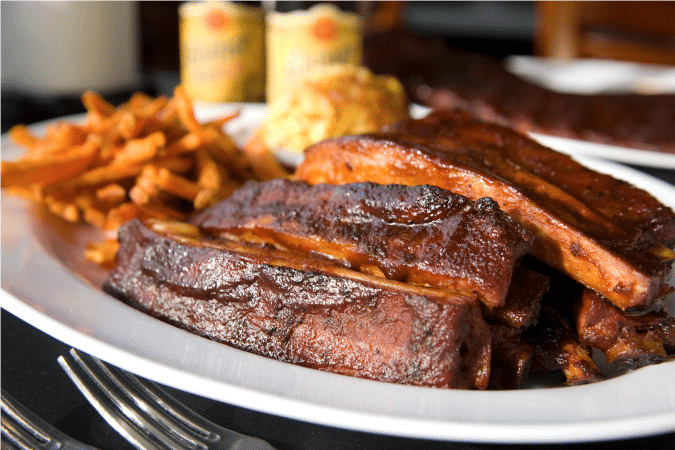 16. Kansas City Food is Mouthwatering
For many years, the culinary scene in Kansas City consisted largely of barbecue, burgers, and butchery. However, Kansas City has built quite the dining scene over the years.
Some of the most delicious and unique restaurants in Kansas City, MO, include:
Corvino Supper Club and Tasting Room: This trendy restaurant offers a variety of great options. You can enjoy a meal at the Supper Club, where you can share fried chicken and other food like seaweed donuts with your friends while listening to music. Or you can visit the Tasting Room, where you can get a closer look at Michael Corvino, the chef who created some of the restaurant's signature dishes.
Poio Mexican BBQ: This Mexican restaurant is known for its bold and flavorful barbecue. The wood-fired chicken is family-sized, and you can choose to have it with a variety of side dishes, like elote and Korean fried rice.
Kitty's Cafe: The pork tenderloin sandwich at Kitty's Cafe is a classic, and it's not like the small plate-sized cuts commonly found in the Midwest. You can get your tender slice of meat from the carryout or the patio next door, just be sure to bring cash along.
Getting to Kansas City, MO, is Easy With the Help of PODS
Making the decision to move to Kansas City is the easy part. Getting there is the trick. You can simplify your move by using PODS portable moving containers. PODS will deliver a container to your driveway where you can load it on your own schedule. Need help with the heavy lifting? PODS can even connect you with local packing and loading services. When you're ready, your container will be picked up and delivered right to your new Kansas City home, or you can keep it in a PODS Storage Center until you're ready for it.
---
Get a Quote
Choose the service you need
Comments
Leave a Comment
Your email address will not be published. Required fields are marked *