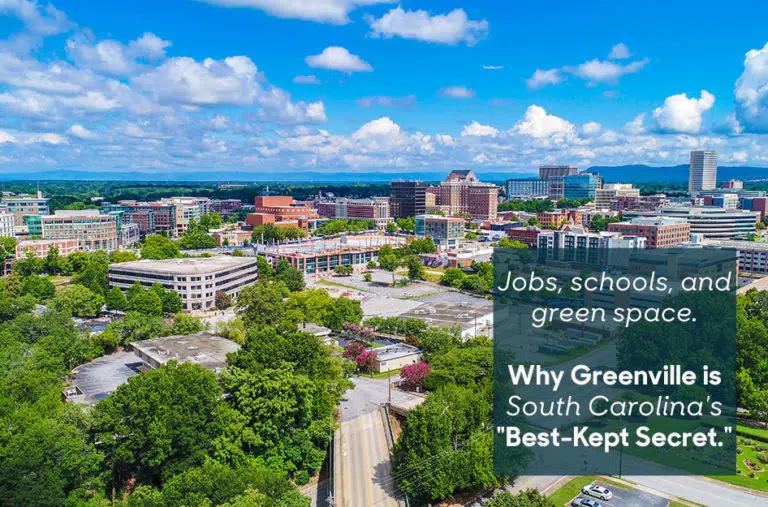 The Top 10 Things You'll Want to Know About Living in Greenville, SC
Maybe you're tired of big-city living and want to be somewhere where you can hear nature sounds and walk among the trees. Maybe you're coming from a community with one traffic light and want to live somewhere with a downtown to speak of. Or maybe you're done with northern temperatures and want to take a drive down south to watch the thermometer tick up. If any or all of this sounds familiar, you may want to consider living in Greenville, SC.
No need to take us at our word, though — let's go through 10 of the top pros of living in Greenville, so you can make the evaluation (and start packing your bags) for yourself.
Living in Greenville, SC – At a Glance
Before our in-depth listing, here are some basic things to know about living in Greenville, SC, for the skimmers among us:
Greenville is located between the cities of Atlanta, Georgia, and Charlotte, North Carolina, situated in the northwestern "Upstate" region of South Carolina. This makes traveling easy!
The cost of living in Greenville, SC, is below the national and state averages
The job market is strong and expected to keep growing
Schools here aren't just ranked above average for South Carolina; they're ranked in the top 10 for the state
Crime rates are higher here than average
Greenville is a growing foodie's paradise with a thriving farm-to-table scene
Housing costs are significantly below the national average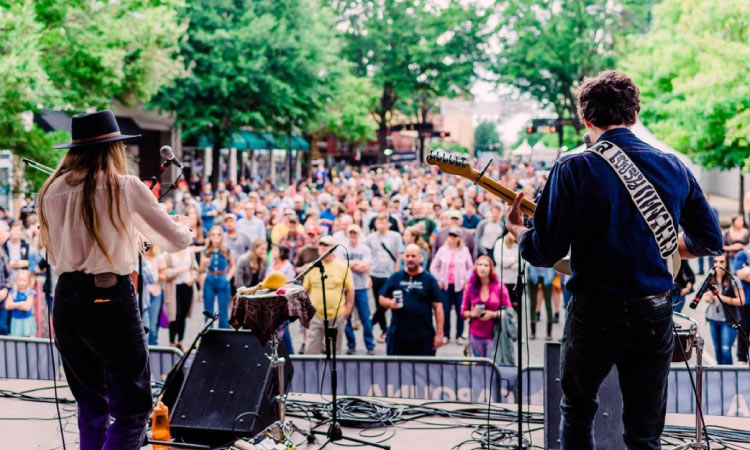 What are the pros and cons of living in Greenville, SC?
If your decision to move involves making a list of all the pros and cons of living in Greenville, SC, allow us to help. Though personal circumstances (new job, exciting!) or preferences (smaller city, just what you're looking for) come into play, here are some ups and downs of Living in Greenville, SC.
Pros of Living in Greenville, SC
Relatively low cost of living
Lower than average unemployment rate
Walkable downtown
Range of great restaurants to sample
Green space galore
Mild winters
Multiple arts festivals and museums
Cons of Living in Greenville, SC
Relatively high crime rate
Relatively low racial diversity
Hot, humid summers
Q: Is Greenville, SC, a good place to live?
A: Without a doubt! But why is Greenville, SC, a good place to live? Between its buzzy downtown district, walkability to plenty of restaurants, impressive arts scene, abundant nature, and subtropical climate, there are so many great reasons to call Greenville, SC, home.
Now, onto the list!
1. It's one of the best cities in the U.S.
Let's start with a humble brag: Greenville has been lauded as one of the best cities in the U.S. In 2022, Condé Nast Traveler readers gave it a place of honor (6th place, to be exact!) in their Readers' Choice Awards, particularly hailing its good eats: "The food lover's town has a farm-to-table scene that continues to rise in the ranks … and its craft beer scene is seeing a similar explosion." And more recently, it ranked in U.S. News & World Report's 2023 list of the best places to live in the U.S., where it scored 31st place out of 150 metro areas.
2. It's small but growing
With a population around 72,000, Greenville is certainly a smaller city. However, it's growing. And if you're looking to live in Greenville, SC, you're in good company: Americans are trending toward moving to places in the Southeast, such as Florida, Tennessee, and South Carolina. Greenville, in particular, is among the top 20 U.S. cities with the highest number of move-ins in 2022.
Q: What should I know before moving to Greenville, SC?
A: We want to be completely transparent. Like any place, Greenville, SC, has its downsides to consider before moving there. For one, the crime rate in Greenville is higher than average — its crime index is 4, meaning it's considered safer than just 4% of other U.S. cities. It's also worth noting it's not an incredibly diverse city. The predominant race is white, which nearly 68% of residents are.
3. The cost of living in Greenville, SC, is below the national and state averages
When considering moving to a new place, affordability is a huge factor. Can you live the lifestyle you want with the salary you make? Can you comfortably rent or buy a home? Are there unexpected costs? Luckily, the cost of living in Greenville, SC, is lower than the national average, so if you're moving from a bigger city, there's a good chance your dollar will go further. With a Greenville, SC, cost of living index of 88.7 (the average U.S. cost of living is 100), it is also slightly less expensive than the South Carolina index of 89.3. So if you're doing an intrastate move, you likely won't notice much of a difference — though if you do, it'll be a nice cost-saving surprise.
Q: How expensive is it to live in Greenville, SC?
A: The good news is, the cost of living in Greenville, SC, is lower than both the national average and the state average. To get an idea of some of the general costs and salaries, the median household income is just over $60,000, the average rent for a 962-square-foot apartment is around $1,425, and the average home value is around $296,500.
4. The local economy is strong and growing
Predicting the economy at any scale is a risky game, but Greenville's mid-size economy has been robust. The likes of Michelin, General Electric, and Lockheed Martin have settled into offices there, and employment rates have benefited from their presence. The unemployment rate, as of July 2023, is 3.3 percent, which is below the August 2023 national average of 3.8 percent. And the Greenville job market is expected to keep growing — by nearly 40% in the next decade.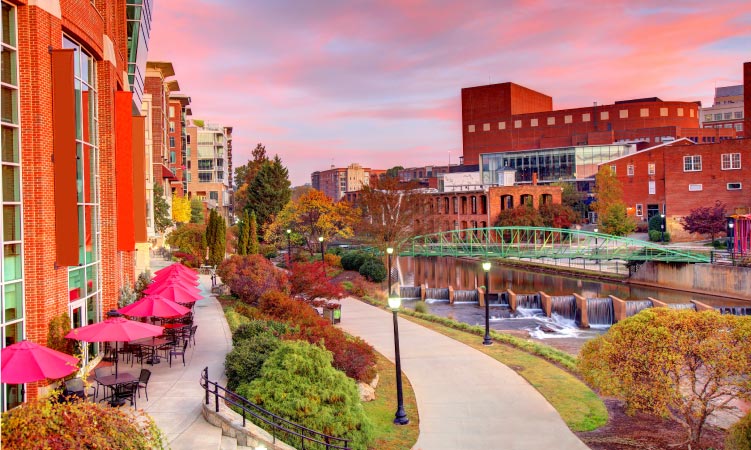 5. It's home to a fun, walkable downtown
If you ask a local what they love about living in Greenville, SC, the first thing they may say is the downtown area. From the trolley, you can ride down Main Street to breweries and cocktail bars, then to local boutiques and museums, and then to restaurants galore. There's no shortage of places to check out in the downtown area, which encompasses 10 full blocks. And among all that man-made fun, you'll also find a rare gem: Falls Park on the Reedy River, a 32-acre park that features gorgeous trees, a scenic pedestrian bridge, and a majestic waterfall, among other delights.
6. You'll eat well
Hope you're hungry, because there are too many scrumptious spots to try out in Greenville not to have an appetite. Though perhaps an unsuspecting contender for a foodie city, Greenville has racked up plenty of accolades over the past decade, from being hailed as an under-the-radar food destination by Zagat to the potential next big Southern food city by Esquire to one of the hottest foodie cities in America by People.
The downtown alone serves up more than 110 (!) restaurants, while the larger county boasts a whopping 1,000 eateries. Don't miss The Trappe Door, a Belgian bar where you can order mussels and frites and choose among some 100 beers, or Smoky Dreams Barbecue, where you can take a seat at a picnic table and chow down on brisket and potato salad (but save some room for the lemon pie!).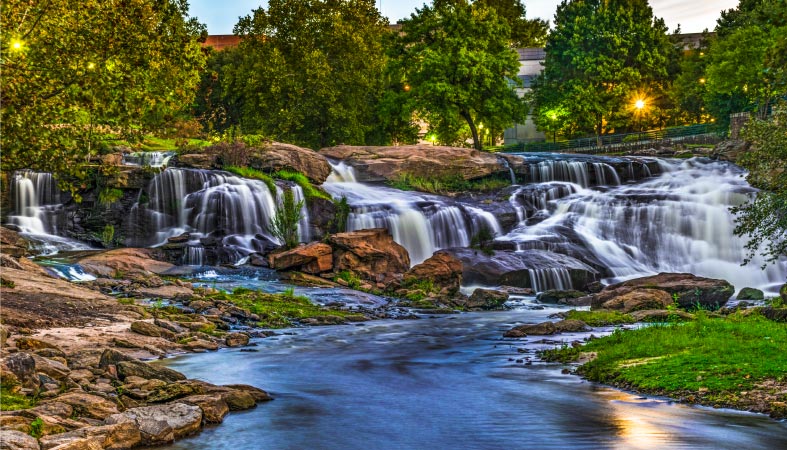 7. Green space abounds in Greenville, SC
What would a city called Greenville be without some green space? Luckily, we don't have to find out. The city's parks, recreation, and tourism department oversees 28 parks, taking up more than 400 acres of land. Be sure to take a stroll around Cleveland Park, the city's largest, home to the 14-acre Greenville Zoo and Falls Park on the Reedy, which is right downtown and comprises lots of paved walkways and beautiful river views. There are also plenty of playgrounds in the city for the kiddos, as well as hiking destinations such as Paris Mountain State Park — just 6 miles away from downtown. It features 15 miles of hiking and biking trails and two lakes to boot.
8. Greenville enjoys a subtropical climate
That means Greenville residents experience all four seasons, but they're bookended by hot, humid summers and fairly mild winters. The hot season (between May and September) has an average daily high temperature above 82°F, while the cool season (between November and February) has an average daily high temperature below 59°F. If you've been working toward a capsule wardrobe but are having a hard time winnowing down your clothing when you have to dress for wildly different weather across the seasons, Greenville offers a pretty steady climate, while still offering distinct seasons. Just be ready for the humidity.
9. The arts are thriving in Greenville
Calling all creatives: Each year, artists and art admirers flock to Greenville for Artisphere, a three-day fine arts festival that brings some 90,000 people together to appreciate art of all kinds. Even outside this busy weekend in May, though, residents can visit the Greenville County Museum of Art and the Artist Guild Gallery of Greenville, or simply walk around and enjoy the city's public art, from vibrant murals to tiny bronze mice statues hidden along Main Street.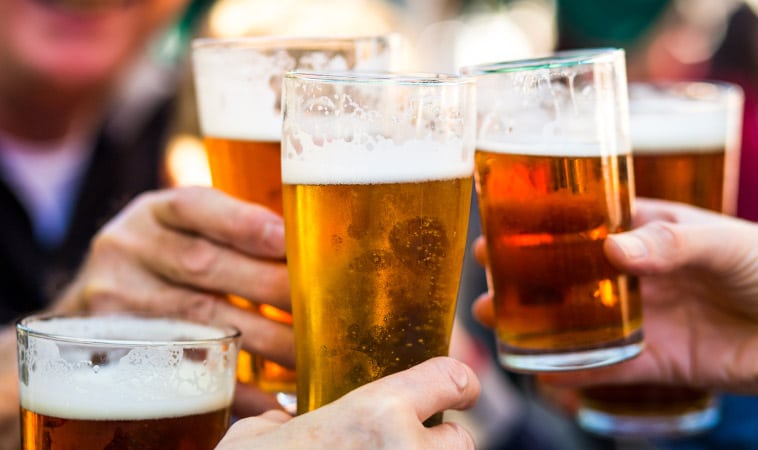 10. There are so many fun things to do in Greenville, SC
Greenville is overflowing with things to do, from family-friendly activities to date night ventures to things you can do solo. Here are some of the best things to do in Greenville, SC:
If you're looking for things to do with kids in Greenville, SC, visit the Children's Museum of Upstate and attend a free story time or simply explore the 22 different exhibits.
Attend Artisphere, the weekend-long arts bonanza in May, and buy a piece of original art.
Board the adorable red and blue trolleys and take them through downtown.
Go to Falls Park on the Reedy and amble over Liberty Bridge, the 345-foot concrete pedestrian overpass that provides a stunning photo opp for the park's waterfall.
Dine at as many of the 100-plus downtown restaurants as you can, and keep track of your own top 10 favorites, including best dishes at each.
Visit the Greenville Zoo any time of year and hang out with the animals.
Buy tickets for a show at Centre Stage, a 285-seat professional theater, and revel in a night of live theater.
Learn all about the history of your new stomping grounds at Upcountry History Museum, a Smithsonian Affiliate museum that recounts 300 years of South Carolina history.
Go see a ball game at Greenville Drive.
Ooh and aah at paintings in the Greenville County Museum of Art — it houses the largest collection of Andrew Wyeth watercolors, after all.
Take an official tour of Greenville's hoppy craft beer scene, or taste test around town yourself.
Ready to make the move?
If you're reading all of these fun facts about Greenville with stars in your eyes, it may be time to pack your bags and head on over. Make your move to Greenville, SC, a flexible one with PODS portable moving containers. You can mix and match container sizes to fit your needs, and PODS will deliver your containers right to your driveway, where you can pack and load at your own pace. When you're ready, PODS will pick them up and take them to your new place in beautiful Greenville. Need a little more time before you'll be ready to unload your things? No problem. Storage is built into every PODS move, so you can keep your things at a secure PODS Storage Center until you need them. Now that's flexible!
---
Sofia Rivera is a Boston-based lifestyle editor and frequent contributor to the PODS Blog. Her work has appeared in Boston magazine, Apartment Therapy, and more. You can most often find her redecorating her apartment, trying out a new recipe, or trekking all over the city.
Get a Quote
Choose the service you need
Comments
Leave a Comment
Your email address will not be published. Required fields are marked *