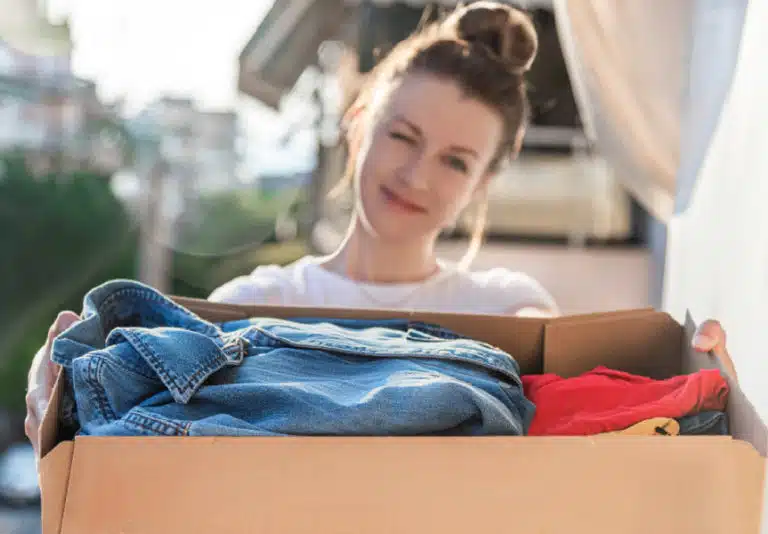 Decluttering Left You With Piles Of Unwanted Stuff? Become The Master Of Junk Removal With These Easy Solutions!
You've completed a major home decluttering session — hooray! — and now you're left with clean closets, tidy drawers … and a big pile (or seven!) of discarded things you no longer want or need. It's the part of organizing that doesn't get enough attention: what to do with the stuff that's left over when you clean out your house.
If you're looking for ways to get rid of these items, we've got you covered. Here's how to turn your trash into another person's treasure in no time — and get back to enjoying that spruced up home of yours.
What if I haven't started decluttering yet?
Don't worry if you haven't taken those important first steps. Decluttering your home may seem intimidating, but the process can actually run pretty smoothly (and not take up a lot of time) if you follow a plan. Here's what we suggest:
Prioritize your rooms: Start with rooms that have the greatest need. Once you get started and see the results, it'll motivate you to keep going. Need an extra boost of inspiration? Take some notes from some of our favorite seasoned organizational pros. They know how to take decluttering to the next level.
Throw away trash: If it's broken, no longer useful, and can't be recycled, take it to the curb.
Categorize your items: Despite our advice in step two, you shouldn't default to the trash can if something is still in good, working condition. Set aside things that can be recycled, sold, or donated.
Start sorting: Put your things into piles. What's going to be donated, what could be sold for some extra cash, and what can be recycled? It's okay to have a stack of stuff you're unsure about, too.
Insider Tip: Having trouble deciding what stays and what goes? Consider renting a PODS portable storage container for temporary storage. You can have it delivered right to your driveway, load it at your convenience, and have it taken away when you're finished decluttering.
Once you've finished decluttering, it's time for junk removal
Now that you have things sorted into piles or categories, you can start getting rid of your unwanted stuff. How do I get rid of a lot of junk, you ask? From selling to donating, there are lots of different options, depending on the amount you have and your preferences. Let's explore.
Garage or yard sales
If you want to get rid of a lot of stuff in one or two days — and make some money in the process — consider hosting a garage sale. Selling your unwanted things and letting other people buy them at a major discount sounds like a win-win situation, but if you don't put some effort and prep work into it, your time and effort will vastly outweigh your monetary returns.
Here are some tips to make your garage sale or yard sale more profitable:
Host it on a weekend: Most people are scouring for deals on Saturdays and Sundays. Consider the weather, too. Nice weather equals more customers.
Get the right supplies: You'll need more than a few card tables (although, those are pretty useful). Get some pricing stickers, black markers, and spare change.
Promote online and nearby: Turn to social media and put a few posters up in your neighborhood.
Be selective about what you sell: Remember some things are more desirable for a yard sale buyer than others. For example, give your sporting equipment the green light but maybe don't sell your used makeup.
Estate sales
Garage and yard sales are great for getting rid of a large amount of general items, but if you want to sell a whole house full of stuff — especially if the things you're selling are on the higher end — have an estate sale. While these are often held after the passing of a family member, they can also be useful for prepping for a long-distance move or home downsizing.
When it comes to maximizing your estate sale profits, remember to price items according to their actual value, not their sentimental value. It's tempting to want every penny back from a purchase, but that might not be a price dictated by the market. To make sure you're not inflating or underestimating, consider consulting a professional appraiser.
Online selling platforms
If you don't have enough items for a garage sale, but you have some things that still have value, you could use an online selling platform like OfferUp or Facebook Marketplace. These are growing in popularity because you can still make money selling your items but don't have to deal with the logistics of a yard sale.
Here's some advice for selling your things through an online site:
Decide if you're willing to ship your item(s): If you're okay with a few trips to the Post Office, go with a site like eBay. If you don't want the hassle, use a local Facebook group or Craigslist. If you're only getting rid of clothing, try a more specific site, like ThredUp or Poshmark.
Take great pictures: Images are the first thing buyers look for in a listing. Make yours pop and look like a retail pro.
Write persuasive, transparent copy: Mention the benefits of whatever you're selling, but be honest about the condition and any flaws.
Junk removal trucks
If you want to get rid of a lot of basic items in a matter of minutes, it doesn't take a magician — just call a junk removal truck. This is the perfect option for people who want instant gratification and aren't interested in making a profit on their used goods.
If you're concerned your things will end up clogging a junkyard, ask the junk removal service what they do after they collect your things. The answer may surprise you. Some recycle and donate your former stuff and only use the landfill as a last resort.
Keep in mind there are some items a junk removal service, like 1-800-GOT JUNK, will not take, though. For example, what does GOT JUNK not take? Think hazardous materials, items that are too heavy for their crew to lift inside the truck, harmful construction materials, and cars.
Q: Are you supposed to tip junk removal workers?
A: Like many hardworking service professionals, junk removal teams often will accept tips for a job well done. While this is not a requirement, it is a nice gesture. If you want to know how much to tip, consider how much you'd tip a server or hairdresser and use that percentage of your total bill.
Donation and recycling
Let your belongings go the extra mile by donating or recycling them. Nonprofit organizations like Goodwill will take a wide variety of new or gently used things, like the following:
Clothing, shoes, and accessories
Books, records, CDs, and DVDs
Games, toys, and sports equipment
Housewares and small appliances
Antiques and other furniture
Power tools
Electronics
Linens, curtains, and blankets
There are a few things, however, donation organizations will likely not accept.
Household chemical products
Hazardous waste
Personal care items
Mattresses and box springs
Building materials
Weapons
Pianos and organs
If you want to donate large, heavy items you can't transport yourself, schedule a donation pickup service. Many charitable organizations, like the Salvation Army, will drive a truck to your home and load appliances, furniture, and the like.
Q: Where can I drop off donations during the COVID-19 pandemic?
A: Organization locations around the nation have been affected differently during the pandemic, and their rules and regulations can change at any time. Before planning a donation pickup or drop-off, verify the organization's hours of operation as well as how they prefer to receive donations.
No matter your preference, there's a way for you to easily rid yourself of unwanted stuff. The best part? Once you get these things out of your home, you'll be able to enjoy the lightness that comes with unburdening yourself from an overabundance of belongings.
For more on household topics, such as organizing specific areas and maintaining your home inside and out, visit the PODS blog.
---
LB Gabriel is a freelance writer who lives with her husband, daughter, and Golden Retriever in Memphis, TN. A frequent PODS blog contributor, she's a sucker for any tip she can find on downsizing, cutting clutter, or minimalist living. When she's not on a deadline, you can find her on a tennis court or golf course.
Get a Quote
Choose the service you need
Comments
Leave a Comment
Your email address will not be published. Required fields are marked *