Take advantage of our limited time offer. Enter promo code HOLIDAY25 to save up to 25%.
See offer details
.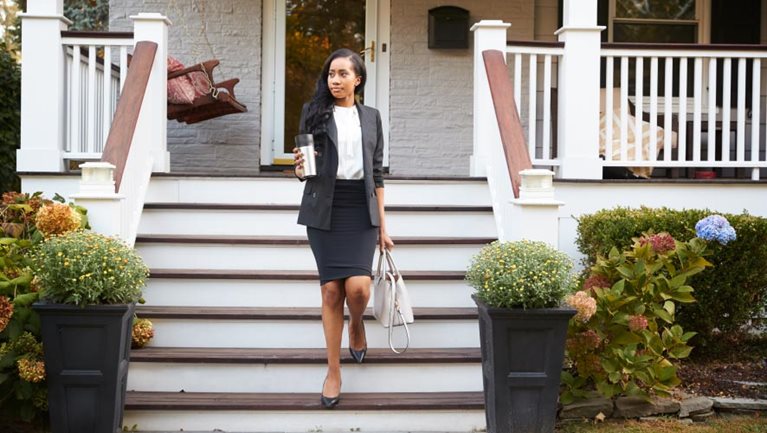 Relocating for work? Here's what you need to know about corporate housing
In a perfect world, all the pieces fall into place at the right time and in the right order when you get a new job. Your first day at the office coincides with your family settling into your fully unpacked and beautifully decorated home. Your kids have made friends in the neighborhood and are happy and well adjusted in their new school. And you've mastered your commute to work like a local pro. In the real world, though? That's not always how things pan out. And that's where corporate housing comes in.
For starters, your dream house in your new city might not be ready when you are. Or maybe you haven't yet found that dream house, but your new boss needs you to be at work ASAP. Or perhaps your new house needs some TLC before you can move in.
That's what happened to Lindsay Martin when she moved to the Tampa, Fla., area from Memphis, Tenn., for her new job on the PODS Marketing Team. "I lived in temporary housing for about four months," Lindsay said. "The house we bought needed some renovations, so I used that time to start working on it." With her husband back home in Tennessee taking care of the couple's two kids, Lindsay was free to focus on making their Florida house move-in ready for her family — and getting settled in her new position at PODS.
In any relocation situation, a place to call home in the interim can make the transition considerably less stressful and not as taxing as, say, a pricey hotel room or an Airbnb-style rental geared for vacationers. Designed with the business traveler in mind, corporate housing is more in tune with what a person relocating for work actually needs. And it's becoming more common. In fact, national corporate housing has expanded tremendously in recent years as the workforce has become more mobile and willing to relocate for the right job. For example, according to the 2018 Corporate Housing Industry Report, room revenue for U.S. corporate housing in 2017 was $3.62 billion — up nearly 13% from just the year before.
While we can't promise a perfect world, we can offer some quick tips on what to look for in corporate housing. Read on for what to expect when you get to your short-term rental, what you need to take with you — and why you need to pack a certain way — and how much all of it may cost you.
What is corporate housing?
It goes by several different names, including temporary housing, short-term fully furnished rentals, month-to-month rentals, executive suites, and more. No matter what it's called, however, corporate housing essentially means a turnkey experience for the tenant: a furnished apartment, condo, or house where a relocator can stay while they're searching for a home or waiting for their home to be move-in ready. Corporate housing is also used by business travelers — government employees in town temporarily to work on a project, for instance, along with contract workers and people in town for a training program or conference. It's also common in temporary housing to find homeowners who've been forced from their houses because of a fire or other tragedy. Simply put, the typical tenant is anyone who needs to stay in a home longer than a hotel visit but shorter than an actual rental lease.
What's included in corporate housing?
By definition, corporate housing includes pretty much everything except your clothing, toiletries, and food. The rental should provide linens, towels, kitchenware, a washer and dryer, and other necessities you would likely have in a home. In addition, your utility costs and other fees — for community amenities like a gym, for instance — are included in the rent paid by your employer. For corporate travelers and relocators in between homes, the corporate-housing option is all about convenience. Who wants to worry about utensils and pillows when you've got a new job to focus on?
There are intangible benefits to corporate housing, as well. For Lindsay, they included time and the ability to get the lay of the land before her family arrived in Florida. "There are so many things to think about, you really can't process it all at once," she said. "Part of what I had to figure out was daycare for my youngest and school for my oldest, so spending those months here on my own gave me time to conduct interviews, make lists of the pros and cons of each to share with my husband, and make decisions — all from a comfortable space that I could call my own for a few months."
What amenities come with corporate housing?
If your short-term rental is in an apartment complex or condo community, you'll likely have use of neighborhood amenities like a swimming pool, fitness center, and clubhouse. If you're really lucky, you may even get housekeeping services as part of the deal. In general, anything long-term residents have access to, you have access to, as well. But do be sure to check with your soon-to-be boss about the available options, and don't be shy about asking for what you want. If a gym is part of your regular daily routine, speak up. Remember: Your new company wants you healthy — and happy — when you get to the office on your first day.
What is a corporate housing package?
Whether you've landed a promotion or accepted a position with an entirely new company, your employer may provide financial support to help you with the costs involved in moving. And if you're a homeowner or have a family, or both, those costs can be substantial.
"In my case, we were moving in the middle of the pandemic, so frequent travel back and forth to house hunt and so forth wasn't an option," said Lindsay. "I researched the Tampa Bay area as much as I could online and decided I'd come on my own while the kids finished the school year in Memphis."
Many companies will foot the bill for new employees to enlist relocation services — specialists who take care of everything involved in your move, from packing and storage to arranging travel needs and transportation for your family. Some services will also help with your real estate needs, including marketing your current home to help sell it quickly.
Generally speaking, there are three types of relocation packages, which can include corporate housing. But be sure to request a short-term rental if you need it; in today's ultra-competitive job market, most companies provide financial support for employees who are relocating, but saving money is still a priority for profit-seeking companies. The three plans you might consider are:
Reimbursement: Keep all your moving-related receipts, and your company will pay you back.
Direct billing: All bills, including corporate housing companies' fees, movers' invoices, travel costs, and more, are sent directly to your new employer.
Lump sum: Take a one-time payment to use as you wish for your moving expenses.
Is corporate housing free?
On average, according to the Corporate Housing Providers Association, the average daily rental rate is $161, and the average stay clocks in at 78 days. But that cost may not be on you. Your new company may foot the bill for your stay in temporary housing if you're relocating from out of state and your house isn't ready. To be safe, do your due diligence and find out up front if it's part of your organization's policy for new hires. A good time to broach the topic? Ask your supervisor or the HR representative as part of your conversation about compensation.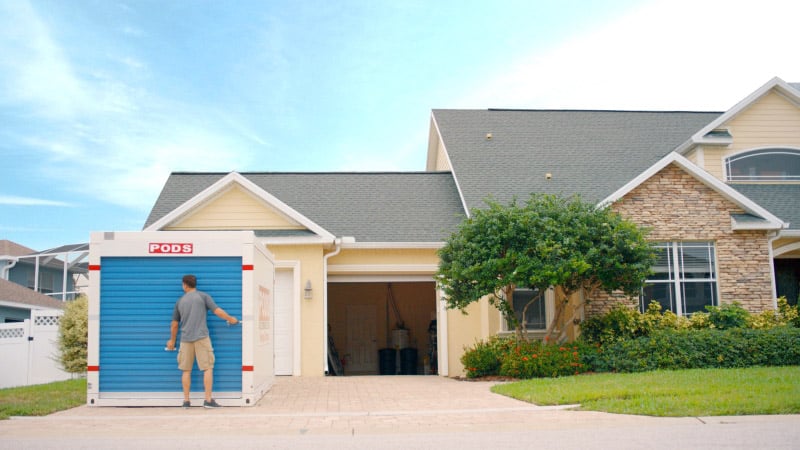 Is storage included in corporate housing?
It's likely that you'll have ample closet space in your temporary home — another perk of a fully furnished short-term rental. But, of course, you can't fit a couch and dining room set in a closet, so you'll need somewhere to store the majority of your belongings until your permanent home is ready for you. Moving with PODS means the storage is built in: You load up your container in your driveway, we pick it up and store it in our indoor storage facility for as long as you need, and then (when you're ready!) we deliver your container right to your new driveway.
And in the meantime, you can access your belongings from your container at our secure PODS Storage Center. It's simple: Load the things you think you might need at some point during your corporate housing stay in your container last — shorts and tee-shirts, for instance, if there's a chance your house takes longer than planned and the weather gets warm. Or holiday decorations, if it looks like Halloween or Thanksgiving may sneak up on you while you're still in temporary housing.
"As long as you call ahead, you can arrange for PODS to pull your container for you," Lindsay said. "There's no charge, so you can easily make several trips to get the items you need. Since I didn't know when my move-in date would be, I visited the local Storage Center several times to grab additional items and clothing I needed to hold me over until we moved into our new home."
After all, moving can be complicated. But that's why we're here.
If you've scored your dream job in a new city and you're ready to relocate, don't make a move without checking out the PODS blog. We've got plenty of info for you in our neighborhood guides, with details about cities all over the U.S. — from Santa Monica to sunny Sarasota to Staten Island. Find the right schools for your kids, discover communities that fit your budget, and get a taste of the local flavor that'll help you make the right move.
---
Shannon Jacobs is a Tampa-based freelance writer and frequent contributor to the PODS blog. She has lived in Atlanta, the Berkshires, and Nashville, but always returns to the warmth of Florida's Gulf Coast.
Get a Quote
Choose the service you need
Comments
Leave a Comment
Your email address will not be published. Required fields are marked *