Take advantage of our limited time offer. Enter promo code HOLIDAY25 to save up to 25%.
See offer details
.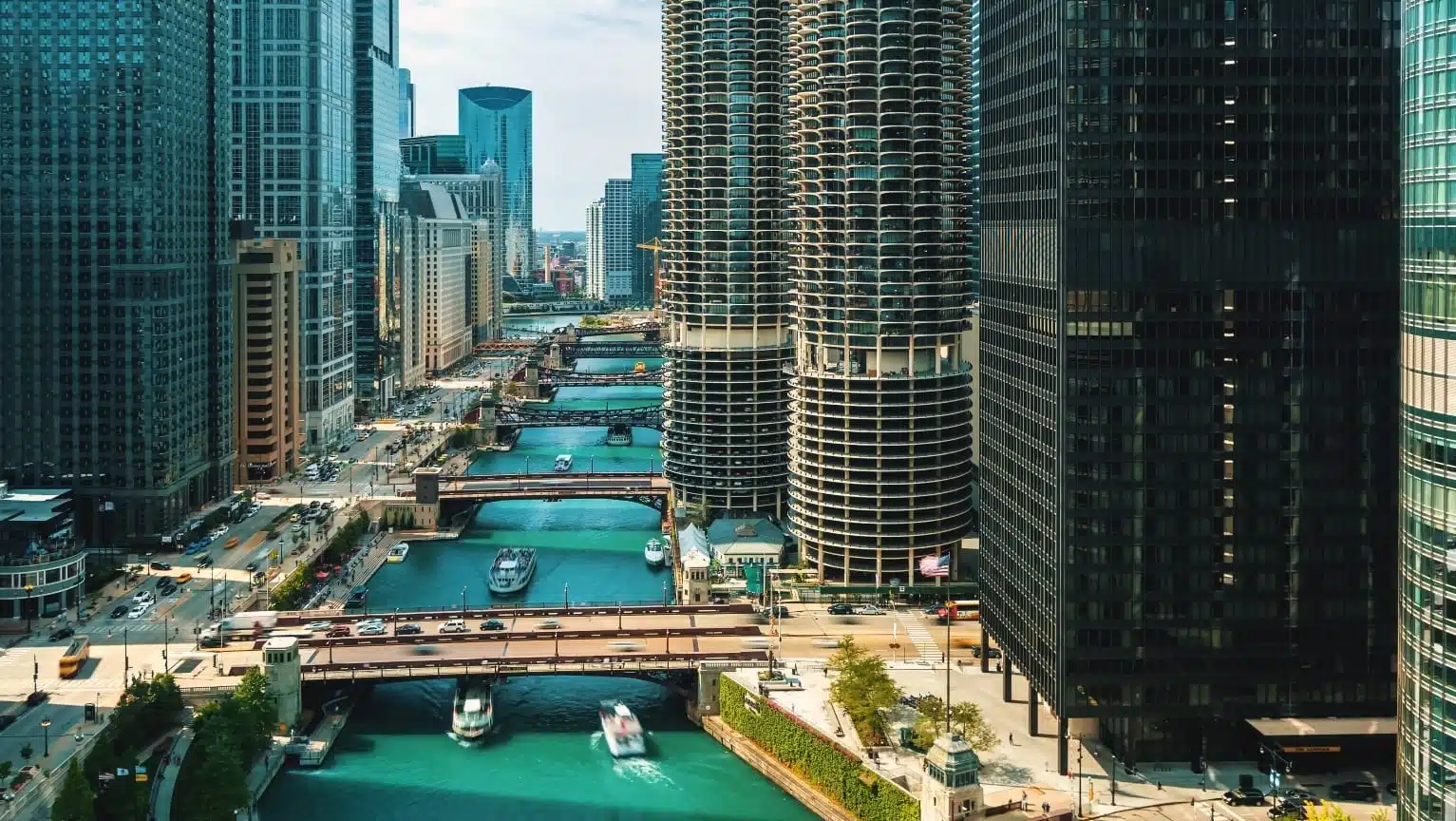 12 Things You Need To Know About Living in Chicago
With its gorgeous greenspaces, big-city character, and rich cultural history, Chicago has a long and iconic legacy as one of the great American cities. If you're thinking about living in Chicago for work or play, we're here to help with this 12-part guide to the city's costs, housing, neighborhoods, and culture. Scroll on!
Chicago at a Glance:
Chicago is the third largest city in the U.S., home to 2.7 million residents occupying over 234 square miles.
Located in northeast Illinois, the city hugs the southwest shore of Lake Michigan.
Chicago's motto is urbs in horto, or "city in a garden," an emblem of its beautiful and historic park system.
The downtown business district is called "the Loop," while its surrounding grid system makes up 77 designated community areas — each with its own unique character.
Chicago's population is relatively young: The median age is 32.9, a couple years younger than that of New York City.
1. Chicago is the 25th most expensive city in the U.S.
NerdWallet ranks Chicago's cost of living 25th in its database of 268 cities, with housing the major factor driving up costs. If you're attracted to the city's cosmopolitan culture and historic character, start by getting acquainted with these figures:
Chicago's cost of living is 23% higher than the national average.
According to Glassdoor.com, Chicago's median pay in November 2020 was just over $60,640. The U.S. Census reports median household income in 2019 was $58,247.
Housing costs are about 50% higher than the national average and seem to be climbing: In December 2020, the median sales price for a Chicago home was $307,500, an 11.6% increase from the year before.

2. Home prices vary dramatically from area to area
Though Chicago home prices are high overall, like most cities, they vary widely depending on the location. Here are a few cost examples by area from the Cook County Price Index:
Lake View/Lincoln Park: $1M
Chicago West Town: $690k
Lincoln Square/North Center: $552k
Irving Park/Albany Park: $429k
Palatine/Barrington: $315k
Oak Park: $260k
Beverly/Morgan Park: $200k
Calumet City/Harvey: $102k
3. Chicago is divided into 77 community areas, with even more neighborhoods
If you're looking for the best places to live in Chicago, there's a lot of ground to cover. The downtown Loop may captivate visitors, but most residents prefer the charm and character of its surrounding areas. Chicago's lakefront grid of neighborhoods, parks, riverways, and community zones are where the majority of Chicagoans live, work, and play. Here are some highlights:
If you want to live in central Chicago, check out the neighborhoods in Near North Side, featuring spots like Streeterville and Gold Coast. These areas give you easy access to the Loop, the lake and river, and downtown businesses and universities.
If you want to raise a family but still want to live in town, head to Chicago's South/Southwest side, featuring neighborhoods like Bridgeport, Beverly, and Morgan Park. These are diverse and mixed neighborhoods with plenty of social and cultural offerings.
West Loop is an up-and-coming industrial zone near the Chicago business district. It's part of the larger district of West Town that includes hip and stylish neighborhoods like Wicker Park and the Ukrainian Village.
For a mix of urban, residential and water views, Lakeview and Lincoln Park on the North Side are full of greenspaces, restaurants, museums, and luxe accommodations. This area has a highbrow reputation, but you may find neighborhoods like Buena Park and Uptown to be surprisingly affordable.
There are green spaces and college vibes aplenty in Hyde Park in the South Side. This area was originally developed as the site of the iconic 1893 World's Columbian Exposition (some of which is still intact), but is perhaps best known as home to the University of Chicago.
Eight other popular neighborhoods for living in Chicago include:
Bronzeville
Boystown
Old Town
Andersonville
South Loop and Printers Row
Rogers Park and Edgewater
River North
Lincoln Park
Want a deeper dive? Check out our Chicago Neighborhoods Guide.
4. Chicago is Big, but Suburban Chicago is Bigger
If you prefer to settle down outside the bustle of city living, consider exploring the many suburbs of greater Chicagoland. Here are ten to start your checklist:
Arlington Heights features new-construction homes in the $350k range. It's about 25 miles northwest of the city and features the award-winning Arlington Heights Memorial Library in its main business area.
Bannockburn, though 30 miles north of the city, is generally considered to be part of Chicago's North Shore. Though not technically a suburb, it's a great residential option for families. This is a private, quiet area with fairly large homes, big yards, and easy access to highways.
Buffalo Grove is about 34 miles northwest of the city and has low crime rates and highly rated public schools. It's home to multi-generation families, nature conservation areas, and plenty of festivals and farmers markets. The median home value in Buffalo Grove is around $300k.
Clarendon Hills is 45 minutes west of Chicago. The suburb offers low crime rates, welcoming residents, top-notch schools, and a great restaurant scene. Most residents tend to be homeowners, with home prices in the $400k range.
Evanston is known for its young, laid-back, open-minded, and relatively diverse population. It's a 30-minute drive north of Chicago and is home to Northwestern University. There's a wide range of housing options based on style, price, size, and location.
Joliet is a suburb of 155k residents located about 40 miles southwest of Chicago. Known as the "Crossroads of Mid-America," it ranks as #3 on the Cityness Index of top 10 affordable U.S. cities by Zillow and Yelp, with a typical home costing around $150k — 40% less than a similar home in Chicago.
Mundelein, 40 miles north, features a diverse population and affordable home prices listing for around $230K, making it a great place for young families looking for their first home. It was also named one of the safest cities in the U.S. by the National Council for Home Safety in 2019.
Naperville is about 30 miles west of downtown. It's Chicago's largest suburb—a family-friendly zone with lots of new home construction and award-winning public schools, but also some nightlife. Most homes here are in the $400k range.
Oak Park offers greenspace, suburbs, family living, festivals, quick city access, and even a little nightlife just 9 miles from Chicago. This town is known for its socially liberal politics and unique cultural history. (Notable residents included Frank Lloyd Wright and Ernest Hemingway.)
Western Springs is a top-favored suburb located 15 miles west of the Chicago Loop. With schools and housing highly rated by Niche.com, homes list around the $500k mark.
5. Chicago Rentals Are Getting Pricier
As in most of the U.S., the Chicago rental market is tight, with affordable options getting harder to come by. But with a little patience and flexibility you'll find a great spot in any of the city's unique and explorable neighborhoods. To start, check out a few areas based on average rents according to RentCafe:
The most popular rental neighborhoods in Chicago are Lakeview, with an average rent of $1,600, and Ravenswood, where apartments average $1,160, followed by Rogers Park with rentals about $1,200. If you're looking to rent in Chicago's most popular neighborhoods, you can check out Hyde Park ($1,430 on average) and Bucktown ($1,860 on average).
The cheapest rental neighborhoods in Chicago are Austin (average rent $570); The Island (average rent $570); and Cottage Grove Heights (average rent $650). Other great deals include listings from Fernwood ($660), Longwood Manor ($650), and Princeton Park ($650), where the asking prices are significantly below the average Chicago rent of $1,800.
The most expensive rental neighborhoods are in Near East Side Chicago ($2,340), River North ($2,340) and Streeterville ($2,390).
6. Colleges in Chicago Are World-Class
Many locals first came to Chicago to attend one of its many distinguished institutions for higher learning. A partial list includes:
The University of Chicago
Northwestern University
Wheaton College
DePaul University
Illinois Institute of Technology
Lake Forest College
North Park University
School of the Art Institute of Chicago
Besides the schools themselves, students are attracted by Chicago's vibrant and diverse cultural experiences, from first-rate museums and performing arts venues to its thriving music scene and raucous nightlife.
7. Chicago Weather Can Be Fierce
There's no denying that the Midwest cold is a big deal. Newcomers may find themselves sucker-punched by its harsh winter conditions — from lake-effect snow to sleet showers to power outages caused by freezing rain. But these Chicago winters have a great tradeoff, according to most locals. From the first spring blossoms to the last fall picnics, the city is in a perpetual state of warm-weather rapture.
As for Chicago's reputation as the Windy City, it's a bit of a misnomer: The city is only slightly windier than the national average for urban areas. It's believed the nickname was coined in the 19th century as a "metaphorical jab" at the alleged self-promoting swagger of Chicago's residents, particularly in its political, economic, and cultural rivalries with other regional and national cities.
8. Chicago Crime Stats Can Be Misleading
As a whole, Chicago crime rates are significantly higher than the national average. Many neighborhoods, however, are among the safest of any major U.S. city. Depending on where you intend to find a home, living in Chicago need not be as scary as the headlines suggest.
Big picture, Chicago is significantly safer than several major U.S. cities, but with some exceptions. It comes in at #31 in this CBS ranking of the 50 most dangerous U.S. cities, and #73 in this report from Neighborhood Scout. According to a recent report from the Chicago Police Department, the last four years have seen a steady downtrend in crimes like criminal sexual assault, burglary, and theft, but an alarming uptick in murder and carjacking.
Like any major city, Chicago has its safe and sketchy areas. Some of Chicago's safest neighborhoods include:
Printers Row
Edison Park
Forest Glen
Streeterville
Gold Coast
Lake View
Lincoln Park
North Center
9. The Job Market is Lively, Competitive and Diverse
Thanks to its central U.S. location and proximity to prestigious universities and corporations, Chicago has a robust economic foundation. World Business Chicago calls it a "hothouse of creativity & innovation," boasting a highly educated workforce, over 400 major corporate facilities (36 of which are in the Fortune 500), and an annual gross regional product of over $698 billion.
COVID-19 has hit all U.S. cities hard, but Chicago is positioning the local job market for a strong recovery. Initiatives such as Project Hometown and Chicago's Recovery Task Force are being implemented to support a speedy return to pre-COVID prosperity.
10. The Chicago Restaurant Scene is a Destination in its Own Right
Chicago is a foodie paradise -- home to an incredible array of culinary influences and innovations. It's easy to see why Bon Appétit magazine named it the "best restaurant city" in 2017: The Second City is second to none in cheap eats, pub fare, taco trucks, cupcakes, burger joints, farm-to-table specialties, and even molecular gastronomy. Here are some of our restaurant picks!
For cheap eats with world-class flavor, check out:
Big Kids in Logan Square
Tamales lo Mejor de Guerrero in Rogers Park
Pizza Friendly Pizza in the Ukrainian Village
Flour Power in Wicker Park
Taste of Lebanon in Andersonville
For dining in West Town, head to:
Forbidden Root, a gastropub specializing in seafood
Homestead on the Roof, featuring an outdoor patio with an organic garden
Café Central, a Puerto Rican spot for plantains, stews, and Creole dishes
Jeong, offering Korean fare in contemporary iterations
Arami, for excellent sushi
For impressive eateries in The Loop, try:
Everest, a lavish dining experience featuring high-end French cuisine
The Cherry Circle Room, perfect for steak and cocktails
The Berghoff, a historic dining institution that feels like you've wandered into Prohibition-era Chicago
11. You Can Almost Forget You Ever Had a Car
If you're living in Chicago's more busy and popular areas, getting around town is cheap and easy without owning a car. The city is set up on a trusty grid with a widely used train system, and individual neighborhoods are easily explored by foot or bicycle. (There's even an underground pedestrian system called the Pedway — tunnels and bridges connecting about 5 miles and linking 40 blocks in the downtown district.)
The best way to get around Chicago is by the L Train and bus. The city operates the country's second-largest public transit system (about 1.6 million CTA rides are taken on an average weekday), and offers a variety of maps, routes, trackers, transfers, and service alerts to help you get exactly where you want to go.
Taxis and rideshares are certainly easier to grab in Chicago than New York City. Treat them as you would in any other crowded urban area: they're nice for going out on the town and moving quickly between districts, but it would be expensive to use them for regular transportation.
If you're getting around Chicago by car or commuting to the city from the suburbs, expect limited parking, pricey fees, and heavy traffic. Most suburbanites take the high-speed Metra Rail into town to avoid winter conditions, parking delays, and rush hour.
12. Looking for Things to Do? You'll Never Be Bored
Living in Chicago means no shortage of see, explore, and enjoy. Come snow or shine, here are some of the best ways to live like a Chi-Town local:
Check out the city's museums and exhibitions:

The Art Institute
The Museum of Science and Industry
The Field Museum
The Garfield Park Observatory
The Shedd Aquarium
The National Museum of Mexican Art
The Chicago History Museum
Get your local goods at the French Market, Logan Square Farmers Market, and Randolph Street Market.
Go to the beach! Chicago has 26 miles of lakefront with 25 beaches, including:

North Avenue Beach, featuring restaurants, vendors, and bike rentals
Leone Beach Park, featuring greenspace and panoramic views of Chicago
The Belmont Harbor Dog Beach, featuring (you guessed it!) a pup paradise
Head to the park. Chicago has over 600 parks and 8,800 acres of green space, such as:

Hyde Park
The Alfred Caldwell Lily Pool
Lincoln Park
Northerly Island
The Garden of the Phoenix Japanese Garden
Maggie Daley Park
Enjoy a variety of distinctive shopping destinations:

Shop luxury without going downtown by visiting Oak Street.
For walkable shops in an indie area, try Andersonville.
Find restaurants, vintage shops, and unique home goods in Bucktown.
Indulge in upscale department stores and international brands on The Miracle Mile.
Cheer on pro sports teams like the Chicago Cubs, Bears, and Blackhawks. If you're a longtime or emerging baseball lover, be sure to buy season tickets to Chicago's iconic Wrigley Field.
Tour the 167 breweries (and counting!) in Chicago city limits. That's more breweries than any metropolitan area in the country!
Get a taste for American architecture. For instance, there are approximately 16 designs by Frank Lloyd Wright in Chicago proper and another 25 in the nearby Oak Park suburb. (As local architecture buffs will inform you, FLW's Prairie School originated in Chicago.)
Catch a show at the many playhouses, theaters, festivals, and concert halls, including:

The Chicago Theater
Broadway Playhouse at Water Town
The James M. Nederlander Theatre
Lookingglass Theater Company
Cadillac Palace Theater
The Jazz and Blues Festivals
Harris Theater
Mercury Theater
Lollapalooza in the summer, of course!
Excited to live in the Windy City? We don't blame you -- it's a beautiful and inspiring place to call home! Before you start mapping out your new taco truck options, you probably need to figure out how to get all your belongings to your new home. To explore your moving options, see our Chicago Relocation Guide. Before you know it, you'll be all settled in and experiencing the city like a true local. Go Bears!
---
Amelia England is a content writer and regular contributor to the PODS Blog. Between college, grad school, and seasonal adventures, she has downsized and relocated over 25 times. 
Get a Quote
Choose the service you need
Comments
Leave a Comment
Your email address will not be published. Required fields are marked *