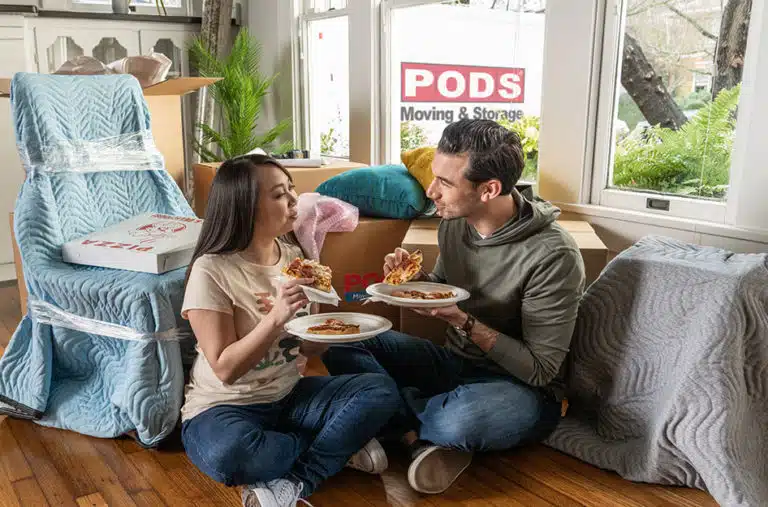 How to Leave Moving Stress Behind
Ask anybody who's been through a recent move how everything went, and chances are you'll get an earful. From to-be-expected hassles — a broken glass, maybe? — to bigger annoyances like a last-minute construction delay, moving is challenging. But it doesn't have to be awful. With proper planning, you can minimize moving stress and make your move — dare we say? — a positive experience.
What is the most stressful part of moving?
Without proper planning, the most stressful part can be … literally every single thing. As anyone who's done it knows, it's easy to get overwhelmed by moving. But instead of focusing on the potential for catastrophe, let's take a look at how to deal with moving stress and prepare in a way that helps you avoid it in the first place.
Q: What are the 3 most stressful things in life?
A: The death of a loved one, divorce, and — you guessed it — moving are generally agreed to be the three most stressful life events. So if you're feeling overwhelmed by your upcoming move, know you're not alone — it's totally normal to feel stressed out. Luckily, there are things you can do to avoid moving stress, and there are even things you can do to relieve moving stress when it rears its ugly little head. Read on for more tips.
How do you avoid moving stress?
We can't promise worry-free moving, but here are a few tips for tamping down the anxiety:
Hire the right moving company. 
We can't stress this enough (pun intended): Research moving companies. Get referrals from friends and family and check online reviews. When you do find a company that's highly recommended and has a good record, book them early and get everything in writing. Every. Thing. Dates, prices, extra fees, policies. You need to know the details — and you need a record. 
Going DIY? Get covered. 
If you're doing it all on your own with a moving truck rental, flexible dates are key — so make sure you ask all the questions and get all the things in writing. And opt for the insurance. That way, if you happen to run over a parking lot fence returning a mid-size rental truck (of which we may or may not have first-hand knowledge), you'll pay nothing out of pocket. Plus, you might encounter an unexpected change with your move-in or move-out dates; knowing you're covered will preempt potential stress. 
Pack your belongings early. 
By "early" we mean well in advance of the moving company arriving to pick up your things. The moving day itself will be stressful enough, particularly if you're leaving a longtime home. Don't compound that stress by spending the final hours stuffing last bits and pieces into boxes. Instead, get everything packed early so you have the time and energy to say your goodbyes and (if necessary) do a quick clean-up before pulling out of the driveway. 
Don't skimp on packing materials. 
Think boxes and tape are all you need? Think again. Depending on what you're moving, you may want to add other essential moving supplies to the mix. Got some mattresses? Get some mattress bags (to avoid getting them dirty en route to your new digs). Lots of breakable knick-knacks? Then you'll need lots of bubble cushioning roll or packing paper. You get the point. 
Get a variety of box sizes. 
Heavy items like books, for instance, should go in small boxes so you don't injure your movers. Clothing and other not-weighty belongings can fill up the large boxes, and all the medium things can go in the medium boxes. It may seem like a waste to use so much packing material around your breakables in the boxes, but what's more important: saving space in your boxes or ensuring your items make it to their next destination unscathed?
Insider Tip: You can find moving packing supplies (and more!) at PODS Boxes, our specialized moving supply store for all your moving needs. The best part? We also save you the hassle of trying to figure out how much of each thing you need with our PODS Container Kits!
Be a label maker. 
Pick up a couple of markers and go to town on your boxes! Use big, clear labels telling your movers which rooms are the right destinations and telling your future self what's in each box. When the unpacking starts, you'll be thankful you took time for this small but critical task. No hunting for that box of silverware when it's time for your first dinner, and no foraging for the coffeemaker when you wake up on day one — they're right there, clearly labeled and stacked in your kitchen corner.
Turn on utilities in advance.
It's impossible to overstate the joy of fully functioning A/C and WiFi when you arrive at the new house. Get as many utilities as possible set up in advance, so you can focus on unpacking and getting settled — not on hassling with cable guys and endless voicemail menus.

Pack a bag of games and treats.
During the first couple of nights in the new space, when a few (properly labeled) boxes are still stacked unpacked around the house, it will be a pleasure to have some family faves at your fingertips. The potential for stress doesn't stop until everything is unpacked and organized, so an evening of Scrabble and pizza delivery may be just what you need to help stave off that last-minute anxiety.
What do you do when your moving plans change?
Is moving high stress? Obviously it can be. But how high-stress? One in eight respondents in a survey of 2,000 Americans actually said moving is more stressful than spending a week in jail. More than a quarter said it's worse than a job interview. Whoa!

If you have a complex move coming up — for instance, your new house won't be ready until a few weeks after the closing on your current home and you need a place to store your belongings — PODS is the way to go. Keep your things safe and secure in a storage container until you're ready to move in. No one understands complicated moves and home renovation projects like PODS. In fact, Move.org recognized PODS as 2022's best moving container company. From pay-as-you-go pricing to changing your dates with ease, our flexible moving and storage services were designed with you in mind.
How do you relieve stress from moving?
Okay, so the old house is empty, your belongings are tucked in the truck and on the road to your new home, and you're on your way, too. But what if the stress is still getting the best of you? To make the transition a little easier, try these three easy hacks:

Make a list.
If the thought of all you still have to accomplish — or worse, what lies ahead of you — has become a chaotic mess of "to-dos" floating around your head, it's time to make a list. Grab a piece of bona fide paper and write down (in simple terms) what needs to be done. Figure out what should be handled first and focus solely on that. Not only does writing these steps down allow you to remove your attention from them (if only for a moment), but it also allows you to focus on just one step at a time, making you more effective during each part of your move.
Take care of yourself.
If you find yourself stressing out over the big move, it may be time for some self-care. Take a moment to figure out what you need right now. Have you been drinking enough water? Did you have breakfast before you started packing like a madman? Have you been sleeping enough? Once you've sorted that out, give yourself permission to take what you need, whether that's a nap, a snack, a walk, or a visit with a good friend. Taking care of yourself during your move will help you avoid becoming over-stressed. You may find that — after a little "me time" — you're much more efficient than before.

Slow down.
This is the No. 1 thing to keep in mind. Rome wasn't built in a day, and your new home isn't going anywhere, either. If you're starting to feel overwhelmed, give yourself permission to slow down and take your time unpacking and getting settled. Besides lowering your moving stress level by removing any self-imposed get-unpacked deadline, you may also find yourself feeling more in tune with the new space — discovering its perks and quirks, becoming more comfortable, and figuring out where exactly to place your furniture, artwork, and those carefully wrapped treasures that made it, unbothered and intact, to your new home.

When everything is in its place, and the boxes are all gone, don't forget to check out more tips and tricks on the PODS Blog for the post-move and beyond!
---
Shannon Jacobs is a Tampa-based freelance writer and frequent contributor to the PODS Blog. She has lived in Atlanta, the Berkshires, and Nashville, but always returns to the warmth of Florida's Gulf Coast.
Get a Quote
Choose the service you need
Comments
Leave a Comment
Your email address will not be published. Required fields are marked *