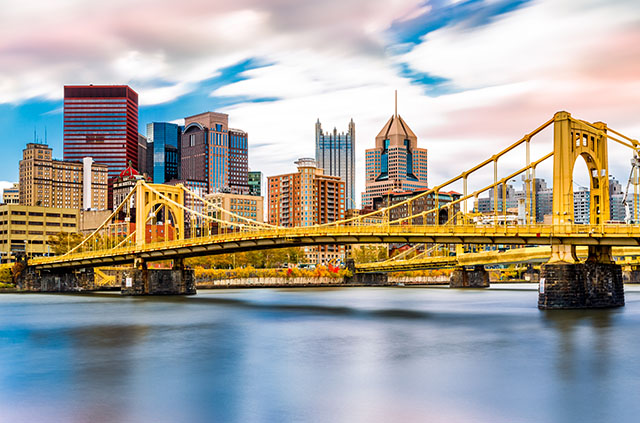 Moving to Pittsburgh: Why the City of Champions Should be on Your Radar
Considering a move to Pittsburgh? Now's a great time to get in, just before the crowds — and prices — go up! Once a booming steel industry city, Pittsburgh's recent renaissance has turned it into a hidden gem, and people moving to Pittsburgh's metro area are taking notice. It's much more affordable than other big cities around the country while boasting enviable big-city amenities, such as top-ranked universities, a thriving tech scene, world-class cultural institutions, diversity, and so much more.

Take a look at our breakdown on moving to Pittsburgh — and what it's like living in Pittsburgh — to see if you should call this comeback city your new home.
About Pittsburgh, PA
According to the most recent U.S. census data, there are just under 303,000 people living in Pittsburgh, the second most populated city in Pennsylvania. The state's biggest city, Philadelphia, has over five times as many people. Considering size, this leaves the City of Steel about half as dense as Philly, so anyone moving to Pittsburgh can look forward to a big-city vibe without being too cramped — for now.

One ingredient to the secret sauce of living in Pittsburgh is that it's affordable. We'll go into this in more detail later, but know that the cost of living in Pittsburgh is below the national average. Residents here enjoy lower costs for practically everything, from rent to food to transportation. And to top it off, Pittsburgh residents are frequently described as friendly and welcoming.

Pittsburgh locals also maintain a real sense of community throughout the city's 90 different neighborhoods. After all, nothing brings people together like good times, good food, and sports — three things Pittsburgh has in droves. Tons of things to do, a variety of restaurants and food experiences at all different price points, and four major sports teams (the Pittsburgh Steelers, Pirates, Penguins, and Panthers) make it easy to love living in Pittsburgh.

So what's the catch? Pittsburgh weather is just about as diverse as the people who live there. Summers are hot and muggy, often reaching up into the 80s, and winters are white and windy with temps that are easily below freezing. That said, however, you'll also get gorgeous spring growth and a kaleidoscope of autumn colors. Is it worth it? We think it is!
Q: How much do you need to live comfortably in Pittsburgh?
A: As with anywhere, what you will need to live comfortably in Pittsburgh will vary by household, neighborhood, and lifestyle. The median household income in Pittsburgh is $54,306 (nearly $15,000 less than the national median household income). However, the city also has a 19.7 percent poverty rate. .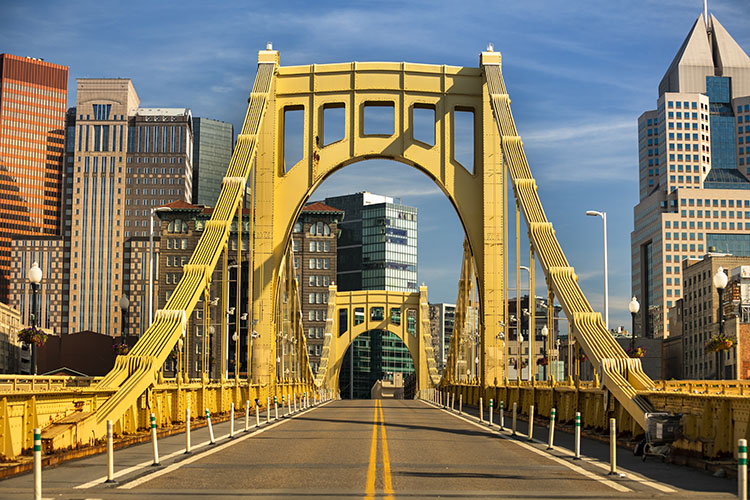 Is Pittsburgh a Good City to Live in?
Pittsburgh is constantly ranked as one of the world's(!) most affordable cities to live in. The quality of life in Pittsburgh is hard to beat when you consider its lower cost of living comes with high-quality city amenities, diversity, good schools and great universities, above-average access to healthcare, and growing job opportunities.
Things to Do in Pittsburgh
Pittsburgh is packed with things to do, giving residents their pick of activities, restaurants, and vibes across the city. Visitors from everywhere come to Pittsburgh for its world-class museums, such as the Andy Warhol Museum, Carnegie Museum of Natural History, Carnegie Museum of Art, and The Frick Art & Historical Center, just to name a few. The Pittsburgh Zoo & Aquarium is also a huge hit with families and animal lovers alike. And sports? They don't call it "The City of Champions" for nothing! The Pittsburgh Steelers boast six Super Bowl championships, the Penguins hold five Stanley Cup championships, and the University of Pittsburgh football team lays claim to nine national championships. Not to mention each team is rife with all-time great players.

Truly, there's a different draw for everyone moving to Pittsburgh. Students come for the renowned universities, like Carnegie Mellon University and University of Pittsburgh, and good post-graduate career opportunities. Families enjoy above-average schools, the great access to parks, and the Children's Museum of Pittsburgh. Young professionals and singles have access to a vibrant nightlife scene and job opportunities in Pittsburgh's growing technology and health industries. And retirees like having plenty of outdoor activities, a variety of restaurants, and the many opportunities to experience world-class culture. All of this at an affordable cost of living? What's not to love?
Cost of Living
As mentioned, the cost of living in Pittsburgh is below the national average — 3 percent lower, according to the 2023 data from Salary.com. This means it's likely to be an affordable move for most people, whether you're coming from Chicago or Nashville (two cities that people say have the same vibe as Pittsburgh).
And, yes, the cost of living is rising in Pittsburgh — but slowly. Over the last year, it's gone up 1.9 percent, mostly in housing, food, and transportation categories. According to Zillow, the average home value of $224, 211 is up 3.3 percent from the same time last year. Average rent for an apartment a little over 800 square feet, meanwhile, is around $1,531 per month. Still, Pittsburgh offers a lot for its comparatively lower cost of living. Consider it a chance to snag a slice of big-city amenities at a fraction of the cost.
Q: What salary do you need to live in Pittsburgh?
A: According to the MIT living wage calculator, the required annual income before taxes for a single adult with no kids living in Pittsburgh is $33,387. For two working adults with three children, that number goes up to $119,219.
Transportation
Wondering how to get around and whether life in Pittsburgh requires a car? The city is equipped with a solid public transportation system — bus, light rail, incline, and paratransit service — known as the PRT (the Pittsburgh Regional Transit). For $2.75, you can take unlimited rides for three hours. Who knows? You may even find yourself taking the incline just for the scenic city views they offer. Pittsburgh is a pretty hilly city, after all.

Similarly, if you're going to college in Pittsburgh and don't plan to live on campus or if you live near downtown, you probably don't need a car. If you're living in a further neighborhood, though, you might find yourself taking enough rideshares to bars and restaurants to warrant having a car. And if you're wary of traffic, locals recommend living and working on the same side of the river, as traffic can get bad when crossing during rush hour.
Job Opportunities
Pittsburgh may have originally made its mark on the map via its booming steel industry, but recent decades have cemented the city as a haven for advanced manufacturing and technology companies. Cyber security, artificial intelligence, and robotics are a few of the leading tech focuses in town and, along with healthcare, some of the largest employers. Top universities in Pittsburgh are known for churning out highly skilled graduates and that's one of the reasons Pittsburgh attracts big players such as Apple, Facebook, Uber, and Bosch.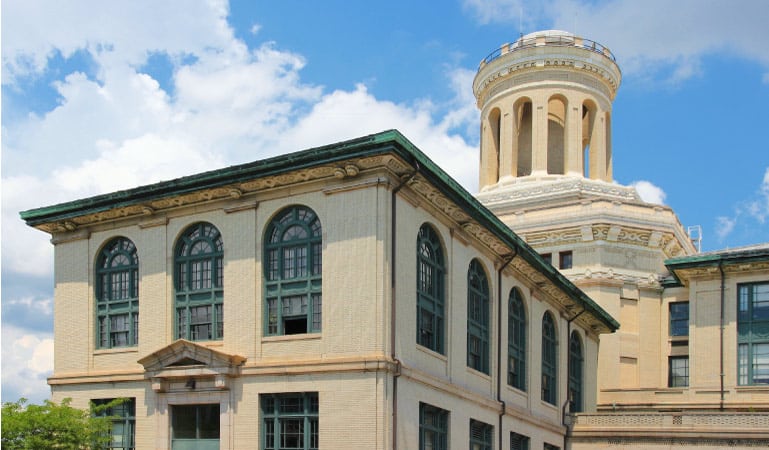 Schools
Pittsburgh goes big on education. The most recent U.S. census report shows more than 93 percent of residents are high school graduates, and more than 45 percent have a bachelor's degree or higher. Pittsburgh is known for its higher education, particularly Carnegie Mellon University and the University of Pittsburgh. Both are esteemed research and development institutes and, according to the 2024 U.S. News and World Report ranking for top national universities, Carnegie Mellon ranks #24 and University of Pittsburgh is #67.

Public K-12 schools in Pittsburgh are above average for the country, as well; however, only four schools were given A-range ratings from Niche. Additionally, only six of the schools made it onto the state's list for the top 100 public high schools: Pittsburgh CAPA 6-12 (#12), Mt. Lebanon High School (#15), Upper Saint Clair High School (#17), Fox Chapel Area High School (#22), Pittsburgh Science And Technology Academy (#30), and Pittsburgh Allderdice High School (#82).

That said, Pittsburgh is also home to 8 private schools with "A" ratings, two of which rank in the state's top 20. Student ratios in public schools hover around 15:1, while the well-ranked private schools boast an enviable 7:1 ratio.
Healthcare
Healthcare is a big industry in Pittsburgh, so it's not too surprising that U.S. News and World Report ranked UPMC Presbyterian Shadyside as the #2 hospital in the state — and named it one of the country's top hospitals in 9 different specialties. Furthermore, Pennsylvania is known for having some of the most accessible healthcare in the country, and people living in Pittsburgh have above-average access to healthcare. However, the city has found that race and cost disparity still create barriers to care and is actively working on closing the gap.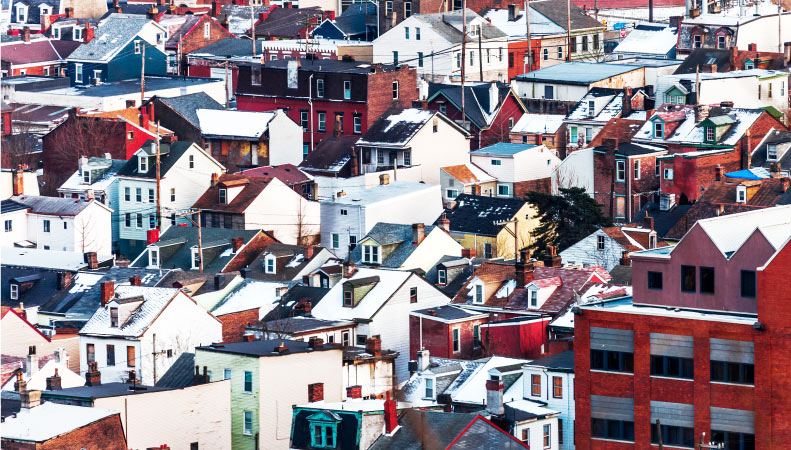 What Is the Best Neighborhood to Live in Pittsburgh?
Whether you're a student, young professional, family, or retiree, there's a selection of Pittsburgh neighborhoods waiting for you to move in. With over 90 neighborhoods, folks who move to — or within — the City of Bridges are spoiled with choices. Here's a rundown of our favorite spots, depending on what you're looking for in your new neighborhood.
Neighborhoods for Families
Regent Square
Looking for the suburban starter life neighborhood? Consider Regent Square. Located about seven miles east of downtown and right next to Frick Park, Regent Square offers a vibrant but relaxed place to call home — and to buy your first home. In fact, Regent Square ranks #1 in Niche's Best Neighborhoods to Raise a Family in Pittsburgh and #2 in overall Best Neighborhoods to Live in Pittsburgh. Come here for a great selection of restaurants and things to do, along with good access to greenery, nature trails, and a community feeling.
Squirrel Hill North
Want a neighborhood with good schools? Squirrel Hill North has you covered. Also ranked by Niche as one of the best neighborhoods to raise a family in Pittsburgh, Squirrel Hill is safe, has A-grade public schools, and sports great nightlife options for those date nights. Folks here are friendly, affluent, well-educated, and have well-paying jobs, many at the local Chatham University or Carnegie Mellon. A low amount of car traffic means kids can be seen playing in the streets, and weekends are spent at charity events or shopping at local boutiques, as well as dining out at the neighborhood's many, many top-notch restaurants.
Neighborhoods for Singles
Downtown Pittsburgh
Downtown is particularly great for singles who are moving to Pittsburgh. There's so much going on and so many people out and about, it's easy to meet new friends.
The dense layout and work-hard, play-hard attitude of downtown Pittsburgh makes it a favorite for social singles who want to be surrounded by the action and tons of options. Downtown offers the most big-city vibes and is one of the only neighborhoods where you can survive without a car. You'll also get access to the city's 14-block Cultural District, a hub of theaters, galleries, restaurants, and performance venues.
North Shore
If your idea of the perfect date night is a baseball cap and a ballgame, you'll love living in North Shore, where PNC Park — home to the Pittsburgh Pirates — is located. More of a football gal or guy? Acrisure Stadium (formerly Heinz), where you can see the Pittsburgh Panthers and Pittsburgh Steelers play, is just down the street at the western edge of the neighborhood.

Not so into sports? No problem. The Andy Warhol Museum is located in North Shore, too, which claims to be the largest single-artist museum in North America. Whether you're a single looking to mingle or just after a great solo date, this iconic pop art museum is the place for it. Or you could risk it all at the Rivers Casino, which is also situated along Pittsburgh's North Shore. And it goes without saying, living by the Ohio River means river views, river walks, and romantic river fireworks.
Neighborhoods for Young Professionals
The Strip District
Downtown Pittsburgh is packed with event calendars and bars that make it easy for young professionals to make connections on both a personal and business level. However, just a few miles north, in the Strip District, you'll find young professionals who want a bit more of a multicultural vibe.

This neighborhood is known for its excellent variety of affordable — and downright delicious — ethnic eats. Come here and join all the others who have fallen in love with the Strip District's unpretentious gritty charm and food markets. Note: Most folks living in downtown or the Strip District tend to rent, even though these neighborhoods have some of the highest rents in town.

Lawrenceville
And over in the east end, Lawrenceville has become a popular spot for young professionals over the last few years, especially those craving creativity. Residents here are hip and artistic, and there's a good balance of city and suburban energy.
Did you know? Pittsburgh made Niche's top 10 list for the Best Cities for Young Professionals in America — joining the ranks with top-notch contenders like New York City, San Francisco, Seattle, and Boston.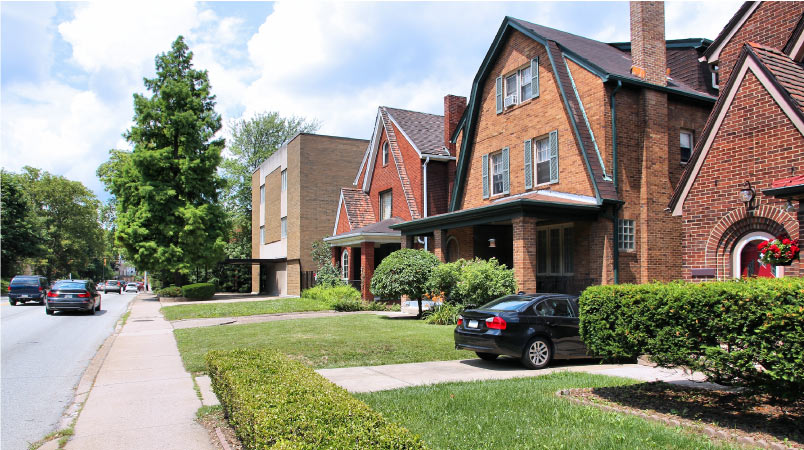 Neighborhoods for Students
Shadyside
Although Shadyside is more of an upscale neighborhood, it's extremely well connected to public bus lines, offers tons of apartments perfect for young residents, and has a good variety of affordable restaurants and small bars. It's also within walking or biking distance from multiple universities, including Carnegie Mellon and the University of Pittsburgh.
North Oakland
Pittsburgh's North Oakland neighborhood also attracts a lot of students. What student doesn't want to live close to campus, have a good selection of housing options, and be around a popping nightlife scene?
Neighborhoods for Retirees

Squirrel Hill South
Squirrel Hill North may be a hotspot for students, but Squirrel Hill South is just what the doctor ordered for some retirees. This neighborhood is a great pick for active retirees who want to spend their days outdoors and their nights making their way through Squirrel Hill's fabulous restaurant scene. It also has easy access to a supermarket and healthcare services.

Point Breeze
Bordering Frick Park, Point Breeze is an upscale neighborhood with wide, tree-lined streets and large homes that attract a lot of retirees. It's away from the hubbub of the city without being isolated and has a few of its own cultural amenities, such as the Frick Pittsburgh Museums and Gardens and the Frick Art & Historical Center. Stretching just one square mile, the community here is small but friendly and welcoming.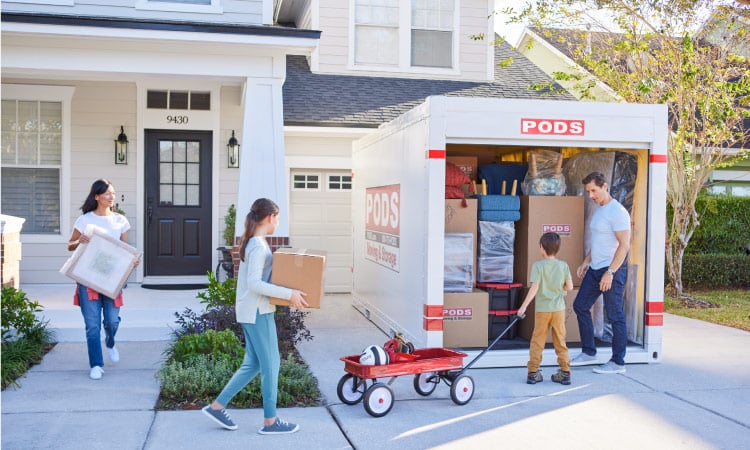 What Should I Know Before Moving to Pittsburgh?
Before moving to Pittsburgh, you should know that people who live here take pride in their city and their community, so… Look into grabbing a "terrible towel" or two, and know there's truly a place for every interest here. Looking for a short and sweet answer to the question, "Should I move to Pittsburgh?" Check out these pros and cons for reasons to move to Pittsburgh and reasons to reconsider. If you're asking what you need to know about moving to Pittsburgh in terms of logistics and Pittsburgh moving services, keep reading.
Pros and Cons of Moving to Pittsburgh

Pro: It has a cost of living below the national average.
Con: Summers are hot and muggy, and winters are cold and windy.
Pro: Pittsburgh is one of the best cities in the U.S. for young professionals.
Con: Pittsburgh is considered safer than just 7 percent of other U.S. neighborhoods.
Pro: It has an abundance of things to do, from art museums to football games.
Con: Traffic can be bad, especially crossing the river during rush hour.
Q: What do I need to know before moving to Pittsburgh?
A: If you're looking for some of the downsides to be aware of before moving to Pittsburgh, you'll want to consider the relatively high crime rate, its continental climate (think: hot summers, cold winters), and sometimes congested traffic.
Pittsburgh Moving Services
City of Champions, anyone? Moving can be a feat, but there are a few different ways you can tackle Pittsburgh moving services. Here's how you can get your stuff — and yourself — moved to Pittsburgh, depending on your budget and needs.
Full-Service Movers
Going with full-service movers is one of the easiest ways to move your things. Why? Someone else is doing all the work. Full-service can be as simple as hiring a company to come pick up and load your belongings onto a truck that is driven to your new home or as complex as having white-glove treatment for packing up your current house and unpacking in your new house. As you can imagine, this is also one of the most expensive options. The more services and distance you add, the more the price goes up. Sold? Start Googling "Moving companies Pittsburgh" now.
A DIY Move
Depending on how far your move is and how much stuff you have, you might consider renting your own moving truck and doing all the dirty work yourself. This is a great way to save money, though it is much more labor-intensive and can be exhausting. If you're not familiar with Pittsburgh, you'll also have to work out any moving or road permits you may need while the truck is parked outside your home. And in some neighborhoods, there will be steep hills or narrow streets to contend with, which is something to seriously consider if you're navigating on your own.
Moving With PODS Portable Moving and Storage Containers
If you don't want to drive a big rental truck in a busy city like Pittsburgh but you also don't want to pay for full-service movers, then PODS portable moving containers may be just the ticket. In addition to taking care of all the driving, PODS offers built-in storage options with every move, multiple container sizes (just rent what you need), and flexible scheduling.


Ready to get your Pittsburgh move on? Let's do this!
New to renting PODS containers for moving or storage? On the PODS Blog, we've rounded up the top tips and tricks from people who have done it, so you can hear what it's like straight from the source. New to renting PODS containers for moving or storage? On the PODS Blog, we've rounded up the top tips and tricks from people who have done it, so you can hear what it's like straight from the source.
Alex Keight is a writer who has lived — and moved — all over the country and the world. She is an expert at packing, whether it's for a long-distance move or a short weekend trip. When she's not writing or on the move, Alex spends her time giving her cat booty pats, cooking up dishes in the kitchen, and buying way more books than she knows she'll ever actually get to reading.
Get a Quote
Choose the service you need
Comments
Leave a Comment
Your email address will not be published. Required fields are marked *