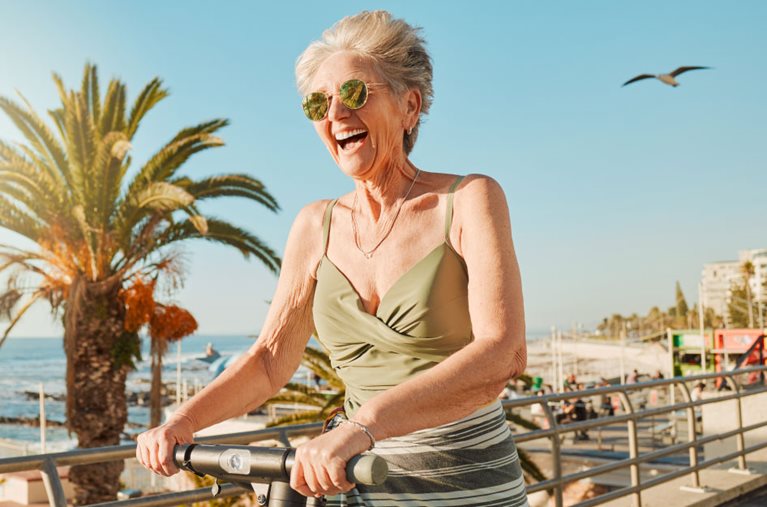 Here Are Our Picks for 2024's Best Places To Retire in Florida
It's no secret that the
Sunshine State of Florida
is quite the popular retirement destination in the U.S. Why do people retire in Florida? A lot of it has to do with
its tax-friendliness
and top-tier healthcare services. Oh, and there's that little bonus of year-round mild weather, beautiful sandy beaches, and unlimited entertainment — just to name a few reasons. But which areas are considered the best places to retire in Florida? Here's a list of some of our favorites.
Best Places to Retire in Florida in 2024
With perks like high-quality amenities and year-round attractions to bring the grandkids to, it's easy to see why Florida is a retiree's paradise. Here are 12 locations that are so great, we consider them to be some of the overall best places to retire in Florida.
1. Naples, Florida
Naples' downtown area is full of high-end stores and galleries, and it's known for its fashionable brick streets that are fun to visit for young professionals and retirees alike. Some of the areas that are popular include 5th Avenue South, Third Street South, and Gallery Row.
Over 90 golf courses are also within 30 miles of downtown Naples, and many of these are in country clubs. In fact, the area has been referred to as the "golf capital of the world," There are also several named beach areas in Naples, such as North Gulf Shore Boulevard and Vanderbilt Beach.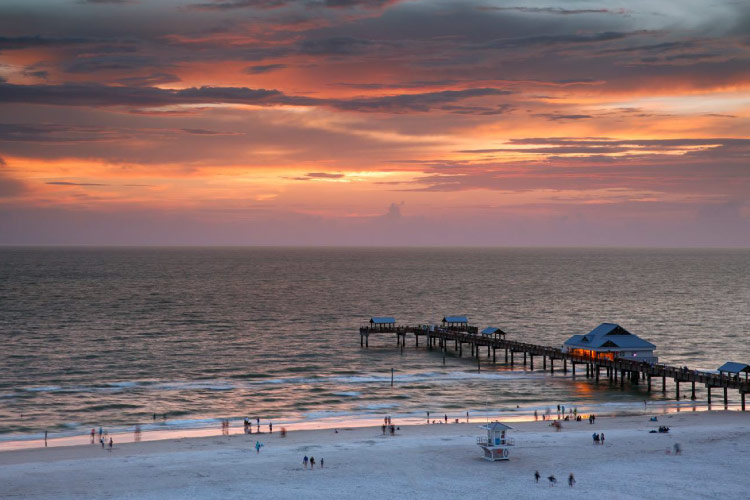 Clearwater Beach, FL
(Source: Visit Clearwater Florida via Facebook)
2. Clearwater, Florida
One of the most popular retirement destinations on Florida's west coast, the city of Clearwater is located near St. Petersburg and Tampa.
Boasting a small-town atmosphere and strong cultural infrastructure, an emphasis is placed on the design and public art projects that are carried out in the area. In fact, all new projects within the city are taxed to support the arts, and the goal of the program is to enhance the city for the people who live there and for the generations to come.
The Capitol Theater, which dates back to 1920, is one of the many historic structures in the city to be sure to check out.
3. St. Augustine, Florida
The town of St. Augustine is located on Florida's northeastern coast, between Matanzas Bay and the Intracoastal Waterway. It's a charming colonial town that's full of history and romance. The town's waterfront and vibrant cityscape, in particular, make it a popular destination for retirees to spend their golden years.
There are plenty of things to do when it comes to entertainment in St. Augustine. The St. George Street area, for example, has a variety of establishments, including restaurants, galleries, small hotels, and more. The San Sebastian Winery also offers free wine tastings, and Ripley's Believe It or Not! is a fascinating gallery that showcases the odd and unusual.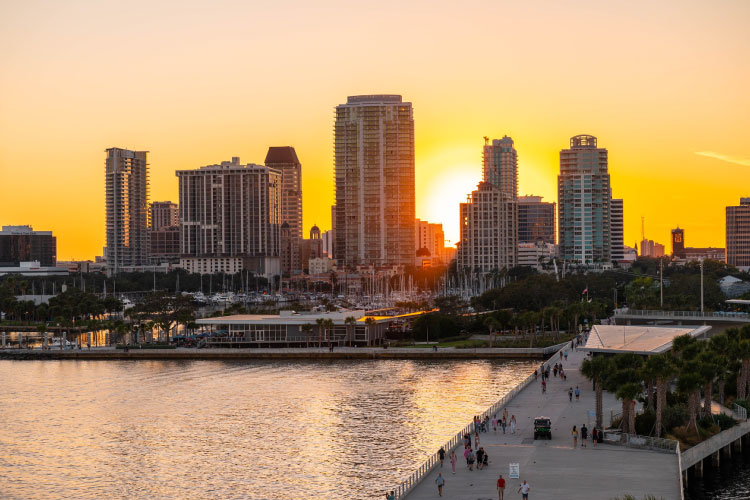 Downtown St. Petersburg, FL
(Source: Visit St. Pete/Clearwater via Facebook)
4. St. Petersburg, Florida
The city of St. Petersburg is one of three major cities that are located in Florida's Tampa Bay. The other two are Clearwater and Tampa itself. Shopaholics feel right at home when living in St. Petersburg, where there's easy access to prominent shopping areas like the Sundial.

The roughly 11 colleges (9 of which are private universities) that serve St. Petersburg help boost the area's cultural scene and increase the younger population. It also has several fascinating museums, such as the Holocaust Museum, the Museum of Fine Arts, the Salvador Dali Museum, and the Florida International Museum. Some of the other cultural institutions that can be found in the city include the Jannus Live, the Mahaffey Theater, and The Palladium.
5. Port St. Lucie, Florida
The peaceful Port St. Lucie is located near the gorgeous Indian River Lagoon and the St. Lucie River on Florida's southeast coast, making it one of the best places to retire in Florida on the water. It started as a planned retirement community in the 1950s, but it quickly became a flourishing city full of all walks of life during the 1990s.
Port St. Lucie is simply perfect for golf enthusiasts, as it's home to the popular course of the PGA Village. A fun fact about this city is that it's also home to the New York Mets' spring training facility.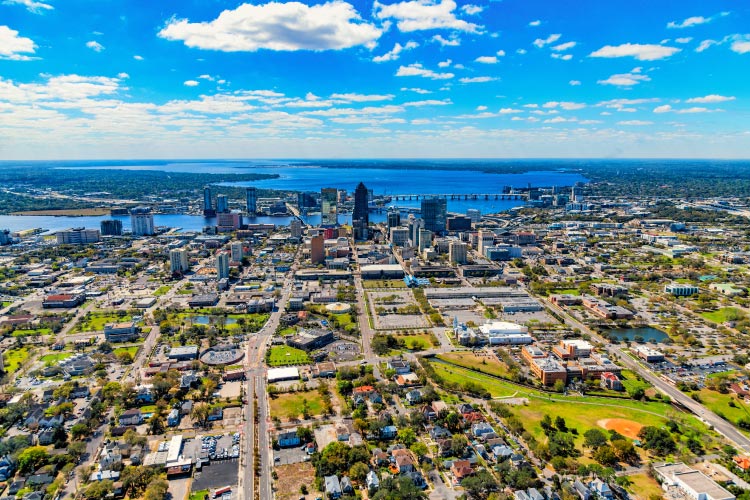 Downtown Jacksonville, FL
6. Jacksonville, Florida
In addition to the southern hospitality, diverse culture, and affordable cost of living, Jacksonville provides plenty of great attractions within minutes of retirement communities, making it one of the best cities in Florida to retire.
You can enjoy a variety of outdoor activities while living in Jacksonville, such as hiking, biking, and walking through the city's many trails. There are also plenty of great attractions to keep everyone entertained. And the food scene is no less impressive. There are plenty of restaurants and bars that cater to different cuisines, including Restaurant Orsay, Pink Salt Restaurant and Wine Bar, along with The Southern Grill and many more unique options. The Farmers Market is also a must-visit for anyone looking for fresh and local produce.
7. Lakeland, Florida
Lakeland is a great place to live for young professionals, families, and retirees alike looking for a combination of old Florida charm and modern conveniences. The city is located about 40 minutes east off Interstate 4 coming from Tampa and an hour away from Orlando.
The laid-back lifestyle of Lakeland is reflected in its beautiful surroundings, such as the Hollis Garden. Residents are also able to enjoy the outdoors at various places, such as Common Ground Park, Circle B Bar Reserve, and Lake Parker Park.
The city of Lakeland transforms into a baseball town during spring training, as it is the home of the practice field for the Detroit Tigers. During this time, everyone is excited to watch the team prepare for the upcoming season!
Gulf Breeze, FL
8. Gulf Breeze, Florida
Located on the western portion of the Fairpoint Peninsula in the Florida Panhandle, idyllic Gulf Breeze is one of the best small towns in Florida to retire. It's just six miles away from Pensacola if you take the Bay Bridge, which connects Pensacola and the Santa Rosa Sound. White sand beaches and turquoise waters are found near the Naval Live Oaks Preserve and Pensacola Beach.
The Gulf Breeze Zoo is a major attraction in the area, which has 50 acres of free-range land, and it features animals such as wildebeests, zebras, and ostriches. The town also has a recreation center, and most of its land is dedicated to green spaces and parks, which is great for all of the local retirees to stay active and take walks. The Shoreline Park South features a swimming area and a boat ramp. And the Tiger Point Golf Club is a great place to golf alongside the beautiful Santa Rosa Sound.
9. Tampa, Florida
The largest city in Florida's west coast region is Tampa, which is situated near the Hillsborough Bay and Tampa Bay that lead to the Gulf of Mexico.
There are a wide variety of cultural opportunities in Tampa for retirees. Some of these include visiting the Museum of Science & Industry, the New Tampa Performing Arts Center, and the Gasparilla Pirate Festival. The city is also home to several professional sports teams and theater companies. And in Tampa, there are always plenty of music, art, and concert events available to check out!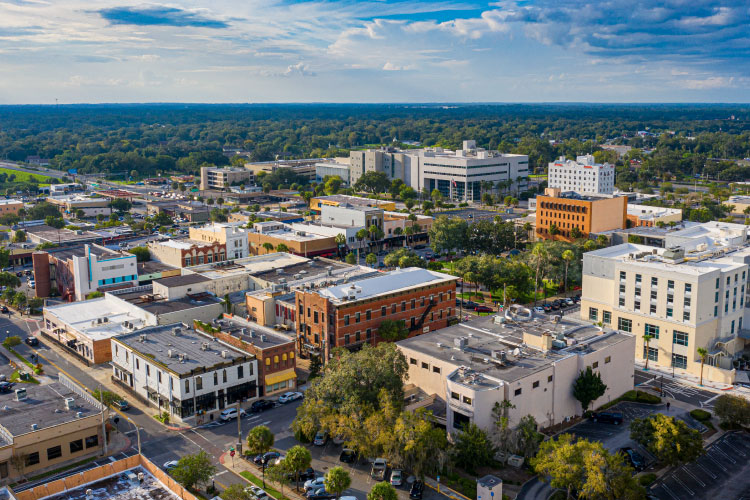 Downtown Ocala, FL
10. Ocala, Florida
The Ocala area has a unique combination of culture and history. In fact, there's a particular affinity for horses in Ocala. The Appleton Museum of Art, for example, was established to honor Arthur I. Appleton, a prominent horse-breeder, and to share his personal art collection with the community of Ocala. Originally, the museum only featured his personal collection, but it has since grown to become one of the top art museums in Florida. A number of companies offer trail rides and lessons at the local World Equestrian Center. And the area is also surrounded by several miles of hiking trails.
Q: Where is the cheapest place to retire in Florida?
A: Ocala is one of the best places to retire in Florida on a budget, as it has the lowest home value and lowest cost of living overall on this list.
11. Vero Beach, Florida
The people who live in Vero Beach are drawn to its variety of fantastic beaches. South Beach is known for its volleyball games, and it's also a great place for those who like to collect shells. Other nearby beaches include Coniston Beach and Humiston Beach. The sand dunes in Treasure Shores are also a highlight of the area.
The area's beach business district is filled with restaurants that serve various types of cuisine. Some of these include Asian feasts, Italian dishes, and seafood. The Miracle Mile and Village Shops on Ocean Drive are also great to find places to eat and shop.
Vero Beach is also known for a couple of family friendly events throughout the year, such as the Hibiscus Festival. The farmers market is another great place to visit every Saturday.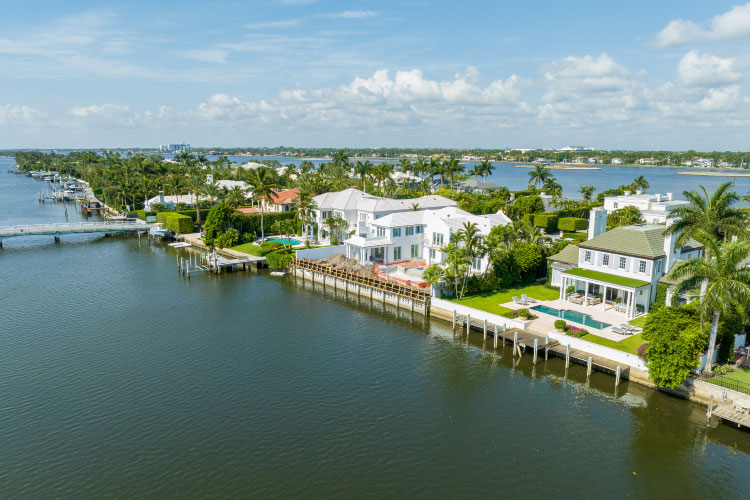 Palm Beach, Florida
12. Palm Beach, Florida
One of the world's most beautiful and wealthiest communities is Palm Beach, which is located on the Atlantic Ocean near Miami and the Intercoastal Waterway. It has a beautiful downtown and several fine estates along the water.
The cultural offerings of Palm Beach are immense, with a little something for everyone. There are a variety of performing arts venues in the area, such as the Raymond F. Kravis Center for the Performing Arts and the Armory Art Center, which features art classes and an extensive schedule of exhibits. Two of the area's top cultural institutions are the Norton Museum of Art and Ballet Florida.
Q: Why are retirees leaving Florida?
A: Although Florida doesn't have a state income tax and offers many great benefits for retirees, housing prices and cost of living expenses have increased so much over the years that some retirees are choosing to relocate elsewhere.
PODS Can Help With Your Move to the Sunshine State
Once you're ready for that laid-back retired Florida lifestyle, get a head start by getting a moving quote from PODS. If convenience and flexibility are top of mind for you, then PODS is certainly going to be the right crew!

Editor's note: For ease of reading, monthly rental prices were rounded to the nearest $25 and home values were rounded to the nearest $100.
Get a Quote
Choose the service you need
Comments
Leave a Comment
Your email address will not be published. Required fields are marked *