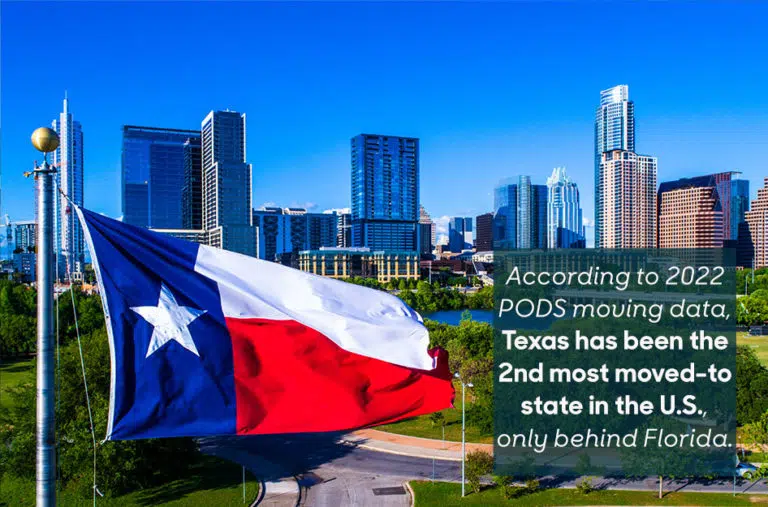 Lone Star State of Mind? 12 Things to Know Before Moving to Texas
Texas might be the Lone Star State, but it's far from lonely.
In fact, more than half a million people relocated to Texas from out of state in 2019 — a number that held strong for six years before that. But why are people moving to Texas? Maybe it's the state's "go big or go home" attitude, or maybe it's that the state has no income tax. Either way, if you're thinking about making the move to Texas, you're not the only one.
The best part about moving to Texas? The variety you can find from city to city. If you're looking for a bustling town with a ton of great restaurants and a thriving music scene, Dallas is perfect. If you want a quieter place to settle among farmlands and expansive greenery, Dripping Springs might be calling your name.
No matter the lifestyle you're seeking, however, there are some things you should know beforehand. Take it from PODS Blog's own Heather Magness. I spoke with her to find out the 12 things she wished she'd known before she made her move to Texas in 2018. Here's what she had to say.
How much money do I need to relocate to Texas?
You'll need enough to cover the basics, like a rent or mortgage payment (including a security deposit or down payment), utility fees, moving costs, and an emergency fund — but the exact amount depends on where you're moving. For example, the average rent for an apartment around 850 square feet in Austin is $1,826 while the average rent for an apartment the same size in Amarillo is $901. Buying a house? The typical home value in Austin is $642,650, while the typical home value in Amarillo is $194,750. You can use these numbers to get an idea of your moving costs.

"I definitely saved up before I made my move, but I didn't know the area well and wasn't sure where in DFW [Dallas-Fort Worth] I wanted to live." Heather says. "I was lucky to have friends willing to rent me an inexpensive room for my first several months while I checked out the area. I eventually found a cute studio apartment in Arlington (between Dallas and Fort Worth) for about $800 a month before utilities."
Things to know before moving to Texas
1. There's more to Texas than cowboys and cactuses
Heather admits she had some pretty ridiculous notions before her move to Texas. "At the time of my move, I'd already lived in seven states and visited 24 — but Texas wasn't one of them. I honestly was expecting to see a lot more cowboy hats and boots and sort of an — I know this sounds ridiculous — old west desert scene, like in the movies. Man, was I surprised when I rolled into Dallas to find a thriving metroplex full of entertainment, amazing food, and every kind of person you can imagine."
With big cities like Houston, you're never in short supply of shows. Yes, your mind might immediately jump to country music, but you can find all sorts of different genres. Dallas has an abundance of metal, rock, punk, and even EDM (aka electronic dance music) shows to choose from on any given weekend, but you can also find alternative and independent artists, no matter where you go. On top of the usual abundance of local shows, Texas is home to dozens of annual music festivals, too, including global ones like South by Southwest.
"I saw more live music these last few years in Texas than I had in my previous 30 years combined living anywhere else." Heather says. "There's really so much to see and do here. This place is pretty fantastic."
But music isn't the only form of entertainment Texas has to offer. SpaceX and NASA launch rockets from this state, and you can always visit Space Center Houston. There's also a vibrant arts scene — whether you want to wander through one of the state's many museums or pay a visit to your local gallery, art is accessible everywhere you look.
2. It's an extremely convenient place for frequent travelers to live
"This was a nice little surprise for me," Heather notes. "I travel a lot. My family is spread out all over the country, and I try to see everyone at least once a year. With my parents in Florida and my siblings in the Northeast and the Pacific Northwest, that's a lot of flying. Texas is pretty centrally located, and flights in and out tend to be relatively cheap. A round-trip ticket between Dallas and Tampa is almost always under a hundred bucks. And a lot of flights have layovers in Dallas or Houston, which is awesome because it offers a lot of opportunities to visit friends who are in town for the night."

Put simply, Texas is a travel hub. It's fairly centrally located between New York and California, and the Dallas Fort Worth International Airport (DFW) offers nonstop international flights to countries like Amsterdam, Paris, Rome, and even Dublin. Dallas isn't the only major city, though (and DFW isn't the only airport in Dallas). Houston is home to George Bush Intercontinental Airport, and the Austin-Bergstrom International Airport is in Austin. San Antonio has its own international airport, and there are a lot of smaller ones to fly in and out of, as well.
3. It's greener than you'd expect
"I feel foolish now, but I really thought it was all going to be dusty roads, cactuses, and tumbleweeds," Heather admits. "I've heard that if you go really far out west, it does get kinda like that, but DFW and Austin actually have a lot of greenery."
It's true. If you enjoy the outdoors, there's plenty to do in Texas. The Dallas area has lots of lakes as well as the Trinity River, all with plenty of surrounding greenspace. Drive down toward Austin and the Texas Hill Country and it gets even better, with the Colorado River and rolling green hills.
There's also Big Bend and Guadalupe Mountains National Parks, both located in the state and offering Texans picturesque weekend trips.
4. The big cities are more affordable than you'd expect
There's a reason so many Californians are moving to Texas.
Not only are many West Coast homeowners moving to Texas to escape the bustle and traffic that comes with California's big cities, but they're also finding it's a lot cheaper in the Lone Star State. And while prices have gone up in recent years in Texas, the typical home value in San Antonio is $300,044, as of August 2022. Far less than the $972,828 typical home value in Los Angeles.
Actually, the overall cost of living in Texas is more affordable than in many other places in the nation. The Lone Star State's cost of living is nearly 8.5 percent lower than Florida's (where Heather moved from), and New York City's cost of living is more than 43 percent higher than Dallas.
Another plus with Texas? There's a free market in most major cities when it comes to utilities, so you can shop around to find the most affordable electric providers. "This was HUGE," Heather says. "When I moved into my studio, I really took my time shopping around for the best providers for electricity and internet. There were so many options to choose from, and that made it possible to get some really great rates. I couldn't believe it! Back in Florida, there was only one option for electricity, and my friends were always complaining about their outrageous bills."
Groceries and gas are also cheaper in this state than in other major areas, and in some places, you don't even need a car. Cities like Austin have a great public transportation system that makes it easier to get from place to place without needing your own ride (unless it's a bike).
5. The weather is kind of crazy
Texas is a big state, so the weather can vary widely — from arid and semi-arid in the west to humid and subtropical in the east — and it's important to do your research before picking a city to settle in.
"I grew up in Tampa Bay and was definitely used to hot, humid summers, but that did not prepare me for a North Texas summer." Heather says. "People kept asking me, 'Isn't it so much better here than Florida?' and I was like, 'No! It's over 100 degrees here and still 30% humidity — and nobody has a pool!' It really was an adjustment. I would only consider apartment communities that had pools because I knew that was the only way I was going to survive the heat!" And winters were cold, she adds, "Remember, I'm from Florida, so my tolerance is low and winter felt long to me. Plus there was that crazy snow storm in 2021 that nobody really expected. But you get used to it, and North Texas does get a short spring and autumn and those are really beautiful."
In Dallas, the temperature varies from 39°F to 96°F throughout the year, with hot summers and cold winters. Still, the temperature rarely falls below 26°F or rises above 102°F. In Austin, the climate is similar but the temperature typically varies from 43°F to 97°F (a little more manageable than North Texas). It rarely falls below 30°F or above 102°F. And finally, Houston temps tend to hang between 47°F and 95°F over the course of the year and rarely go below 35°F or above 100°F, but Houston can get really muggy.
Snow is rare in the state, but when it falls it's usually in the Panhandle or further west. Places with higher elevations, like Guadalupe Mountains National Park, are also likely to see snow. Still, cities like Austin and Dallas will occasionally experience a cold front that can also result in snow, though it's less likely.
It's easy to joke about the unpredictability of Texas weather, but it can be dangerous — especially if you're not used to the heat or chance of dangerous storms (like tornadoes). In other words, if you're not in love with warm, humid weather, you might want to consider a different state.
6. Don't forget the 2nd Amendment
Concealed weapons aren't uncommon, and you're likely to notice more than one firearm visiting someone else's house. This might not be a problem for you, but it's worth considering if you're not a fan of firearms. "I remember a time when I saw someone open-carrying at a Starbucks," Heather recalls. "He was walking out holding his coffee with a handgun holstered on his belt. I wasn't used to seeing that sort of thing and I was definitely taken aback for a moment, but I can see how it could make some people feel safer, too."
7. Barbecue is a hot topic, and vegetarians aren't excluded
Texas BBQ has always been a hot topic (hold the sauce!), but more people have been included in that discussion over the last few years. It used to be borderline taboo to bring up smoked vegetables in a BBQ restaurant, but now it's something you're likely to see on the menu.
"Texas BBQ is no joke," Heather says. "But I learned pretty quickly not to put sauce on anything homemade or you're going to insult the grillmaster."
Whether you're a vegetarian or you love a good 'ole rack of ribs, you're going to have plenty of BBQ options in Texas. And if you want to learn to make it yourself, there's no shortage of meat and meat alternatives out there you can use to experiment with — no matter your dietary preferences.
8. You're going to need a car
Some parts of Texas have great public transit — whether it's by rail or bus — but other places don't have such luxuries to offer. So if you're used to catching a train to head to work in the morning, it's smart to look into the cities that do have transit options, like Dallas and Austin. Keep in mind, though, even the public transit in those cities may not meet your particular commuting needs, so do your research. It's not New York City, after all.
9. You're going to need your GPS and (for the love of all that's good and decent) avoid the toll roads!
It's not surprising that there are a lot of drivers in the big Texas cities, and construction on the freeways and toll roads is pretty common — which makes getting around a bit tricky. No matter how good you are with directions, you're going to need a GPS to get pretty much anywhere. And unless you're made of money, you're going to want to heed Heather's next piece of advice. "I can only speak for Dallas," she says, "but — oh my, the tolls! If you're not careful, you could rack up quite a bill on the expressways. I learned the hard way my first month in Dallas." Heather suggests getting a TollTag for your car (just in case) and then making sure to set your GPS to avoid the toll roads.
10. The job market is hot
Right now, Texas has a bustling economy, meaning finding a job is a lot easier than you might think. Companies are moving to Texas, like Tesla and Stanley Black and Decker, and the median household income stands at $63,826. "I had no trouble finding a job when I first moved to Dallas," Heather says. "and I know a few people who relocated to Austin for job opportunities. One of them actually ended up working for Tesla."
Employment in Austin, in particular, is predicted to grow by 47 percent over the next few years. So whether you're searching for a job in healthcare, education, technology, engineering, or even business, there's room for you in the market.
11. Texans love Texas
If you're one of the many moving to Texas from California (or any other state, for that matter), you'll have to get used to this state's sense of pride. "Everything's bigger in Texas" isn't just a saying; it's a testament to the truth. Homecoming football games and elaborately decorated "mums" have begun replacing the traditional dance, and it isn't uncommon to see cowboy boots and cutoffs worn year-round. "It's funny because I've never lived anywhere that had such proud citizens. Texans really do love Texas, and honestly — after living here for a few years — I get it. Texas is pretty awesome!"
12. Texas is red, blue, and kind of purple
While Texas may be considered a red state politically, many of the big cities are more blue (or purple). "Honestly, there's a real mix of people here." Heather says. "Regardless of which way you lean, you're going to find like-minded people in any of the big cities because Dallas, Austin, and Houston — they're all melting pots."
What are the cons of moving to Texas?
If hot weather isn't your thing, then moving to Texas might not be in your best interest. You're going to potentially be in a hurricane or tornado zone, as well, and mosquitoes run rampant during the summer. As for getting around? You'll definitely need a car if you're not moving to an urban area.
Advice for anyone moving to Texas
1. Pick Your City and Then Pick Your Neighborhood
The first thing you'll need to do is choose your city. Then, your neighborhood. Start by making a wishlist and make sure it covers all the basics. Here's a list of questions you can ask yourself:
Do school districts matter? How highly rated are those schools?
Do you need a dog park or some other green space nearby?
Is convenience a priority? Do you need public transit?
What style of home are you looking for?
Are home values going up or down?
How safe is the neighborhood and its surrounding area?
Do you prefer the beach, the countryside, or the big city?
When you answer all of the important questions first, it's easier to weed out any cities or neighborhoods that don't meet your criteria. You're also going to save yourself a lot of time and energy when you do finally start looking.
What do I need to do before moving to Texas?
Aside from finding a place to live, securing a job, and ensuring you have enough money to cover your monthly expenses, the most important thing you'll need to do is search for a reputable moving partner you feel comfortable using.
2. Cover the Basics
Once you have a neighborhood in mind, you'll need to move on to the nitty gritty. That means changing your billing address, vehicle registration, driver's license, and voter's registration. "In most states, you'd get your new license at the DMV, but in Texas, you go to the DPS (Department of Public Safety)," Heather says. "Unfortunately, the DPS has a horrible reputation of taking forever. And based on my experience, this is accurate. I suggest going online and looking at reviews to try to find an office that has a shorter wait time." 
If you have kids, remember to get them enrolled in their new schools, and pets should be up-to-date on any necessary vaccines to make sure they have any tags they might need.
It's a good idea to use a moving checklist to help get ready for the big day. A few weeks before your move, you'll need to start using up frozen foods or other perishables that can't (or won't) be making the trip with you. Start setting aside anything that won't get packed away with the boxes, and make a list of the things you'll need immediate access to once you get to your new home (and pack those last).
3. Find Your Moving Partner
Once everyone is ready for the move, you'll need a moving partner to help you get there. If you're on a budget, you can take the DIY route. If money isn't an object, full-service movers might be a good option. If you want something in the middle (or a hybrid move, as we like to call it), PODS portable moving containers are a great choice.
Having PODS as your moving partner means a flexible move with storage built in. You choose the right container size for your belongings and PODS delivers it to your driveway. From there, you can pack up and pick your own moving dates. When you're ready, a PODS driver will pick up your container and deliver it to your new Texas home, or you can keep it at a secure PODS Storage Center until you need it.
Is moving to Texas worth it?
Ultimately, the answer to this question is going to be subjective. For many, it's a nice change of pace and a great relief when it comes to living expenses. Texas is also diverse enough to support a wide range of lifestyles, making it a great place for plenty of people to settle down.
4. Don't Forget Your Cowboy Boots and Cutoffs
While not as commonplace as Heather was expecting, cowboy boots and cutoffs are a year-round trend in Texas — especially in the honky-tonks. So don't be surprised if you walk outside in the middle of December and notice someone in this ensemble (it's probably hot enough to need it anyway)
You won't escape it, so you might as well adopt the look for yourself!
Is moving to Texas right for you?
It's clear that a lot of people want to relocate to the Lone Star State, but it's important to be sure it's the right move for you. Relocating is a stressful time, and it's important to plan all your steps accordingly. Finding the right company to help with your move is the easy part; the real task comes with researching cities, neighborhoods, and even school districts your family would be happy in. Remember to make your list of priorities, and then start your search.
We can't do the work for you, but we can be there to guide you every step of the way. For more moving tips and tricks, check out the PODS Blog.
---
Katlynn Mullins is a St. Petersburg-based freelance writer whose only roommate is their cat. A frequent PODS blog contributor, Katlynn loves finding ways to make moving into new spaces simple and stress-free. Between yearly apartment hopping, you can find them on the waterfront or experimenting with new ways to make coffee.
Get a Quote
Choose the service you need
Comments
Leave a Comment
Your email address will not be published. Required fields are marked *