How to Find the Best Moving Truck Rental for Your Needs
by
PODS
Posted on February 10, 2020
When you're on a tight budget and planning a DIY move, finding the best moving truck rental for your needs is one of the most important steps. You'll need to figure out the right size truck to fit all your stuff and consider all the other factors that will affect the total cost -- including the distance, amount of time, insurance, and whether you need to transport your own vehicle. You'll also want to compare U-Haul truck rentals with other moving truck rentals near you. Finally, when you add everything up, you may even want to consider other moving options – especially if you're relocating cross-country or will need storage as part of your move. Ready to get going? Read on to find what you need to know before deciding on a moving truck rental.
How Far Away Are You Moving?
The distance of your move will significantly affect your overall cost. Local same-day moving truck rentals are the most affordable, with U-Haul offering options as low as $65 for a 20-foot truck, including four hours and 10 miles. Typically, the moving truck rental rate increases based on the size — unless the company happens to be offering a deal during the slower fall and winter seasons. If you need a one-way truck rental for long distance, the costs will be significantly higher. You'll have to pay a flat rate for each day you need the truck, and often for each mile driven.
U-HAUL TRUCK RENTAL VS. OTHER MOVING TRUCK RENTAL COMPANIES
While U-Haul charges per mile, Penske offers unlimited mileage for one-way rentals, making it a strong contender for cross-country moves. Either way, when you're moving thousands of miles the total adds up. Long-distance truck rentals cost $971 on average, according to HireAHelper, a mover comparison and referral tool – and that doesn't include gas, lodging, or vehicle transport. In addition to U-Haul and Penske, Budget Truck Rental all offer solid options for both long-distance and local moves. If you're just making a local move, both Ryder and Enterprise have expanded their operations to provide truck rentals for residential customers. Pick-up and drop-off locations can be a major factor in your decision, with U-Haul way ahead of the pack with more than 21,000 U.S. locations. Budget and Penske are a distant second and third, with 2,800 and 2,400 locations respectively. In terms of customer satisfaction, Penske tends to get the highest reviews for ease of online booking and personable service, while U-Haul's size can make the company more difficult to work with when issues arise. What's best for you? It depends on the details of your move and your personal preferences.
MOVING TRUCK RENTALS VS. PORTABLE CONTAINERS
If you still have to transport your own vehicle, and you'd rather not tow it behind the truck, you may want to consider a moving and storage container service, which can be a cost-effective option once you factor in all the costs involved in renting a truck. Since the container is delivered to your door and then picked up and transported to your new location, this frees you up to drive your own vehicle. Yep. That means you don't have to deal with driving a humongous truck across country. You also get the flexibility to take your time with both loading and unloading so you won't have to race the clock to avoid hefty late fees on a truck rental. For example, PODS portable container service starts with a full month rental, giving you built-in storage with easy access to your belongings -- which can come in really handy if your moving dates need to change.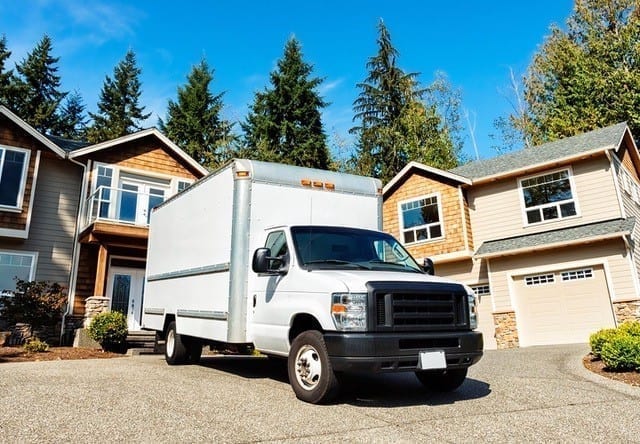 What Size Moving Truck Rental Do You Need?
There are a few factors to consider when you're deciding on a moving truck size, from how much space you need for your items to how difficult it is to drive and navigate through the areas where you're moving to and from. Here's a size estimating chart and some quick tips to help you decide:
HOME SIZE /
SQUARE FEET
RENTAL
TRUCK*
Less than 400 SF
Small Studio Apt
Cargo Van or
10′ Truck
600 SF
Studio/1 BR Apt
10′, 15′ or 16′
800 SF
1 to 2 BR Apt
15′ or 16′
1,000 SF
2 BR Apt/Home
15′ or 16′
1,200 SF
2-3 BR Apt/Home
15′, 16′ or 18′
1,600 SF
3 BR Apt/Home
20′, 22′ or 26′
2,000 SF
4 BR Home
26′ (may take
multiple trips)
Over 2,000 SF
Multiple trips or
other moving options
* Remember that this size guide is an estimate only. Larger items and how efficiently the truck is loaded will significantly impact the required size.
Don't underestimate how much space you'll need. It's better to have a little wiggle room in the truck (and space for bubble cushioning roll, padding, hand trucks, etc.) than to run out when you're not done loading.
Consider how you'll maneuver the truck in your current and new neighborhood. In some tight spaces, a larger truck may not fit at all! If you're in an urban location or a narrow old street, it might be better to do multiple trips with a smaller truck or look into other urban moving options.
Make sure to reserve your ideal truck size well in advance, especially if you're moving on a popular day like a weekend, holiday weekend, or anytime in the summer!
HOW TO FIND THE CHEAPEST MOVING TRUCK RENTAL
Try to go with a smaller truck to save on both miles per gallon and the rental rate – just measure your stuff carefully! With five major companies now offering truck rentals to consumers, in addition to portable container services, it's worth it to get multiple quotes. Here are four quick tips on finding the best pricing for your move:
Make sure to refill the tank before you return the truck to avoid being charged premium fuel rates by the company.
Don't be afraid to ask for a better rate by phone. The customer service rep probably won't offer up specials, so specifically ask if there are any discounts or promotions that could reduce your rate.
Move in the off-season months from September through April or May so you can take advantage of lower rates and special deals.
Add up all the costs involved – auto transport, hotel, gas and storage, if you need it. For long-distance moves and those requiring storage, a portable container may be around the same cost or even cheaper.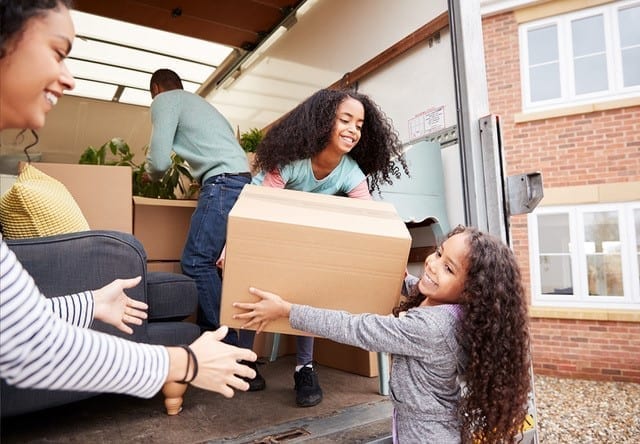 Do You Need Any Special Features?
Trucks may have different features depending on the size truck and rental company you use. Trucks larger than 12 feet tend to have a pull-out ramp for getting into the truck, which will make loading and unloading a little easier. If you think you may be on the verge of filling up a smaller 10-foot truck, it might be worth it to size up for the more convenient ramp. Most trucks also have rings on the interior walls you can use with straps to secure items from shifting around once you start driving, which is especially important for tall furniture pieces or piles of boxes.
To make loading heavy items easier, you can also rent a hand truck at the same time you get the truck if you go to one of the main U-Haul or Penske locations instead of one of the partner locations. The main locations will have other moving supplies on hand as well, such as boxes, quilted furniture pads, packing tape, and other essentials.
If you're moving long-distance, comfort in the cabin area is definitely a factor. Keep in mind that most moving trucks only have room for two people: the driver and one passenger. It's also important to consider who will be driving the truck. If you're on the shorter side, some truck dashboards can be oversized and difficult to see over. You might also want a truck with comfortable perks, like air conditioning, radio, or a USB port for charging your phone.
Do You Need Insurance for your Moving Truck Rental?
Insurance on rental cars and trucks may seem like a waste of cash, but it can be worth it if something unexpected happens. Most car insurance policies don't provide coverage for rental trucks, and if they do, the coverage is very limited. Considering that rental trucks cost $45,000 or more to replace, you sure don't want to turn your budget move into a financial disaster. It's better to play it safe and purchase the insurance for the truck rental so you have one less thing to worry about during your move. You'll just need to decide how much protection you want to pay for, and whether you want to cover just the rental truck, or if you want to include your belongings and liability. If you're set on saving the money, check in with your car insurance to see if you're covered in the event of an accident while driving a moving truck. Some credit card companies also offer coverage if you use the card to pay for the rental, but read the fine print to make sure it offers meaningful protection.
When it comes down to it, renting a moving truck isn't that complicated. As long as you pay attention to a few details, you'll be able to find an affordable moving truck or other option that meets your needs. Time to get started on packing? These tips will help you pack like a pro.
Get a Quote
Choose the service you need
Comments
Leave a Comment
Your email address will not be published. Required fields are marked *