Take advantage of our limited time offer. Enter promo code HOLIDAY25 to save up to 25%.
See offer details
.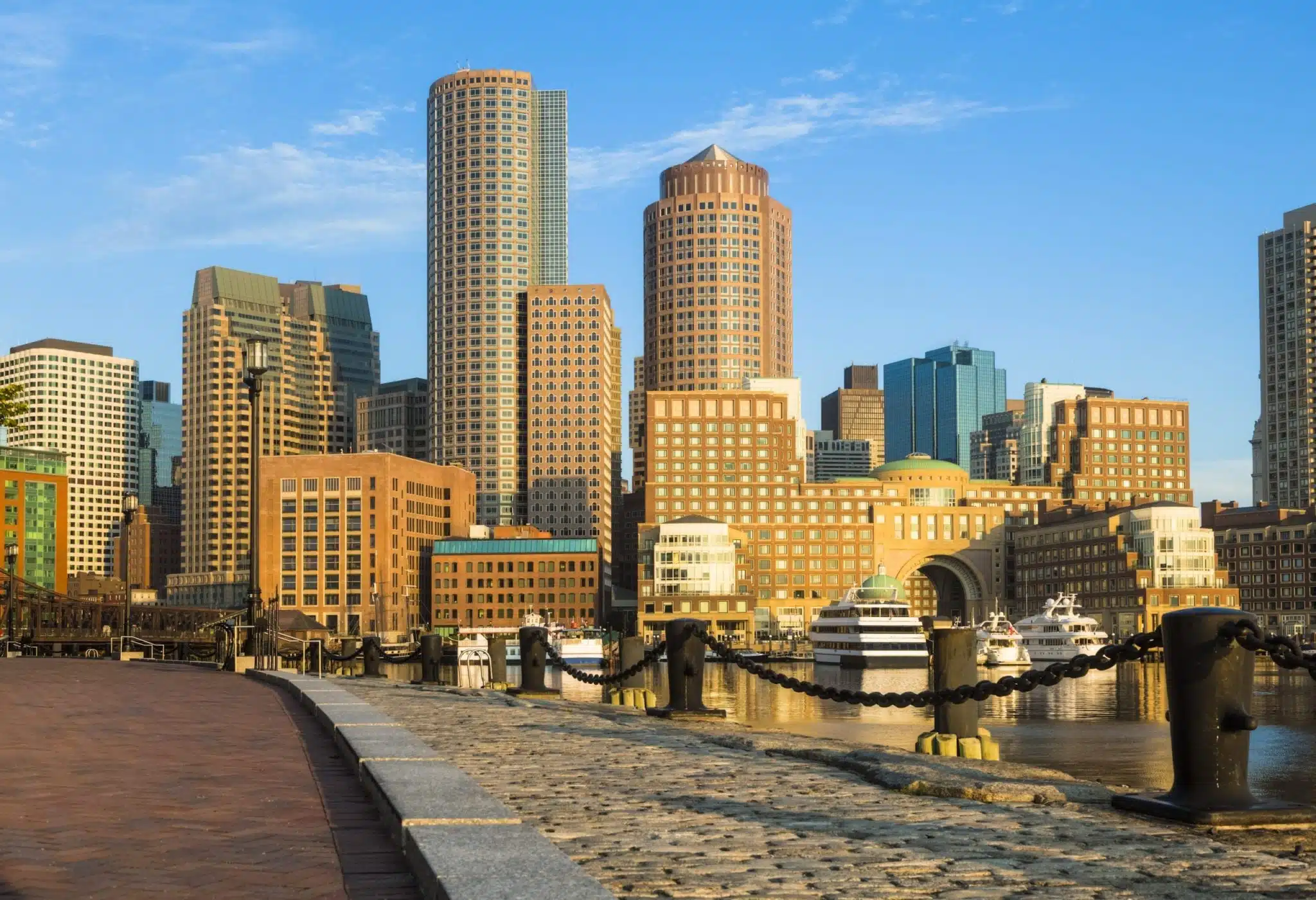 Boston Moving Services: What You Need To Know About Moving Costs and Options
Editor's note: This post was updated on November 15, 2020.
Planning a Boston move? Whether you're leaving town or just relocating to the perfect Boston neighborhood, this can be a challenging place to move — from the traffic and parking shortages to ice and snow. But no need to stress. You can get settled into your new place with a solid strategy and the right moving help.
To get you off to a smooth start, we've put together this guide covering what you need to know about Boston moving companies and expenses. Here's what we'll be covering…just read on or use these links to skip to the sections you need:
Your approach will depend on your situation. If you're just moving around the block, you may be wondering if you should invest in a professional mover or just rent a moving truck and incentivize your friends with enough beer and pizza to get the job done. Relocating to the East Coast from across the country? You may want to consider a Boston storage unit while you figure out the logistics of exactly where and when you're going to move, especially if you're relocating for a job and you're working on a tight schedule. Or, if you're leaving the Hub entirely and making a long-distance move (to somewhere with warmer weather and worse sports teams, perhaps), you might just be feeling overwhelmed about how to pack your entire life up into boxes. In that case, a portable moving container may be just what you need to handle your move in stages.
Top Questions for Planning Your Move:
How much stuff are you moving?
What's your budget and timing?
Do you want safe and secure storage?
Are you looking for contactless moving to reduce risks of COVID-19 spread?
How much work are you willing and able to do yourself? Do you have friends or family who can help?
What kind of clearance and parking room will there be at your move-in and move-out locations?
What are your Boston moving options?
If it's been a while since your last move, you'll be happy to know that moving is no longer an all-or-nothing choice between going all DIY or paying a ton for full-service Boston movers. You don't even have to decide on just one option, because you can combine services to make your own hybrid move. Here's a rundown of the main options:
Traditional full-service mover
Moving container service
Moving container service specialized for city moves
Rental truck company
A combination of the above
We'll get into the pros and cons of each option later, but first we'll go over some ballpark pricing on some popular Boston moving routes.
How much does a local move cost in Boston?
Of course, you'll need to get detailed estimates before making any decisions, but here are some general price ranges for starters. For a moderately furnished 2- to 3-bedroom household, local moving costs* in Boston will range from $63 for rental trucks to $2,321 on the high end for a traditional full-service mover. For a mid-priced option, a PODS moving container will usually cost between $349-$549 for a local Boston move, including one-month built-in storage, either in your driveway or at a secure Storage Center.
Local Boston moving costs*
Household Size
Full-Service Movers
PODS
Rental Truck
2-3 Bedroom
(800-1,200 sf)
$1,044-$2,321
$499-$709
(1-month storage included)
$63-$122
(plus fuel costs)
*Based on estimates from PODS and MoveBuddha, costs don't include insurance or taxes. Prices will vary based on specific locations, dates, size of household to be moved, and available discounts. For a detailed quote, visit PODS or call 877-350-7637.
How much does it cost to move long-distance to or from Boston?
Long-distance moving costs depend on distance, the amount of stuff you're moving, and the connecting location to Boston. Truck rentals for long-distance moves average $1,200 to $2,850 plus incidentals. On the other end of the spectrum, traditional full-service moves cost from $1,780 to $8,400. Moving long-distance with PODS containers usually averages from $3,430 to $4,030, which includes one month for storage.
Long-distance moving costs for Boston*
Household Size
Full-Service Movers
PODS
Rental Truck
2-3 Bedroom
(800-1,200 sf)
$2,970-$4,632
$3,430-$4,030
(1-month storage included)
$1,306-$1,763
(plus fuel costs)
*Based on estimates from PODS, MoveBuddha, and Move.org, costs don't include insurance or taxes. Prices will vary based on specific locations, dates, size of household to be moved, and available discounts. For a detailed quote call 877-350-7637.
Moving between Boston and other New England cities
While there's always been plenty of movement between Boston and its New England neighbors, the increase in people working from home could encourage more moves. With both Portland, ME, and Hartford, CT, just over 100 miles away, the ability to work remotely makes it much easier for workers to consider living in the city of their choice. While they wouldn't dream of making that a daily commute, they could imagine making the trip once or twice a month.
Since the coronavirus pandemic began, Portland, ME, has seen an influx of millennials moving from larger cities like Boston and New York, according to Live + Work in Maine, a nonprofit organization that tracked the migration data on social media. Nate Wildes, executive director of the nonprofit, said the newcomers included remote workers, as well as people finding new jobs in Portland. While more remote workers started relocating to Portland and the state of Maine overall before the pandemic, he said conditions in 2020 have accelerated the trend. With about a 20% lower cost of living than Boston, Portland and Hartford have more affordable housing, as well as a slower pace, while still offering mid-size city amenities.
Moving costs between Boston and Portland, ME*
Moving Route
Miles
Full-Service Movers
PODS
Rental Truck
Portland, ME
to Boston
107
$2,000-$3,432
$1045-$1645
$161-$217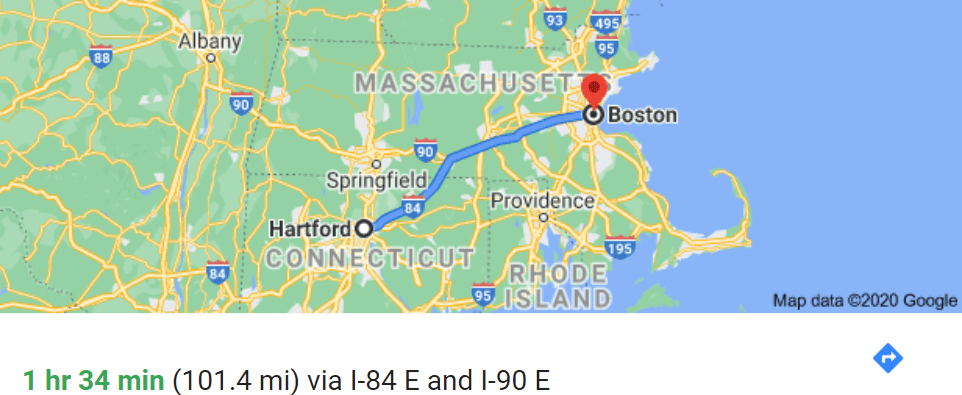 Moving costs between Boston and Hartford, CT*
Moving Route
Miles
Full-Service Movers
PODS
Rental Truck
Hartford, CT
to Boston
105
$2,000-$3,432
$916-$1516
$161-$217
*Based on estimates from PODS and MoveBuddha for a 2-3 bedroom household (800-1,200 sf), costs don't include insurance or taxes. Prices will vary based on specific locations, dates, size of household to be moved, and available discounts. For a detailed quote, call PODS at 877-350-7637.
Moving from Boston to DC
Many people who've lived in both DC and Boston see a lot of similarities. The cost of living is about the same, and both have thriving, diverse economies and cultural scenes, with more breathing room than NYC. Bostonians may miss the New England charm, but you'll still find plenty of character in DC's neighborhoods. And it's highly doubtful you'll regret having a lot less snow. The cost of living is pretty close between the two cities. Now let's take a look at what it costs to make the move.
| | | | | |
| --- | --- | --- | --- | --- |
| Moving Route | Miles | Full-Service Movers | PODS | Rental Truck |
| Boston to D.C. | 441 | $2,230-$3,800 | $1,745-$3,800 | $720-$972 |
*Based on estimates from PODS and MoveBuddha for a 2-3 bedroom household (800-1,200 sf), costs don't include insurance or taxes. Prices will vary based on specific locations, dates, size of household to be moved, and available discounts. For a detailed quote, call PODS at 877-350-7637.
Full-service with a Boston MOVER
Thanks to the hordes of residents moving in and around the city each year, Boston boasts plenty of full-service moving companies that can get the job done without your having to lift a finger. Ask your Boston-based friends who they've had a good experience with and check out online reviews to narrow down the list.
Typically, professional movers will work with you over the phone or come out to your home to quote a price, with larger and long-distance moves usually requiring an in-home appointment. Be prepared to answer questions, as all these factors can impact the price:
Your current and future address
How much stuff you have
If stairs are involved or if you have an elevator (try to reserve this for moving day, if you can)
If you need help with packing or furniture disassembly and assembly
When you need to move and what day of the week
How much flexibility you have in your schedule
If you have available parking
Be sure you get a written quote and ask about potential upcharges and how they handle schedule changes and refunds if you have to cancel. As you might guess, hiring a Boston moving company to handle your change of residence is in most cases the most expensive option. If the convenience wins you over, though, make sure to secure a mover well ahead of time. For those partaking in Boston's traditional September 1 mass moving day, you'll want to lock one down four to eight weeks in advance.
Full-Service Mover Pros:
Save your time for other things you enjoy more than moving
Avoid heavy lifting and potential back strains
No need to navigate a hefty truck around Boston's winding streets
Full-Service Mover Cons:
You'll pay a premium for the convenience
Some Boston movers charge extra fees, so you need to shop around wisely
Scheduling can be too rigid to handle date changes
Your most valuable (and fragile) belongings will be in the hands of someone else
Self-Moving and DIY Options
If the dollar signs associated with a full-service move have you clutching your wallet, fear not. There are many ways to get the job done without breaking the bank in the process.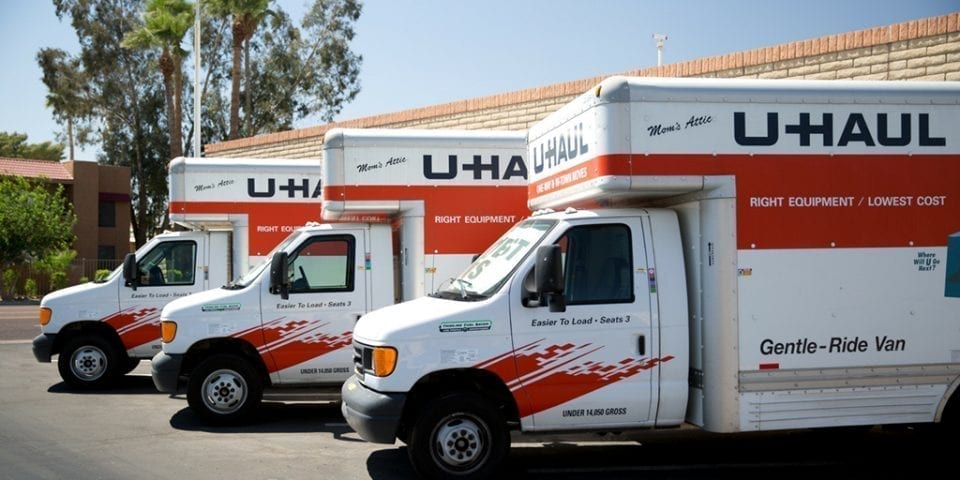 Rental Trucks
Ready to take the wheel and rent your own truck? You may want to do a dry run before move-in day. Like any city, Boston's streets can become incredibly congested during rush hour, and unlike many cities, the roads don't always lead where you would think — there's no clear grid system in place, one-ways are ubiquitous, and there are more than a few quaint cobblestone alleyways. And please, heed this warning: Do not take your moving truck on Storrow Drive. Every year too-tall trucks fall victim to the 10-foot clearance under the main parkway's bridges. Needless to say, having the roof of your box truck shaved off is jarring for you and your breakables.
Then there's the parking to consider, a potentially thorny issue for anyone moving in Boston. If you're renting and want to guarantee the truck has a spot to park, we recommend you reserve a parking spot ahead of time. While a moving truck permit isn't legally required, you won't want to gamble on not finding a spot you can fit into or getting ticketed for double parking on a day already fraught with stress. (Check out this 2019 heat map to see the neighborhoods with the most Boston moving permits reserved.) For those relocating to a more suburban area of Boston, you may be lucky enough to have a driveway or parking lot you can take advantage of — just check with your realtor or apartment building management.
Rental Truck Pros:
Big savings compared to hiring a full-service Boston mover
Doing everything yourself provides more hands-on control
Easier to schedule your move
Rental Truck Cons:
Maneuvering an unwieldy truck around Boston's streets -- and "getting Storrowed"
Potential parking challenges
Late returns can result in steep fees
You have to pick up and drop off the truck
Can be a very high-stress experience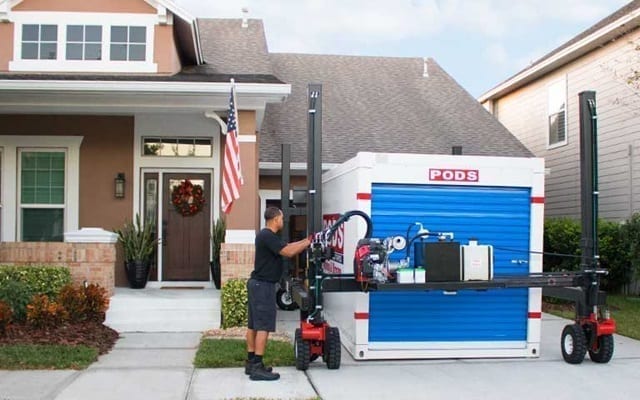 Portable Container Moving and Storage Service
If you want to move at your own pace rather than all at once, renting a portable container may be the way to go. Instead of hauling a cumbersome caboose through Boston's charming yet generally congested streets, a portable unit lets you pack up slowly in your driveway, then sit back and let someone else whisk the container to your new home. With PODS standard service, for instance, the container is delivered to you, and then once it's loaded, PODS will pick it up and take it to your new address, or keep it at a secure PODS Storage Center until you're ready.
PODS Portable Container Pros:
Leave the truck driving to the professionals
Built-in storage options
Contact-free moving service
Flexible scheduling to handle last-minute changes
Set your own pace moving
Option to hire hourly labor to help with loading and unloading
Available for both local and long-distance moves
PODS Portable Container Cons:
Will usually cost more than renting a truck
Could be more work than full-service moving
Moving container Service specialized for city moves
With all the perks that living in Boston brings, one drawback, especially for renters, may be that you don't have a space to leave a portable storage unit or park a rental truck. If that's the case, using PODS City Service accommodates this city concern seamlessly. Available in select ZIP codes, the service caters to those living in the most urban Boston areas.
As with the standard PODS service, a driver will take care of the pick-up and driving, but your container doesn't leave the truck during loading and unloading. The driver stays with the container to guard against tickets and help protect your belongings during the loading process, then transports your container to your new pad -- or a PODS Storage Center if you can't move into your new place right away.
Here's how PODS City Service works:
A PODS driver brings your container at your scheduled time and stays for loading, helping to defend against tickets, thieves, and any other threats to your belongings.
While your container remains on the truck, a heavy-duty, hydraulic lift carries you, your helpers, and your belongings to and from your container.
You load and unload at ground level – no carrying heavy items up and down a ramp.
When your container is loaded and ready to go, your PODS driver can take it to a secure PODS Storage Center and keep it there as long as you need, or you can have it delivered to your new place.
PODS City Service Pros:
Leave the truck driving to others
Built-in storage option if you need it
Option to hire hourly labor to help with loading and unloading
No ramp needed – load at ground level
PODS City Service Cons:
Usually costs more than renting a truck
May take more effort than full-service moving
Available only in select locations – call to check
Boston Storage Units
If you're not moving out of your old place and into your new one on the same day -- which is especially typical for those relocating for a job, students leaving Boston for the summer, or anyone downsizing -- you may need a temporary storage service. There are plenty of options and sizes for Boston storage units and storage facilities, including a self-storage unit or a portable storage container. Self-storage involves renting your own truck to haul your things to and from the facility and driving it through Boston's infamous traffic yourself. By contrast, a portable container service can save you some serious effort by having the unit dropped off at your door so you can load and unload at your leisure.
Want to know more about PODS moving and storage options? Visit our Boston Moving Solutions page to learn more or get a quote online, or call 877-350-7637. Our moving specialists will be happy to answer your questions and get you a detailed quote on the spot.
---
Sofia Rivera is a Boston-based lifestyle editor and frequent contributor to the PODS Blog. Her work has appeared in Boston magazine, Apartment Therapy, and more. You can most often find her redecorating her apartment, trying out a new recipe, or trekking all over the city.
Get a Quote
Choose the service you need
Comments
Leave a Comment
Your email address will not be published. Required fields are marked *