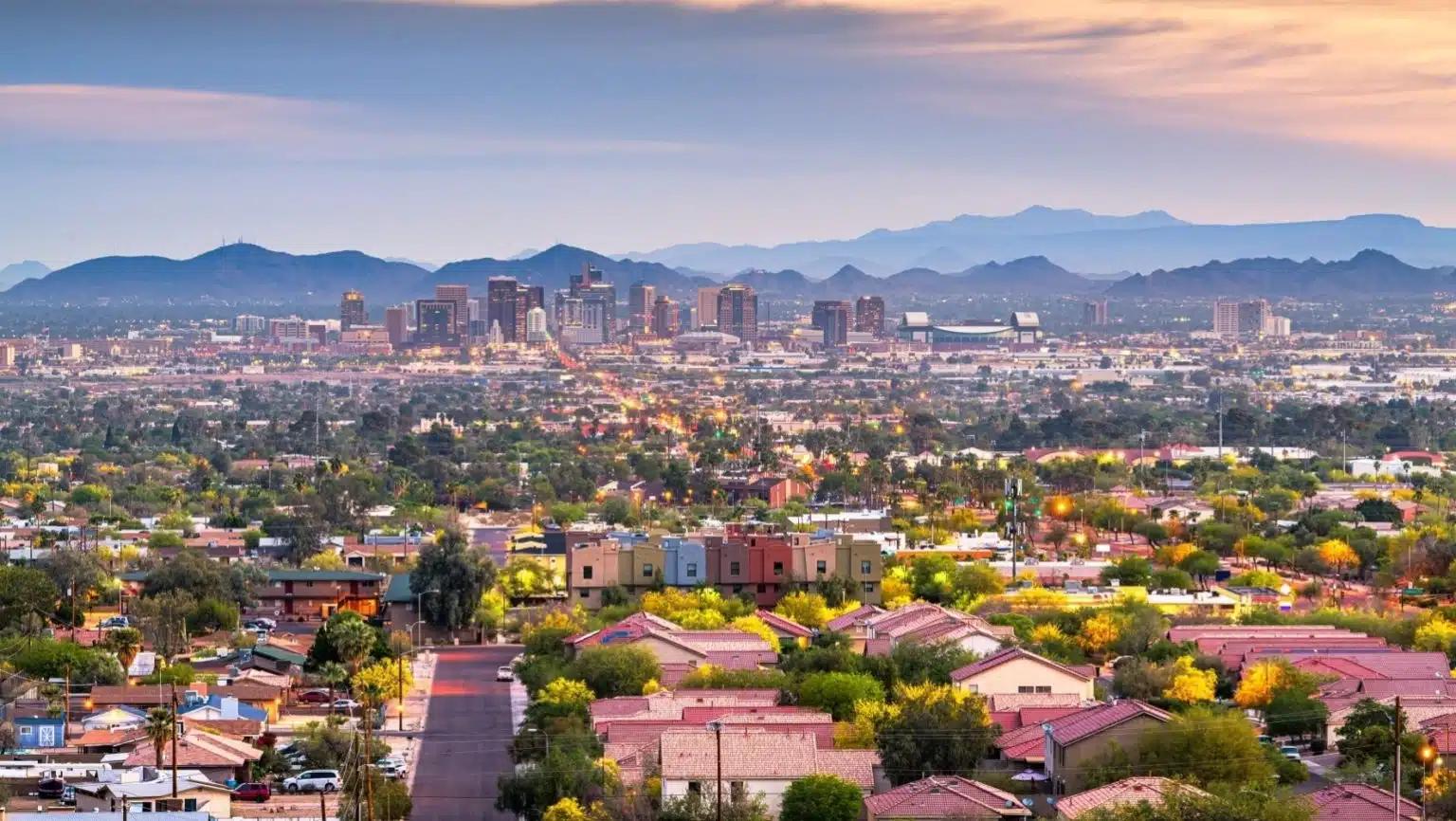 What Are the Best Phoenix Neighborhoods? Take a Look at Our Top Picks
Considering a move to Phoenix, Arizona? You're not alone. Phoenix is a city of more than 1.6 million residents, many of whom are transplants. If you're wondering why it's such a popular spot for relocation, to put it simply: The place is hot. And we're not just talking about the weather.
Based on the U.S. Census Bureau data for 2019, Phoenix attracted more new residents than any other city in the U.S. — and it wasn't just that year. 2019 marked the fourth consecutive year that Phoenix held the title. The city offers plenty of job opportunities, and the cost of living is more affordable than other major metropolitan markets (We're looking at you, New York, Los Angeles, and San Francisco).
Phoenix is called the "Valley of the Sun," but if you're thinking about calling it home, here are the best Phoenix neighborhoods to consider.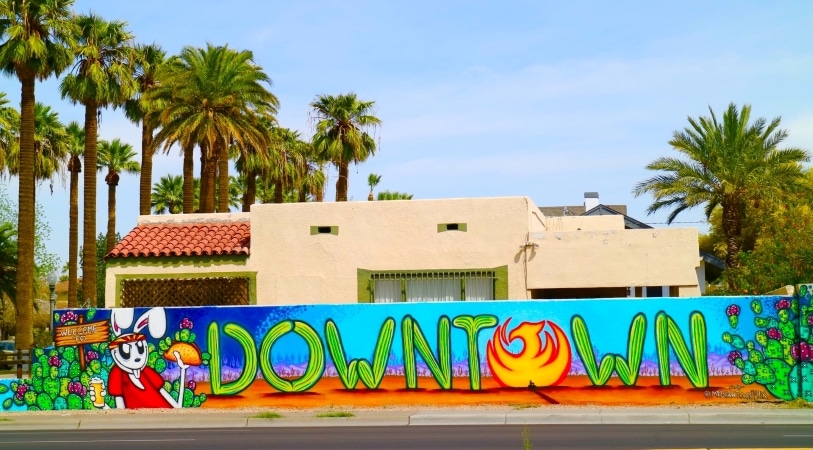 DOWNTOWN PHOENIX
Like having commerce, nightlife, restaurants, and entertainment all within reach (or walking distance)? If you want a more modern vibe and aren't ready to settle into suburban life, look no further than the heart of the city — Downtown Phoenix. From museums to concerts, this place has everything you need for a good time. And with an amazing view.
Downtown Phoenix has a few mixed-use high rises that combine posh living with professional and commercial spaces. According to data from RENTCafé from May 2021, average rent runs about $1,750 per month, although there are several more expensive options. But you can spend more on rent if you're not having to worry about a commute or car payments, right? Well, lucky for you, if you live and work in Downtown Phoenix, Bicycle Boulevard is a 4.6-mile stretch of bike lanes, shared lanes, and bike dots that cyclists use to safely commute throughout the area.
And although Downtown Phoenix is a younger, faster-paced area, there are still some excellent educational options for families. Schools in this area include the Arizona School for the Arts and Bioscience High School.
INTOWN NEIGHBORHOODS
If you need a little more space and solitude but still want to be close to the action, try one of the intown neighborhoods. The following areas have a lot of 1950s and 1960s charm (think all-things Mad Men) and are great options for those not wanting a master-planned community or shiny new development. Pour yourself an Old Fashioned, and let's take a look.
Marlen Grove: If "Keep Marlen Grove Weird" isn't a thing yet, it should be. This hipster haven is appealing to young professionals and artsy types, thanks to the easy elegance and sleek designs lining the former citrus grove streets.
Windemere: Life's breezy in this cool neighborhood, which was originally outfitted with 1,500-square-feet, three-bedroom homes. To make for more space, many residents have walled-in carports or reconfigured the footprint for a more open floor plan.
Marion Estates: This pricier development was founded in 1952 and features split-level and minimalist homes with gorgeous hilly landscapes. If you're looking for your own patch of desert in the middle of the city, this is the place for you.
Paradise Gardens: If you're a fan of the 1960s-style concrete block homes, then you'll find your own personal oasis in Paradise Gardens. These homes look anything but simple when you see their pop of color juxtaposed against the Arizona desert landscape.
And if you're looking for a place a little further outside of the city with strong school districts, things to do, and various housing options, there are several terrific suburbs in the Phoenix area.
TOP PHOENIX SUBURBS
Forget the little boxes on the hillside made with ticky tacky — Phoenix goes beyond stereotypical, cookie-cutter suburban life. Thanks to its year-round sun and high temps, it's not only a retirement paradise; it's also perfect for any nature lover.
If built-in amenities are your thing, take a closer look at one of the master-planned communities sprinkled throughout the valley, which attract both families and retirees. These large-scale neighborhoods come with recreational and commercial features like golf courses, parks, swimming pools, playgrounds, and even restaurants and shopping centers.
And whether you're in the market for old school charm or modern flare, Phoenix has an area that's right for you.
ARCADIA
Quick history lesson: Arcadia was home to the Greek gods and a place of pure, harmonious nature. Its namesake in Phoenix certainly lives up to its reputation.
Situated near Camelback Mountain and just 10 miles from downtown, Arcadia is picturesque and filled with some of the city's best dining and shopping options. Not surprisingly, it's one of the most desirable locations in Phoenix — hence why it has a spot on our best Phoenix neighborhoods map. But as is natural with highly sought-after locales, Arcadia and its perks come with a fairly high price tag.
According to realtor.com, the median listing home price in Arcadia is $1.2 million as of May 2021. And while the area is filled with plenty of large, historic, single-family homes, you can find some more moderately priced options and rental opportunities, as well, like the townhomes on Camelback Road. The stereotypical Arcadia-style home is a post-war, one-story ranch on an oversized lot, but some of these have been restored while others were torn down for custom home builds.
Another reason why families are drawn to Arcadia is because of its top-notch public school district. Arcadia is part of the Scottsdale Unified School District, which has earned some of the highest ratings in the state. For those who prefer a private education, there are several quality options, most of which are parochial, like Saint Theresa Catholic School and Christ Lutheran School.
SCOTTSDALE
Scottsdale is known as a high-end resort and golf community, which isn't a particularly bad stereotype if you ask us, but it has so much more to offer than lush fairways. With low crime rates and high-ranking schools, Scottsdale is an ideal place to raise a family. It's also been named one of the top ten retirement destinations.
It's tough to pigeon-hole Scottsdale into one particular style or category, but if you like a fresh take on the suburbs, this is the place for you. Some neighborhoods date back decades while others, like Gainey Ranch, are newer planned communities. And while there are plenty of high-end homes in the million-dollar range — especially in North Scottsdale — South Scottsdale has affordable single-family options.
If you're interested in renting and want a more bustling, urban feel, check out Downtown Scottsdale. The Scottsdale Waterfront is mixed-use high rises that offer luxe rentals, boutiques, restaurants, and more in one location. There's also a thriving arts scene. The Scottsdale Museum of Contemporary Art is located downtown, and the Scottsdale Arts Festival was ranked one of the top art fairs in the nation. Residents can check out the art for themselves every Thursday evening during the city's ArtWalk.
PARADISE VALLEY
This proclaimed "Beverly Hills of the Southwest" has its fair share of swimming pools and movie stars. And for good reason. It's Arizona's wealthiest municipality and filled with luxury golf courses, spas, and dining.
The small but mighty Paradise Valley has a population of around 14,000, with the median age just over 53. According to Zillow, as of May 2021, the typical home value is a little more than $2.4 million. That's a 23.7% increase over the previous year. It'd better be paradise, right?
To keep the heavenly theme going, Paradise Valley also has a terrific school district. The Paradise Valley Unified School District is, according to Niche, the 16th best school district in the state and the eighth best district in the state for athletes.
When they're not hitting the links, Paradise Valley residents like to visit the unique and fun McCormick-Stillman Railroad Park, take in the latest works of local Arizona artists at Cosanti, or dine at one of the area's many delicious dining establishments.
HIGH STREET
"All work and no play" has no place on High Street. Located in North Phoenix, this modern and stylish neighborhood is perfect for young professionals and anyone who thrives in a premier spot for all things restaurants, retail, and residential.
High Street was developed in 2008 and is located in the center of Desert Ridge, the largest master-planned community in Arizona. This neighborhood is great for renters who want to be in the epicenter of the action but still want to experience the best of both Phoenix and Scottsdale.
GLENDALE
Attention, sports fans! Looking for a suburb with super appeal? Look no further than Glendale, where you can find State Farm Stadium (NFL's Arizona Cardinals) and Gila River Arena (NHL's Phoenix Coyotes). You can also catch the Chicago White Sox or Los Angeles Dodgers in action here for their spring training games.
And speaking of action, if you like being active, you'll love Glendale. It has more than 75 public parks with hiking trails, swimming pools, dog parks, playgrounds, and sports fields. If movies and live music are more your thing, check out the Westgate Entertainment District.
It makes sense that Glendale is the sixth most populated city in Arizona. However, it has more affordable housing options than some of its suburban counterparts, with a median listing home price of $360,000 as of May 2021, according to realtor.com. Frank Lloyd Wright, famed architect and Arizona snowbird, had a lot of influence over the city's home styles, and some of the ranch homes in Glendale are an homage to his aesthetic.
TEMPE
If you like the feel of a college town, consider planting some roots in Tempe. Home to Arizona State University, Niche named Tempe the 7th best suburb to live in Arizona. With almost 188,000 residents, Tempe is big enough to offer lots to do while still having a quaint, suburban feel.
According to Zillow, home values in Tempe are, while more reasonable than other neighborhoods on this list, on the rise. With an increase of 21.3% over the past year, the typical home value is nearly $388,000 as of May 2021. If you're a fan of the aforementioned ranch homes, you'll find several options in Tempe, but there's also some newer construction with contemporary style.
Tempe, like others on this list, offers several high-ranking public school options, like Tempe Preparatory Academy, ASU Preparatory Academy, Pueblo Elementary School, and the Center for Educational Excellence.
For summertime fun, you can find Tempe residents at Big Surf Waterpark, which is famous for its 2.5 million–gallon Waikiki Beach Wave Pool. If you prefer natural water sources, rent a boat and explore Tempe Town Lake. And when the sun sets, the Mill Avenue District is a wealth of shopping, dining, and other nightlife options.
RELOCATING TO PHOENIX
It should be clear by now that, when it comes to relocating to Phoenix, you're not at a loss for neighborhood choices. We hope this list helps you find the spot that's perfect for your needs. Whether you're a young professional looking for easy access to entertainment or a new retiree wanting to spend more time outdoors, this city has something for everyone.
Your task now? In addition to making sure you've picked the right Phoenix neighborhood, you need to make sure you've chosen the right moving partner. PODS has moving and storage options that are customized and flexible, not one-size-fits-all. Moving across the country? We'll drive your stuff there. Scooting just a few cities over? We're a budget-friendly option for every stage of the process — not just the end. And speaking of the moving process, our blog — Containing the Chaos — is full of useful tips and tricks along the way, to make your move as smooth as possible. Valley of the Sun, here you come!
---
LB Gabriel is a freelance writer and frequent PODS blog contributor. When she's not on a deadline, you can find her on a tennis court or golf course.
Get a Quote
Choose the service you need
Related Articles
16 Pros and Cons of Living in Sierra Vista, AZ: From Idyllic Mountain Views to a Tough Housing Market
Read more
Comments
Leave a Comment
Your email address will not be published. Required fields are marked *