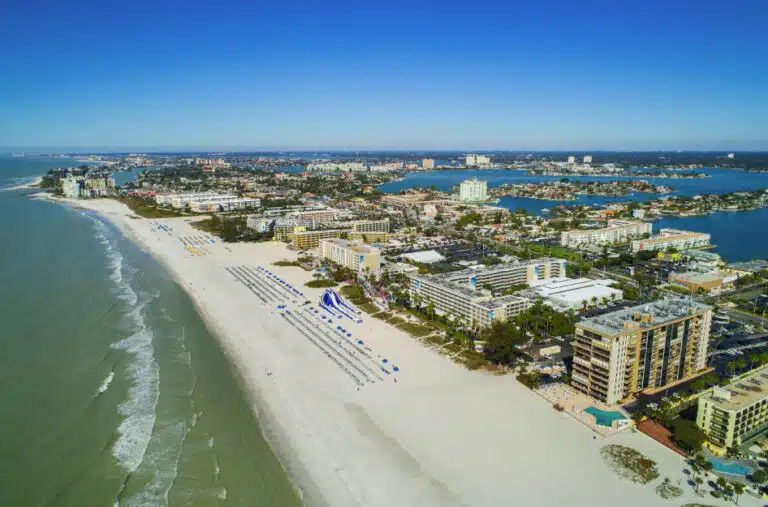 The Sunshine City: 9 Things to Know About Living in St. Petersburg, Florida
Whether you're on the hunt for an artsy locale on the coast, vibrant nightlife, sugar-sand beaches, or a walkable city center — St. Petersburg, Florida, has it all. Sunshine City (as it's called) may be known for its mild winters and popularity with retirees, but there's so much more to this Gulf Coast city. If you're considering making the move and living in St. Petersburg, Florida, here are nine things you need to know first.
1. Living in St. Petersburg, Florida — at a glance
St. Petersburg is part of Tampa Bay, a tri-city metro region on the Gulf of Mexico in West Central Florida. The other two cities are Clearwater (just north of St. Petersburg) and Tampa (across the bay). The city of St. Pete is about 62 square miles in size.
The population of St. Petersburg is estimated at about 258,200 making it the fifth most populated city in Florida. About 80 percent of the city's residents are under 65 years old.
The weather in St. Petersburg, FL, isn't for the faint of heart. Winters are mild, with temperatures averaging between the mid 50s and low 70s. Summers are stormy, hot, and humid, with temperatures rising into the 90s. There's also the risk of tropical storms and hurricanes during the Atlantic hurricane season which runs from June to November each year.
2. Easy access to the Gulf
Between St. Petersburg and neighboring Clearwater, you'll find 35 miles of the best beaches in the country, giving you easy access to the soft, sugar sand that this area is known for. It's also home to three of the top beaches in the country — Caladesi Island, Clearwater Beach, and St. Pete Beach. Here's a look at some of our favorite beaches around St. Petersburg, Florida.
St. Pete Beach
Sunshine City's popular St. Pete Beach was dubbed one the best beaches in the U.S. by Tripadvisor in 2022, 2021, and 2020.
From the historic Don CeSar to the fun-filled TradeWinds Island Resorts, there's no shortage of fun to be found here. St. Petersburg makes up the southern tip of a peninsula with the Gulf of Mexico to the west and Tampa Bay to the east. Residents are never far from a beach, but if you're looking for a quiet weekend stay within a block of the sandy dunes, any number of the beach's small inns or hotels will work beautifully. There are also plenty of shops, attractions, and restaurants to explore.
Clearwater Beach
Clearwater Beach has been named America's number one beach several times in recent years, and it's no wonder. The sands are like sugar, and the water is the perfect temperature for swimming, skimboarding, or bodysurfing. Clearwater Beach is lined with amazing on-sand restaurants where you can listen to live music while chowing down on fresh caught grouper while the sun sets over the Gulf. Dolphin sightings are relatively common and beach walks are a must — as a matter of fact, walk far enough north and you'll find yourself at the next beach on our list. 
Caladesi Island
This state park landed on Dr. Beach's list of Top 10 Beaches in 2022, 2021, 2019, and 2016. Accessible only by boat, kayak, ferry, or a long walk north from Clearwater beach, Caladesi Island is the perfect way to spend your day. Once you're there, you can explore the paddling trail through an extensive mangrove forest, go for a hike, fish, search for shells, or simply enjoy the surf and sun. Visitors have access to on-island concession, along with public restrooms and outdoor showers to rinse off and get changed in once you finish up for the day.
Madeira
This 2.5-mile stretch of sand was named the ninth-best beach in the U.S. by Tripadvisor in 2021, and rightly so. It's a bustling beach, but it's also home to John's Pass Village & Boardwalk, a popular destination with over 100 shops and restaurants. If you're not in the mood to shop, you can hang around and watch for dolphins in the area, or explore some of the art galleries.
The hustle and bustle of popular beaches aren't for everyone, though. Here are a few quiet spots the locals love:
Indian Shores and Indian Rocks
If you want access to a quiet beach with plenty of food and drink options, Indian Shores and Indian Rocks are your best bet. With 27 beach access points (26 of those being in Indian Rocks), this barrier island coastline is perfect for a quiet day at the beach, a magical sunset, and then a lively night out at local restaurants and bars.
Honeymoon Island
Honeymoon Island is a state park located in Dunedin, just a little ways north of St. Petersburg. Here you'll have easy access to more than four miles of beaches, a three-mile hiking trail, and ample fishing, shelling, and bird-watching opportunities. You can even bring the pup along to hang out on the island's dog beach. Wanna mix it up? No problem! There's a ferry in the park that'll take you to nearby Caladesi Island.
Belleair Beach
With Belleair Beach's 4,500 feet of secluded coastline, you'll have no problem living it up like a local. You can park at the beach's access points and follow the dune trails right out to the beach. This beach is also located along residential areas, so you'll be able to catch a view of some of the nicest beach homes in Tampa Bay.
3. Cost of living
When it comes to Tampa Bay, the cost of living is pretty close to the national average, but there is some variance between the three cities and St. Pete sits neatly in the middle. The cost of living in St. Petersburg, Florida, is 3.2 percent lower than in Tampa, and 1.3 percent higher than in Clearwater. 
Q: Is it expensive to live in St. Petersburg, Florida?
A: St. Petersburg is one of the cheaper metro areas to live in Florida with a cost of living only 0.4 percent above the nation's average. By comparison, Miami's cost of living is 22.4 percent higher than the national average. But, know that the cost of living is increasing each year as more people move to the area.
4. Growing housing market
Plenty of people are moving to Florida, but how is the real estate market? Here's what you need to know about housing costs in St. Petersburg, Florida..
The city's typical home value is $349,076.
That number marks an almost 14 percent increase in the average home value over the last year. Most homes go to pending within 25 days of being on the market.
Q: Is St. Petersburg good for retirees?
A: St. Petersburg is a great place for retirees. With nearly 20 percent of the population being 65 years or older, there's a large community of retirement-age residents and myriad activities to keep you busy whatever your interests are. From beaches and water activities to state parks and live entertainment, you couldn't have a bad time if you tried. Not to mention, Florida was named the #1 Best State to Retire in 2023 due to its mild weather and lack of a state income tax.
5. What about the rental market?
About 38 percent of residents in St. Pete rent rather than own their homes. Despite the fact that St. Petersburg has a lower cost of living than Tampa, its rentals tend to cost a bit more on average. Still, apartment rents vary significantly depending on the neighborhood, so it's possible to find something that fits whatever budget you're working with. Here's a quick look at the rental market in St. Petersburg, Florida.
A one-bedroom apartment in St. Petersburg will cost $1,969 a month, on average.
If you want to live downtown, the same sized apartment will average $3,229, and in Historic Uptown, you're looking at an average of $2,544.
Some of the most affordable neighborhoods in the city are Casler Heights and Highland Oaks, where the average rent is $1,455 in both communities.
Q: What is living in St. Petersburg, Florida, like?
A: Living in St. Petersburg gives you easy access to the Gulf and its beaches as well as all the comforts of big-city living. In just 20 minutes, locals can walk from the beach in Downtown's Vinoy Park to the AMC movie theater on Beach Drive. The city is also home to amazing restaurants, performance venues, and world-renowned art museums like the Museum of Fine Arts and the Dali. Not to mention Tropicana Field, home to Major League Baseball's Tampa Bay Rays.
6. There are great neighborhoods
Before you start living in St. Petersburg, FL, it's important to know the neighborhood you'd like to live in. There are so many nice places to live in St. Pete that we couldn't possibly cover them all, so we're just going to focus on three of them.
Historic Old Northeast
Of St. Petersburg's neighborhoods, the Old Northeast is one of the most sought-after. Nestled next to the water and within walking distance of downtown, living in this neighborhood is a treat no matter your age.
The area is quiet, cozy, and home to nearby coffee shops like Black Crow, and just a short distance away, you'll find downtown and all it has to offer — easy access to Vinoy Park, St. Pete Pier, entertainment and restaurants galore.
Historic Kenwood
If you're seeking out suburban life, Kenwood is one of the best neighborhoods in the city. With an active community boasting plenty of events, easy access to parks, and a diverse, inclusive community, it's an artist's haven and a great place to settle down. In addition to being a historic neighborhood with beautiful restored or renovated homes, Kenwood is only 2.5 miles from downtown. 
Grand Central District
With easy access to the city's bustling downtown area, this artsy neighborhood is full of life and close to the action, making it a great place for students and young professionals alike. There are even some 55+ communities sprinkled in the area for retirees.
Grand Central District is known as St. Pete's LGBTQ+ haven. This neighborhood alone has over 450 locally owned, independent businesses, merchants, bars, restaurants, art galleries, and more — including over 150 small LGBTQ+ owned, operated, and ally businesses. Daily, weekly, and annual happenings provide plenty of events for the community to enjoy throughout the year. With murals lining the streets and dog-friendly restaurants between them, this vibrant and inclusive community is a great place for anyone to explore.
7. Job market
St. Petersburg (along with Tampa) was named one of the best cities for job seekers in 2022. With Fortune 500 companies like Raymond James, HSN, and Jabil nearby, along with a growing list of startups, St. Petersburg has become one of the top places for workforce recruitment.
The city is also home to both the University of South Florida and Eckerd College, providing abundant opportunities for jobs in education, but also opportunities upon graduation. Those in the medical field can transition to the workforce via St. Anthony's Hospital and Johns Hopkins All Children's Hospital.
Q: Should I live in Tampa or St. Petersburg?
A: One man's St. Pete is another man's Tampa — or rather, that depends on what you're looking for. Both these cities have bustling food and arts scenes, but if you want easy access to the Gulf Coast, then St. Petersburg is the ticket. If you'd rather explore the hustle and bustle of Downtown Tampa and Ybor City, then Tampa is the place to be. Keep in mind that the crime rates are lower in Tampa while the cost of living is lower in St. Pete. They each come with their own pros and cons, and it's essential to weigh them out before making your final decision.
8. Transportation and commute
Having a car is your best bet  in St. Petersburg, but you can get by with some patience. PSTA buses run throughout the city, and the Downtown Looper Trolley is the best option for getting around downtown. Getting to the beaches and back downtown is also easy with the city's new SunRunner Bus Rapid Transit.
If you don't live in or near downtown, though, the city is car-reliant. Parking is relatively inexpensive and easy to find throughout the city. The roads also run on a grid system with two major highways (I-75 and I-275) connecting the surrounding areas, so navigation is simple and efficient.
9. There are plenty of fun things to do in St. Petersburg, Florida
Whether you want to watch the Lightning at Ferg's or explore the surreal works at the world-renowned Dalí Museum, St. Petersburg has no shortage of activities to offer.
Sports
If you're a sports fan, you know St. Petersburg boasts a great scene.
The city is home to Tropicana Field, the home field of the Tampa Bay Rays, and also Al Lang Stadium, home of the Tampa Bay Rowdies. If you'd rather watch the Bucs at Raymond James Stadium or the Lightning at Amalie Arena, both are just across the causeway.
If you can't make it to a game in person, there are plenty of bars and restaurants where you can settle in and enjoy the broadcast games. Top picks include Ferg's and Engine No. 9.
Dining and restaurants in St. Petersburg, FL
Not only is St. Petersburg home to popular sports bars like Ferg's, but you'll also have easy access to local eateries and restaurants belonging to James Beard-nominated chefs. Local publications like Creative Loafing Tampa Bay can help you keep up with the city's latest food news while exploring restaurants and reading local reviews is made easy with stpetefoodies Instagram and Facebook.
Outdoors
You know about the beaches, but do you know about all the parks and trails you can access in St. Petersburg and nearby? Here are a few of the most popular ones to visit.
Vinoy Park
Boyd Hill Nature Preserve
Weedon Island Preserve
Sawgrass Lake Park
Skyway Fishing Pier
Boca Ciega Millennium State Park
Poynter Park
If you'd like a bike trail to explore, you can also check out the Pinellas Trail that runs from Tarpon Springs in the north to St. Pete in the south.
Thriving arts scene
Whether you want to explore street art murals or visit top museums, St. Pete is the place to be. You can also head over to Mahaffey Theater or the St. Pete Pier for shows and events throughout the year. Here are a few of the city's best museums we recommend checking out.
The Dalí Museum
The Museum of Fine Arts
The James Museum
Museum of the American Arts & Crafts Movement
You can also find art galleries, like the Chihuly Collection and The Studio@620, as well as works from local artists at the Gulfport Art Walk just 15 minutes from downtown.
Q: Is Saint Petersburg, Florida, a good place to live?
A: With its proximity to art museums, sports arenas, and concert venues all right next to the Gulf Coast, St. Petersburg is a great place to live. There are plenty of things to do outdoors, and a lot of ways to cool off during the summer months once it starts warming up.
Making your Move to the Sunshine City
Making the decision to move to St. Petersburg is the easy part — getting there is the trick. Luckily, you can simplify your move by using PODS.
Rent a container and have it delivered to your driveway, ready for you to load at your own pace. Need help with the heavy lifting? PODS can even connect you with local packing and loading services. When you're ready, your container will be picked up and delivered right to your new St. Petersburg home, or you can keep it in a PODS Storage Center until you're ready for it.
The Sunshine City is calling your name. Check out the rest of the PODS Blog for more tips on how to get there.
---
Katlynn Mullins is a St. Petersburg-based freelance writer whose only roommate is their cat. A frequent PODS Blog contributor, Katlynn loves finding ways to make moving into new spaces simple and stress-free. Between yearly apartment hopping, you can find them on the waterfront or experimenting with new ways to make coffee.
Get a Quote
Choose the service you need
Comments
Leave a Comment
Your email address will not be published. Required fields are marked *