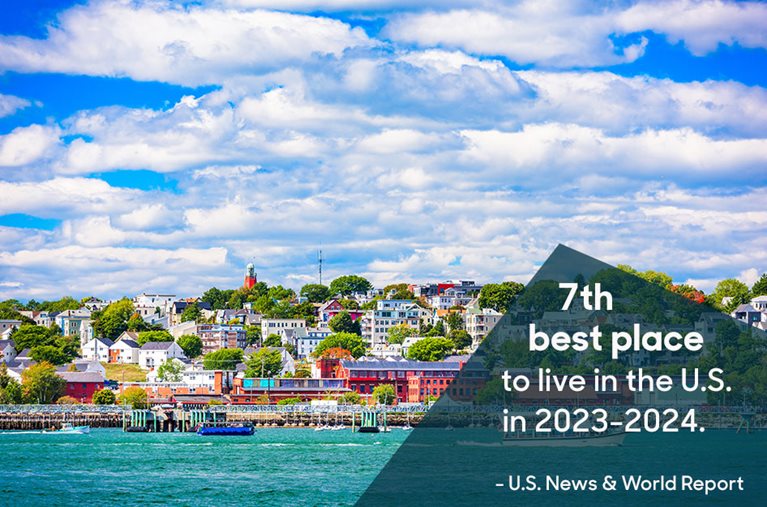 11 Things You Should Know About Living in Portland, Maine
If you're considering moving to Portland, Maine (not to be confused with the city in Oregon), then you probably already have an inkling that it's a special place. And you're right! A community filled with artists and foodies, beachcombers and winter lovers, Portland's a city where nightlife, shopping, and tourism abound. But it's also a city that easily keeps its small-town feel. That duality is what living in Portland, Maine, is all about.
Portland residents can see the area blossom with tourism in the summer as the waterfront comes to life with sailing, outdoor events, and lobster roll munching. And in the winter, as the snow settles on the cobblestone streets of Old Port, you can relish in the beauty of the area that typically only year-round Mainers get the chance to experience.
What else makes Portland stand out from other cities? Let's take a deeper dive into what it's like living in Portland, Maine.
Portland, ME – at a Glance
Though Maine is the northernmost New England state, Portland hugs the southern portion of the state's coastline — a quick two-hour drive down to Boston
It may have a neighborly, down-home feel thanks to its friendly folk, but Portland is actually the largest city in Maine by population. Approximately 68,400 people call Portland home.
At just about 21 square miles, Portland is large enough to provide ample space but small enough that commutes aren't too bad.
The median age in Portland is just under 37, with about 16 percent of the population under 18 years old and about 15 percent who are 65 or older.
Q: Is Portland, Maine, a good place to live?
A: Portland, Maine, is a nice place to live, absolutely. In fact, it is one of the top 10 places to live in the country, according to U.S. News & World Report's 2023 ranking. Brimming with coastal scenery, city living, and small-town charm, the northeastern port has something for everyone.
1. The cost of living in Portland, Maine, is close to the national average
Is it expensive to live in Portland, Maine? Well, that depends on where you're coming from and what you're used to paying. The good news? Portland's cost of living is only 15 percent above the national average. For comparison, the cost of living in Los Angeles, California, is a whopping 51 percent above the national average!
2. Renting an apartment in Portland is more affordable than in larger cities
How much money do you need to live comfortably in Portland, Maine? The median household income in Portland is about $66,000. How far does that take you in terms of living there? Well, if you're renting, the average rate is $1,750 per month for just over 670 square feet of space — a breath of fresh air for big-city dwellers used to living in a shoebox for the same price. There are even better deals to be had, though: Nearly 40 percent of apartments for rent fall into the $1,001-$1,500 monthly range.
3. The Portland housing market is competitive — but worth it
As for investing in property (the owner-occupied housing rate in Portland is nearly 47 percent, after all), the typical home value in Portland is currently hovering around $529,200. As more and more people migrate to Portland and homes fill up, however, real estate prices tend to climb. From July 2022 to July 2023, the typical home value went up 5.5 percent, according to Zillow estimates. Not to mention, houses rarely linger on the market for long — as of July 2023, the average number of days before going under contract is a mere week (yes, seven days!).
4. There are a myriad of great beaches in Portland, Maine
Given its waterside location, Portland offers unbeatable access to several hot-weather hangouts. Watch the popular beaches and historic Old Port fill up with daytrippers during the summer months, and when the wintry wind comes around, bundle up and enjoy the peaceful nature of these sites when the tourism winds down.
Eastern Promenade
Yes, its vistas are as grand as the name suggests. The two-mile amble along this stretch of coastline consists of two parallel paved and stone dust paths, so you can tailor your stroll according to your footwear.
East End Beach
Follow the Promenade long enough and you'll wind up at East End Beach, Portland's sole public beach. Slip into a swimsuit and take to the water for a swim or kayak excursion, or stick to the shore for some sandcastle construction or a stroll along the pebble-dotted beach.
Higgins Beach
A 20-minute drive south of the city, this Scarborough gem boasts a soft sweep of sand for stretching out — as long as you time the tide right. In the water, expect to see wetsuit-clad surfers making the most of the waves.
Old Orchard Beach
Join the masses at Old Orchard, a town whose modest population grows exponentially in the summer months when out-of-towners flock to the beach. Take to the pier for a range of restaurants and bars or Palace Playland, the beachside amusement park, for a spin on the ferris wheel. Or head to the northern part of the seven-mile shoreline for fewer crowds and softer sand.
Willard Beach
Small but lovely, this South Portland beach offers free parking, outdoor showers, and a snack shack to make the most of a sunny afternoon.
Scarborough Beach
Ten miles outside of Portland, this state park fills up quickly in the summer, so make sure to arrive bright and early. (Or take advantage of free street parking and an uncrowded beach during the off-season.) Big waves are ideal for body surfing, and nearby eateries are perfect for picnicking.
5. From East End to West End, living in Portland, Maine, means exploring its rich range of neighborhoods
As Maine's most populous city, Portland is composed of 21 rich and distinct neighborhoods — all of which merit exploring. To kick off your discovery, though, here's a brief snapshot of a few of its most popular communities. (To get a sense of how they all come together, take a peek at this handy map of Portland, Maine, neighborhoods.)
West End
Those partial to Victorian architecture will swoon over this enclave. Brick homes laced with green ivy and gorgeous private gardens make for a scenic stroll around the neighborhood.
Downtown
If you want to be in the heart of the activity, head downtown. Walk down Congress Street to enjoy brunch at a posh hotel, delicious vegetarian cuisine, art galleries filled with local talent, and much more.
East End
This area occupies the northeastern section of the peninsula. Home to Munjoy Hill, East End Beach, the Portland Observatory (a National Historic Landmark), and plenty of coffee shops and cafes.
6. The Portland public school system is solid
With above-average schools and excellent teachers, you can feel good about public schools in Portland. And to top it off, Portland Public Schools is the most diverse district in the state and ranked 18th best overall.
7. The weather in Portland, Maine, is typical of New England
Let's be clear: You'll need your warmest coat to weather the winter in Portland. Snowfall averages about 60 inches per year — more than twice the U.S. average of 28 inches. Likewise, December through February temperatures easily dip below 20°F, but no worries! Just slip into a pair of waterproof Bean Boots and relish the beauty of frosty cobblestone streets and wreath-dotted doorways as you walk through the city.
During the June to August warm season — which doubles as the high tourism season — temperatures climb into the 70s, making for optimal conditions for chowing down on lobster rolls by the waterfront or packing a bag for a Portland, Maine, beach day.
Q: Are winters harsh in Portland, Maine?
A: Living in Portland, Maine, typically means weathering cold, snowy winters. Snowfall averages 60 inches per year, and temperatures easily dip below 20°F, so you'll want to invest in a good down jacket and pair of Bean Boots. The good news is, the zealous tourism of the summer subsides in the winter, so you can enjoy the snowy, cobblestone streets in peace.
8. The Portland job market is in good health
Even those moving to Portland, Maine, without a job will likely find one without too much trouble upon arrival. The unemployment rate in July 2023 was a low 2.1 percent, compared to the national 3.5 percent in the same month. Portland's 2021 median household income was slightly less than the national median: $66,109 compared to $76,330 nationally. But as of late, the job market is more open than ever. U.S. News and World Report dubbed Portland one of the best places for young professionals to live, and WalletHub concurs, naming it one of the best cities for jobs, period.
9. Eat your heart out in this restaurant city
If the first thing you associate with Portland is the waterfront, then the close second is the food scene. It's been named "Restaurant City of the Year" by Bon Appétit for a reason. Where else in New England can you score a bagel smeared with cream cheese and smoked salmon (Rose Foods), hand-cut Belgian fries fried in duck fat (Duckfat), Colombiano hot dogs topped with queso fresco (Quiero Cafe), and potato donuts in flavors like coffee brandy and pomegranate (The Holy Donut) — all within walking distance?
10. From planes to trains to automobiles, Portland has plenty of ways to get around
Though buses run throughout the city, walking or biking around Portland is scenic and convenient. As for crossing the city limits? You have a few options:
Amtrak
The Downeaster train line will take you up to Brunswick in 45 minutes or down to Boston in about 3.5 hours. And free Wi-Fi on board means the ride flies by while you knock out some work.
A 15-minute drive from downtown, this airport offers nonstop flights to sites such as Atlanta, Chicago, New York, Philadelphia, and Washington, D.C.
Concord Coach Lines
This bus line can shuttle you to Boston (including directly to Logan Airport, where you can catch an international flight), New Hampshire, or New York.
11. Arts, brews, and island-hopping: These are the top things to do in Portland, Maine
Whether partaking in some local shopping in Old Port, sunbathing on the shore, or indulging in one of the amazing Portland, Maine, restaurants, there's no shortage of ways to keep busy and enjoy yourself. Stuck on how to spend a lazy weekend day? Try one of these local treasures:
Explore the Arts District
Portland is home to reams of talented artists, which is abundantly clear when you take to the Arts District. This section of the city center is composed of the Maine College of Art & Design as well as the Portland Museum of Art.
Wander Around the Old Port
Cobblestone alleyways dotted with independently owned shops, portside lobster roll shacks, and glistening views of the waterfront all around? It simply doesn't get more idyllic.
Sip a Craft Brew
Take a hoppy tasting tour of the city by visiting its various breweries, such as Allagash, where you can imbibe some Belgian-style witbier right where it's made.
Bar Crawl Around the City
With great food comes great cocktails. Sample Portland's mixology for yourself by doing a DIY bar crawl — in the summer, you'll surely be joined by giddy groups of bachelor and bachelorette parties. Whatever you do, be sure to ask the locals where you can find Lincolns, a true speakeasy-style bar with cash-only drinks that will only cost you just $5.
Take an Island Trip
Board the Casco Bay Ferry to float over to Peaks Island. Once there, you can bike, kayak, and check out the Umbrella Cover Museum — a quirky attraction that pays homage to the little sleeves that keep umbrellas neat and tidy.
Q: What are the pros and cons of living in Portland, Maine?
A: Overall, living in Portland, Maine, is wonderful. You have access to a delicious food scene, fun waterfront, walkable downtown, and a bunch of beautiful beaches. The downsides, though, include a competitive housing market, relatively high cost of living, and cold, often snowy winters.
Moving to Portland, Maine
Already picturing yourself in Portland, strolling down the cobblestone streets, lobster roll in hand, looking for the perfect bench to admire the Atlantic's crashing waves? Whether it's a post-retirement move, you're relocating for a new job, or you're just ready for a change in scenery, moving to Portland just may prove to be the perfect move.
For specific tips on packing your bags (and getting settled in as quickly as possible), peruse the PODS Blog, where you'll find professional advice on decluttering and packing hacks from seasoned movers.
---
Sofia Rivera is a Boston-based lifestyle editor and frequent contributor to the PODS Blog. Her work has appeared in Boston magazine, Apartment Therapy, and more. You can most often find her redecorating her apartment, trying out a new recipe, or trekking all over the city.
Get a Quote
Choose the service you need
Comments
Leave a Comment
Your email address will not be published. Required fields are marked *