Experiential marketing via brand activations has been on the rise over the past decade. Back in 2017, experiential marketing company Freeman was already reporting that CMOs spent 21 to 50 percent of their budgets on experiential campaigns. In 2023, they are no longer just the "future of marketing" but a current phenomenon.
Now, you might be asking yourself, "what is brand activation?" While there are many definitions to reference, the term refers to using a campaign, event, or experience to build an emotional connection between a brand and its target consumers.
Activations and other immersive marketing events offer brands the opportunity to share their story, personality, and mission alongside their products in order to win over consumers.
Read on to learn about some of the latest experiential marketing and brand activation trends, and how incorporating these into your marketing mix can help benefit your company's bottom line.
Top Experiential Marketing Trends for Brand Activations in 2023
Here are a few emerging trends that should be on your radar:
Highly-themed, immersive pop-up spaces, and social media photo ops
Creating an immersive environment through the use of art installations
Hosting a live event
Incorporating virtual reality and/or augmented reality elements
Participating in or supporting socially conscious events
Creating an interactive video or digital game content
Leveraging the power of social media
Encouraging people to compete in challenges
What types of companies benefit from this strategy?
Contrary to what many think, brand activations are not limited to retail companies.
Tourism boards, health services, restaurants, bars, hotels, tech companies, music companies, artists, social movements, government agencies, and more are wise to invest in experiential marketing.
How the Pandemic Affected Brand Activations
It's impossible to look at the growing experiential marketing trends without addressing the pandemic's impact on live events and commerce. Closed storefronts and quick jumps to e-commerce limited the face-to-face access brands had with their consumers.
In response, many brands turned toward experiential marketing, both throwing socially distanced outdoor events and online campaigns, to stay relevant and reach consumers.
Though it happened in 2019 before the pandemic, activations like Volkswagen's Piano Staircase highlight how it is possible to reach consumers without even holding an active event.
Volkswagen turned a subway staircase into a functioning piano, with each stair playing a different note as commuters walked up or down the stairs.
During the pandemic, countless brands moved their activations online by creating virtual events, interactive video content, games, and phone apps. Bands streamed concerts, conferences sent out boxes of swag to attendees, and some events featured follow-along classes or DIY projects.
How Experiential Marketing is Changing: The Future of Brand Activations
Branded events pop up on a regular basis as companies take the idea of activations to new and creative levels.
Previously, experiential marketing campaigns have mainly focused on in-person events, like when an IKEA in France created a climbing wall studded with furniture or when the politically-focused Netflix series "House of Cards" disrupted a real-life GOP debate by creating its own campaign center.
In the wake of the pandemic and with the uptick in digital interaction, the future of brand activations lies in a hybridized approach that incorporates live experiences with online interactions.
In 2020, Dunkin' Donuts launched its Refreshers RV sweepstakes, asking entrants to create content around a theme and then share it on social channels with specific branded hashtags. The prize? A weeklong RV trip inside a Dunkin' Donuts branded RV loaded with Dunkin' Donuts products.
More recently, you may have noticed a lot of social media buzz for Barbie, a movie based on the beloved doll. One of the more popular campaigns allowed users to create their own Barbie-themed selfies. This not only generated awareness for the film, it allowed people to see themselves as part of it, combining the experiential with the subversive.
Experiential marketing isn't just about reaching the highest number of participants or followers. You can gain reach and still offer an intimate experience. For example, Airbnb, Will Smith, and the owner of The Fresh Prince of Bel-Air house joined forces to celebrate the show's 30th anniversary and let people rent the house for just $30 for a few nights.
Activations that offer up a way for the consumer to relive the experience at a later date either through branded swag, social media posts, or through a repeat event such as festivals, touring experiences, entertainment, or seasonal pop-ups will likely become the norm and offer the most ROI.
Why is there a rise in experiential marketing?

With social media, streaming services, and other entertainment options becoming more and more easily available, people are inundated with advertising. Some estimates say that we see, on average, 6,000 ads a day. Because of the advertising overload, either we mentally skip over the ad or we distrust it because of its authenticity. With this in mind, brands now have to get even more creative with the way they market themselves and their products.
Leveraging Social Media for Experiential Marketing
As you can see, social media is typically the preferred platform for brand activations, as it has an impressive reach and the possibility for campaigns to "go viral," or, in layman's terms, spread quickly across the internet.
In the past, brands have leveraged Instagram by reaching consumers through the platform's influencers who functioned as a trusted go-between relaying their firsthand experience of a product or service.
More recently, TikTok has taken over the influencer scene with users and brands both taking to the platform to create highly engaging content — from transparent reviews and product comparisons to participation in viral challenges or sweepstakes.
A good example of an online-only campaign is when Procter & Gamble partnered with a TikTok influencer to create a viral dance promoting social distancing.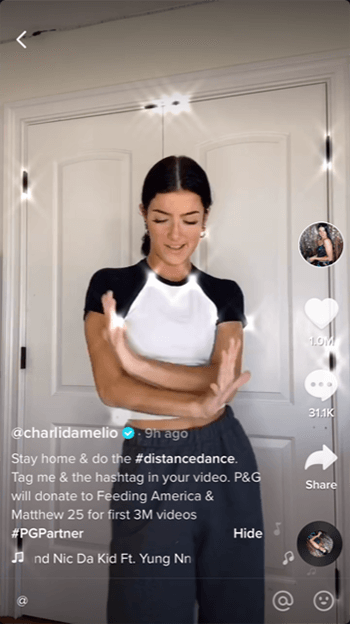 Q: Does Gen Z like experiential marketing?
A: Activations and experiential marketing campaigns have always appealed more heavily to younger consumers, such as millennials and Gen Z. Both are digitally savvy, value memorable experiences, and they don't want to feel like they are the target of a marketing campaign — they want to feel like they are a part of it.
Beauty brands have eagerly jumped on the TikTok bandwagon, too. E.l.f. Cosmetic's #eyeslipsface challenge has been called the most influential campaign on TikTok. The campaign was the first to feature an original song (yes, called "eyes lips face") and showed off users' dance moves. The point? To reach out to a Gen Z audience and create brand awareness for the name (e.l.f. stands for 'eyes, lips, face).
Don't forget about social networks geared to younger users, too. Roblox is a social gaming platform that boasts more than 52 million daily users. Through the app, users can not just play games but create them and interact with others.
These games are called "experiences," and one such experience was a Burrito Builder launched by Chipotle in honor of National Burrito Day. Players rolled burritos and earned Burrito Bucks, which they could use as in-game currency. The first 100,000 players who made burritos received a free entree through the Chipotle app.
This is a great example of reaching a target audience in an incredibly effective way. It not only makes you want a real burrito after creating a virtual one, it guides users toward the Chipotle app.
A platform similar to Roblox is Fortnite, another communal online video game with 350 million monthly active users. Taking advantage of this large reach, Ariana Grande partnered with the platform to headline The Fornite Rift Tour, which was held in the metaverse. Grande's performance garnered a massive amount of interest amongst her fans and allowed people to easily join in on the fun from any location with an internet connection.
Why Invest in Immersive Marketing
One of the main goals of brand activations is to increase revenue. As reported by Finances Online, 98 percent of consumers feel more inclined to purchase after attending an activation, and 65 percent of brands see a direct correlation between sales and experiential marketing efforts.
However, as we see in the Procter & Gamble example, experiential marketing isn't always about a direct sale. Creating the #DistanceDance allowed the brand to align itself with popular charities and appeal to a younger audience through the TikTok dance trend — all in the name of generating awareness around their brand.
Inspired to create a new experiential marketing event? Consider PODS your go-to solution to help you get it done. Our portable storage containers can be used for inventory management and event supply storage.
Consider transforming our containers into branded pop-up shops or interactive spaces for social media photo opps. We've even supplied the space for a professional hockey team to create a mobile pop-up merch store.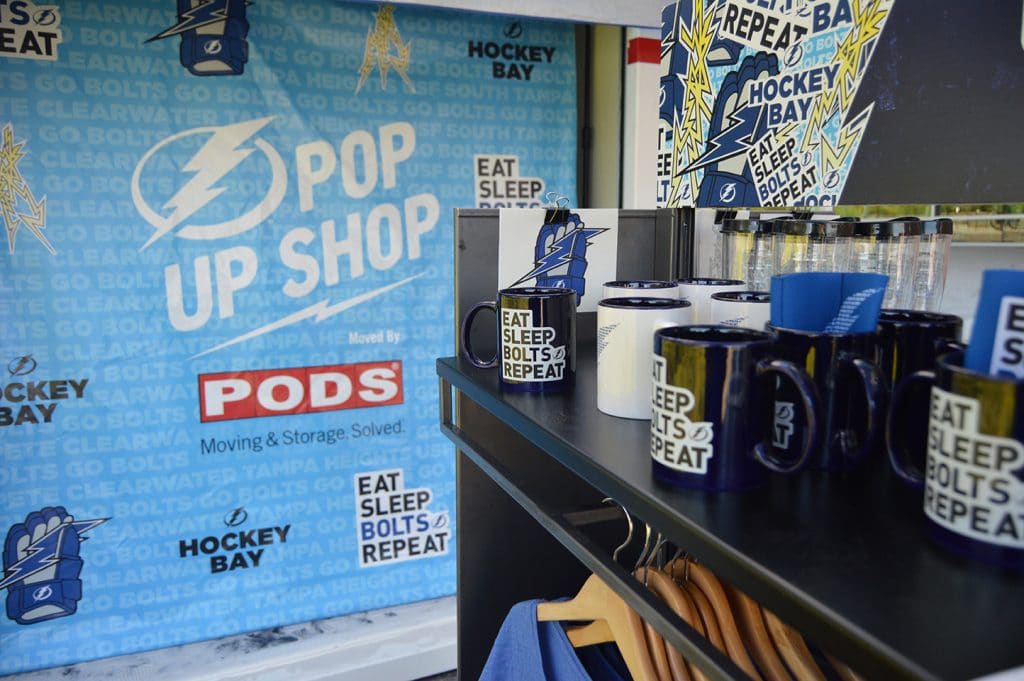 Learn more about how to create a branded pop-up space with PODs for your next experiential marketing campaign by checking out our solutions for pop-ups.
Originally published April 16, 2019 3:26 PM, updated May 31 2021
Get a Quote
Choose the service you need
Comments
Leave a Comment
Your email address will not be published. Required fields are marked *