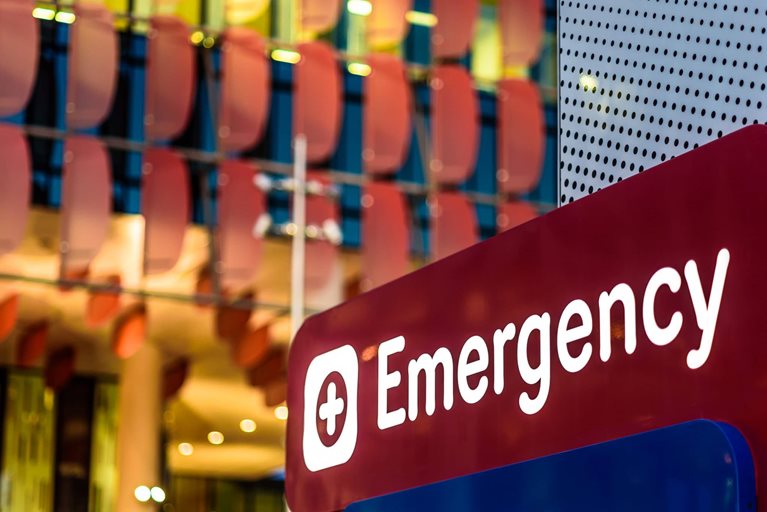 Developing an Emergency Preparedness Plan: A Checklist for Health Facilities
Health facilities around the nation coping with the coronavirus virus have had to make emergency preparedness plans on the fly. Many struggled to maintain sufficient inventory of personal protective equipment, and quickly went through the logistics of setting up field hospitals in parks and sports facilities.
Creating additional bed space and purchasing more face masks aren't the only hurdles hospitals and other institutions faced at this time. Healthcare facilities are affected by the disaster itself, such as nurses falling ill. But unlike other places of business, the public relies on health facilities for critical care during a crisis. Healthcare administrators need to prepare for supporting their staff while also supporting the public need.
Preparedness has no greater value for healthcare facilities than during a crisis. Common issues that health care facilities can experience are overwhelmed and overworked staff, limited staff due to illnesses, a lack of protective gear, hiccups in the hospital supply chain for delivering crucial medicines, and far more.
When a healthcare system stutters, lives can be lost. But with better emergency preparedness, health facilities can better meet their mission of saving and protecting lives. Here are things every healthcare facility should have in their emergency preparedness plan.
Emergency Preparedness Funding
Healthcare budgets are difficult enough in good times, so saving money for a crisis can seem low-priority. "In the view of a hospital executive facing tight budgets, it is hard to make the business case for preparedness," states the 2017 study "Healthcare Preparedness: Saving Lives" in the journal Health Security.
The Health Security study suggests creating community-based funding mechanisms to fund disaster planning. "Businesses, philanthropies, and other private entities should be engaged as partners with governments in promoting disaster resilience at the community level," the study recommends.
While the ideal funding mechanism for each community may be unique to them, one example could be a program of competitive emergency preparedness grants awarded to local organizations and funded by federal, state, private, and philanthropic sources. Grants of this nature already exist, such as those from the federal Hospital Preparedness Program.
Actionable steps: Have staff research such ideas for creative funding options and create a plan to enact them immediately when crisis hits.
Expand Patient Care Capacity
Disasters, from public health emergencies to hurricanes, can push the capacity of hospitals and other care facilities to their limits. The U.S. Department of Homeland Security's (DHS) "Emergency Management Programs for Healthcare Facilities" best practices recommend creating a plan for patient care that includes the continued care of existing patients, as well as the registration, triage, treatment, and tracking of incoming patients.
A critical component of this is preparing for surge capacity. The World ˚Health Organization recommends healthcare facilities take the following steps to estimate and prepare for a surge:
Calculate current max capacity, based on beds and both human and essential resources
Estimate potential increase in demand based on potential disasters
Identify ways to expand inpatient capacity, such as shifting inventory or equipment off-site
Designate areas for patient care overflow
Create a plan to outsource non-critical patients to alternative treatment sites
Work with local authorities to identify local sites that can convert into patient care units
Make a plan to prioritize or cancel nonessential healthcare services
Create arrangements to adapt admission and discharge criteria as needed
Designate an area as a potential morgue and work with post-mortem care partners
Flexible, on-site storage can be an important part of expanding inpatient capacity. Moving supplies, unused equipment, and nonessential furniture into PODS storage containers can help healthcare facilities free up more space for patient care. Another option is to simply use the storage containers as temporary pop-up health facilities to safely treat additional patients.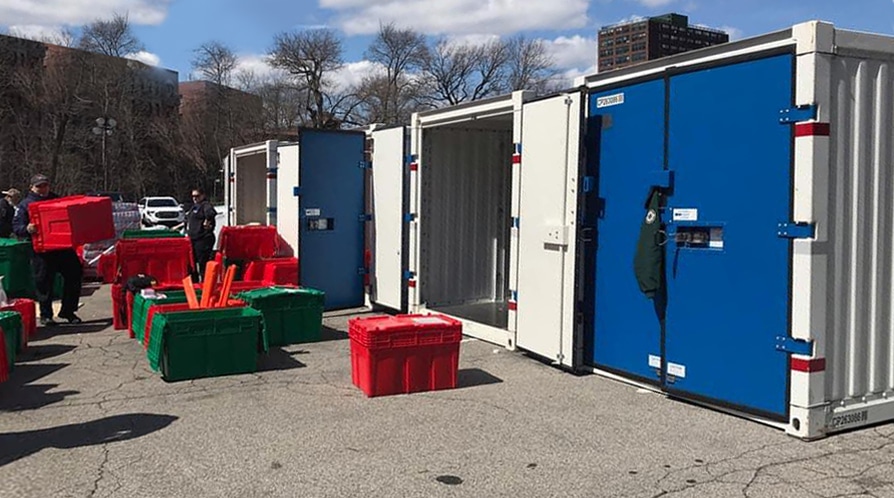 Actionable steps: Compile gear, paperwork, and other essentials your team doesn't need into bins and boxes, and work with PODS to store them off-site immediately when a crisis hits. Or, create pop-up health facilities to treat patients with storage containers.
Create a Communications Plan
Accurate, responsive, and timely communication is never more important for health facilities than during a crisis as disasters are breeding grounds for misinformation that can harm public health and make healthcare workers' jobs more difficult. This includes both external messaging to the public and internal communications to staff and stakeholders.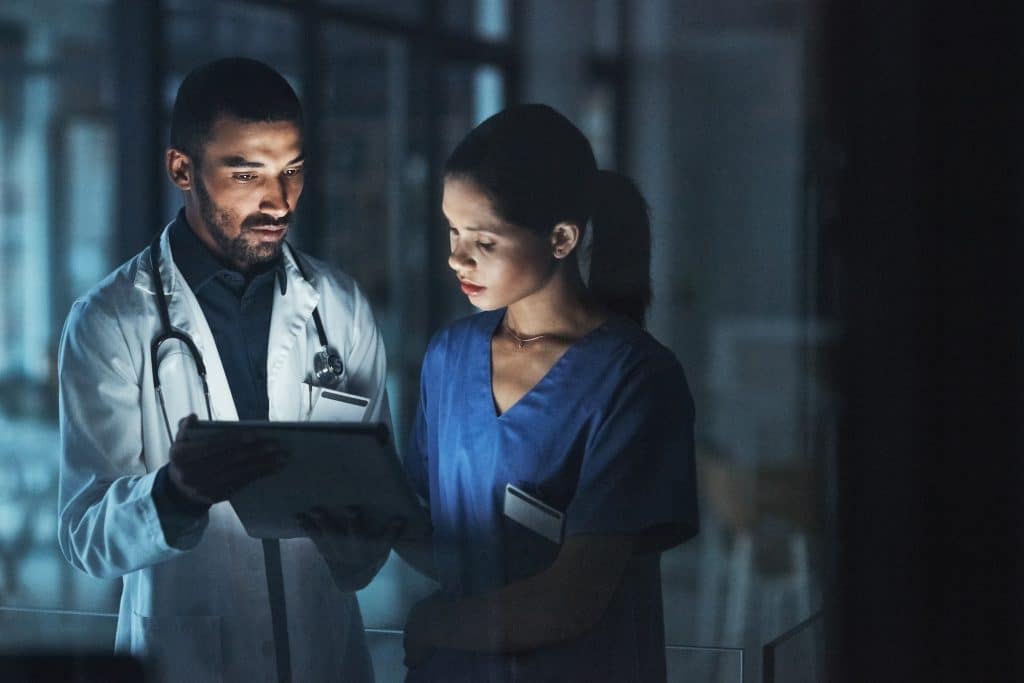 Some of WHO's recommendations for an emergency preparedness communications plan include:
Appoint a public information spokesperson and designate an area for press conferences
Draft key messaging for key audiences in preparation for likely disaster scenarios
Create a plan for all messaging to be approved by a designated administrator
Establish mechanisms for the timely collection and distribution of information
Create a plan to deliver critical information to staff about patient prioritization.
Actionable steps: Assign a spokesperson for internal and external communications, and also get consensus from your administration team on a communication plan of action.
Plan for Staff & Volunteer Management
During disasters, demand for staff and volunteers may increase while availability may decrease. Best practices for the healthcare sector's emergency operations plans include recalling anyone off-duty, asking anyone in the building to stay longer, and offering credentials to doctors whose licensure may have recently expired. Meanwhile, having guidelines for volunteers is ideal, such as who will manage them, what skills might your organization need, and how and when and where will you deploy them is required.
Actionable steps: Create a detailed plan to manage any extra staff and volunteers you might need, from who will run point on such programs to accessing who, and how many you will need on the ground, when.
Engage in Emergency Facilities Management
Some disasters damage health facilities themselves — such as blackouts or floods — while others create capacity surges that test the bandwidth of the building's systems. Plans to increase bandwidth or prepare backups for critical systems are essential, including, according to DHS: security, power systems, electrical systems, gas systems, sewer systems, facility supplies, and material management. The CDC, for example, provides an emergency water supply planning guide for healthcare facilities to help maintain this essential utility flowing during a crisis.
Actionable steps: List all utilities necessary to keep your hospital or health facilities running. Then, create emergency procedures such as protocols for scenarios such as when the internet goes down, insufficient food supply, etc.
Prepare for Crisis Inventory Management
The supplies needed to deal with any particular crisis can depend on the nature of each disaster. The urgent need for ventilators during the COVID-19 outbreak, for example, was specific to the disease at hand. However, the World Health Organization provides a strategic logistics and supply management guide for healthcare facilities to work through during emergencies, which includes the following:
Develop and maintain an updated inventory
Estimate essential supply consumption using likely disaster scenarios
Consult with authorities to ensure the continuous provision of medications and supplies
Assess the quality of contingency items
Establish contingency agreements with vendors
Identify physical space for the storage and stockpiling of supplies
Stockpile essential supplies and pharmaceuticals
Define the hospital pharmacy's role in providing pharmaceuticals to patients
Coordinate a contingency transportation strategy for patient transferral
Ensure that a mechanism exists for the prompt maintenance and repair of equipment
Actionable steps: Source an off-site inventory storage solution, such as commercial shipping containers. Thanks to high-security features and flexible, portable design, PODS shipping containers can be ideal solutions for storing and stockpiling supplies during a crisis.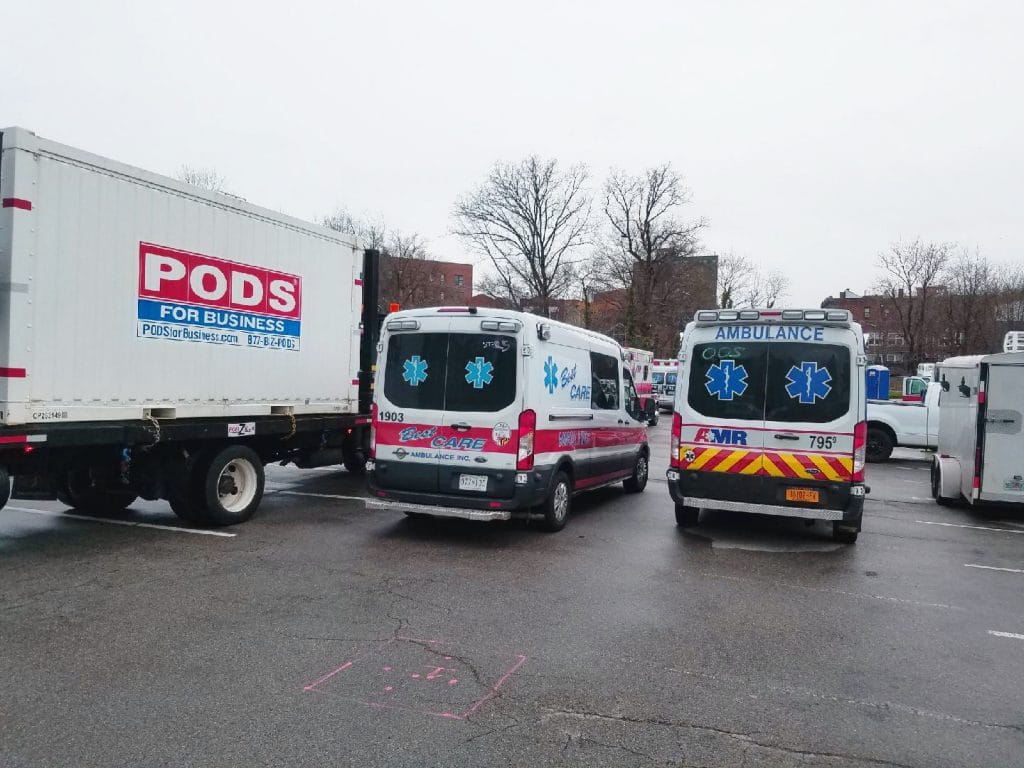 PODS' flexible, secure storage containers can be a lifesaver during disaster recovery, too, helping with on-site storage during facility rehabilitation. We are ready to help you create a custom emergency preparedness plan with storage for your healthcare facility that can instantly be launched whenever a disaster hits.
[maxbutton id="3"]

Get a Quote
Choose the service you need
Comments
Leave a Comment
Your email address will not be published. Required fields are marked *