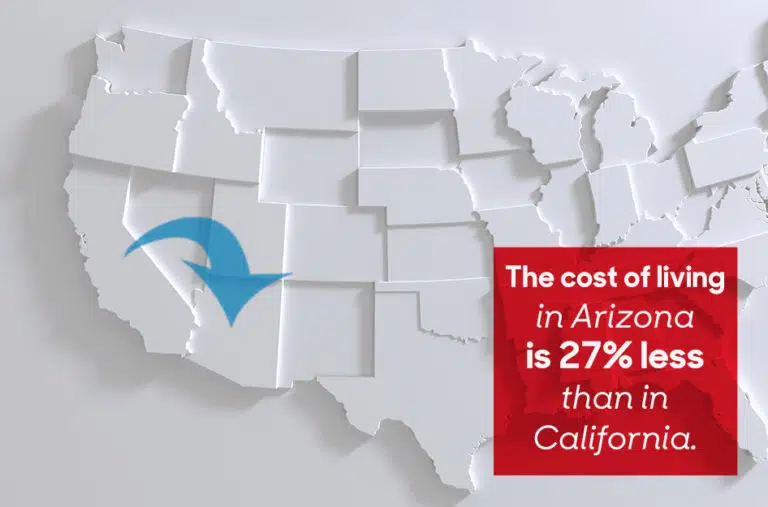 Moving from California to Arizona in 2022: The Ultimate Moving Guide
Moving from California to Arizona means trading in the beach and sequoia forests for beautiful desert vistas, a lower cost of living, and wide-open spaces. Add in the advent of remote work, and it's no wonder why Arizona has seen an influx of Californians moving to the Desert State.
Looking at a map, moving from California to Arizona seems pretty simple: Head East and don't stop until you see condors overhead. But picking up your life and crossing state lines, whether it's neighboring or across the country, can be a lot — especially once you start the process.
Moving from California to Arizona presents a lot of challenges, which is where this guide comes in. We'll walk you through everything you need to know about making the move, from packing all your belongings, selecting a moving company, and selling and buying your home to the important lifestyle changes you can expect.
Let's dive in.
Different Types of Movers to Move From California to Arizona
Whether you need a fully flexible, customizable move or are looking to get everything done in a couple of days, we've broken down your best options for moving from California to Arizona here.
PODS Moving and Storage
If you want to make this process fit your schedule perfectly, then you should consider moving with a PODS container.
Moving with PODS gives you flexibility and freedom during your California to Arizona move. Just call ahead and have a container delivered to your driveway, fill it up with all of your belongings, have PODS pick it up and deliver it to your new home, and then unpack it once you arrive at your new home in Arizona. You can keep your container as long as you need it — whether it's for a week or for a year — either at your home or in a secure PODS Storage Center. This way, you have time to focus on selling your home, finding the perfect spot in Arizona, and getting the kids ready for their new school!
Full-Service Movers
If you have extra cash laying around and want to lift as little as possible, consider looking into a full-service mover.
A full-service mover helps to get everything done when you're moving — from start to finish. They can help you to pack your belongings, put them in the truck, drive them to your new home, unpack your boxes, and everything in between. Keep in mind that this is your most expensive moving option, however, and you're usually tied to the movers' schedule once booked. So if you have any last-minute situations come up (a closing date moves, school starts earlier than you thought, etc.), you'll have to improvise on the fly.
Moving Truck Rentals
Have strong backs, will travel. If you're willing to do all the manual labor and drive a truck hundreds of miles, this may be the way to go. This is a strong option if you don't have a lot of stuff and have some extra hands to help you get where you're going. But while it may seem to be the least expensive option up front, you'll be paying for the truck, gas, and insurance, as well as any damage that may occur, which is more common than you think. Our professional opinion? Let the pros handle the driving so you can focus on getting your ducks in a row.
Why Are People Moving From California to Arizona?
There are a myriad of reasons why someone may leave Hollywood for the Grand Canyon. The most common being cost of living (especially housing) and population density. What that means for you: a bigger house with lots of space! Here's the breakdown of the top reasons why people are moving from California to Arizona.
Cost of Living
Living in Arizona is significantly less expensive than living in California. For example, people who live in Arizona get the advantage of cheaper groceries, transportation, utilities, and especially housing compared to those in California, where it is significantly higher. In fact, California is 38 percent more expensive compared to Arizona, which is obviously a big difference.
You'll have to keep in mind, though, that with a lower cost of living comes lower salaries. The average California salary is around $62,000, while Arizona's is around $53,000. However, you'll likely still find that your dollar goes a longer way in Arizona than it does in California, if you find yourself receiving a potential pay cut with the move.



Lifestyle in Arizona
Arizonans generally enjoy a relaxed lifestyle, which can be a welcome change if you're coming from the hustle and bustle of Los Angeles. While you won't have access to the beaches or great sequoia forests of California, you'll get the most gorgeous desert views in the United States in exchange. Seems like a square deal!
If you're moving from SoCal, you're used to the heat — but know that it gets just as hot (if not more so) in 'Zona. So much so that most of your time will largely be indoors trying to beat the heat — but don't worry, nearly every building is equipped with A/C, and there's plenty to do inside to keep cool.
With a strong, business-friendly economic policy, you'll find tons of entrepreneurs, young and rising professionals, and of course, large companies. The state's low taxes make it equally attractive for businesses, families, and retirees, and all those world-class golf courses certainly can't hurt.
Population Density
Need a little leg room? How about a big ol' front yard? You can get a ton more property and space in Arizona than you can in California for way, way cheaper. Living in Arizona, the average population density is 63 people per square mile compared to 251 people per square mile in California. Talk about personal space. Just know that with space, comes sprawl. Cities here are very spread out, so you will definitely need a car to get around.
Tips and Tricks for Moving From California to Arizona
Now that you've decided that you're going to move from California to Arizona and figured out what moving service you'll use, it's important to know the tips and tricks for moving to Arizona before making the big haul.
Bring Lots of Water, Especially if You're Moving During the Summer Months
It's not a secret. Arizona is hot. It is a huge difference if you're moving from Northern California (but not so much if you're coming from the southern part of the state), where the weather stays fairly moderate year-round. If you are moving during the scorching summer months in Arizona, be prepared to bring a lot of water because the temperature can be anywhere from the high 70s to over 105 degrees in the summertime and the low 40s to high 60s in the wintertime.
Have a Car to Get Around
If you're used to living in a tight downtown area where you don't need your car for much else other than traveling out of town, you might want to get your wheels tuned up. Arizona is spaced out (which may be the price to pay for those larger property lots), and it will make your life easier instead of using public transportation or riding a bike everywhere.

Take Advantage of the Low Property Taxes
This may have been your impetus for moving in the first place. You know how cheap it is in Arizona compared to California, especially housing costs. Housing in Arizona is amazing because not only does it cost less than California, but you will also pay lower property taxes, as well. In fact, Arizona's median property tax in 2022 is about $2,300 less than California's, which is certainly nothing to sneeze at!
Get Your Selling and Buying Ducks in a Row
Selling a home in California is more complex than selling a home in other states, since you need to share your area's risk of natural hazards, fill out transfer disclosure statements, and pay transfer taxes. The helpful folks at Homelight put together a good article on the things you need to know about selling your home in the Golden State.
Buying a home in Arizona is your standard home buying affair, so no need to worry about transfer taxes, disclosure statements, or anything extra on top of that. Phew!
Learn About Dust Storms and How to Prepare For Them
Dust storms are very common in Arizona, and it's important to learn how to prepare for one. Arizona can get anywhere from one to three dust storms per year that can last anywhere from a couple minutes to an hour, so it's important to stay prepared.
Forget About Daylight Saving Time
Do you live in a state where the residents participate in Daylight Saving Time? If you're moving to Arizona, you don't have to worry about that anymore! Arizona does not observe Daylight Saving Time, except for the Navajo Nation. The hot climate combined with people wanting to do things in the cooler evening hours led to the practice being deemed unnecessary by the state, so you never have to worry about losing an hour of sleep ever again.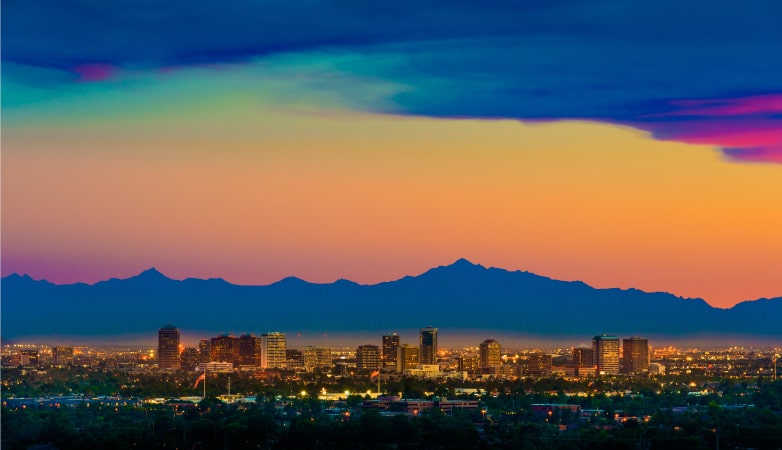 The Best Cities to Move to in Arizona
Leaving California and moving to Arizona is an opportunity of a lifetime, and making sure that you find the best city to live in is just as important. Here is a breakdown of some of Arizona's top destinations.
Phoenix
Do you want to live in the center of it all and the most popular city in the state? If so, then you should move to Arizona's capital — Phoenix! Phoenix is known for being the perfect place for entrepreneurs and golfing, and they also have some of the best authentic Mexican food around that you don't want to miss out on.
Scottsdale
If you're looking for a safe place to raise your family, consider Scottsdale. Scottsdale, Arizona, is the perfect place for both singles and families because of the low crime rates, amazing schools, and amazing shopping centers. They are also known for having beautiful golf courses and a great nightlife scene you have to experience.
Tempe
Another great city to live in Arizona that you absolutely don't want to miss out on is Tempe, home of Arizona State University. Tempe provides some of the best schools, as well as a low unemployment rate. It's also located within the Phoenix metro area, so you can still experience all those big-city vibes.
Downtown Tempe is a thriving place, great for both students and families. Perfect for those who like to grab a drink with friends and coworkers at the end of the day!
Tucson
Beatles fans know that JoJo left his home in Tucson, Arizona, for some California grass, but what if you're going the opposite way? You're in luck, since Tucson is one of the best cities in Arizona. The city is home to natural wonders like the world-renowned Saguaro National Park, Madera and Sabino Canyon, and the Catalina State Park (Fun fact: Tucson hosts more bird species than anywhere on earth other than the Amazon!).
Tucson combines big-city amenities with access to the great outdoors, a perfect place if you want to keep the cultural experiences of LA and San Francisco in your Arizona life.
Flagstaff
Moving from California to Flagstaff means trading in the always-on city lights for some of the best stargazing in America. In fact, Flagstaff was the world's first international dark sky city, meaning that the city follows strict light pollution rules that let its residents take in the stars like nowhere else in the country. And don't just take our word for it — check out Flagstaff's website for a sneak peek a what eye candy awaits you.
The city has a suburban feel, slow and steady with plenty of coffee shops and restaurants to go around, and a night sky that will leave you dazzled.

Moving from California to Arizona can be very stressful, but in the end, it's a rewarding experience in your life. Being able to explore a new state in the United States and all that it offers is something that you won't regret in the long run.
Get a Quote
Choose the service you need
Related Articles
16 Pros and Cons of Living in Sierra Vista, AZ: From Idyllic Mountain Views to a Tough Housing Market
Read more
Comments
Leave a Comment
Your email address will not be published. Required fields are marked *