Take advantage of our limited time offer. Enter promo code HOLIDAY25 to save up to 25%.
See offer details
.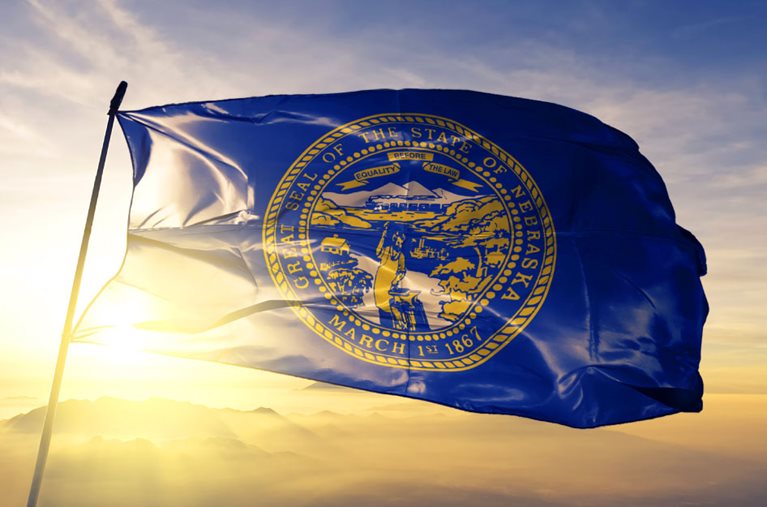 Here's Why You Should Relocate to these Highly Underrated Small Towns in Nebraska
The Cornhusker State offers an affordable, enjoyable Midwestern lifestyle. Whether you're on the hunt for a
low cost of living
,
real estate options
well below
the national average
, moving for work, or to be closer to family, Nebraska has plenty of room for you.
Looking to move to small-town Nebraska? Start by getting a quote from PODS.
While Nebraska tends to see the
majority of population growth
in its larger counties, The U.S. as a whole has witnessed more people than ever leaving bigger cities and
moving to small towns
. Over the span of 2020-2022 alone,
the U.S. saw over 2 million people
leave some of the biggest cities and retreat to more suburban areas.
Aside from the affordability perks and strong economy, Nebraska is a place with many interesting museums, art galleries, and festivals to explore and experience. The state is also home to a variety of stellar educational opportunities at institutions like the
University of Nebraska
.
The natural beauty in Nebraska never gets old, as places like
Sandhill River
and
Platte River
provide some spectacular scenery, along with the opportunity to engage in some fun outdoor activities like hiking and fishing.
Big Cities vs. Small Towns in Nebraska
Nebraska gives a lot of credit to its big cities like Omaha and Lincoln, as they truly have bustling and vibrant spirits of their own with lots of opportunities and fun things to do. Residents of these cities are in much closer proximity to some of the state's best festivals and events, restaurants, and more of a variety of job opportunities. These cities do have their fair share of certain drawbacks, however, which include less diversity than in other major American cities, higher tax rates, and higher rates of crime overall. Here are some of the perks of living in one of the best small towns in Nebraska:
Even though housing prices and the cost of living in big Nebraska cities are still a lot more ideal than other cities in the U.S, small towns in Nebraska offer even better housing and cost of living expenses.
Some of the best art communities exist in Nebraska's small towns.
Because of the various colleges and universities in the state, some of the most lively and vibrant places in Nebraska are happening in the smaller towns.
Some of Nebraska's small towns are still in close enough proximity to the larger cities, so residents can still easily enjoy some of those attractions.
Small Towns in Nebraska - FAQ
Q: What is the smallest village in Nebraska?
A: With a population of just above 2,600 Valentine is among one of the smallest villages in Nebraska.

Q: What is the small town by Omaha?
A: The small town of Gretna is only a 30 minute drive away from Omaha.

Q: How many small towns are in Nebraska?
A: Nebraska has 580 places overall and 530 incorporated places, which include 147 cities and nearly 400 villages.
Best Small Towns in Nebraska
Coastals can refer to much of the Midwest, snottily, as "flyover country." They couldn't be more wrong. The Midwest is full of hidden gems, and the small towns in Nebraska are no different. Their European cultural roots still hold strong, communities tend to be tight knight, and Nebraska is famed for its friendly residents. Events, festivals, and other community gatherings are common.

We've taken the liberty of hunting down the best small towns in the state to give you a head start if you're planning to make a move. Remember, The U.S. Census designates a small town as one with a population under 5,000. We've decided to expand that to include towns with a population of up to 15,000 to expand your options. Keeping that in mind, here are just a few of the best small towns in Nebraska.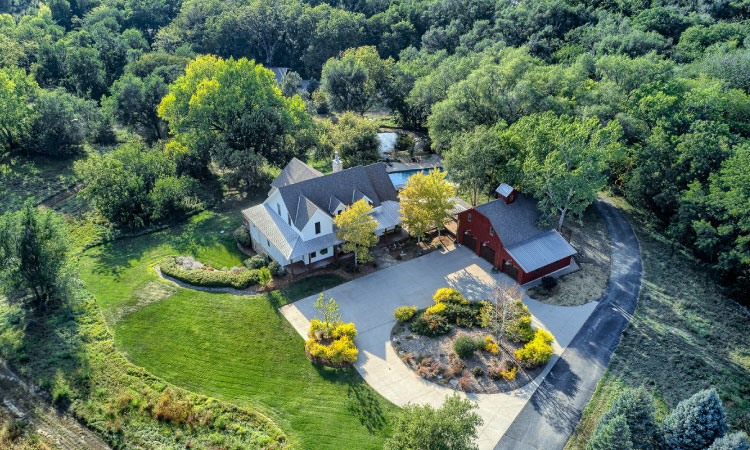 Gretna, Nebraska
(Source: Johnathan O'Gorman - Real Estate Agent via Facebook)
1. Gretna, NE
Average rent (one-bedroom):
$1,350
Average home value:
$422,300
Great for:
Exploring faith, close proximity to Omaha, family friendly activities, families, retirees
Being close to Omaha already means there are things to do, but Gretna is home to a variety of fun activities that you can't always find in the bigger cities.
One of its most popular spots is its Holy Family Shrine — a beautiful retreat designed to help people strengthen their faith. Aside from being a place for religious events, it also serves as a great venue for family gatherings and church-related activities.
If you're looking for more touristy attractions to experience, check out Ak-Sar-Ben Aquarium Outdoor Education Center and Eugene T. Mahoney State Park.
2. York, NE
Average rent: N/A
Average home value:
$200,100
The small college town of York in Nebraska is known for its classic Nebraska charm, and is great for families. Most notably, locals can attend York College, which is home to Clayton Museum of Ancient History. It's open to all ages, and the kids can even see the interactive Little Kingdom exhibit to participate in an archaeological dig or "shop" in the Roman market area!
A variety of other attractions are also located in this area, including a museum dedicated to Anna Bemis Palmer. Families will never have a difficult time finding something entertaining to do!
3. Beatrice, NE
Average rent (all home sizes):
$960
Average home value:
$160,400
The small town of Beatrice has been ranked as one the best towns in Nebraska to retire by Niche, as it encompasses some of the greatest perks the state has to offer, which include interesting history spots and some great cuisine!
If you're a fan of history, then you might have already heard of this town located near Homestead National Historic Park, which was created to preserve the first homestead.
Locals love eating at The Black Crow Restaurant and Bar, and it's even known as the self-proclaimed best restaurant in Southeast Nebraska. If you're up for a drink afterward, Tall Tree Tastings serves up some great beer and wine options.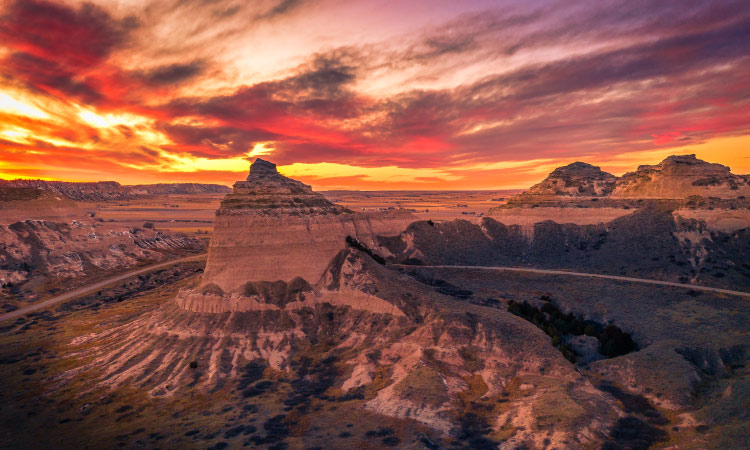 Scotts Bluff National Monument in Gering, Nebraska
4. Gering, NE
Average rent: N/A
Average home value:
$184,100
Great for:
Outdoor activities, parks, recreation facilities, arts, young professionals, families, retirees
In Nebraska's westernmost region, the town of Gering can be found at the foot of Scotts Bluff. The Scotts Bluff National Monument was used by people in the past traveling the Great Plains for centuries. Gering is also often considered one of the ghost towns in Nebraska, as an apparition is rumored to appear during the end of July or beginning of August.
Aside from this prominent national monument, Gering also offers so many activities for nature buffs of all ages. There are plenty of parks and recreation facilities in the region, like Riverside Park, where visitors can explore the Riverside Discovery Center. The West Nebraska Arts Center features exhibitions that have showcased the works of famous artists such as Andy Warhol and Salvador Dali.
5. Nebraska City, NE
Average rent: N/A
Median home sale price:
$155,000
Nebraska City is home to Arbor Day Farm, so it's no surprise that many of the town's popular activities involve trees! The year-round experience that is Treetop Village is filled with excitement and fun. If you'd rather stay on the ground, you can always hike the South Table Creek Trail, which features scenic views and rustic timber bridges. Nature Explore Classroom options are a great opportunity for kids to learn while exploring the area around them.
The Lewis & Clark National Historic Interpretive Trail Center is also a great place to explore history in the area, as the facility features two stories of hands-on exhibits and interpretive displays.
6. McCook, NE
Average rent (all home sizes): N/A
Average home value:
$170,000
A fun fact about the small town of McCook is that it is known as the capital of the Buffalo Commons, which proposes to establish a nature preserve for bison! It is also home to many outdoor activities, at places like Barnett Park and Red Willow Reservoir State Recreation Area. The serenity of the local Medicine Creek State Recreation Area draws in many campers each year.

There are various shopping opportunities in McCook — whether you choose to go Downtown or take a day trip to nearby large cities like Kearney and North Platte.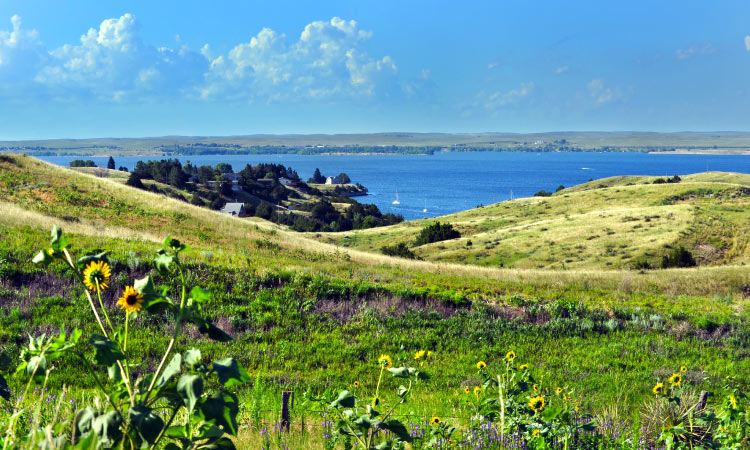 Lake McConaughy near Ogallala, Nebraska
7. Ogallala, NE
Average rent: N/A
Average home value:
$194,700
The small town of Ogallala has a population of approximately 4,500. It is a great place for outdoor enthusiasts to call home, as there are plenty of opportunities to hunt, fish, and even hike. One of the most popular activities in the area is visiting Lake McConaughy.
Lake McConaughy is the largest body of water in the state. During the summer season, it is very popular for people from all around the state to visit this place. You can enjoy various activities such as swimming, boating, and camping at this lake.
Besides the lake, the town of Ogallala also has various attractions like the Cowboy Museum. This museum is located on Front Street, which is modeled after an old west town street. In addition to art galleries and a large lilac garden, the town also has many historic sites. Some of these include Boot Hill and the Historic Walk of Fame.
8. Seward, NE
Average rent (all home sizes): N/A
Average home value:
$277,900
Great for:
Culture/entertainment opportunities, close proximity to Lincoln (30 minute drive), fun events, families, retirees
Ranked #1 on Niche's list of "Best Places to Raise a Family in Lincoln Area" is Seward. It's a great place for people searching for plenty of culture and entertainment opportunities close to home. The Rivoli Theater on Main Street is a highlight in the area — your classic old style hotspot.
The town of Seward is most widely known for its annual Fourth of July celebration, however. In 1979, Congress even proclaimed it "America's Official Fourth of July City-Small Town USA." The festival includes a parade, live entertainment, fireworks, a craft show, and great food of course!
Seward is also often considered as one of the safest towns in Nebraska, as your chance of being a victim of a violent crime is 1 in 118. Seward is also safer than almost 60% of other U.S. neighborhoods.
9. Red Cloud, NE
Average rent: N/A
Average home value:
$87,700
Red Cloud is situated near the Kansas border, and is the inspiration for some of the most influential works of American literature during the early 20th Century that — thanks to Willa Cather — put Nebraska on the map.
As a child, author Willa Cather lived in Red Cloud. Today, the Willa Cather Center offers town, prairie, and country tours. The town's quaint brick streets are home to many historic buildings, such as the Red Cloud Opera House, which was built in 1885. There is also always something fun happening in Red Cloud as the town hosts various festivals each year such as the Republican River Stock Tank Float and Street Car Days.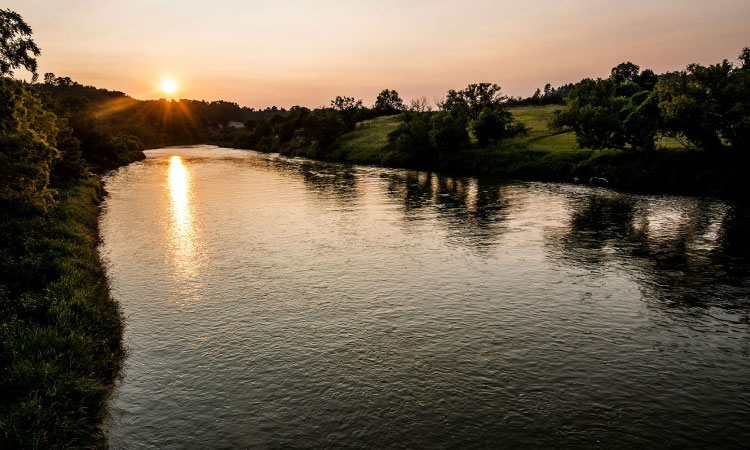 The Niobrara River in Valentine, Nebraska
(Source: Nebraska Game and Parks Commission via Facebook)
10. Valentine, NE
Average rent (all home sizes): N/A
Average home value:
$192,500
Located on the South Dakota border, the town of Valentine seems to be in the middle of nowhere with little to offer. However, it's #15 on Niche's list for "Best Places to Raise a Family in Nebraska."
Valentine offers a variety of fun outdoor activities for people of all ages, like kayaking on the scenic Niobrara River or visiting Valentine State Fish Hatchery — one of the best in Nebraska. Locals also love visiting the Cherry County Historical Society Museum and exploring Smith Falls State Park and Fort Niobrara National Wildlife Refuge.
11. Aurora, NE
Average rent: N/A
Average home value:
$238,100
Located outside Grand Island, the small town Aurora is a progressive community known for its beautiful brick-lined streets and historic homes. The town square is also home to the historic Hamilton County Courthouse, which was constructed in 1895.
In Aurora, residents have many opportunities to learn about the area's history by visiting the Plainsman Museum, which features an agricultural exhibit and a replica 19th-century schoolhouse. The Edgerton Explorit Center is another popular spot to visit.
12. Chadron, NE
Average rent: N/A
Average home value:
$181,200
The small town of Chadron is located in Nebraska's northwestern corner, and it's easy to drive to areas like the Nebraska National Forest and Grasslands to explore the Great Plains, and Toadstool Geological Park and Campground with its remarkable landforms and natural beauty.
The town of Chadron was named after Louis Chartran, a fur trader. Just East of the town you can find the Museum of Fur Trade, which was established on the site of an original trading post established by the American Fur Co. in 1837.
See How PODS Can Help You Move to One of the Best Small Towns in Nebraska
After you've found your ideal home in one of Nebraska's lovely and vibrant towns, let PODS help get you there. They will provide you with a portable storage container that you can pack and load at your own pace. Once you're ready to move, the crew will pick it up and deliver it to your new residence. One month's storage is included in the price of the container, so you can easily organize your move without a rush!
Get a Quote
Choose the service you need
Comments
Leave a Comment
Your email address will not be published. Required fields are marked *