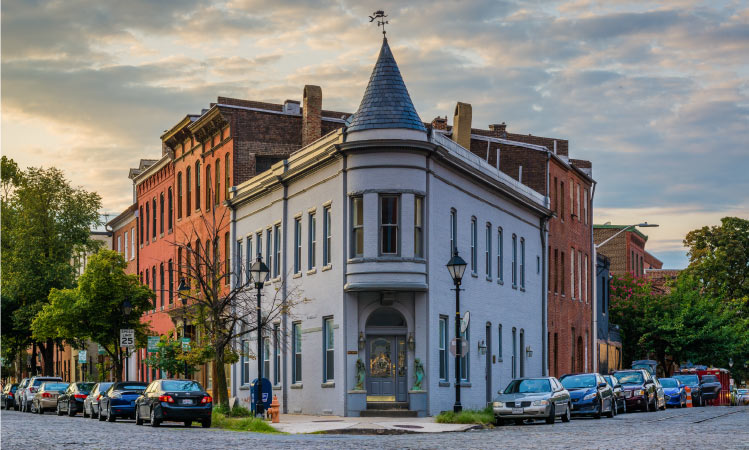 Looking for the Best Baltimore Neighborhoods and Suburbs? Start Here
Interested in moving to Baltimore? We're not surprised. Gorgeous harbor views, tasty eats that go way beyond the city's famous crabs, and a whole lot of history are just a few things that draw people to one of Maryland's biggest cities. Baltimore may have been around since the 1700s, but she's got a strong heart, vibrant neighborhoods, friendly people, and lots of fun things to do. Arts, culture, history, nightlife, shopping, and green space — it's all here, in droves. For many, moving to Charm City is an easy decision.
Now comes the hard part: deciding where to live. Luckily, we've got your back. Whether you're moving to Baltimore from nearby or relocating from across the country, this breakdown of our favorite Baltimore neighborhoods and suburbs will give you a good overview of some of the city's best places to live — just don't blame us if it makes you even more pumped for your move.
Some Questions (And Answers) To Consider Before We Get Started
Before we dive into our favorite neighborhoods, let's get a few FAQs out of the way.
Q: What are the best areas to live in Baltimore?
A: Choosing where to live in a city is a deeply personal decision and really boils down to your personal preferences, financial situation, and priorities. Keeping these things at the forefront of your mind as you weigh options can help narrow down your selections as you go. Another tip? Make a list of deal-breakers (e.g., no public transportation access or high crime rates) or must-haves (e.g., good schools or nearby green space).
Q: What is the nicest neighborhood in Baltimore?
A: This question is a subjective one; however, Niche's top pick for the best neighborhood in Baltimore is Wyman Park. Most residents own their homes, and the nightlife scores an A+, but public schools sit at a C-. So if you're looking for the best school district in the Baltimore area, you should check out the Highland or Ellicott City suburbs. No matter what, though, it's best to take your wishlist and compare it to what the neighborhoods you're considering have to offer.
Q: Is Baltimore safe?
A: Admittedly, Baltimore struggles with crime. According to NeighborhoodScout, the city has a crime index of 3, meaning that Baltimore is considered safer than only 3% of other U.S. cities. A closer look at their data shows property crime accounts for nearly 2 times more crime than violent crimes, and there is a 1 in 64 chance of becoming a victim of violent crime in the city. That said, bear in mind that these stats are based on city averages, and crime rates aren't evenly spread throughout the city. In fact, several neighborhoods are perfectly safe.
Q: Is Downtown Baltimore safe at night?
A: While it's never advised to walk anywhere alone at night in Baltimore, many areas in downtown have a regular police presence — especially in popular areas like Little Italy and Federal Hill. It's important to remember that crime can happen in any big city, though. So practice vigilance whenever you travel at night, and stay in a group whenever possible.
Q: Which neighborhoods are safe in Baltimore?
A: Based on crime stats, NeighborhoodScout lists Guillford, Homeland, Canton, and Original Northwood as some of the safest Baltimore neighborhoods. It's worth noting their list includes neighborhoods farthest from the city center, and some are located in Baltimore County instead of Baltimore City proper.
Our Favorite Baltimore Neighborhoods and Suburbs
Believe it or not, Baltimore boasts over 250 neighborhoods. More neighborhoods to choose from means more options to consider, so we're here to give you a head start with the deets on some of the best Baltimore neighborhoods and suburbs to live in (in our humble opinion). So whether you're hoping to make a home in one of the city's characteristic row houses, a luxury townhouse, brand new apartment building, or historic home, you'll have plenty to pick from.
For each area, we'll take a look at what the neighborhood has to offer in terms of types of housing, cost, overall vibe, neighbors, quality of schools, and popular things to do — all so you can weigh it against your own personal wishlist and set of priorities.
Here are some helpful stats on Baltimore home and rental prices to reference as we cover each neighborhood.
1. Hampden
Looking for an artsy, hip spot to call home? Fast-track Hampden to the top of your list. Located in North Baltimore between the Jones Falls Expressway and Wyman Park, this 'hood is filled with both young hipsters and longtime residents. It's the kind of place where everyone knows everyone, making it easy to meet people. The main artery runs along W 36th Street, where you'll find a lively restaurant and bar scene, cool independent shops, and people who like to stay out late. (Some local favorites include The Bluebird Cocktail Room, Atomic Books, and The Charmery.)
Another Hampden perk? The neighborhood hosts some of the city's best festivals, such as Honfest and Hampdenfest. Plus, you don't need a car — this neighborhood has great walkability, several bus stops, and access to a Light Rail station within 15 minutes on foot.
With all that in mind, it's not surprising home values in Hampden are on the rise. According to Zillow, typical homes in the area — predominantly consisting of row houses and townhomes — are valued at around $266,000 (a 2.7% increase over the previous year). RentCafe lists average Hampden rent at $1,533 per month.
As for the schools in Hampden, while Niche gives the neighborhood's 58 public schools an overall C- rating, Baltimore Polytechnic Institute and Baltimore City College rank in the top 100 best public high schools in Maryland.
2. Canton
Average home value: $330,480
Average rent: $2,031
Great for: Families, young professionals, foodies, water views, walkability
Located in Southeast Baltimore, Canton's wide range of residents, things to do, and small-town community vibe make it one of Baltimore's most popular neighborhoods. Folks here are more than happy to take advantage of the waterfront location, access to parks, good walkability, and spectacular seafood offerings. (Even if you don't end up living in Canton, come here to get your sweet and salty crab fix at the Oprah-approved favorite Captain James Seafood Palace.)
Canton Square is the walkable heart of the neighborhood, where you'll find most of the area's restaurants, shops, and cafés. Skirting the south side of Patterson Park, this family-friendly neighborhood is home to Canton Waterfront Park as well as one of the city's top schools, Hampstead Hill Academy, a public charter school for pre-K through 8th grade.
Expect a mix of traditional Formstone and brick row houses, waterfront condos, apartments, and townhomes that sport a average home value of around $330,000. Planning to rent? At around $2,031 per month, average rent in Canton is slightly higher than the city average but lower than you'll find in the adjacent neighborhood of Fells Point.
3. Fells Point
Love history? Point your compass toward Fells Point, an historic neighborhood popular with singles, professionals, and young families. Established in 1763, it's one of the city's oldest areas, boasting more than 300 buildings on the National Historic Register (including The Robert Long House, Baltimore's oldest standing residence). Colorful, historic row houses populate Fells Point, and many now house neighborhood shops, restaurants, pubs, and taverns.
Most homes here are old — like 18th- and 19th-century old — at least on the outside; it's part of the neighborhood's historic appeal. Inside, many have undergone remodeling to feature modern looks and amenities. Newer-built apartments and luxury townhomes are also available. The average home value is around $310,000. Rent averages around $2,470 a month, as well — some of the highest in the city.
With a Walk Score of 96 and available bus transportation, Fells Point offers the opportunity for residents to get around without relying on a car. And there is plenty to do here, including walking tours, visits to the Frederick Douglass-Isaac Myers Maritime Park Museum, or chowing down at the Thames Street Oyster House. You can even grab a drink with the ghost of Edgar Allan Poe at the Horse You Came In On Saloon, Baltimore's oldest pub.
4. Federal Hill
This small but sweet neighborhood just 6 minutes south of Downtown Baltimore is a local fan favorite for its excellent Inner Harbor views, great shopping, eclectic restaurants, cobblestone sidewalks, and beautiful historic buildings. Boasting a Walk Score of 96, Federal Hill is one of Baltimore's most walkable neighborhoods — a perfect place for people who want to pump their legs. It also doesn't hurt that it's close to the waterfront.
Homes here run the gamut from historic brick row houses to luxury condos and newly built apartments. If you're buying an historic home, consider one that's already renovated. Be aware, though, that the neighborhood's designation as a federal historic district translates to a lot of rules and restrictions in the name of building preservation.
Although Federal Hill is said to have some of Baltimore's best shopping, there's truly so much more to do here. Popular spots include the American Visionary Art Museum, a unique outdoor museum focusing on self-taught art; Cross Street Market, a collection of local vendors from eateries to boutiques to florists; green space at Federal Hill Park; and waterfront activities at Rash Field — to name just a few.
5. Mount Vernon
Mount Vernon is a melting pot of excitement, bubbling with a little bit of everything that makes Baltimore great. Located in Central Baltimore directly north of downtown, this lively neighborhood is full of things to do, historic charm, modern conveniences, walkability, culture, and easy commutes. And, amazingly, it's still relatively affordable — for now.
Love historical landmarks? The original Washington Monument and George Peabody Library are both here. Want to taste your way around the world through different cuisines? Also here. Don't want a car? You don't need one. Need more culture in your life? Take your pick of museums, live music, and theater productions, all right outside your door. You get where we're going, right?
There's also a good variety of home types available in Mount Vernon, from historic single-family Victorian row homes and carriage houses to contemporary condos and high-rises.
Wondering about schools? Baltimore School for the Arts is located in Mount Vernon and was ranked Maryland's Best High School for the Arts.
Good to know: Consider skipping the stress of navigating Baltimore's unfamiliar roads in favor of letting a professional moving service like PODS do the driving for you. Another PODS bonus? We have flexible scheduling and storage options, too.
6. Ellicott City
If you're looking to live outside of Baltimore City proper — perhaps to access better public schools — try on Ellicott City for size. Niche ranks Ellicott City as the #1 best place to live in the Baltimore area in 2023, giving it maximum ratings for both its public schools and family appeal. Located just a little less than 15 miles west of Baltimore, the commute into the city (traffic willing) is only around 25 minutes by car or about an hour and a half via public transit.
It can get expensive here, at least as far as housing costs go. The median listing home price is just above $646,000. Single-family homes built in the mid-50s that feature multiple bedrooms and yards are common, but there's also a decent peppering of homes that are both older and newer. And surprisingly, at $1,955 a month, the average rent here is only about $400 more than in Baltimore.
It's mostly families here, and the vibe here is pretty suburban, but you're not out in the boonies — city amenities are decent with restaurants, cafés, parks, and consumer chains. There are also 22 public schools (and 10 private schools) serving Ellicott City, including several that rank in Niche's top 10 in the state for their grade levels.
7. Columbia
A little further out from Baltimore, Columbia is a great suburb to consider if you're looking for a slightly bigger town with slightly better nightlife options. Niche ranks Columbia as the fifth-best city to raise a family in America with an overall A+ rating. The vibe here is dense and suburban, and, in addition to lots of young families, you'll also find several young professionals living in Columbia. Commuters can expect about a 20-minute drive into Baltimore, which is roughly 20 miles away.
The average home value in Columbia is nearly $450,000, and single-family homes with multiple bedrooms and nice yards are the norm. The average apartment is 949 square feet, and you can expect to pay $1,989 per month for rent on average. Several of Columbia's 46 public schools are in the top 10 in the state for their grade levels, including Clarksville Elementary School, Burleigh Manor Middle School, and River Hill High School.
Want a few more neighborhoods in the Baltimore area to consider? Give these a go:
Remington
Harbor East
Little Italy
Highland
Planning Your Move
Regardless of whether you're embarking on a long-distance move or making a local move, planning and flexibility will be your two best friends. Consider PODS your third. As your personal moving and storage team, we're here for it all — before, during, and after your move. No two moves are the same, and that's why we make it our job to design a move that works for you. With three container sizes to choose from, flexible scheduling for delivery and pick-up, and customized service, we make it easy to change dates, opt-in for storage, and move at your own pace.
Get started by checking out more of the PODS Blog, where we share helpful tips and tricks for your move. From a rundown of essential moving and packing supplies or what to ask when vetting a moving company to tips on moving with portable storage containers for the first time, we've got you covered — every step of the way.
---
Alex Keight is a frequent contributor to the PODS Blog who has moved 20+ times because she loves to experience new places.
Get a Quote
Choose the service you need
Comments
Leave a Comment
Your email address will not be published. Required fields are marked *