PODS Moving & Storage St Louis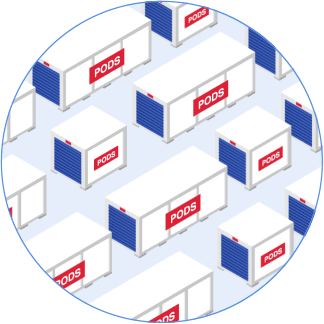 This may take up to 30 seconds.
We're searching over 200,000 containers to find you the best price.
St Louis Moving Solutions
With monthly rentals and flexible delivery, PODS offers moving solutions that fit your needs. We can deliver your portable container to your home and pick it up at your convenience. When you're done loading your unit, we'll handle the transportation to your new home, so you don't have to. Not ready to unload? Store your belongings in one of our
secure Storage Centers
near St. Louis.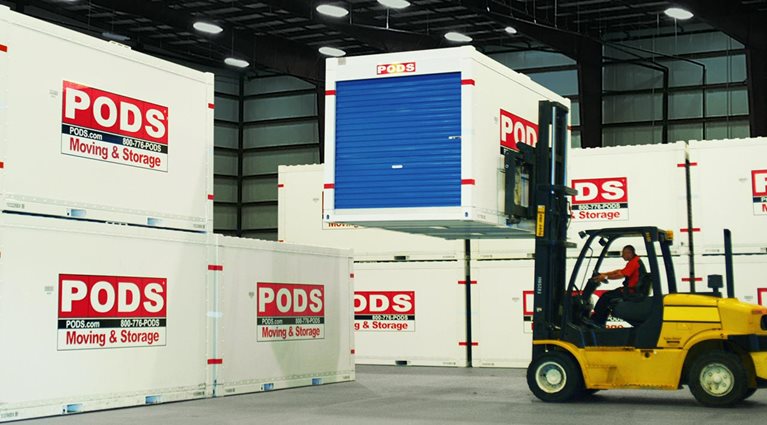 St Louis Storage Solutions
If you're planning to tackle some renovation projects after closing on your new St. Louis home, or just need some time to get settled, PODS
storage solutions
offer a handy way to store your items without cluttering your home. You can simply unload what you need and keep the rest in your
PODS storage container
at your home or schedule a pick-up to return your portable container to a storage facility near you.
More about St Louis@Model.Title.HeadingType>
St. Louis residents are staunchly loyal to their hometown, exhibiting a level of pride usually reserved for sports fandom. You'll find plenty of lifelong residents here, as well as those who left but couldn't resist the pull to return home. Whether you're returning to this historic city or moving to St. Louis for the first time, PODS moving and storage solutions will help you get settled.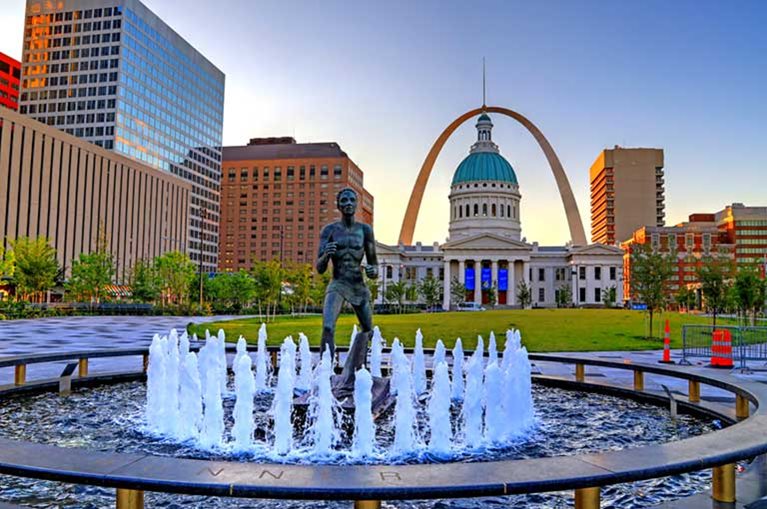 Moving to St Louis
St. Louis is an ideal destination for those who want to experience the highlights of urban living with the friendly feel that comes from settling in the Midwest. The cost of living in St. Louis is pleasantly low, at roughly 15 percent below the national average. Housing is especially affordable, come in over 40 percent cheaper than the national average. The median home in St. Louis is $117,700 and 74 years old.
The sprawling city of St. Louis offers a diverse selection of neighborhoods, so nearly any family can find something suited to their needs. If you want a taste of historic St. Louis, look to Lafayette Square or Soulard. You'll enjoy easy access to city highlights and charming historic homes that let you step back into simpler times.
Neighborhoods such as Glendale and Cottleville are popular among families, thanks to their highly-ranked public schools and low crime rates. If safety is your primary concern, Central West End has some of the lowest crime rates in the city. You will pay a premium for dwelling in this coveted destination, however, as home prices are 117 percent higher than the city's average.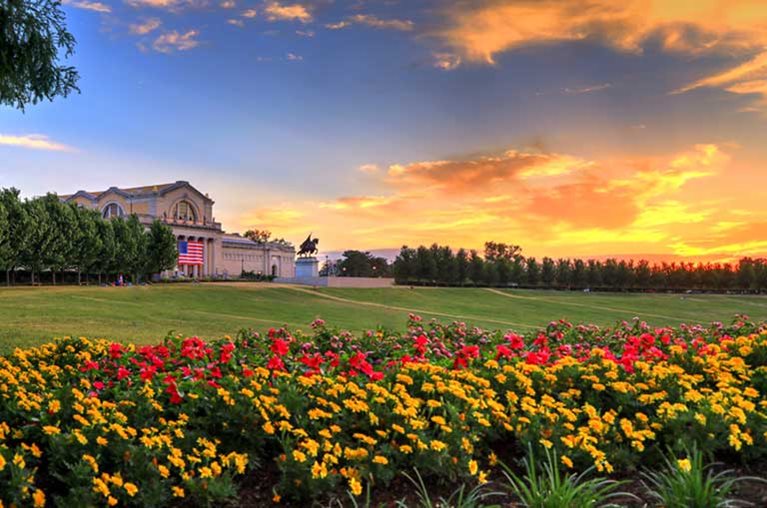 Things to Do and See in St Louis
St. Louis is notable for its abundance of free attractions. Residents can stop in at these highlights any time without having to worry about draining their wallets. The St. Louis Zoo is one of the best in the country, and admission is completely free of charge. You'll find more than 5,000 animals on the property, ranging from majestic elephants to adorable puffins.
The St. Louis Science Center is a family favorite, offering a wide range of hands-on activities that help children explore the world around them. While the Science Center itself is free, there is a charge for the OMNIMAX Theater and some special exhibits.
Museum-goers can visit the St. Louis Art Museum or the Missouri History Museum for free. The art museum houses more than 30,000 pieces. Stop in on a Friday night, and you may even catch live music here. The history museum features regularly rotating exhibits, so you'll enjoy a fresh experience every time you visit.
If you're ready to start planning your move to St. Louis, look to PODS for moving and storage solutions that give you the time and space you need with the control you want. With multiple container sizes and flexible pick-up and delivery scheduling, PODS is the right move for your move, every time.
Serving the greater St. Louis area
Affton | Allenton | Alorton | Alton | Antonia | Arnold | Augusta | Ballwin | Barnhart | Beaufort | Belleville | Berger | Berkeley | Bethalto | Beverly Hills | Black Jack | Breckenridge Hills | Brentwood | Bridgeton | Bridgeton Terrace | Cahokia | Campbellton | Caseyville | Catawissa | Cedar Hill | Centreville | Charlack | Chesterfield | Clarkson Valley | Clayton | Clover Bottom | Cloverleaf | Collinsville | Columbia | Cottage Hills | Cottleville | Crescent | Creve Coeur | Crystal City | Dardenne Prairie | De Soto | Defiance | Des Peres | Detmold | Dissen | Dittmer | Dunlap Lake | Dupo | Eagle Park | Earth City | East Alton | East Carondelet | East Saint Louis | Edwardsville | Ellisville | Elsberry | Etlah | Eureka | Fairmont City | Fairview Heights | Fenton | Ferguson | Festus | Fletcher | Flinthill | Florissant | Foley | Foristell | Frontenac | Gerald | Glen Carbon | Glencoe | Godfrey | Granite City | Gray Summit | Greendale | Grover | Grubville | Gumbo | Hartford | Hawk Point | Hazelwood | Hematite | Herculaneum | High Ridge | Hillsboro | Holiday Shores | Hollywood Heights | Horine | House Springs | Imperial | Innsbrook | Japan | Jennings | Kimmswick | Kinloch | Kirkwood | Labadie | Lake Adelle | Lake Chesterfield | Lake Saint Louis | Lake Sherwood | Lambert Airport | Lemay | Leslie | Liguori | Lonedell | Luebbering | Lumaghi Heights | Lyon | Madison | Manchester | Mapaville | Maplewood | Marthasville | Maryland Heights | Maryville | Maxville | Millstadt | Mitchell | Morse Mill | Moscow Mills | Moselle | Murphy | New Haven | New Melle | Newport | North County | Northwoods | O Fallon | Old Monroe | Olivette | Olney | Otto | Overland | Pacific | Pasadena Hills | Pasadena Park | Pea Ridge | Pevely | Pine Lawn | Pond | Pontoon Beach | Portage des Sioux | Rentchler | Richmond Heights | Robertson | Robertsville | Rock Hill | Rosewood | Roxana | Saint Albans | Saint Ann | Saint Charles | Saint Clair | Saint Louis | Saint Peters | Sappington | Sauget | Scott Air Force Base | Sherman | Shiloh | Shrewsbury | Signal Hill | Silex | South Roxana | Spring Bluff | St Paul | Stanton | Stony Hill | Strain | Sullivan | Sulphur Springs | Swansea | Town and Country | Treloar | Troy | Truxton | Twin Oaks | Union | University City | Valles Mines | Valley Park | Venice | Vigus | Villa Ridge | Vinita Park | Vitilas Reid | Warrenton | Washington | Washington Park | Webster Groves | Weldon Springs | Wellston | Wentzville | West Alton | Whiteside | Wildwood | Winchester | Winfield | Wood River | Wright City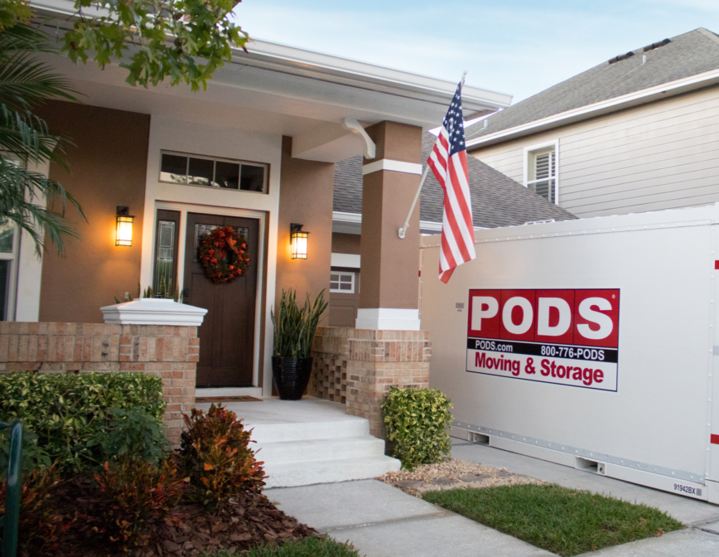 St Louis Moving & Storage
Storage Facilities Near Me
Carr Street
2116 Carr Street
St. Louis, MO 63106
Edwardsville
22 Gateway Commerce Cntr
Edwardsville, IL 62025
St. Louis, MO
3601 Rider Trail S
Earth City, MO 63045
*Limited service areas may apply. Please call PODS for service availability.