Take advantage of our limited time offer. Enter promo code HOLIDAY25 to save up to 25%.
See offer details
.

PODS Moving & Storage Santa Barbara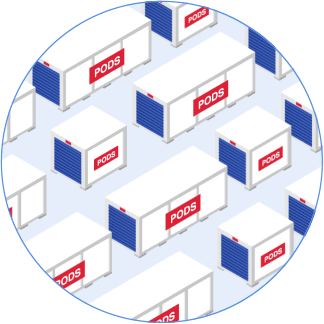 This may take up to 30 seconds.
We're searching over 200,000 containers to find you the best price.
Santa Barbara Moving Solutions
When you're ready to move to the Santa Barbara area, PODS containers can help make your move as easy as possible. Just choose the
container size
you need and the date you want it delivered. Once your container arrives, you can load your belongings on your own schedule. When you're ready, PODS will pick up your portable container and move it to your new home or to a
PODS storage facility
nearby.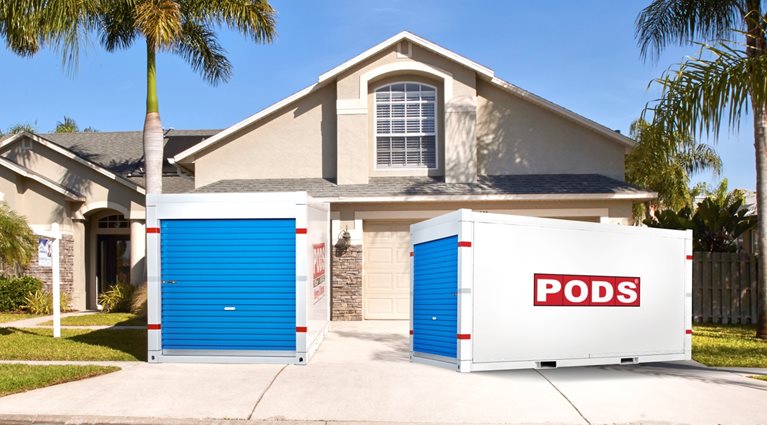 Santa Barbara Storage Solutions
PODS can also help with your Santa Barbara storage needs. PODS brings the storage to you and takes care of the driving. Take advantage of the sturdy portable storage containers for
storage at your home
or at our secure PODS Storage Centers. The ground-level design offers ramp-free loading and unloading to reduce the stress and hassle of storing and moving, and you own the only key and lock for extra security.
More about Santa Barbara@Model.Title.HeadingType>
Santa Barbara is a small city nestled between the Pacific Ocean and Los Padres National Forest. This part of California has plenty of space for peace and quiet despite the city's proximity to Los Angeles. The area has lots of interesting historic sites to explore, including buildings that date back to the 18th century. If you're planning a move to the Santa Barbara area, PODS can help with all of your moving and storage needs.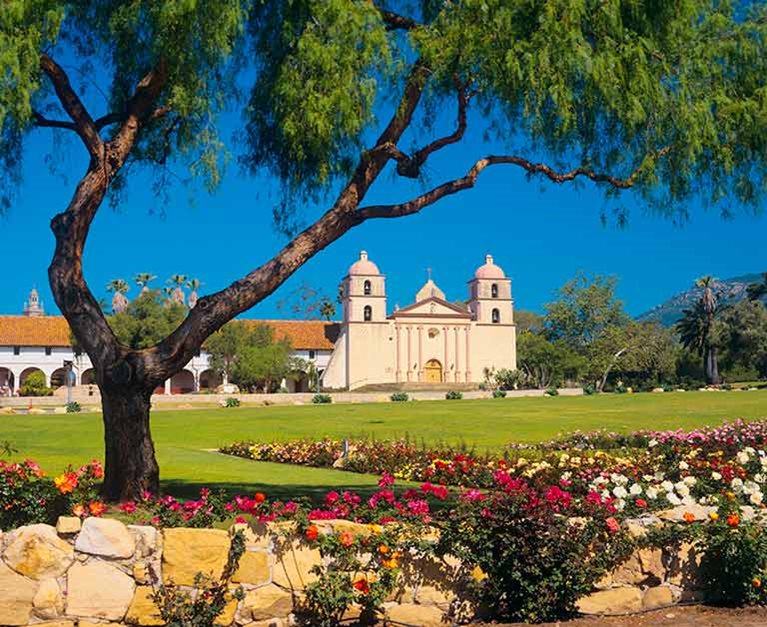 Moving to Santa Barbara County
Santa Barbara County is known for its gorgeous views thanks to the dense forests to the north and the coastal waters essentially right in your front yard. The area also has some unique history, most notably at Mission Santa Barbara, founded in 1786.
Highway 101 is central to downtown Santa Barbara, which makes downtown a very convenient neighborhood for commuting. The city is small enough that even neighborhoods such as Cielito and San Roque, while technically on the outskirts, are just minutes from all the attractions and work opportunities along this part of the coast.
The Santa Barbara Airport neighborhood is a separate part of the city west past Goleta Beach Park. It's right next to the University of California, Santa Barbara, and, like all neighborhoods in the city, affords stunning views of the ocean and mountains.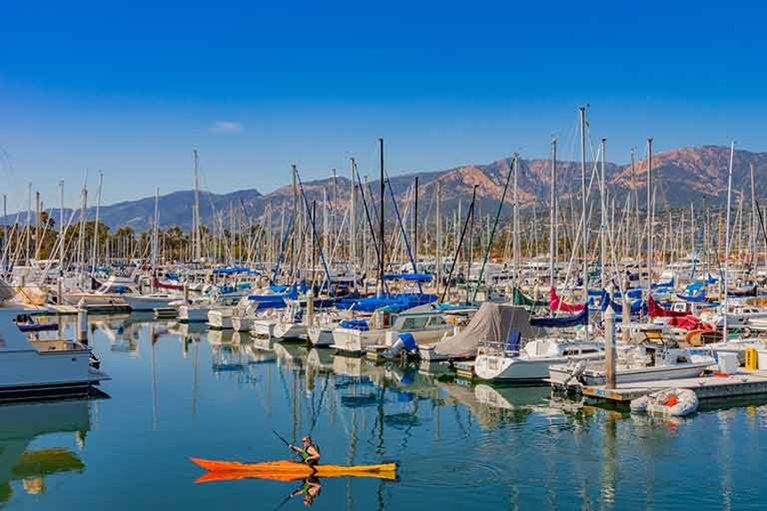 Things to Do and See in Santa Barbara
With the forest and the ocean so close by, getting outdoors is one of the best things about living in Santa Barbara. Arroyo Burro Beach County Park and Shoreline Park are right along the coast, with the latter connecting to Leadbetter Beach.
Los Padres National Forest also gives residents plenty of space to get outdoors. The massive area covers nearly 3,000 acres and features more than 1,200 miles of hiking trails, including options for beginning and experienced hikers and mountain bikers. If you prefer the beach but want to avoid crowds, take a ferry or boat out to Channel Islands National Park or visit Santa Rosa Island.
If you're interested in local history and museums, head to Mission Santa Barbara. It still houses Franciscan friars to this day and also has a museum. Other popular historic sites and museums (which you can visit for free) include the Santa Barbara County Courthouse and the Carriage and Western Art Museum of Santa Barbara. There's an art and culture celebration downtown every first Thursday of the month.
Santa Barbara isn't a huge city, but its culture and natural scenery are immense. If you have the opportunity to move here, it's sure to be a positive experience. With the availability of PODS services in the area, you can find quality, reliable moving and storage options to help you get settled into Santa Barbara as seamlessly as possible so you can spend more time exploring.
In addition to the beauty that is Santa Barbara – Montecito, a small, quaint community – is nestled right outside the city. The town boasts some of the most gorgeous stretches of pet friendly beaches including Miramar and Butterfly Beach. This tight knit community is not for the faint of heart. Visit the famous San Ysidro Ranch or Lotusland for a slice of botanical perfection, take a hike up the Cold Springs trail and sip wine among some of the world's most famous celebrities in the Upper Village at Pierre Lefond. Montecito lets you wine, dine, and play among California's elite.
Goleta is filled with charm and home to the historic Rancho La Patera & Stowe House and The South Coast Railroad Museum. Visit Butterfly Grove to catch a glimpse of some of the largest colonies of monarch butterflies in their natural habitat. Looking for a place to relax? The pet friendly Goodland Hotel is a surfer's haven, fully equipped with surfboards, record players, and vintage vinyls. Or for a more upscale experience, the fabulous Ritz Carlton Bacara rests along the bluffs of the Gaviota Coast and is home to the famous Sandpiper Golf Course.
Lompoc has an abundance of history. The Chumash Indians resided in the Lompoc Valley for 10,000 years before Europeans settled there. It's also home to the historic La Purisima Mission, built in 1787 by European settlers. The building was destroyed in 1812 and soon rebuilt in 1813 before becoming a state park. Vandenberg Air Force Base is located in Lompoc as well. It's the first missile base of the United States Air Force and is open for tours to the public. Not much of a history buff? Lompoc has a plethora of activities to enjoy including sky diving across its scenic landscapes, hiking in the mountains, and home to one of the largest aquatic parks in California.
Known for its extensive vineyards and wineries, Santa Maria is a wine connoisseur's dream. Take a walk on the wild side and explore Santa Maria on a dune buggy tour or enjoy Santa Maria's specialty BBQ at The Swiss, the Valley's most famous BBQ joint. Along with the long list of activities comes the history behind Santa Maria. Visit the Guadalupe Buddhist Church, the oldest Buddhist temple in California, and explore the Historic Santa Maria Inn established in 1917. Santa Maria has endless possibilities to enjoy during your stay.
Orcutt is the hidden gem of the Santa Maria Valley. The town is historically named after the Union Oil Company's William Warren Orcutt, best known as the "Dean of Petroleum Geologists." The old town of Orcutt boasts vintage character and embodies the small town feel fully equipped with wineries, antique stores, and unique dining experiences.
Serving the greater Santa Barbara area
Arroyo Grande | Atascadero | Avila Beach | Brandeis | Camarillo | Cambria | Carpinteria | Cayucos | Creston | Fillmore | Gaviota | Grover Beach | Goleta | Harmony | Isla Vista | Los Osos | Montecito | Moorpark | Morro Bay | Newbury Park | Nipomo | Oak Park | Oak View | Oceano | Ojai | Oxnard | Paso Robles | Piru | Pismo Beach | Point Mugu | Port Hueneme | San Luis Obispo | San Miguel | Santa Barbara | Santa Margarita | Santa Paula | Shandon | Simi Valley | Somis | Summerland | Templeton | Thousand Oaks | Ventura | Westlake Village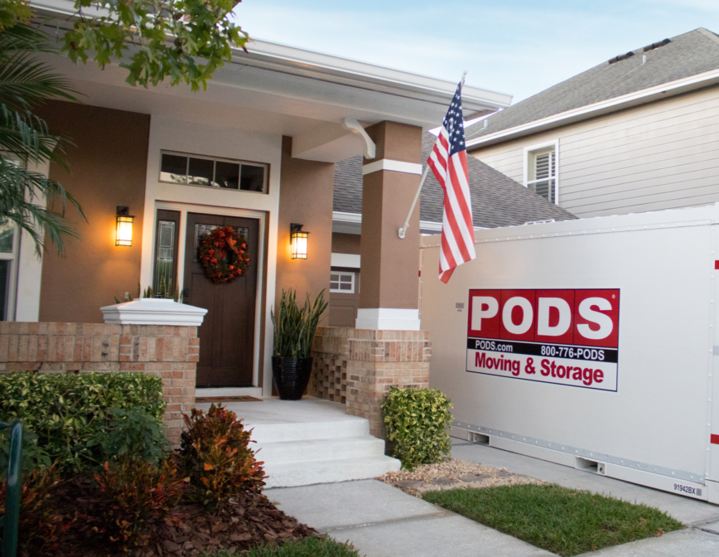 Santa Barbara Moving & Storage
Storage Facilities Near Me
Oxnard, CA
301 S Rose Ave
Oxnard, CA 93030
Santa Maria, CA
3042 Industrial Pkwy
Santa Maria, CA 93455
*Limited service areas may apply. Please call PODS for service availability.