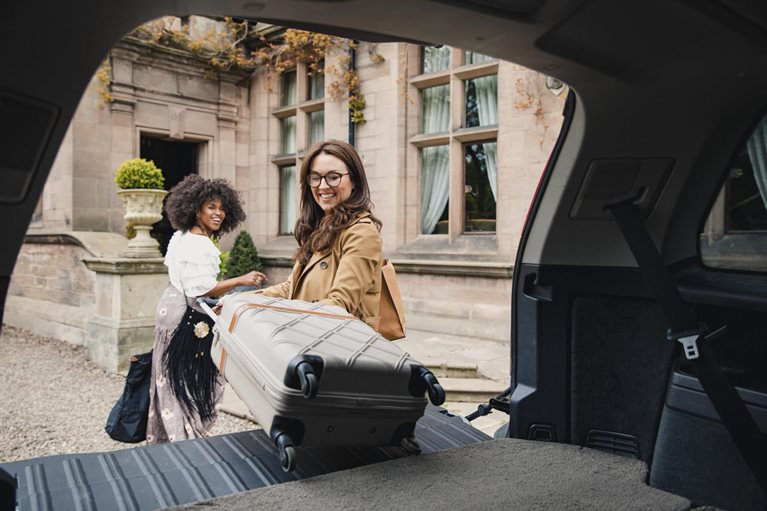 Understanding the Pop-Up Hotel: A Deeper Look at This Growing Trend
Do you know that there are 5.29 million hotel rooms across the United States?
To provide a memorable experience, it's no longer enough to be able to provide the king-size bed or the minibar. Guests are increasingly looking out for unique accommodation solutions that they won't find anywhere else.
So, what can you do to stand out from the crowd? Consider investing in a pop-up hotel concept. In this guide, we're going to explain why pop-up hotels are the new frontier for accommodation.
What Is a Pop-Up Hotel?
A pop-up hotel is a temporary accommodation that is used to maximize short-term demand for unique locations. They provide vendors with a way to create more memorable, innovative accommodation experiences that are temporary.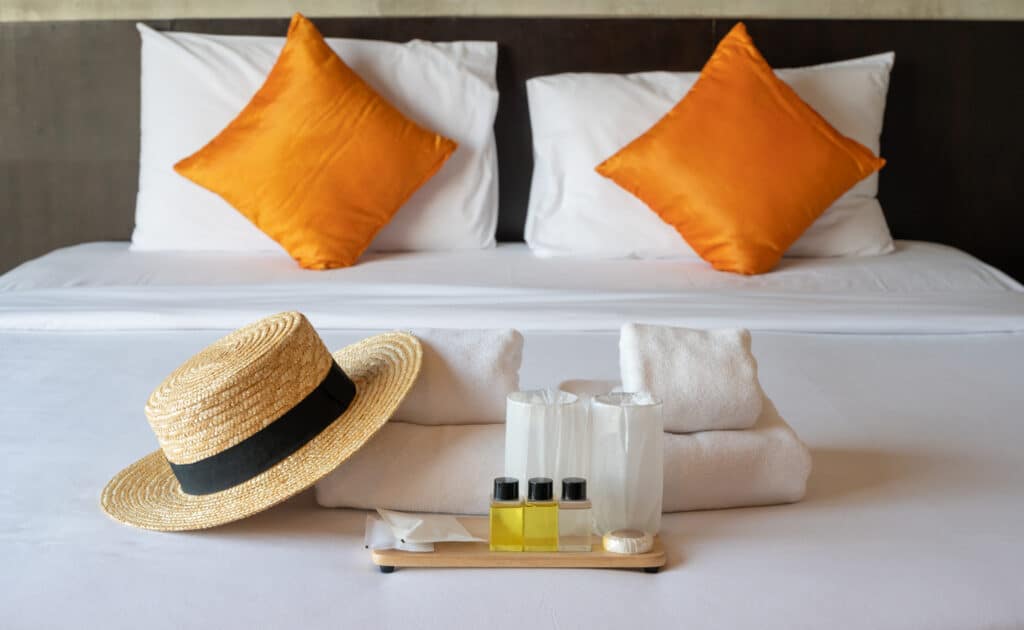 The value proposition of pop-up hotels is to offer people a more exclusive, experiential form of accommodation that guests are unlikely to find at legacy hotel chains.
Pop-hotels promise a more immersive experience that puts the hotel at the center of the getaway. Common occasions for pop-up hotels include retreats, sporting events, and tourism excursions like safaris or multi-day treks.
The Benefits of Pop-Up Hotels
What are some of the top benefits of implementing pop-up hotels? Consider the following.
Providing Accommodation — Anywhere
Multi-story hotels generally need to be located in large downtown areas, due to the amount of infrastructure support they require. So the key selling point of pop-up hotels is that they have smaller footprint and mobile structure.
Pop-up hotels are often set up in less accessible and more unsual locations, ranging from tropical rainforests and warehouses to popular music festivals and antique houses.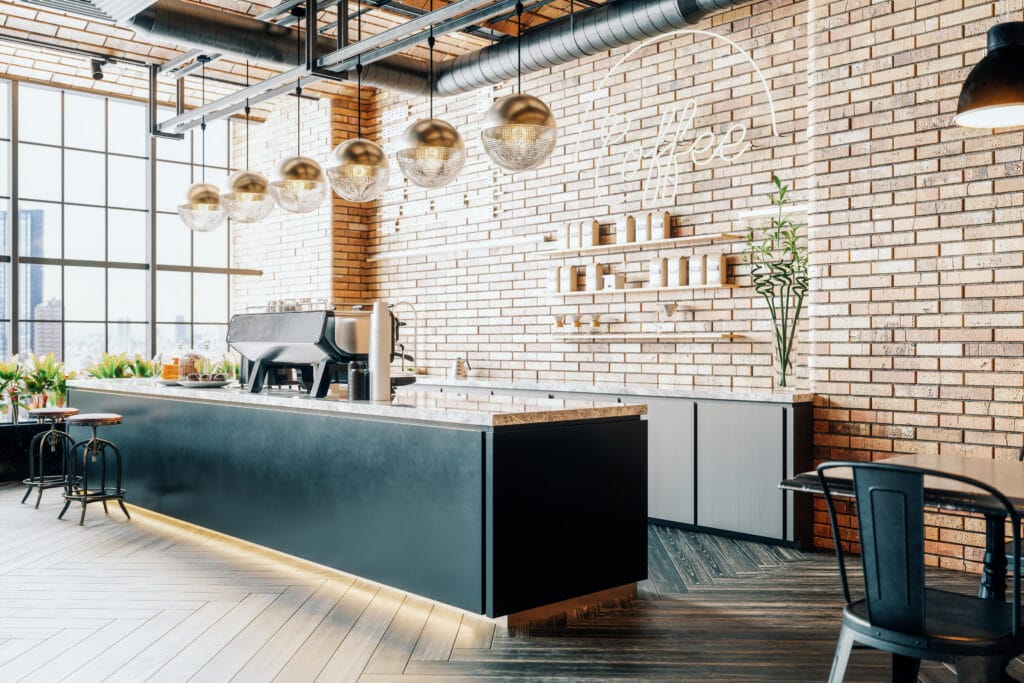 Because they put guests so close to the action, pop-up hotels have a unique value proposition that's tough for traditional accommodation providers to beat.
Millennials Are Happy to Fork Out for Unique, Exclusive Experiences
Representing the largest group of consumers, Millennial spending patterns are dictating trends in the marketplace. So, it's hardly surprising that pop-up hotels have emerged in response to Millennials' desire for experiential spending.
According to Amazon, more than three-quarters of millennials (78%) would choose to spend money on a desirable experience or event over buying a desirable object, while 55% say they're spending more on events and live experiences than ever before.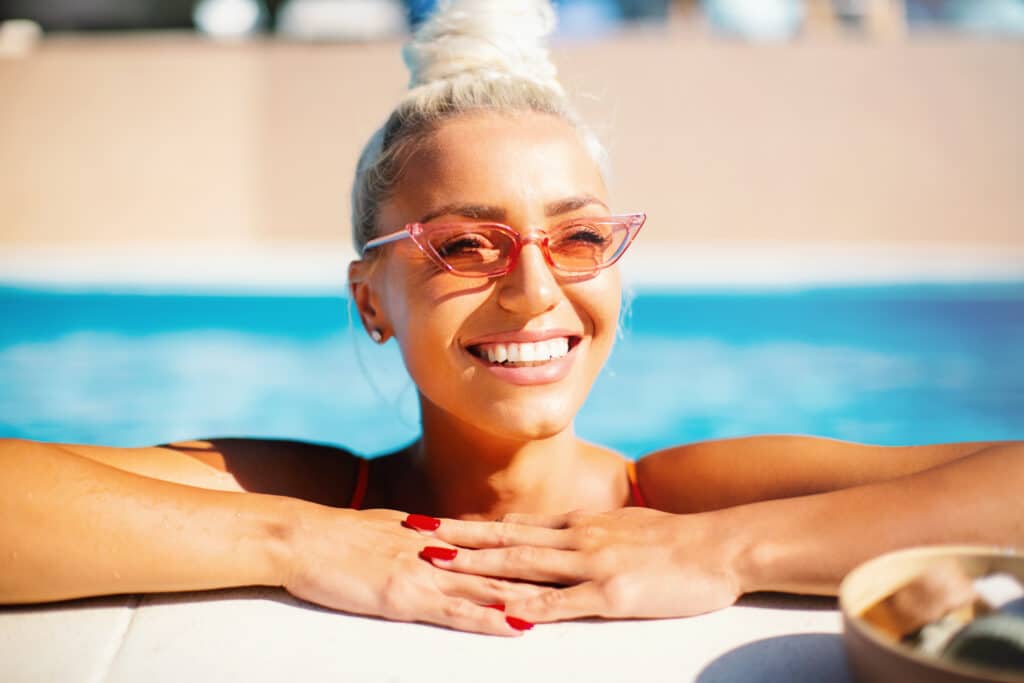 Pop-up hotels appeal to Millennial sensibilities because they promise unique experiences that can't easily be found elsewhere, giving providers a captive (and lucrative) audience.
Being Able to Refine Your Concept
Perhaps the biggest advantage of pop-up hotels is that you have much more flexibility than a traditional hotel to tweak your experience in line with guest feedback.
For example, if guests tell you that they wish there were more communal areas available, you can revisit the layout of your pop-up hotel to explore how you can use space more effectively.
Because your accommodation is so mobile, it's relatively easy to make changes between pop-ups that enhance the guest experience and enable you to keep on top of changing expectations.
Top Pop-Up Hotel Examples
Now that we've covered the fundamentals of pop-up hotels, let's take a look at some of them in action. Here are some pop-up hotel examples you can draw inspiration from.
AccorHotels Pop-Up Hotel Concept
In 2018, the French hospitality company AccorHotels revealed a pop-up hotel concept featuring shipping containers.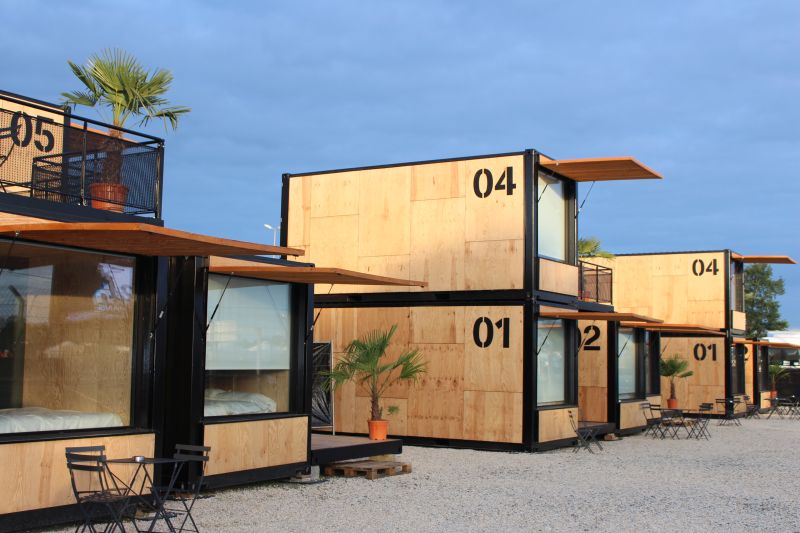 The structure was composed of six 12-square meter containers that were made from eco-friendly materials and powered by green energy.
​​The Ice Hotel
The Ice Hotel in Sweden is the world's original pop-up hotel, having been hand-sculpted every year since 1989 for the winter season.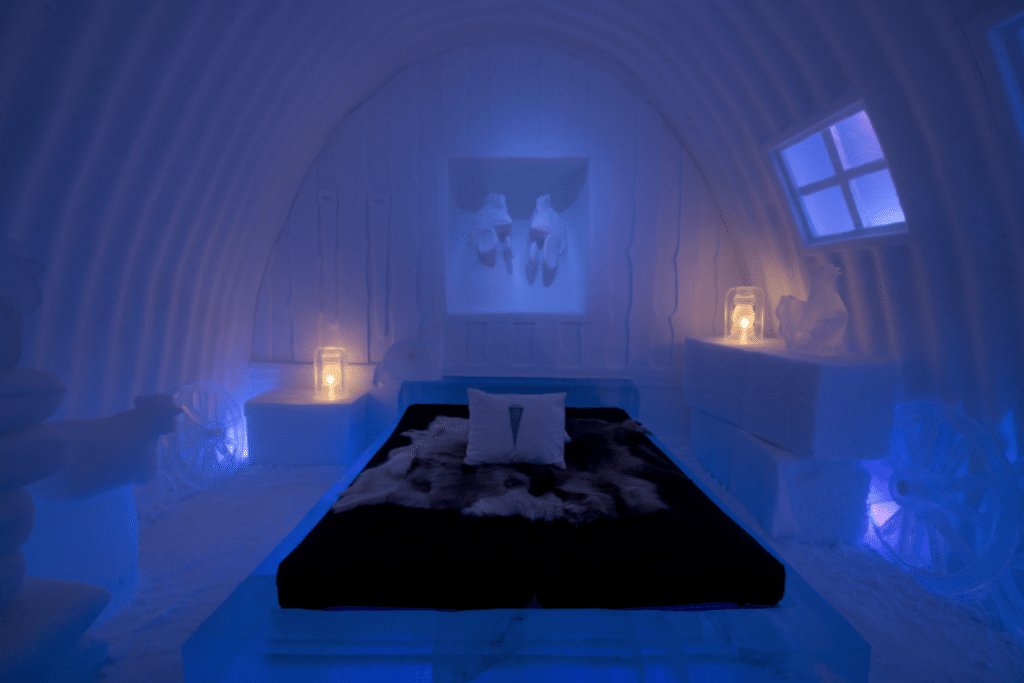 Naturally, the biggest selling point of the Ice Hotel is novelty because it changes each year, with unique artworks and rooms created from scratch to keep the experience fresh and interesting.
Marriot's Coachella Pop-Up
The Marriot X Coachella collaboration is an excellent example of how event-based pop-up hotels can create some powerful brand partnerships. Marriot curated eight luxury tent set-ups that gave festival-goers the ultimate luxury 'glamping' experience.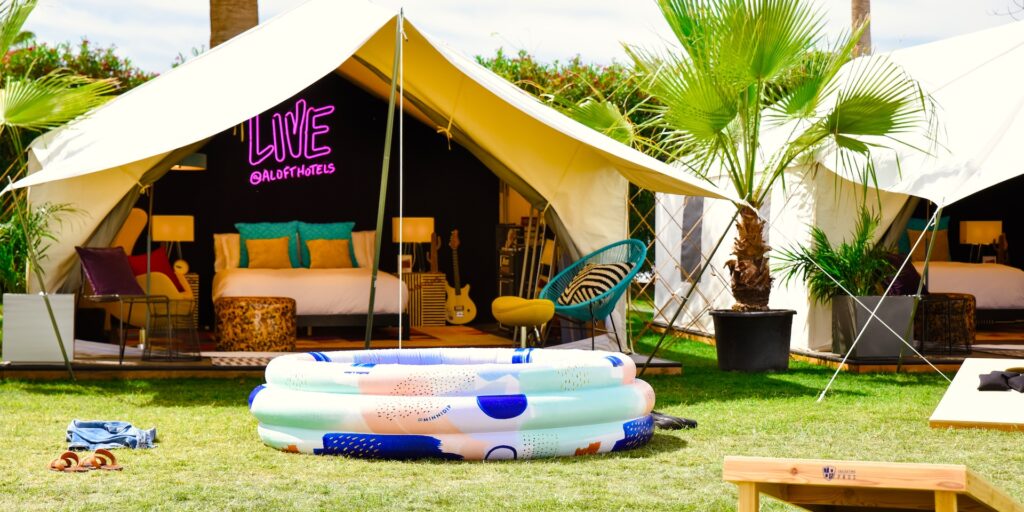 The first weekend it launched was reserved for influencers and celebrities, while fun activations allowed regular attendees to win a spot for the second weekend. As a legacy hotel chain, the Coachella pop-up enabled Marriot to refresh its image for a younger audience.
Blink
Blink was one of the first companies to maximize the potential of pop-up hotels by offering guests the opportunity to set up accommodation wherever they want, from pristine beaches to a salt flat in the middle of Bolivia.
Their tents can be easily assembled and taken apart without making an impact on the natural environment, hence the name being a homage to "'blink and you'll miss it."
By pursuing a low-impact, sustainable approach to accommodation, Blink is attracting conscious guests who are looking to lower their environmental footprint.
How to Set Up a Pop-Up Hotel
Ready to venture into the realm of pop-up hotels? The following steps will help set you up for success.
1) Plan Your Concept and Identify Your Goals
Before you start planning the "where" for your pop-up hotel, you need to decide what you want your hotel to achieve. This means answering the following:
What type of experience are you wanting to deliver?
What is your hotel's unique value proposition?
How are you going to emphasize your brand identity?
Who is your ideal guest?
Considering that pop-up hotels tend to appeal to quite a different audience than traditional hotels, you'll need to think about how your prospective guests' demographics and interests will differ from those at permanent accommodation.
Since the appeal of pop-up hotels is unique and novel experiences, how you choose to deliver on this via decor, amenities, and other value-adds are crucial to success. Remember: The devil is always in the details!
2) Select the Right Location
The ill-fated Fyre Festival is a classic example of what happens when location planning is poor. Pop-up hotels are all about location, so there's little room for error with where you're choosing to set up shop.
The right location for your pop-up will depend on what category your hotel falls into. For example, if you're planning an event-based pop-up, you want your hotel to be as close to the action as possible.
If your pop-up hotel is theme-based, you need the surroundings to reflect that selected theme or it may be difficult to pull off successfully.
3) Build Your Pop-up Hotel
Now we get to the fun part. How you choose to build your pop-up hotel will depend on several different factors, including the climate (hot/cold) and the overall feel you want your hotel to channel. You also need to think about how you're going to store everything you need to operate.
Storage is easily one of the biggest challenges of running a pop-up hotel. Unlike a permanent accommodation solution, you don't have built-in storage rooms to safely store things like spare linen, cleaning supplies, and amenities including toiletries.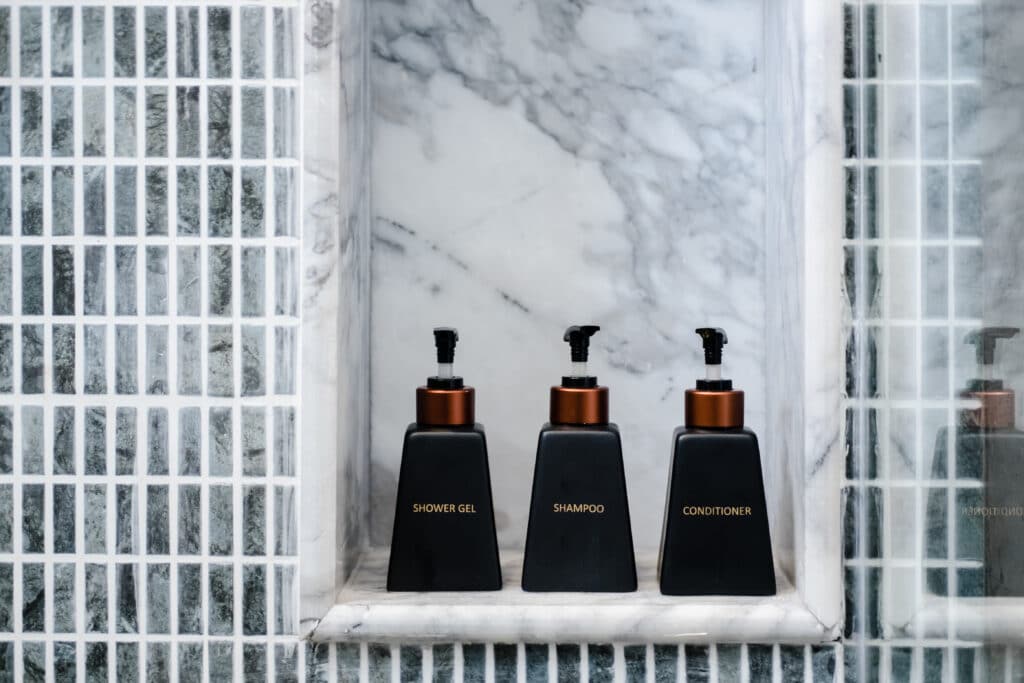 Shipping containers offer a solution for storing supplies on-site so you can have easy access and convenience. PODS commercial storage containers also offer the advantage of being able to be transported to new locations even when fully loaded.
But you don't need to stop here — why not use storage containers to create facilties at your pop-up hotel?
PODS containers are weather-resistant, they have high-security locking features, and they can even be decorated for the look you want, making them an ideal canvas for pop-up shop or restaurant locations.
4) Market and Advertise Your Hotel
Once your hotel is ready, it's time to start marketing it. It's important to do some thorough audience research to find out which marketing channels are being frequented by your target audience, such as:
Social media
Email
YouTube
Industry publications and blogs
Travel/accommodation websites
Travel influencers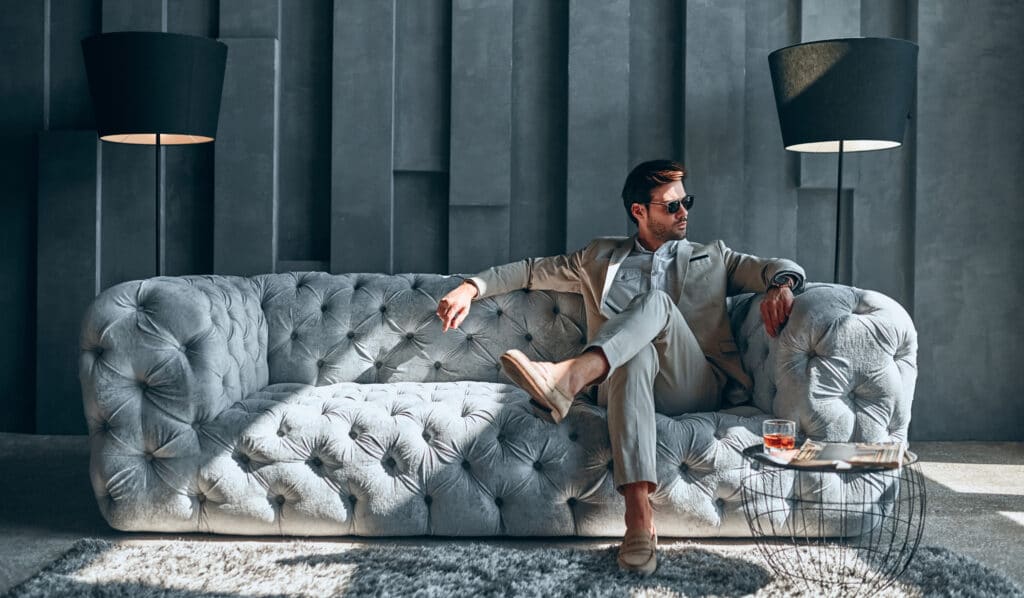 It's important to be selective about what channels you choose to use, as not all of them will be a great fit for your brand and hotel concept.
Ready to Set Up Your Hotel?
Pop-up hotels offer an alternative value proposition that revolves around novelty and unique experiences that guests are going to remember for years to come. By following our tips above, you'll have a fully-functioning pop-up that delights guests in no time!
And remember, if you need a moving and storage provider that can address your unique accommodation requirements, PODS can equip you with solutions to help you create a pop-up hotel. Request a quote today.
[maxbutton id="1"]
RELATED ARTICLE: Ideas for Creating a Custom Shipping Container That Will Jumpstart Your Business
Get a Quote
Choose the service you need
Comments
Leave a Comment
Your email address will not be published. Required fields are marked *