Take advantage of our limited time offer. Enter promo code HOLIDAY25 to save up to 25%.
See offer details
.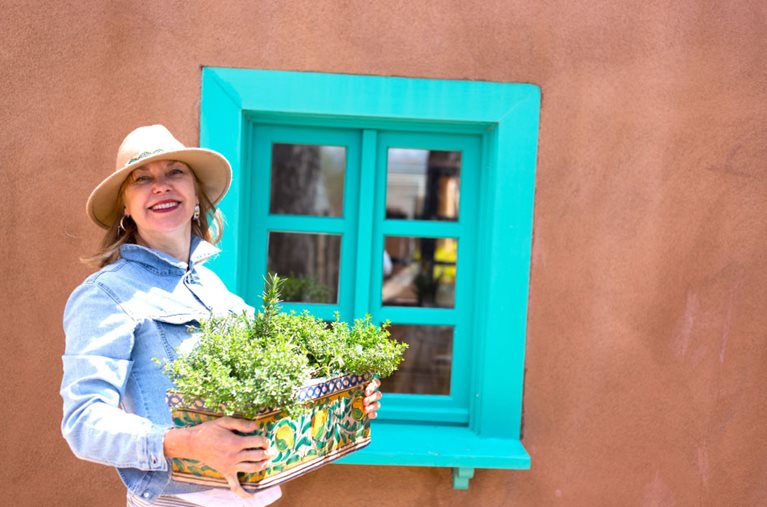 Considering Spending Your Golden Years in The Land of Enchantment? Here's Why Retiring in New Mexico May Be the Right Move For You
The state of New Mexico is commonly referred to as "
The Land of Enchantment
," and it's easy to see why. From its dramatic and diverse desert landscape, characterized by red rock formations and old highways, to other natural wonders in the area, like the
Rio Grande
and the
Rocky Mountains
, there's plenty to take your breath away. But is New Mexico a good place to retire in? Is the cost of living sustainable for someone on a fixed income? And will the climate be comfortable in your later years? Let's find out if retiring in New Mexico is the right move for you!
Planning a move to New Mexico?
Start by getting a quote from PODS
.
The Benefits of Retiring in New Mexico
Is retiring in New Mexico a good idea? Well, when it comes to finding the perfect retirement destination, retirees tend to look for a place that is both peaceful and fulfilling — and New Mexico checks off both of those boxes. Residents are surrounded by a serene yet picturesque landscape, with active communities and affordability to boot. Interested in learning about different cultures? Carried away with fascinating history? You'll be able to scratch those itches in New Mexico, as well.
Pros and Cons of Retiring in New Mexico
While New Mexico offers a lot of benefits for retirees, there will certainly be drawbacks, just as there are with every state across the country. To help you weigh both the good and bad, here are a few relevant pros and cons of retiring in New Mexico.
Pro: Rich Cultural Heritage
New Mexico is rich in its cultural tapestry, which is influenced by various traditions, such as Anglo, Hispanic, and Native American. There are numerous museums and art galleries in the state, and retirees have plenty of opportunities to learn about its heritage. One of the most popular events in the area can be found in the city of Albuquerque at the Balloon Fiesta.
Con: Poor Public Transportation
Despite the state's natural beauty and cultural diversity, New Mexico suffers from inadequate public transportation. Due to the state's low population density and expansive landscapes, the development of an extensive public transit system has been difficult.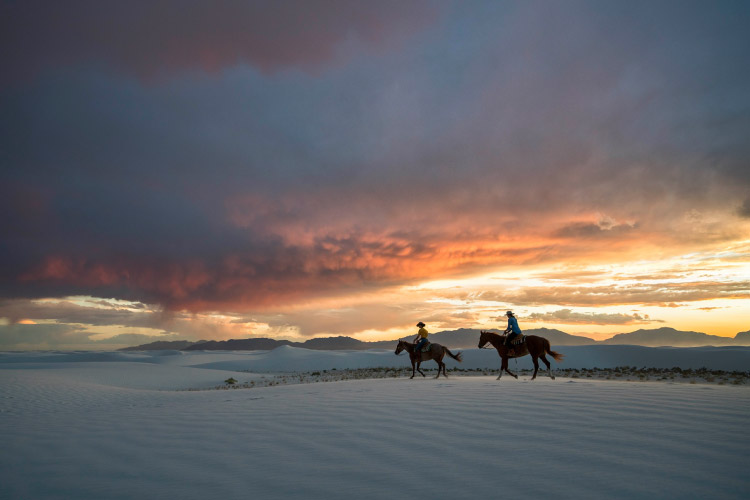 White Sands National Park
(Source: New Mexico True via Facebook)
Pro: Beautiful Landscape
Deserts, forests, mountains, cliffs… The landscape of the state is absolutely breathtaking. From White Sands National Park to the Aztec Ruins to the Carlsbad Caverns, you'll never run out of beautiful sites to visit.
Con: Dry Climate at Higher Elevation
New Mexico's overall mild climate is one of the main reasons why people choose the state as their retirement home. The moderate temperatures and low humidity allow retirees to easily enjoy outdoor activities all year. However, that lack of humidity may be a major adjustment, depending on where you're coming from. And mixed with the higher elevation, it can get quite windy. Be sure to stock up on the moisturizer and stay hydrated!
Pro: Low Cost of Living
Want to retire in one of the most affordable states? Then you've picked a great one! New Mexico's cost of living index is a whopping 88.4, compared to the U.S. average cost of living index of 100. Necessities such as groceries, healthcare, housing, and transportation are well under the U.S. average.
Con: Extreme Weather
The state of New Mexico is known for its hot summers, which are characterized by the abundance of sunshine and high temperatures. During these periods, the state experiences heat that is sometimes overwhelming, with temperatures that will easily go over 100 degrees Fahrenheit in some areas. High-elevation cities such as Santa Fe, however, can provide residents with an escape from the extreme heat.
(Source for left image: New Mexico True via Facebook)
Retiring in New Mexico vs. Other States
How much money you need to retire in New Mexico depends on your specific lifestyle, of course. But one major factor to consider is your new tax situation. What taxes do retirees pay in New Mexico? Social security income, withdrawals from retirement accounts, and public and private pension incomes are all partially taxed in the state, and the marginal state tax rate is approximately 4.9 percent. However, retirees who are 65 years old and older can get a deduction of up to $8,000 on their income. Other individuals with an adjusted gross income of less than $28,500, couples with an income of less than $51,000, and married couples filing separately with an income of less than $25,500 are also eligible for this deduction.

When comparing New Mexico to some other states, there are a few key differences in regards to taxes and what the cost of living is like for retirees.

Is it better to retire in Arizona or New Mexico, for example? In Arizona, social security income is not taxed at all. However, withdrawals from retirement accounts are fully taxed, but the marginal state tax rate is a bit lower than New Mexico at around 2.55 percent. The overall cost of living in Arizona is quite a bit higher than it is in New Mexico, though.
Florida, on the other hand, is one of the most
tax-friendly states for retirees in the entire country
! There is no state income tax in Florida, which means that social security benefits, withdrawals from retirement accounts, public/private pension income, and income from 401(k) and IRAs are all completely untaxed. But although Florida may offer great tax benefits, the average cost of living in New Mexico is still quite a bit lower.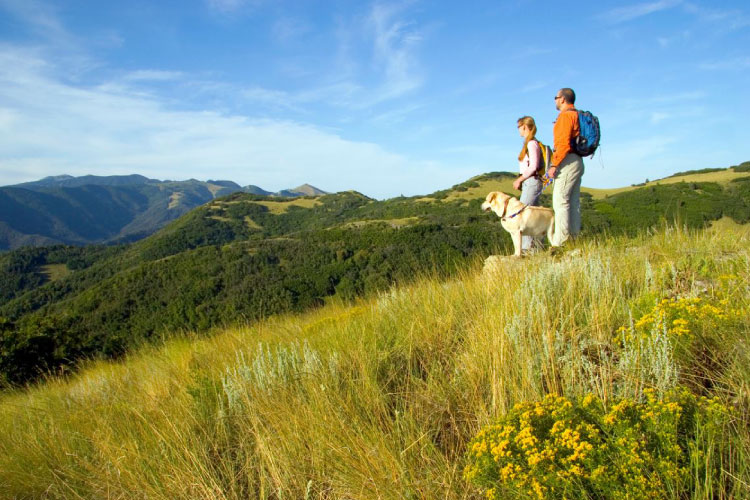 Crest Trail in Ruidoso, New Mexico
(Source: New Mexico True via Facebook)
The Best Places to Retire in New Mexico
With factors favorable among retirees, in particular, like active communities, outdoor recreation activities, unique history, and entertainment, here are some of the best cities to retire in New Mexico.
1. Silver City, NM
Silver City is a historic mining town that's located in New Mexico's southwest corner and surrounded by beautiful mountains. If taking long, scenic drives is your cup of tea, Silver City may be the perfect place for you. You'll have plenty of opportunities to admire the nearby Gila National Forest as well as the Gila Cliff Dwellings, where you can also explore the various hiking trails within the forest.
2. Ruidoso, NM
The mountain town of Ruidoso is an ideal place for people who are looking to retire and be close to the American West's natural beauty. This region has plenty of attractions for everyone, such as fishing, mountain biking, and hiking. Its low cost of living and pleasant climate also make it an ideal choice for people who want to enjoy a vacation lifestyle.

Among the other activities that can be done in the area include going to the Spencer Theater for Performing Arts, volunteering at historical sites, going to art galleries, and getting quality medical care at the Lincoln County Medical Center nearby.
3. Taos, NM
The small town of Taos is located in a region of New Mexico that's mainly known for its Sangre de Cristo Mountains, along with unique architecture that is reminiscent of its Native American history. Retirees have plenty of social and cultural opportunities in this area, which include art galleries, a variety of restaurants, and activities such as fishing, hunting, and swimming.

You're also close to the Ted Turner Reserve in Vermejo when living in Taos, which includes 550,000 acres of picturesque streams and lakes, and the Valle Vidal in the Rocky Mountains, which is about 102,000 acres of beautiful mountain paradise.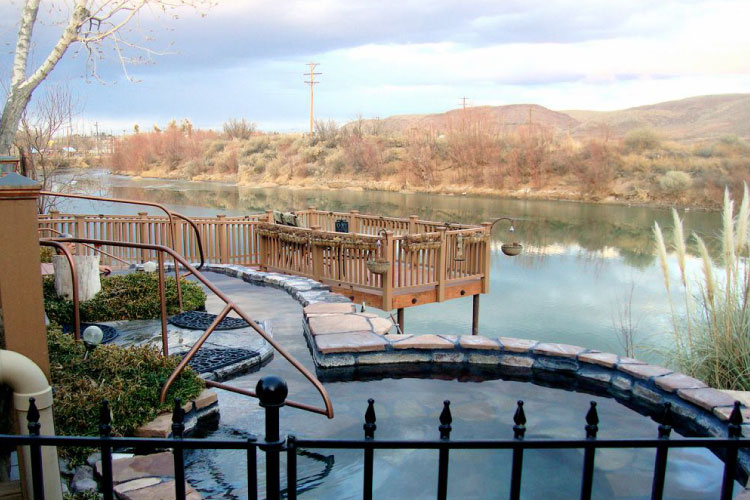 Riverbend Hot Springs and the Rio Grande River in Truth or Consequences, New Mexico
(Source: New Mexico True via Facebook)
4. Truth or Consequences, NM
Average rent (one-bedroom): N/A
Average home value: $140,000
Truth or Consequences was previously simply known as "Hot Springs," but interestingly got its current unique name from a radio game show in 1950! Located in New Mexico's southwestern region, it has a small-town feel and offers a warm, dry climate, therapeutic hot springs (bet you couldn't guess that!), and low real-estate prices.
Situated halfway between El Paso and Albuquerque, this region also offers a variety of national and state parks, cultural attractions, ethnic restaurants, and even Spaceport America — the world's first spaceport for commercial spaceflight.
5. Santa Fe, NM
Retiring in Santa Fe, New Mexico, offers a variety of activities and cultural events, as well as access to a top healthcare facility in the state. Want to maintain an active lifestyle? Try out fly fishing for trout, go on a whitewater rafting trip, or drive through the scenic byways and head to the slopes at Ski Santa Fe. For slower-paced entertainment, stroll through some of the most prestigious art markets in the U.S., and admire handmade Native American art, jewelry, and pottery. Santa Fe also boasts more than 250 art galleries and several museums.
6. Alamogordo, NM
Alamogordo is one of the best places to retire, as it offers a variety of activities, such as golfing, horseback riding, and mountain biking. The city also has plenty of parks to enjoy, such as the White Sands National Park and the Oliver Lee Memorial State Park, where you can enjoy activities like hiking, camping, and even the occasional wildlife sighting.
Roswell, New Mexico
(Source: Roswell, New Mexico - Tourism via Facebook)
The Best Places to Retire in New Mexico on a Budget
It's easy to feel overwhelmed by living expenses, especially when you're on a fixed income. So where is the best place to retire in New Mexico on a budget? Las Cruces, Roswell, and Carlsbad are our top choices.
1. Las Cruces, NM
Situated approximately 228 miles south of the city of Albuquerque, the city of Las Cruces is a more affordable alternative to Santa Fe, when it comes to your retirement savings. It is both charming and attractive, and you can participate in various local activities, such as the First Friday Art Ramble, held downtown. Consider yourself a bit of a bookworm? Be sure to stop by one of the COAS Books stores on a regular basis to browse through the many new and used books that they have to offer.
2. Roswell, NM
Roswell residents have access to 32 parks and recreation facilities, as well as various walking trails. One of the most popular places to visit is the Bottomless Lake State Park, which is perfect for swimming, fishing, and camping. Not into the outdoors? You can still enjoy the city's cultural and arts scene, which includes the Roswell Symphony Orchestra and the Bone Springs Art Space.
3. Carlsbad, NM
Situated in southeastern New Mexico, the city of Carlsbad is known for its natural beauty — its limestone cliffs, deserts, and caves, in particular. It is also home to the famous Carlsbad Caverns National Park, which features over a hundred caves filled with unique formations. There are a variety of additional activities available in the area that are perfect for retirees, as well, such as golfing at the Lake Carlsbad Golf Course or antique shopping at the Pecos River Antique Mall.
Retiring in New Mexico: Making the Move
Make your retirement move to New Mexico a flexible one by using PODS portable moving containers. PODS will deliver them right to your driveway, where you can pack and load on your own schedule. When you're ready, PODS will pick them up and transport them right to your new home in New Mexico. And if you need a little time before you're ready to unload, that's fine, too! One month of storage is included with every move.

Editor's note: For ease of reading, monthly rental prices were rounded to the nearest $25 and home values were rounded to the nearest $100.
Get a Quote
Choose the service you need
Comments
Leave a Comment
Your email address will not be published. Required fields are marked *