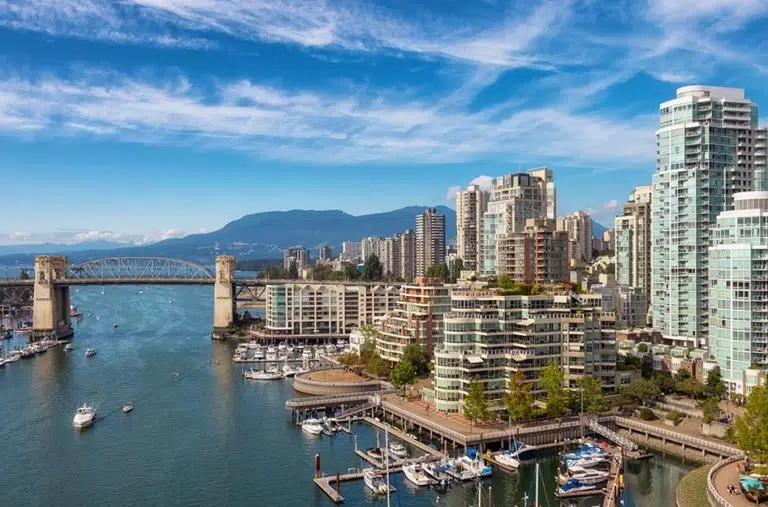 Moving to Vancouver: Your Great Canadian Adventure Awaits
Seeking a fresh start in Canada? Then it's no surprise you're considering Vancouver — it's always a popular choice. Located in the Lower Mainland region of British Columbia, a combination of modern urban living and exceptional scenery makes Vancouver one of the most desirable places to live in the world. Want to learn more about just what makes Vancouver shine? Let's get moving.
About the city of Vancouver
There is so much to love about Vancouver, whether it's the epic landscapes, cleanliness, and friendly people, or its focus on safety, work satisfaction, and public health. It doesn't hurt that it has one of the mildest climates in all of North America either.
A city that offers some of the best nightlife in the country (night skiing, anyone?), Vancouver is home to people of all backgrounds, as well. In fact, diversity is the name of the game there. A little more than half of the residents are from visible minority groups, and a little less than half are neither native English speakers or native French speakers.
And in addition to its great art institutions and vibrant music scene, breathtaking mountains, lakes, and coastline are all easily accessible from the city.
It's gorgeous, well-equipped, and incredibly forward-thinking in terms of its economy and public funding policies. Who wouldn't love all that?
Is moving to Vancouver a good idea?
That's for you to decide. But we can tell you that from its mild climate and easy access to nature to its welcoming, cosmopolitan culture, it's no wonder people around the world want to make this West Coast gem their home. And that it's rated among the top five cities in the world for livability and quality of life.
However, all that popularity does come with a price, so you'll need to be prepared if you're making the move. On a tight budget? That may make it difficult to afford all of Vancouver's fabulous amenities. We'll break it down for you here.
Pro Tip: Finding it tough to compete with others in the Vancouver housing market? Maybe you should consider something in a nearby area and commute to Vancouver instead. Barnaby is a great example of this. For instance, renting a one-bedroom apartment in City Centre in Barnaby is nearly 13 percent cheaper than in Vancouver. Purchasing that one bedroom? Barnaby is more than 33 percent cheaper per square foot than Vancouver. And the best part? It's only 10 kilometres away!
What salary do I need to live in Vancouver?
Average monthly net salary (after tax): $60,000
Average monthly rent (one bedroom downtown): $2,350
Average monthly costs (before rent): $1,305
According to Numbeo, the average monthly net salary after tax is almost $60,000. As an individual, this would likely allow you to live comfortably in Vancouver, as Numbeo suggests individuals can expect their monthly costs to be $1,305.66 per month before rent. One-bedroom apartments in downtown Vancouver, for reference, cost $2,346.12 per month on average.
Want to know one way you can save money each month? Consider walking or riding your bike to work, if possible. A monthly TransLink pass ranges from $102.55 to $185.20. If you drive, the cost of gas in Vancouver has been extraordinarily high in 2022 — like elsewhere around the globe — at around $8.06 per gallon.
What are the pros of living in Vancouver?
The city of Vancouver has it all: mountains, the ocean, lots to do, and a booming economy. Let's dive into some specifics.
It's an outdoor-lover's paradise.
If you fly into Vancouver, you will see the Pacific Ocean surrounding the city and impressive snow-capped mountains beyond. The air in Vancouver is refreshing, revitalizing, and energizing. In fact, with all the ozone there, it literally feels healthy.
There are plenty of places to swim and sunbathe in Vancouver alone, with eight beaches by the ocean and one on a lake. Which one should you visit first? The choice is tough between Kitsilano Beach (known to locals as Kits Beach) and Ambleside Beach, with its spectacular views, saltwater pool, and multiple sports activities.
Vancouver's also a popular place to go fishing and hiking, and there are some great cabins to rent, as well. Avid skier? You can ski Grouse Mountain, Cypress Mountain, and Mount Seymour, just a few miles away from downtown Vancouver! A scenic two-hour drive from Vancouver is Whistler Blackcomb, a world-class ski resort. However, you'll soon discover that the province has many other equally stunning but less crowded ski runs.
If you're moving to Vancouver, you must add the legendary Sea-to-Sky Highway to your bucket list, too. It showcases some of British Columbia's most stunning scenery and some of its most fascinating historical sites, like the Tantalus Range Lookout. Be sure to ride the Sea to Sky Gondola, too, which offers a bird's-eye-view of the fantastic alpine scenery surrounding the mountainside town of Squamish. Not into heights? Enjoy the scenic views — including whales — from a boat!
It has the best weather in Canada.
Considering crossing Canada off your list due to cold winters? Think again! There aren't many places in the country that have a better climate than Vancouver, British Columbia.
Because Vancouver is so close to the ocean, heavy snowfalls are rare during the winter. However, it's not difficult to get to the snow, since the mountains and ski slopes are not far away. During spring, the city's famous cherry blossoms come into bloom, and the streets are beautiful. That said, Vancouver weather can be dreary in winter with rainfall, but it's certainly bearable compared to snow across the rest of the country.
It's full of cultural diversity.
A diverse population of nationalities lives in British Columbia and Vancouver, making it one of the most exciting places in the world to live. A life in Vancouver will expand your horizons!
You will see international influences in everything — from shops and restaurants to cafes and art — as your neighbours will likely come from many different places across the world.
It has the one-of-a-kind Stanley Park.
Stanley Park, a wild rainforest oasis in the heart of the city, is the perfect place for an adventure getaway — without even leaving the city! With forests, formal gardens, and special areas that have been left specifically for the wild to thrive, you can easily make a day trip out of this park. And did we mention you can explore over 27 kilometres of forest trails while you're at it?
It has an unmatched food scene.
There's no way to know how good food can get until you've eaten really, really well. And, not gonna lie, it gets pretty good in Vancouver. Newcomers and visitors to Vancouver often say that food tastes better here because it's a real foodie city, with seafood caught and bought just steps away from the markets and restaurants they are served in. In addition to award-winning restaurants and cafes, the area also has outstanding food markets — like Granville Island — and specialist shops for aspiring chefs.
It's full of fun for the whole family.
B.C. has a wide variety of amusement parks, if you're looking for a fun day out for the whole family. In Vancouver, for example, there's the 137-metre Kitsilano Pool — Vancouver's only saltwater pool — and Playland Amusement Park. And if you're into experiencing some nostalgia, The Pacific National Exhibition holds a century-old fairground celebration every year at Playland for locals and visitors alike. The fair is hotly anticipated every year because it features rides, animal displays, auctions, concerts, and performances in the grand 'ole tradition of the county fair.
It has plenty of education opportunities.
Vancouver is home to world-class universities, including the University of British Columbia — ranked 37th in the Times Higher Education World University Rankings — and Simon Fraser University.

It has unlimited entertainment.
There's no way you'll ever get bored in Vancouver. Music, sports, film, food, and wine? Those are no-brainers. But you may be surprised to hear about all the festivals that occur, as well —  Celebration of Light, International Jazz Festival, and the Vancouver Pride Festival, to name a few. And we'd be remiss if we didn't mention all those can't-miss TED Talks.
What are the cons of living in Vancouver?
We have to keep it real, right? So we'll be the first to admit that there are some cons to living in Vancouver — although we are a little biased and find there's a bit of a trade off when you love where you live. Let us explain.
It's expensive to live in Vancouver.
Although foreign real estate speculators play a role in the high cost of housing in Vancouver, that's not the fundamental cause. The land in Vancouver is limited: The same ocean and mountains that make it so beautiful also enclose it, leaving little room for expansion. And that makes the existing housing go up, up, up in value.
You can be sure to join in on "Traffic Jam Central."
Vancouver gridlock may be worse than anywhere in North America — even L.A.! Make sure you have a comfy car, because you can expect to spend lots of time in Vancouver traffic each year if you don't walk to work.

There is a dread of earthquakes.
A major earthquake, as well as a tsunami, are fears of Vancouverites, similar to their American counterparts along the West Coast. A magnitude-9 earthquake is predicted to occur just offshore Vancouver Island in the next 50 years, as the Pacific Ocean plate subducts under the North American plate. It's something that many residents prepare for. NBD, right? Ugh. Time to brush up on those geography lessons from school.
Vancouver Neighbourhoods
You know Vancouver, B.C., is a great place to live. It's only when you start exploring Vancouver's neighbourhoods for a property that you begin to realize just how great it really is.
Luxury apartments can be found downtown. However, if you have a family, you might prefer something slightly more suburban, which is where you can see how wide the selection is.
While some neighbourhoods are more expensive than others, all are fairly safe and enjoyable. Don't be put off by stories of sky-high prices — all neighbourhoods around the city are well maintained and managed.
Looking at other areas and cities in British Columbia? The outlying areas more inland from Vancouver, like Surrey, Coquitlam, and Maple Ridge, may give you more home for your money, but be sure to weigh your commute in your decision. Commuting from Maple Ridge to downtown Vancouver is likely to take up a significant amount of time (and gas money) each week. Is that really worth it?
Best Vancouver neighbourhoods for students
Whether you're at UBC or SFU Vancouver campuses, the West Side is your best bet for easy access to schools. Neighbourhoods like Kerrisdale, Kitsalano, Point Grey, and Dunbar are all accessible by bus to schools, and popular with students. The transit system in Vancouver is incredible by SkyTrain, so you can easily get to where you need to go without a car.
You can live Downtown for more convenient access to nightlife and shopping, and it's close to Stanley Park, but it's a 35-minute bus ride to UBC. Planning your commute to school is key when deciding where to live in Vancouver.
Best Vancouver neighbourhoods for professionals
With cobblestone streets and vintage lamp posts, downtown Vancouver has a unique contrast between old and new. Gastown, Vancouver's oldest neighbourhood, is a centre of fashion with boutique shops and cafes.
One of the oldest streets in Vancouver, Commercial Drive — known to locals simply as "The Drive" — is close to the waterfront and is home to incredible architecture and shops as well as restaurants. As a result of the numerous street festivals and musical performances held here throughout the year, it attracts tourists and locals alike. Make sure you leave yourself plenty of time when you visit Vancouver to enjoy The Drive.
Best Vancouver neighbourhoods for families
The Kitsilano area offers many parks, beaches, and green spaces for kids to explore. This neighbourhood is ideal for families who enjoy water sports, volleyball, and spending time outdoors. You can spend a rainy day exploring the H.R. MacMillan Space Centre, and the Kitsilano saltwater pool — the longest pool in Canada — is a great place to swim.
There are both residential homes and commercial areas in Oakridge. If your family is active, this bustling neighbourhood would be your best choice! Langara Golf Course and VanDusen Botanical Garden are close by, too.
A family-friendly paradise nestled right in the heart of Vancouver, the West End features stunning buildings, tree-lined streets, and pedestrian-only streets.
From English Bay Beach to Second Beach Pool and the Vancouver Aquatic Centre, there's no shortage of kid-friendly activities. Spend the day biking the seawall at Stanley Park or visit the Vancouver Aquarium.
Throughout the year, West Point Grey hosts a variety of family-friendly events like carnivals and musical performances that reflect the neighbourhood's calm atmosphere and sense of community. Your kids will love exploring Pacific Spirit Regional Park and watching the sunset from Spanish Banks Beach or Jericho Beach Park.
Family is a big part of Dunbar's culture, as well. Children's day camps, fitness classes, and ping pong tournaments are only some of the activities offered at the Dunbar Community Centre.
Best Vancouver neighbourhoods for retirees
You'll want to consider transit, walkability, a sense of community, and what you want, specifically, when choosing a place to settle into for the long haul in Vancouver.
In the downtown residential area, Coal Harbour is located at the northern end. This neighbourhood is primarily inhabited by older professionals and retirees and is one of the most affluent neighbourhoods in Vancouver. To the north, you can access the sea wall and marina.
Kerrisdale is home to many wealthy elderly residents in high-rise condos, where the shops cater to seniors. It's a quiet neighbourhood with lots of shops, cafes, and restaurants. The neighbourhood is popular with UBC students due to its proximity to the university, however, so you need to be able to mesh with the youth if you choose to live there.
Making the move to Vancouver
Knowing the reasons why people move to Vancouver, how would you approach it? Packing up your life and belongings all at once can be stressful, sure. But once you've safely moved your belongings to your new home, life will return to an exciting new normal, and this captivating city will be yours to explore. Here are some things to consider when choosing a moving partner.
Full-Service Vancouver Movers
It's all up to you with a full-service mover. If you want everything packed, loaded, delivered, unloaded, and unpacked for you, a full-service mover can do it all. The problem is, they can charge you a lot to do it. So what do we suggest? If you can afford it, hire movers. Do your homework first, though, and keep track of everything to avoid unexpected circumstances.
Rental Trucks
Are you looking for the most cost-effective method of moving? You might be able to save money by doing it yourself. For longer hauls, renting a truck can be more expensive than you think, however, if you factor in fuel costs, insurance, food, and lodging. Plus, you're doing it all yourself! For more info on how to decide if a truck is right for you (including a comparison of rental trucks to PODS services), check out the PODS Blog.
Moving and Storage Containers
As you prepare to move to Vancouver, PODS portable moving and storage containers can make your move easier and more convenient. Having a container delivered straight to your driveway allows you to pack and load at your own pace. PODS will then pick it up and deliver it directly to your new Vancouver home, or you can store it in a PODS Storage Centre until you're ready. Get started today with an online quote for PODS moving services in Vancouver.
---
Karen Bodkin is a Canadian freelance writer who is a frequent contributor to the PODS Blog. When she's not writing, you can find her exploring the great outdoors.
Get a Quote
Choose the service you need
Comments
Leave a Comment
Your email address will not be published. Required fields are marked *