Take advantage of our limited time offer. Enter promo code HOLIDAY25 to save up to 25%.
See offer details
.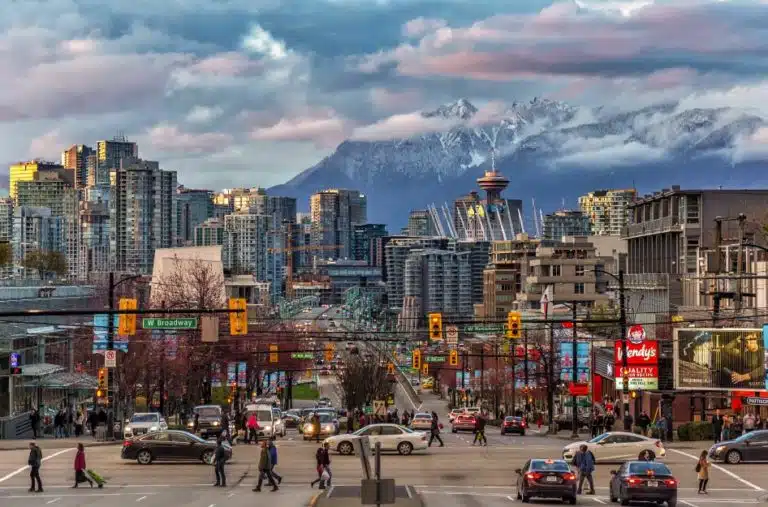 Live Life to the Fullest While Living in Vancouver, BC
Wondering what it's like living in Vancouver? Well, for starters, imagine a fusion of cutting-edge urban life, spectacular scenery, and a unique population of individuals from all over the globe. Then, think about your specific interests — we have a sneaking suspicion Vancouver can likely deliver on those. Are you a hiking enthusiast, for example? Fashion buff? Hungry foodie? Then you're sure to find something to delight your senses in Vancouver. Follow along as we dive into life in one of Canada's most well-known cities, and see if living in Vancouver may actually be the perfect thing for you.
Vancouver at a glance
Is Vancouver a good place to live? The short answer is a resounding YES. Vancouver is quite literally and naturally green. If you love trees, you'll love the huge regional parks that are densely forested and environmentally protected. Most days, you can cycle or walk for an hour or more into these vast and peaceful refuges.
The water flows from the sky, ocean, rivers, and streams. Fresh rain regularly cleans the streets and surroundings, even though the summers are mostly hot and sunny. And because cool precipitation falls intermittently throughout the winter, the trees remain green. Its temperate saltwater teems with sea life, and — as a bonus — it's a sparkling playground for marine enthusiasts.
The city itself is full of life, and its more than 660,000 residents are known for being friendly and welcoming. Basically, Vancouver has a way of making you feel secure and at home — even as a newcomer.
Although the long bouts of rain can be a little dreary, there's always lots to do in terms of dining, events, and sports. It's easy to find local clubs and teams for whatever you're interested in — from disc golf to sailing to art to dance. And, interestingly, it's actually possible to choose from such diverse outdoor activities as skiing, golfing, hiking, tennis, cycling, and sailing in the metropolitan area on the same day. Not to mention the entertainment options are endless, whether you love theatre, sports, music, or art.
Cost of living in Vancouver
Located in an extremely developed business hub, it's no surprise that Vancouver offers great residential areas. That said, Vancouver does have a higher cost of living than Toronto.
That higher cost of living comes with some definite perks, though. For instance, the city has a well-connected transportation network that is affordable to use. Furthermore, all permanent Canadian residents have access to a free national medical health plan, which subsidizes the cost of living in the city even more. Want additional specs? Check out these frequently asked questions about the cost of living in Vancouver, as well as our guide on moving to Canada.
Q: Is it expensive to live in Vancouver?
A: Yes, and housing is the number one reason why. Strawhomes.com says the monthly rent for a one-bedroom apartment in downtown Vancouver is around $2,500, while a suburban apartment can still cost more than $2,000.
A home buyer looking to buy in Metro Vancouver will find the MLS® Home Price Index composite benchmark price at $1,148,900, an increase of 2.0% over October 2021 and a decrease of 0.6% over September 2022.
Q: So what salary do you need to live in Vancouver?
A: In a nutshell, it all boils down to your lifestyle: The lifestyle that you choose determines whether you can afford to live comfortably in Vancouver, no matter how much you earn. However, it's important to note that you can still live a decent, comfortable, and quality lifestyle in the city, even if you are in a lower-income earning bracket.
As you can guess, the biggest expense that most people will incur is renting or purchasing a home. Contrary to popular belief, however, life in Vancouver is not as expensive as most people think. The rest of the expenses will be spent on necessities like groceries, entertainment, and transportation. With that being said, to live comfortably in Vancouver as a family, you need an average annual income of $88,000 (CAD 120,000).
Q: What is the estimated monthly cost of living in Vancouver?
A: Your lifestyle will determine the price, but make sure to factor in electricity, gas, water, internet, groceries, and transportation costs. Overall living expenses in Vancouver are the highest in Canada before rent. Grocery expenses in Vancouver are the 5th highest in Canada, with cities Nanaimo, Victoria, Fredericton, and Kamloops ranking highest.
Singles in Vancouver, Canada, can pay as much as $975 per month in living expenses before rent, and a family of four can pay as much as $3,587 per month, according to Numbeo.
Q: What is the cost of living in Vancouver vs. Toronto?
A: If you want to experience the excitement of a bustling city mixed with adventure and outdoor activities, scenic drives and views, and leisure activities, Canada has it all. Especially in Vancouver and Toronto. However, according to Numbeo, you would only need approximately $5,400 per month in Toronto to be able to live a comparable Vancouver life on $5,668 per month.
But in the same vein as every other city, there is no perfect city, since individuals have a wide range of personal preferences regarding the cost of living. Despite the difference in living costs between Vancouver and Toronto, each city has its own distinctive features to explore.
Best neighbourhoods in Vancouver
Vancouver is home to an incredible mix of neighbourhoods, but here are a few that we think you might fall in love with:
West End
This eclectic neighbourhood — perfect for singles and young professionals — is home to heritage buildings, high-rises, parks, bars, and restaurants (if you like ramen, karaoke, or Korean food). Visit Robson Street for some of the best shopping in the city. It is also located on English Bay and near Stanley Park, so head out on the Seawall for an unforgettable view.
Yaletown
Chic and family-friendly Yaletown is home to state-of-the-art living, designer shops, restaurants, and bars that spill into the street for Instagram-worthy nightlife. Yaletown is also located along the renowned Seawall. Rent a bike or run along this path and enjoy the picturesque skyline and False Creek views.
As the Western terminus of the Canadian Pacific Railway and once a warehouse district, Yaletown wasn't always a trendy area. Today, however, many red brick buildings serve as restaurants and stores. Bars and breweries have been converted from old factories into trendy places to imbibe.
Gastown
Perfect for professionals, Vancouver's oldest neighbourhood still thrives with its cobblestone streets, vintage flair, and vibrant atmosphere. The Gastown tavern was established in 1867, which led to Vancouver's growth into a city. Gastown is a fantastic destination for food, fashion, and fun.
Kitsilano
Nowadays, Kitsilano is home to both trendy professionals and families who like to get active. West 4th Avenue is packed with shops, restaurants, and bars in Kitsilano. The "Kits" beach has sandy shores, volleyball courts, Canada's largest saltwater pool, and lots of green space. And Vancouver's biggest cultural attractions can be found in Vanier Park, just a few blocks from the beach. Visit the H.R. MacMillan Space Centre, Museum of Vancouver, and Vancouver Maritime Museum, followed by a Shakespearean show at Bard on the Beach.
Things to do in Vancouver today
In Vancouver, you can combine an adventure in the outdoors with a getaway in the city. From family-friendly activities to adrenaline-pumping adventures, from exploring the ocean to experiencing luxury at the top of a mountain, there are plenty of things to do.
Free things to do in Vancouver
Lighthouse Park
Vancouver is a stunning coastal city, and most of the spectacular beaches are 100% free to visit. Lighthouse Park is one of the best things to do in Vancouver and will quickly become one of your favourites.
Commercial Drive
You won't want to miss Commercial Drive, a neighbourhood just outside downtown Vancouver, offering an enchanting assortment of shops, restaurants, and bars. Even if you don't want to spend any money, exploring is fun!
Local Markets
There are plenty of different markets you can select from around Vancouver, most of which are free to attend. Some markets are seasonal, some are focused on fresh produce, and some are focused on cooking. Granville Island is one of Vancouver's must-see markets, with fresh seafood, jewellery, art, restaurants, and events such as the Vancouver International Fringe Festival. Be sure to stop for a pint at the Granville Island Brewing Co.!
Visit the Vancouver Art Gallery
In theory, the Vancouver Art Gallery isn't free — but on Tuesday nights, there's an exception! The entrance fee to the gallery is by donation, so just give what you can. You will easily spend a couple of hours wandering around the museum and seeing all the exhibits.
Bike Along the Seawall
It is definitely possible to walk around the seawall, but biking is definitely more fun! Rollerblading is another popular activity. There are several stores near Stanley Park where you can rent a bike if you don't have your own or rollerblade. We recommend Spoke's Bicycle Rentals. At a moderate pace, it takes around 1.5 to 2 hours to cycle the Stanley Park sea wall cycle trail, which is 12 kilometers long.
Things to do on Vancouver Island
Explore The Butchart Gardens
The Butchart Gardens have a history of over a century, are home to over 900 bedding plant species, employ over 50 gardeners, and cover 55 acres. You can visit the gardens any time of year, but the most colourful, diverse blooms are found between spring and fall.
Visit Old Country Market and Say Hello to the Goats
A great place to visit on Vancouver Island is the Old Country Market, located in Coombs. There are tons of imported gifts from all over the world, all kinds of delicious food — from Italian to Mexican — as well as groceries and other goods to pick up at the market, an hour south of Campbell River. A highlight of the Old Country Market? You guessed it: goats!
Partake in High Tea at the Fairmont Empress
One of the most memorable things on Vancouver Island is High Tea at the Fairmont Empress in Victoria. The Fairmont Empress luxury hotel opened its doors in 1908 and has served as an elegant staple in downtown Victoria ever since. You'll need to book a reservation ahead of time, though.
Things to do in Vancouver at night
Canyon Lights at Capilano Suspension Bridge Park
Capilano Suspension Bridge Park comes alive during the winter with an illuminated display. Around 500.000 lights are gathered to enhance the park's beauty. As the lights come on, they turn into a variety of playful and unique decorations, enhancing the festive atmosphere of Christmas. Even without the lights, exploring Capilano Suspension Bridge Park is one of the best things to do in North Vancouver, so be sure to check it out!
Lost Souls of Gastown Walking Tour
There's nothing quite like exploring Gastown in your own way with the help of history. Gastown delivers a mystical and vintage vibe of a typical European neighbourhood. 
You can't go wrong with a nightlife tour in Gastown, but the Lost Souls of Gastown Walking Tour will take you back to the early days of Gastown and make your flesh shiver with stories of revenge, murder, and more. You will be guided through dark alleyways and backside buildings by a professional storyteller who will tell you stories of fire, smallpox, and crimes that will hypnotize you. Bring the history of Vancouver to life as you walk through Gastown's cobblestone streets!
Chow Down and Enjoy a Beer at CRAFT Beer Market Restaurant
When in Vancouver, don't forget CRAFT Beer Market Restaurant, which has some of the best craft beer in all of Canada.
A true definition of New North American Classic Cuisine paired with classic lagers and obscure ales await you at CRAFT Beer Market Restaurant, located in the historic Salt Building. 
With 100 beers on tap ready to quench your thirst, CRAFT Beer Market is always packed with visitors and white collars looking for real nightlife in Vancouver after work. Authentically Bavarian wheat beer with a hint of German clove aroma, Maisel's Weisse is one of our favourite beers.
Things to do in Vancouver with kids
Science World
There is so much to see, do, and experience at Science World that you could spend an entire day enjoying the displays, exhibitions, shows, and interactive and fascinating activities.
Science World takes a fun approach to showcasing science: from learning about the human body to discovering animals, plants, and Mother Nature's masterpieces, there is much to see and experience.
Vancouver Aquarium
The Vancouver Aquarium is undoubtedly the coolest thing to do in Stanley Park, a spectacular facility exploring the underwater world.
With its ocean location, it's only natural that there would be a museum dedicated to the creatures of the coast. The aquarium does an outstanding job illustrating the coastal regions' critters, but it also explores several other places, such as the tropics and the arctic.
If you venture outside, you can see penguins, sea lions, and other animals at play. Exhibits are organized geographically, with tank after tank of colourful fish, frogs, turtles, and more.
Aquabus
It's sometimes the simplest things that stand out the most in a child's mind. Take the Aquabus, for example.
In False Creek, these mini rainbow-colored ferries serve as water taxis linking popular destinations such as Yaletown, Granville Island, and the Plaza of the Nations.
There's much more to the Aquabus than just transportation, though: It's a short tour along the water that lets you experience Vancouver from a completely different perspective. There is always a boat available for you, too — at least every 15 minutes — so you never have to wait too long to get on it.
Q: Is moving to Vancouver a good idea?
A: Despite the challenges of moving to a new city, Vancouver is a great choice! This city offers a dynamic community, mouthwatering cuisine, abundant natural beauty, plentiful employment and entertainment opportunities, and high-quality education and healthcare.
The best way to move to Vancouver
If Vancouver sounds like the city you've been dreaming about, your next step is to figure out how to get there. Here are three of the most popular ways of making the move.
Full-Service Movers
A full-service moving company is your best bet if you don't care about cost and want to limit your time and effort. In fact, a full-service moving company can pack and unpack your entire house for you — no finger lifting required on your part. Of course, this means that it will be the most expensive option. If you have the financial means, by all means, go for it. To avoid loose ends or surprises, though, do plenty of research on the frontend and ensure all important details are documented.
Rental Trucks
On the other end of the spectrum, you can always rent a truck and handle everything yourself to save money. As long as you have a strong back, a few helpers, and a lot of willpower, that is. Considering all the extra costs along the way — like fuel, insurance, food, and lodging, though — a rental truck could quickly become more expensive than you thought. Here's a comparison between rental trucks and PODS services.
Portable Moving Containers
The PODS portable moving and storage containers are an excellent solution if you are looking for a stress-free, flexible way to move to Vancouver. You can choose from three different sizes of containers, and they are delivered directly to your driveway. The best part? You can pack and load at your own pace. Simply call PODS after your container is loaded, and they'll pick it up and take it to your destination — whether it's straight to your new house in Vancouver or to a local PODS Storage Centre for as long as you need..
For more tips on moving in Canada and other great tips on moving, visit the PODS Blog.
---
Karen Bodkin is a Canadian freelance writer who is a frequent contributor to the PODS Blog. When she's not writing, you can find her exploring the great outdoors.
Get a Quote
Choose the service you need
Comments
Leave a Comment
Your email address will not be published. Required fields are marked *