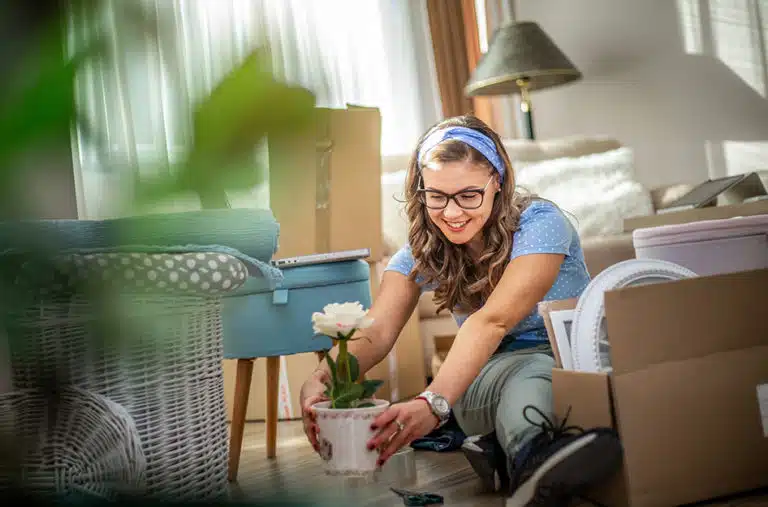 Moving Out for the First Time: What To Do Before Flying the Coop
Moving out for the first time is one of those experiences you'll remember forever. The extra bounce in your step when you get that shiny new house key. The quicker beats of your heart on the first night in your new place. And maybe even a bit of homesickness if it's your first time being on your own. It's a snapshot in time that'll leave a lasting impression, for sure.

Maybe you're beginning your college career on the other side of the country, or maybe you're simply moving to a nearby neighborhood to have easier access to your new job. Maybe you've been saving for a while and finally feel like you can afford moving out of your parents' house, or perhaps it's time to take that next step in the relationship and move in with your partner.
Whatever the circumstances, moving out for the first time is a pivotal moment in your life that requires thought and preparation before making the leap. That's where we come in. To help you navigate these uncharted waters and confidently sail out on your own, consider these practical tips in our guide to moving out for the first time.
Q: At what age should you move out?
A: There is no by-the-book answer (although, for maturity reasons, you should at least be a legal adult). Instead, it's a when-it-feels-right kind of situation. The same is true about whether you should live alone or with someone else. Before you make the final decision, however, you need to take a deep, honest look in the mirror and determine if you have what it takes to be living on your own at this stage of your life.

First, Balance Your Heart and Mind
Let's get serious for a minute. If you have a good relationship with your family, moving out — no matter how practical it may be — likely won't be easy. The love and support you've learned to count on is a security blanket, always there when you need it. And if you're leaving the home you grew up in, it may be especially hard, as you'll be moving away from your lifelong friends and neighbors in the process.
If you find yourself thinking, How do I cope with moving out for the first time? Should I even do it now? Here are a few points to ponder:
DO realize this transition is not a final goodbye. Once moved and settled, you can visit your family and friends as often as you want, and they'll likely want to visit you, too, to check out your new digs. If it's tough to see each other in person, take advantage of face-to-face phone calls — the next best thing! Focus on the excitement of this new adventure. And remember: Nothing is permanent, even those sad feelings.
DON'T stay stuck in the past. Sure, there will be a lot of emotions in the beginning, but dwelling on heavy emotions can affect your mental health. Adopt the right attitude about your first time moving out — and keep a forward-thinking mindset. Cherish the memories of your old home, but imagine all the great upcoming moments of your new one, too — there will be plenty!
If you don't have the best relationship with your family and leaving your parents' house has been a long time coming, here's some advice for moving out for the first time:
DO stay strong and know you will create support in friendships and school/work circles when you move out.
DON'T leave in anger or resentment. You will be in control of when you visit your family or nearby friends, and you can create your own boundaries to maintain your peace and happiness — not a bad trade, right? Leave with big hugs and wholehearted goodbyes until next time.
Then, Get Practical With Money
Okay, now on to the good stuff. We know it's obvious, but moving isn't free. Or even cheap. Prepare yourself to manage your own expenses, such as paying your own internet and phone bills and shopping around for car insurance and other good deals.
Wondering, How much money should I have to move out for the first time? Well, a popular rule of thumb dictates your income should be around three times your rent or mortgage. So to afford $1,000/month accommodations, have an "I need a $3,000/month income" mentality.
If your family is willing to financially support you for a little while, take advantage, gratefully and conservatively. If you have secured a college scholarship or grant, or even a student loan, see if some of it can be used toward moving costs. If working, budget yourself carefully, with reserves. Going to a different part of the country? The cost of moving out of state adds more expenses, so make sure to plan accordingly. Consider this:
DO make a proper "Moving Out for the First Time Budget" to follow each month. First, add up all the income you'll get from all your sources. Then, add up your non-negotiable expenses, such as rent or mortgage, car/student loans, utilities, etc. Now add some annual expenses (don't forget to divide by 12 for a monthly amount), such as car insurance. Add up all expenses and deduct the amount from your total income. The balance is what you've got to pay for gas, groceries, eating out, and entertainment. Finally, have a set reserve for gifts, money for a rainy day, or anything else you want to save for.
Insider Tip: From cardboard boxes and packing supplies to hiring movers or renting a truck, moving expenses add up. Establish a "moving day reserve" on the side to avoid the shock afterward. Use PODS moving services to help get you started and sorted. Also, keep in mind that to rent or own a dorm, apartment, or house involves an initial deposit or down payment, too.

DON'T go into emergency crisis mode if the numbers don't balance out according to what you had in mind. Go back to the drawing board and consider possibly sharing your dorm or apartment with a roommate (or three). Finding a smaller accommodation or one in a less-popular area may help your wallet, too, when it comes to affording the essentials of moving out for the first time. Think of how much money you'll be saving on a car, insurance, and gas by living on or near campus!
Q: How do you move the first time?
A: Follow this guidance for planning, checklists, and essentials, and you'll have a great shot at avoiding potential complications when you move away from home for the first time. But the next best thing? If something goes awry, cut yourself some slack. Take a deep breath, take a walk, or take five — things will work out.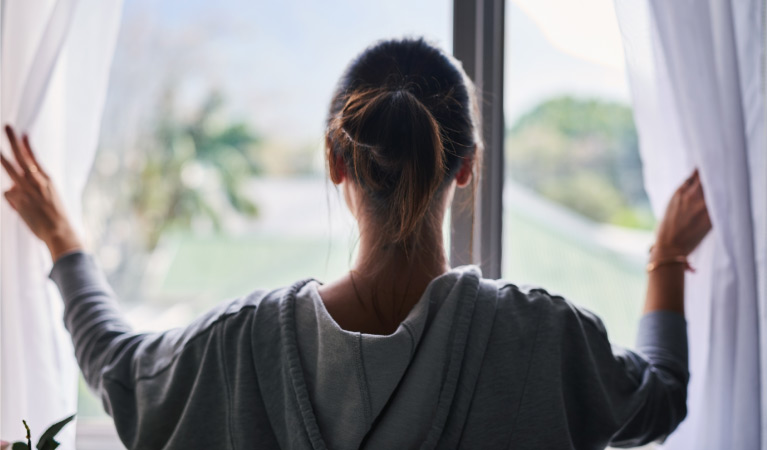 Then, Get Practical With Money
Are you moving out for the first time to a college dorm or apartment? Moving in with your best friend from elementary school? Your special someone? Whatever the situation, there are things to consider when you're finding your new home.
DO, most importantly, focus on location. If you're a student moving for school, stay as close to campus as possible. If you're joining the workforce, focus on apartments/houses near your new job. And see how far grocery stores and gas stations are when searching for a new place. You want convenience, of course, but you can also save yourself some time and money in transportation costs.
Still scouting cities? Check out the cost of living first. Here's a quick snapshot of what you'll need to get by in a few of the top cities people are moving to in 2023. We'll use Charlotte, NC, as your starting city, for purposes of cost-of-living comparison, and assume a salary of $50,000.
Sarasota, FL: If you want to move to this jewel on the Sunshine State's Gulf Coast, you'll need to make $51,605 to maintain the same standard of living. And keep in mind that the median home cost in Sarasota is nearly 16 percent higher than in Charlotte — something to consider down the road, perhaps, but not necessarily when you're leaving home for the first time.
Phoenix, AZ: This one's a little pricier, requiring a salary of $54,514. Interestingly, food and grocery costs are nearly 2 percent lower than in Charlotte, and healthcare is 2.6 percent less expensive. But in every other metric, moving to Phoenix will cost you.
Wilmington, NC: Here's an example of an in-state move — Charlotte to Wilmington — which happens to be the No. 1 destination for relocators in 2023. Your salary can drop to $48,935 to keep the same standard of living as in the Queen City. Healthcare is a whopping 25 percent more in Wilmington. But almost every other listed expense stays right about equal or less than in Charlotte.
DON'T be persuaded to move into that new apartment complex with the supersized pool and social hour meet-ups if it doesn't fit well within your budget. The same is true if you're falling for that beautiful townhome in the new "it" location downtown. When moving out on your own for the first time, it's smart to keep your budget tight — at least until you get used to this new way of life. Those top-of-the-line options aren't going anywhere.
DO stock up on essentials for your new digs. To save as much money as possible, try to snag some basics like furniture and kitchen needs from your family and friends. Ask your roommates for help, too, and shop around thrift stores and online marketplaces to find some of the essentials for moving out for the first time.
Gather Your New Home Basics
For the Kitchen
Dinnerware
Mugs
Glassware
Silverware
Cooking utensils
Pots
Pans
Cutting boards
Knives
Mixing bowls
Pot holders
Dish towels
Can opener
Blender
Toaster
Coffeemaker
Trash can
For the Bedroom
Mattress
Box spring
Bed frame
Pillows
Sheets
Alarm clock
Laundry hamper
Trash can
Curtains
Dresser
For the Bathroom
Toilet paper/holder
Tissues
Shower curtain/rod
Shower/hand soap
Haircare
Towels
Toiletries
Plunger
Toilet scrubber
For the Living Room
Couch/chairs
Coffee table
Curtains
Shelving/TV stand
Television
Cable box/streaming equipment
Internet modem/router
Cleaning Supplies
Vacuum
Broom/mop
Dustpan
Trash bags
Cleaning solution(s)
Laundry detergent
Multipurpose wipes
Sponges
Gloves
Bleach
Toolbox/Miscellaneous
Nails
Hooks
Hammer
Screwdrivers
Electric drill
Tape measurer
Leveler
Socket wrench
Pliers
Flashlight
Candles
Matches
Lamp
Fan
Hangers
Iron/ironing board
Batteries
Extension cords
Pro Tip: Accidents can happen. Put a first-aid kit on your shopping list — including bandages, antiseptic ointment, ice pack, thermometer, cold medicine, ibuprofen, tweezers, and hydrogen peroxide. Some pharmacies have ready-to-go kits. Stash one in your bathroom cabinet.
There's Only One Thing Left To Do: Get Moving!
Now that you are emotionally, mentally, financially, and physically ready with our guide to moving out for the first time — let's go!
Before Moving Day
DO ask if your school is affiliated with a moving company. Also look into movers that offer student discounts. If you're moving out for work, find out if the company offers relocation assistance — particularly if it's a long-distance move, because the cost of moving out of state can be thorny.
DON'T do it all by yourself, if possible. Even if you only enlist packing and moving help for part of the move, it will be worth it. After all, it will be your new place, right? That means it will be up to you to unpack everything and get it all organized when the move is done. Save strength and time wherever you can!
DO use PODS storage containers and PODS Storage Centers. You can take your time packing and loading and then unloading and unpacking. You won't even have to stress about driving a moving truck. PODS will pick up your container and deliver it right to your destination.
DON'T rely on a confirmation text. Always call your family, friends, or moving company 24-48 hours before your big move day to confirm arrival as stated. Plans can change on a dime.

Q: Is it hard to move out for the first time?
A: Everyone's experience is a little different when it comes to leaving home for the first time. Some people fly away without looking back, but others may need a gentle nudge — and then have bouts of homesickness. The good news is that most of those painful pangs for familiar faces ease with time. And more good news: Investing in planning and preparation for your move reduces your stress level, which makes it easier to make that first solo flight.
On Moving Day
DO accept help! Enlist the support of family and friends to help move your boxes, furniture, and even your car, if necessary — whether you're moving minutes from your home or thousands of miles away. At the very least, you'll have extra moral support, and you'll also save some of that precious moolah!
DON'T forget to thank your helpers — and spring for pizza or a nice meal out.
DO set realistic expectations. Things might not fit perfectly in place the day you move. Moving takes time, patience, and effort that can last weeks or even months.
Q: What are the steps to moving out for the first time?
A: Here's an abbreviated checklist for moving. For a detailed version, check out our official PODS Moving Checklist and Tips for Moving.

- Make a budget
- Pick your location
- Research moving companies based on your budget
- Buy the basics for your new place
- Get packing and moving supplies
- Get to work!
These tips for moving out for the first time are designed to help you feel more confident and ready to leave the nest. Whether you're heading to school or a new job, exploring being on your own or moving into a serious relationship, it can all definitely feel overwhelming. But with the right support and planning, know that you've got this!
For more tips on moving — like
these packing hacks from the pros
— check out the
PODS Blog
.
Kiran Bahl is a freelance writer who loves discovering how to make something better yet simpler at the same time. She lives happily and peacefully amongst her family and enjoys dessert every day — especially after meeting a writing deadline early.
Get a Quote
Choose the service you need
Comments
Leave a Comment
Your email address will not be published. Required fields are marked *