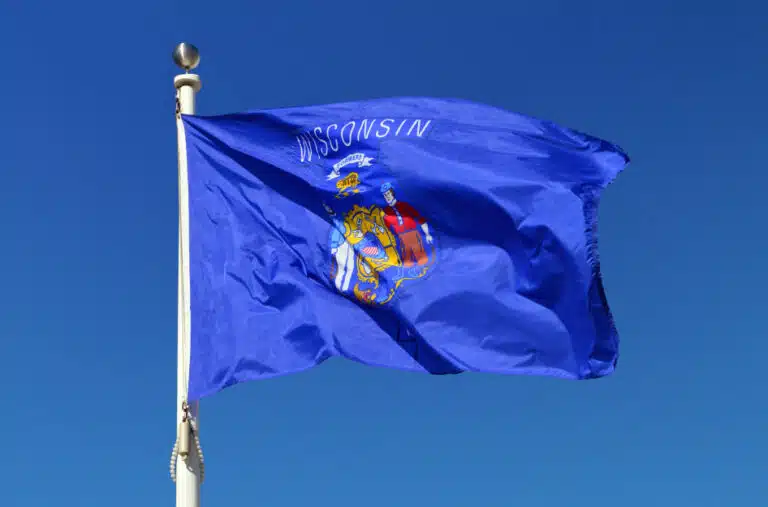 Enjoy America's Dairyland in One of the Best Small Towns in Wisconsin
Wisconsin is known as America's Dairyland, and true to its nickname, there are plenty of farms and wide open spaces in the state. But when you move to a midwestern state like Wisconsin, no matter where you live, you'll find that residents don't just take pride in their land; they take pride in maintaining their friendly charm. Whether you've known them for years or are new to the area, citizens of this state try to make everyone feel at home.
Another one of Wisconsin's biggest draws? Its abundance of outdoor activities available for everyone to enjoy. If you like being near lakes, forests, rivers, or parks, chances are, no matter where you decide to call home, you'll have easy access to nature. This state also has a reasonable housing market, great schools, and is a safe place for people to retire. And bonus: You'll get to experience all four seasons when you move to Wisconsin!
Speaking of moving to Wisconsin, people are definitely moving to this picturesque state. In fact, about 12,000 new residents moved to Wisconsin from 2021 to 2022. Perhaps they're drawn to the lower cost of living (housing is 10 percent lower than the national average), the wide range of jobs in a variety of industries, or the chance to live at a slower pace of life.
Whatever the reason, if you're thinking of relocating to Wisconsin, you're not alone. And here are 12 of the best small towns in Wisconsin that can make you feel right at home, too.
Small Towns in Wisconsin vs. Larger Wisconsin Cities
While the larger Wisconsin cities like Milwaukee, Madison, and Green Bay have a lot to offer folks, it may come at an increased price. You'll find the housing markets in larger cities are more expensive, and you can't get the same amount of space for your buck. You also run the risk of higher crime in certain areas of big cities. Although Wisconsin sits below the national average when it comes to crime, there's a greater chance it will occur in the larger cities.
Instead, there are plenty of benefits of living in a small Wisconsin town, such as:
Larger housing space for your money
Closer proximity to natural environments like lakes, rivers, and wildlife areas
Lower crime rates
Better quality of life
Less traffic
Friendly communities
Small Towns in Wisconsin - FAQ
Q: What is the best small town in Wisconsin?
A: Lake Geneva is one of the best small towns in Wisconsin. It has an A Niche rating and is considered the #1 best place to live in Walworth County.
Q: What are the best small towns to live in Wisconsin?
A: Some of the best small towns in Wisconsin include Sturgeon Bay and Janesville. Sturgeon Bay is one of the best places to retire in Wisconsin, and Janesville is one of the best places to live in Rock County.
Q: What's the most beautiful city in Wisconsin?
A: Cedarburg, Lake Geneva, and Bayfield are all considered beautiful Wisconsin towns. With Lake Geneva and Bayfield's beautiful water views and Cedarburg's wonderful historic sites, it's hard to pick just one!
Q: What is the nicest place to live in Wisconsin?
A: With an A+ rating from Niche, Kohler is considered the #1 best place to live in Wisconsin.
The U.S. Census Bureau designates a small town as having no more than 5,000 people, but we've expanded that to include towns up to 50,000. If a town has more than 25,000, we'll let you know. Now, let's explore the best small towns in Wisconsin (in no particular order).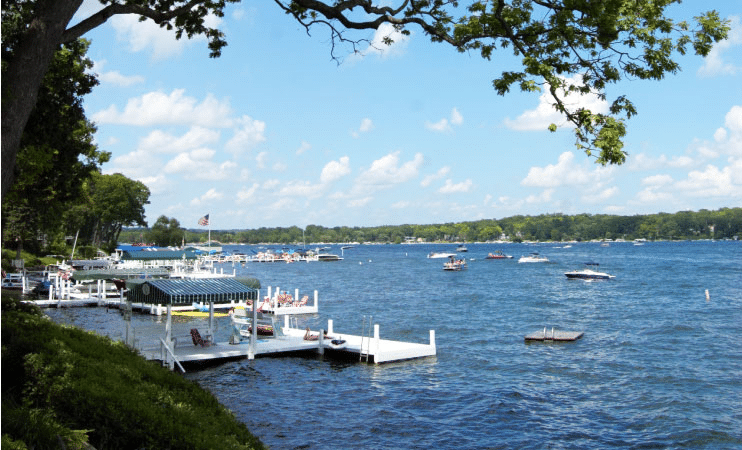 1. Lake Geneva, WI
While Lake Geneva might just seem like a fun vacation spot, it's actually a great place to live. Situated along the beautiful Geneva Lake, this town offers a good time for its residents all year long, but really picks up in the summer. You'll enjoy all kinds of activities, like the Jaycees' Venetian Festival, music in the parks, and carnivals during the summer season.
If you're a boating enthusiast, this is the place for you! Even if you can't afford the million-dollar mansions that line the lake, you can still take part in all kinds of aquatic fun during the warmer months. You can also explore the lake's 26-mile trail to look for birds and other animals that make their home around the water.
The schools in the area come with an A grade on Niche, and families enjoy raising their kids in this safe, small community.
2. Chippewa Falls, WI
If you're looking for another small Wisconsin town that's by a lake, you're going to love Chippewa Falls. Nestled beside Lake Wissota, Chippewa Falls is in a prime location for getting out and enjoying the beautiful natural environment. You can go out on the lake or take the family to Lake Wissota State Park for plenty of hikes and bike rides.
This small town is also home to the Jacob Leinenkugel Brewing Company that's been brewing beer in the German tradition since 1867. Here you can enjoy new brews along with old favorites in their taproom or at home. Chippewa Falls is also home to the Northern Wisconsin State Fair. Each year, there are plenty of live acts, rides, and all-around fun for residents in the area.
3. Mount Horeb, WI
If you're looking for a small Wisconsin town near Madison, consider checking out Mount Horeb. In fact, this place was listed as one of the best suburbs to live in the Madison area! Mount Horeb has a great public school system, and families enjoy watching their kids grow up together in safe neighborhoods. And you can't beat that Madison is only 30 minutes away, if you ever want to spend some time in the big city.
In addition, residents love the small, closely knit community of this area, which is known for its breathtaking scenery. Here you can also find a nod to the Norwegian settlers that were the first to settle in this area with the Trollway guide available for families who want to look for the elusive, magical creatures. You can also spend time outdoors exploring Blue Mound State Park, which is known for its nature trails.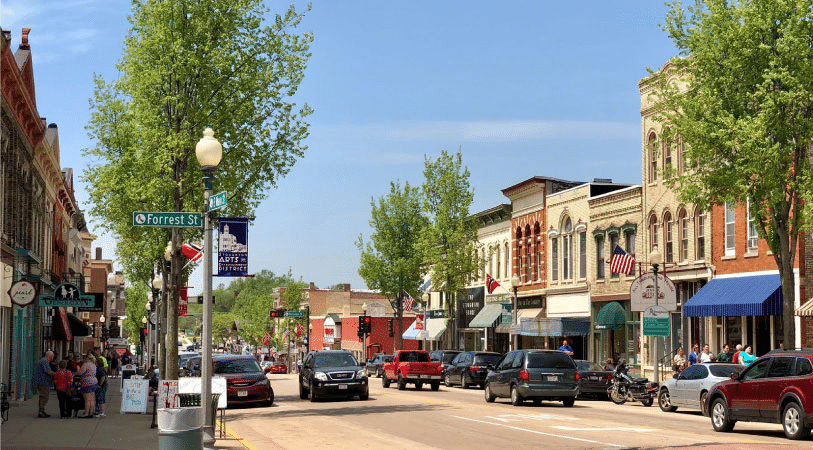 4. Stoughton, WI
If the thought of a cute Wisconsin lake town that isn't a far drive from Madison (about 30 minutes) sounds too good to be true, look no further than Stoughton. It's considered one of the best places to live in the Madison area due to its small-town feel. But it's also close enough to the city if you want to check out nightlife, museums, or restaurants. Stoughton has a lot going for it, including its proximity to Lake Kegonsa and the nearby state and county parks. Here you can enjoy fun on the water by boating, swimming, or fishing, and hiking or camping along the shores.
Stoughton is also only about a 10-minute drive to the Wisconsin ghost town of Cooksville. This "town that time forgot" was settled in the 1840s but was bypassed by the railroad. This proved to be the town's demise, but there are still buildings standing and a plaque marking where the town once stood.
5. Spring Green, WI
Average rent (one-bedroom): N/A
Average home value: $293,100
Situated on the Wisconsin River, Spring Green is a small town known for offering citizens many outdoor activities, as well as cultural amenities. You can take the family out and explore Tower Hill Bottoms State Natural Area, or you can check out the stunning Frank Lloyd Wright Taliesin Estate, which includes the home and the Hillside Studio. 
There are plenty of other areas to explore, as well, including Bakken's Pond, Spring Green Preserve, and the quirky House on the Rock, if you want to try out something a little different with your friends or family.
6. Minocqua, WI
You can't get much closer to living near the lake than with the small Wisconsin town of Minocqua. It is sometimes referred to as the Island City because it's almost surrounded by Lake Minocqua and close to Kawaguesaga Lake. This is a great place for retirees, especially if you're looking to take advantage of water activities like boating, fishing, swimming, and even water skiing! Additionally, you can also take advantage of the Raven Trail Head for hikes and biking adventures.
There are also plenty of golfing options to work on your game, as well as some pristine places to camp near the lakes. When you're done exploring the natural beauty of the area, you can always grab a bite and a local brew at The Boathouse or Oakfire Pizzeria and Bar.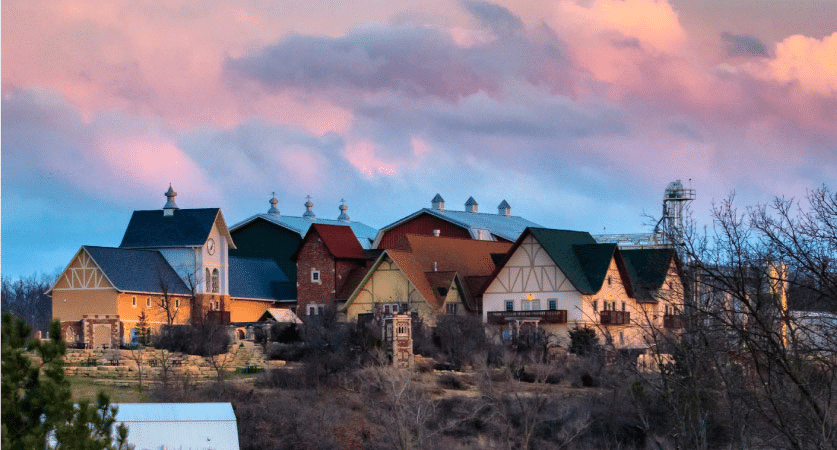 7. New Glarus, WI
This small Wisconsin town is affectionately known as Little Switzerland after Swiss immigrants from the German-speaking Glarus canton emigrated here in the 1800s. Since then, the town has grown but managed to keep its nice small-town appeal. You'll see nods to the town's Swiss heritage in the chalet-style brown and white buildings, as well as Swiss flags, cheesemaking, and breweries. 
Enjoy the beauty of Wisconsin by taking walks on the Sugar River State Trail, or exploring the New Glarus Woods State Park. There are fun festivals planned almost every weekend during the summer months, as well as plenty of cute shops and restaurants to explore. The New Glarus Brewing Company is based here, serving up the famous Wisconsin Spotted Cow.
8. Janesville, WI
The pretty town of Janesville was ranked as the fourth best place to live in Rock County by Niche.com, and it resides right on the Rock River. If you're a history buff, you'll love exploring the multitude of buildings on the National Register of Historic Places, including the Milton House, which was a stop on the Underground Railroad. 
The town also boasts of the beautiful Rotary Botanical Gardens, as well as many hiking trails. It is just a short trip away from Lake Koshkonong, where you can enjoy boating, fishing, kayaking, and swimming. 
9. Bayfield, WI
Average rent (one-bedroom): N/A
Average home value: $275,200
Bayfield is a quaint small town in northern Wisconsin that sits right on Lake Superior. The residents take pride in their lovely town, and tourists flock from all over to enjoy the largest of the Great Lakes as well as nearby Madeline Island. If you enjoy exploring all the great outdoors has to offer, Bayfield will make a great place to live. Not only can you enjoy beautiful scenery, but you can also check out the Apostle Islands and local shops, as well as participate in all kinds of summer festivals.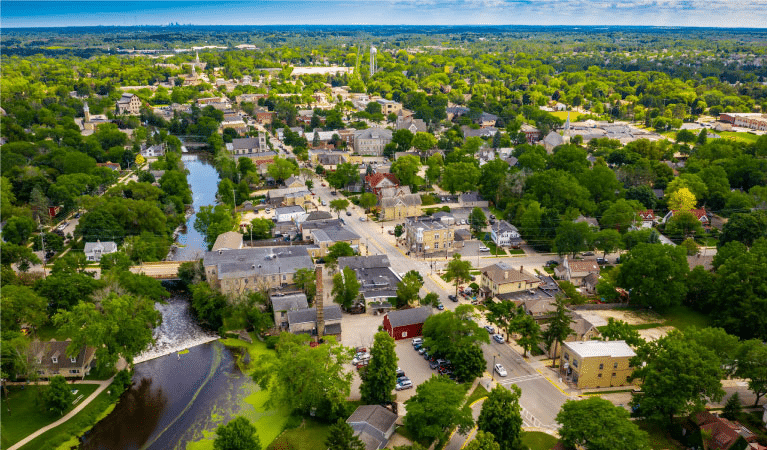 10. Cedarburg, WI
Cedarburg is a lovely small town just about 20 miles north of Milwaukee, allowing residents to enjoy a slower pace of life while staying close enough to the big city. The residents are friendly and make it a point to get to know their neighbors. This means you'll be a part of a tightly knit community that has great schools and lots to do, especially if you like to get outside. It's a walkable, dog-friendly community with plenty of local shops and restaurants, as well as fun yearly festivals like the Oktoberfest and Strawberry Festival.
Not to mention it's only minutes to the shores of Lake Michigan for fun on the water!
11. Port Washington, WI
Average rent (one-bedroom): $950
Average home value: $298,300
Port Washington is another lakeside Wisconsin town that has a little something for everyone. Retirees love the picturesque scenery and slow pace of life, while families are fans of the great schools. Young professionals will enjoy the affordable housing and proximity to Milwaukee. The town is right on Lake Michigan, which means easy access to boating from the marina, as well as fishing, swimming, and taking in the sun on the shore.
You can even choose from the area's many fresh lake options at restaurants like the Schooner Pub or the Beacon Restaurant and Bar.
12. Sturgeon Bay, WI
Sturgeon Bay is considered one of the best places to retire by Niche.com. This cute lake town is located on Sturgeon Bay (surprise!) beside Lake Michigan. It's only about 50 minutes from Green Bay and is home to some of the most picturesque scenery in Wisconsin. The citizens look out for one another, and with Door County Medical Center nearby, this small town offers great medical care (especially for seniors), live theater, and plenty of local businesses in the downtown area along Third Avenue. 
There are lots of ways to enjoy Lake Michigan. Whether that's walking along the shore, camping in Potawatomi State Park, or venturing out on the lake to boat, kayak, or swim — you'll easily find yourself busy in this small town.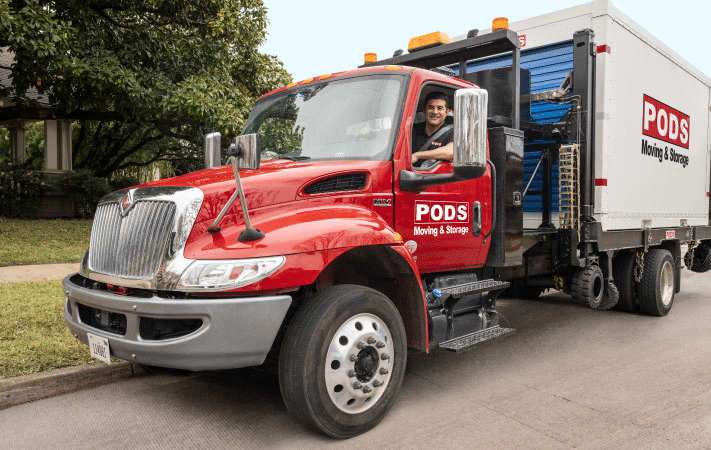 Move to a Small Town in Wisconsin With PODS
When you've found the small Wisconsin town that's for you, consider using PODS portable storage containers to get you there. You'll be able to load up all your belongings on your schedule, and when you're ready for the big move, PODS professional drivers will come pick up the container and take it to your new home. And not to worry if you need additional time to unload it — one month of storage at our facility is included with every move!
---
Editor's Note: Monthly rental prices were rounded to the nearest $25 and home values were rounded to the nearest $100 for ease of reading.
Get a Quote
Choose the service you need
Comments
Leave a Comment
Your email address will not be published. Required fields are marked *