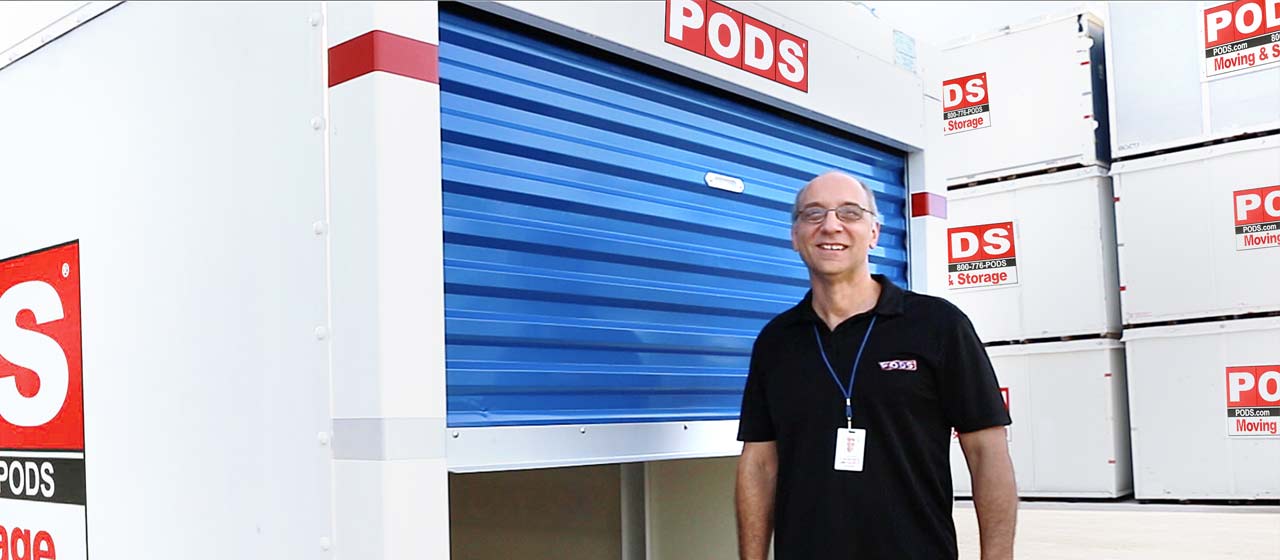 CONTAINER TIPS AND TROUBLESHOOTING
You've got your container. Now what? Here's a checklist for getting started, plus troubleshooting tips from Dan, our resident container guru.
BEFORE YOU START: INSPECT YOUR CONTAINER@Model.Title.HeadingType>
PODS containers are designed to keep your items protected. All containers are inspected before delivery to ensure:
• Door rolls up and down with ease
• Latch opens and closes properly
• Tie-down hooks/rings are located on each side of the container interior
• Roof shows no signs of cracks or holes
Please contact us at 888-370-7637 if your container doesn't meet these standards.
TOP 5 TIPS FOR USING YOUR CONTAINER@Model.Title.HeadingType>
1. Maximize space and minimize damage: Get downloadable tips and watch our video to learn how to pack and load like a pro.
2. Schedule as far in advance as possible: Please note service dates are subject to availability. We recommend scheduling all phases (deliveries, pick-ups, transit) of your move or storage project at least 7 days in advance, as dates can sell out quickly, especially during the busy summer months. In areas that are seeing more moving activity, you may need to allow even more time to schedule your preferred dates.
3. Use tie-downs and rope to secure contents and prevent door jams. Create a final barrier about 6 inches from the door (use a mattress lying on its side, large cardboard sheet, or four extra-large flattened boxes taped together) and secure with rope. This will reduce shifting during transit and help prevent door jams and damage to your belongings.
4. When stacking items toward the top of the container, allow enough clearance between your items and the door barrel roll. Items positioned against the barrel, such as an upright mattress, may interfere with container door operation.
5. Load the items last that you want to access first so that they're closest to the door. Keep valuables with you. If you're using multiple containers, keep an inventory list for each container in case you need to grab anything while your items are being stored.
NEED HELP? CONTAINER TROUBLESHOOTING@Model.Title.HeadingType>
GET HELP OPENING YOUR CONTAINER DOOR@Model.Title.HeadingType>
The contents of your container may have shifted during transit and could be blocking the door. If it's possible to move the objects by using these tips, this often fixes the problem. If this doesn't resolve the issue, contact our Customer Care Team.
If you're able to open the door partially: Open the door as far as it will go. Look under the door to see what's blocking it. (Tip: A mirror and flashlight may help you get a better view inside.)
If you see items wedged against the door: Push against the door in that area to move the items away from the door.*
If you can't spot the problem: If possible, pull items out or unpack boxes from under the door. This may cause items to fall down and free the door.*
If you can't open the door at all: Beginning about 1 foot from the bottom, push in along the width of the door. Try to lift the door as you do this. This may shift items enough to allow you to open the door. Continue to work your way up if needed, pushing along the width of the door.*
Door still won't open?
Give us a call at
(888) 370-7637
.
* You may decide to skip these steps if you're concerned contents will be damaged.
CONTAINER LATCH HELP: LATCH WON'T CLOSE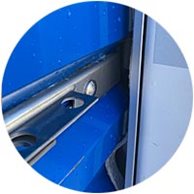 Step 1
Make sure the container door is closed all the way. Try to engage the latch. If it won't engage, go on to Step 2.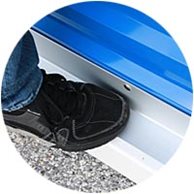 Step 2
While stepping on the door seal or handle, push in and out on the latch slowly while trying to slide it into the opening without forcing it. Alternate between slightly lifting and closing the door until the latch engages.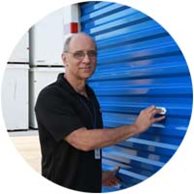 Step 3
Once the latch is engaged, check the door to ensure it won't open.
CONTAINER LATCH HELP: LATCH WON'T OPEN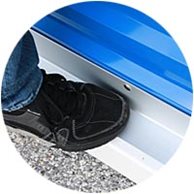 Step 1
Step on the handle or door seal.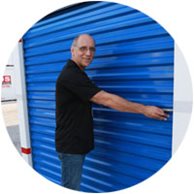 Step 2
Push in a little on the door and latch.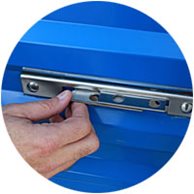 Step 3
Then try to slide the latch open.
HELPFUL CONTAINER RESOURCES
Let's Get Started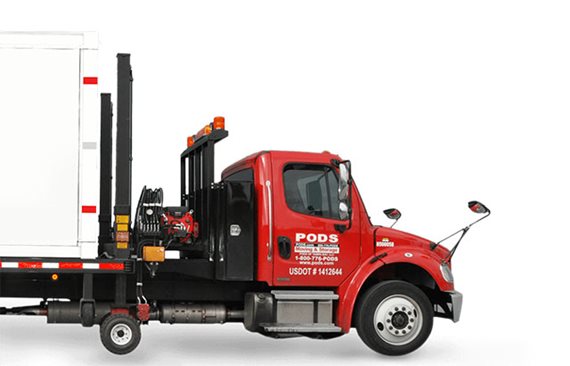 Choose the service you need