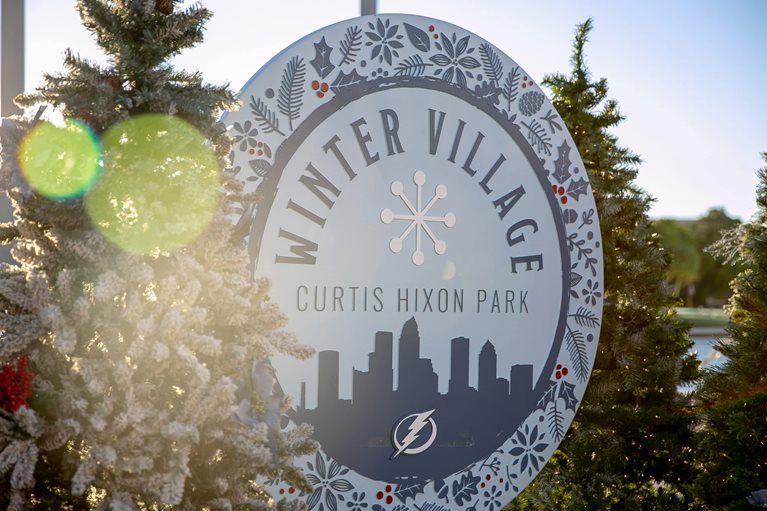 Downtown Tampa's Winter Village Success Story
The city of Tampa is always up for a challenge.
A 2016 biennial survey of area residents and workers found that three out of four participants considered retail choices downtown to be lacking. At the same time, the city was successfully attracting residents, workers, and visitors to its arts and cultural events: Seven in 10 reported having participated in such activities.
The non-profit Tampa Downtown Partnership, whose mission is to advance the city's downtown districts, knew that combining activities with retail would engage more people, encourage them to stay Downtown longer, and generate more revenue for its businesses.
The solution: a nearly two-month long Winter Village, comprising pop-up retail units to leverage peak holiday shopping season, in Tampa's Curtis Hixon Park, Downtown along the Hillsborough River.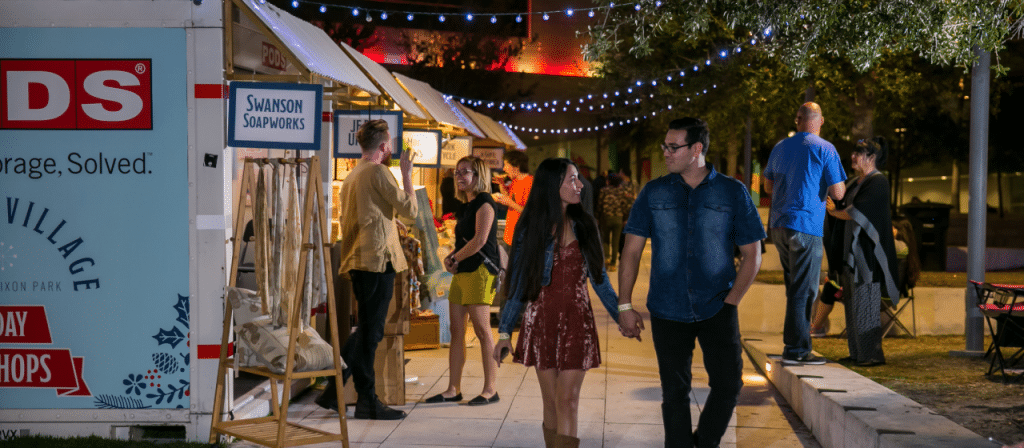 Ironing out pop-up logistics
The implementation of pop-up retail presented wrinkles that needed to be ironed out, says Shaun Drinkard, Senior Director of Public Programming and Operations for the Tampa Downtown Partnership. The organization needed portable retail units that could be easily transported, assembled and disassembled. The units had to be weatherproof, watertight and secure so retailers wouldn't have to worry about theft.
After preliminary research, Drinkard was convinced PODS containers would make a perfect solution and approached PODS, which agreed on a sponsorship arrangement. The company has donated 10 containers each year since Winter Village began in 2016. At the end of each Winter Village, PODS transports away the containers and stores them until the following season. Tampa Downtown Partnership stores their Winter Village supplies, such as signage, in one of the PODS containers, so it's all ready for setup when delivered for a fresh season.
"The PODS containers and the European-style holiday market really adds to our Winter Village," says Kelsy Van Camp, director of marketing and communications at Tampa Downtown Partnership. "The ability for us to offer such retail downtown has a huge impact and for retailers too. It gives them the confidence to evaluate more permanent brick-and-mortar opportunities downtown. The PODS and the Winter Village have really enhanced the holiday experience within Tampa's Downtown," Van Camp adds.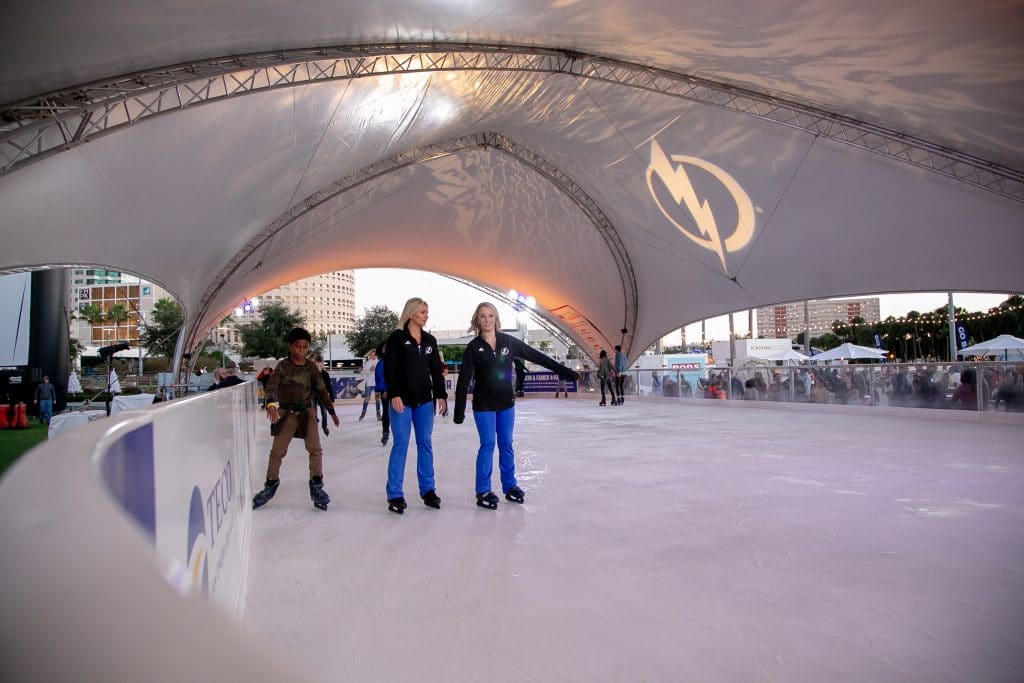 A winter destination
To make Winter Village an even bigger draw, Tampa Downtown Partnership decided to complement the pop-up retail units by relocating another seasonal attraction: a skating rink. By moving the skating rink closer to the waterfront and creating its new "shack structure", residents, workers, and visitors could more easily enjoy the attraction.
"There was no open-air access, not much concessions or vending opportunities," Van Camp says.
Combining a skating with pop-up retail meant the rink could be more impactful and Tampa would fulfill its objectives of driving more retail downtown. The result has been a resounding success. For example, the 2018 Winter Village social media pages had reached 1.2 million impressions by the first four weeks, a metric that suggests brand strength and appeal.
Pop-up retail as revitalization agent
The idea of pop-ups revitalizing downtown retail has taken root across the United States. Bill King, senior vice president of Planning and Development for the Downtown Raleigh Alliance, says that the North Carolina city has used vacant downtown stores as pop-up spaces since 2015 .
Indeed, cities across the country are increasingly looking at the pop-up retail model as injecting a much-needed dose of excitement that attracts shoppers.
"[Pop-ups]allow city governments to maintain a steady pipeline of retailers who might move on to more permanent brick-and-mortar locations," King points out. "They allow retailers to test the waters and for us to make connections and potentially recruit new tenants." Case in point: the Modern Paws, a pet retailer at Winter Village, was so successful with the pop-up and online model that they're opening a permanent location in Tampa's Downtown.
Beyond the ice rink, Winter Village also added the Winter Village Express, a streetcar that offers themed rides, a 360 musical light display, and holiday-themed sand sculptures.
"One of the reasons Winter Village in Tampa has been so successful is that is a great strategic blend of product and service, which provides local patrons with a diversity of offerings and encourages them to stick around and explore," says Ani Collum, a retail strategist and principal at Trade Collective, a commerce consultancy. "The incorporation of experiential elements such as the skating rink takes the traffic-driving component to a new level and help cast a wider net."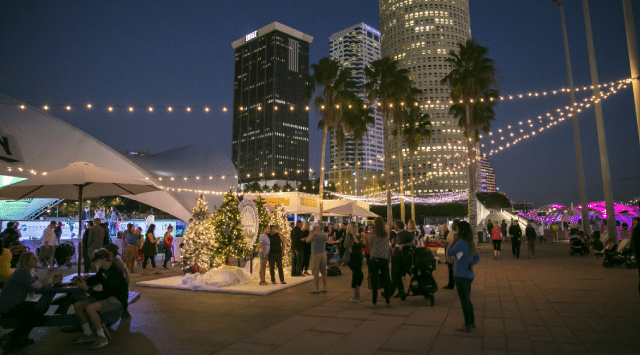 Containers vs vacant spaces
That said, city revitalization efforts often concentrate on vacant storefronts, which makes Tampa's PODS container market somewhat unique.
The container pop-up retail model delivers additional advantages to city government. It leaves a low footprint, which means it can be set up in small spaces downtown where land is at a premium, while preserving existing neighborhood structures. And the containers allow city governments to pop up where they choose, not just where vacant storefronts are located.
"We're always looking for ways to grow the holiday experience Downtown and PODS has allowed us to do just that to great success," Van Camp says. Drinkard agrees. "There really isn't anything else out there that fits this precise niche so well. PODS has worked seamlessly for us," he adds.
[maxbutton id="1"]
Get a Quote
Choose the service you need
Comments
Leave a Comment
Your email address will not be published. Required fields are marked *