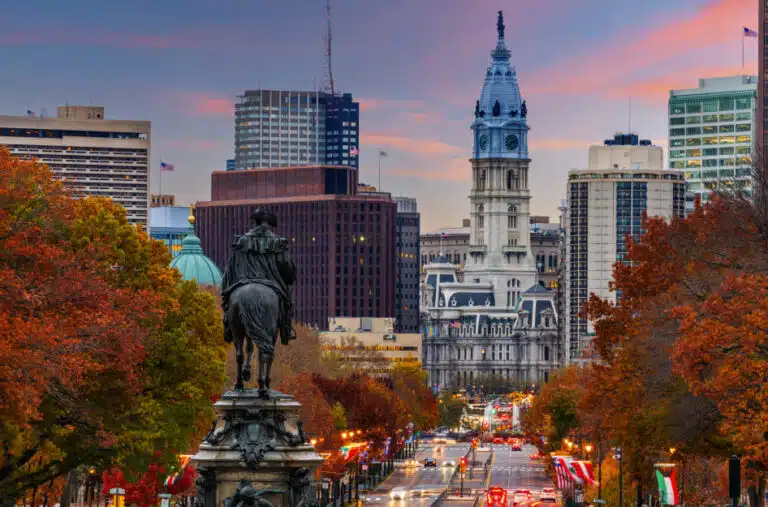 9 of the Safest Neighborhoods in Philadelphia in 2023
Philadelphia, PA, is one of the most vibrant cities on the East Coast. Not only is it a large, multicultural, bustling metropolis, but it also has plenty of opportunities if you're looking to start or expand your career, grow your family, and/or have an array of fun activities at your fingertips. Like many big cities, there are always people moving to and from Philadelphia, which was especially noticeable during and immediately after the pandemic. In fact, Philly experienced a 0.5 percent increase in its population between 2022 and 2023, which shows that there are plenty of people, both young and old, who feel at home and comfortable in this city — and that there are plenty of areas that make the list of safest neighborhoods in Philadelphia.

Moving to Philadelphia? PODS makes your move flexible with portable moving containers and storage built into every move. If you're moving to Philly, you can take advantage of PODS City Service — a containerized moving service specialized for big-city moves.
Because Philadelphia is a large city, however, crime statistics can't be ignored. Yes, Philadelphia has higher rates of violent and property crimes compared with the rest of Pennsylvania, but it also has lower crime rates than nearby Baltimore, MD, and similar rates to Washington, D.C. In addition, crime tends to be concentrated in certain areas, which is why it's so crucial to know which are the safest Philadelphia neighborhoods before you decide to purchase a home or rent.
If you're considering a move to one of the safe areas in Philadelphia, you're in luck because we have 9 options that you need to check out. But before we get started, let's cover the basics when it comes to the safe areas to live in Philadelphia.
Safest Places to Live in Philadelphia FAQs
Q: Are there any safe neighborhoods in Philadelphia, PA?
A: Plenty. University City, Somerton, and Fox Chase are some of the safest neighborhoods in Philadelphia with crime rates well below the Philadelphia average.
Q: What is the best area of Philadelphia to live in?
A: Depending on if you're looking to buy or rent will determine what area is best for you. People consider Manayunk, Fishtown, and Rittenhouse Square to be some of the best areas in Philadelphia to live.
Q: What is the safest zip code in Philadelphia?
A: According to Niche, the 19003 zip is the best zip code in Philadelphia.
Q: Is it safe to live in downtown Philadelphia?
A: Downtown Philadelphia is a safe place to live; however, like all big-city downtown areas, you should always be aware of your surroundings and make efforts to protect yourself and property, just in case.
Q: What is the safest part of Philadelphia?
A: There are many safe areas in Philadelphia, but per Niche, two of the safest neighborhoods are Bella Vista in South Philadelphia and Fitler Square in City Center.
Q: Where is the lowest crime rate in Philadelphia?
A: The safest neighborhood, according to Neighborhood Scout's crime rate data, is University City.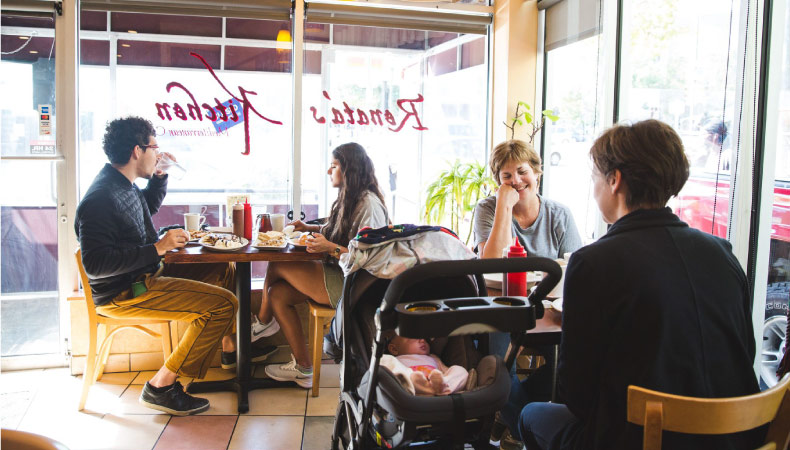 Restaurant in University City
(Source: University City District via Facebook)
Safest Neighborhoods in Philadelphia
All right! Without further ado, let's explore some of the safest neighborhoods in Philadelphia.
1. University City
University City is a great place for students, families, and young professionals. Thanks to the proximity of the University of Pennsylvania and Drexel University, as well as medical schools and hospitals, this area is one of the safest neighborhoods in Philadelphia and is always bustling. You can expect to see people out and about enjoying Clark Park, farmers' markets, and even pop-up flea markets. And with a large student population, the area is littered with plenty of cute coffee shops and restaurants that you could easily visit daily. In fact, people feel so safe in this area that it's known for its walkability — even after dark.
2. Pennypack Park
If you've always wanted to live near a beautiful green space but still have access to all the city amenities of Philadelphia, then consider moving to the Pennypack Park area. This neighborhood borders — you guessed it — the historic Pennypack Park, which was officially created in 1905 to protect the precious green areas in and around the city. And you'll be so glad they did, since there are all kinds of outdoor activities to enjoy there. Whether you want to explore the wandering trails, go jogging, biking, or even horseback riding, you can do so in this lush park.
With plenty of open spaces and native trees and plants, this is also a great place to do some bird or animal watching. After some time spent in the park, you may even forget you're in the middle of a wonderful Philly neighborhood full of local businesses, cafes, and shopping!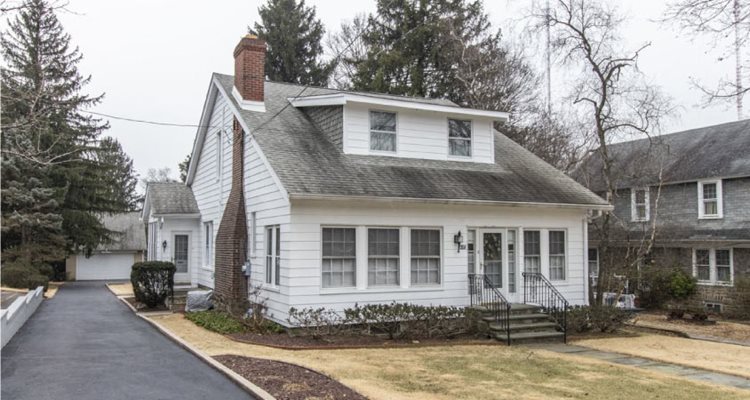 Upper Roxborough
(Source: Lisa Murphy, Realtor via Facebook)
3. Upper Roxborough
Whether you're thinking about growing your family or are just looking for the first place to call your own, Upper Roxborough could be just what you need when it comes to safe areas in Philadelphia. This neighborhood has enjoyed low crime rates for years, which is one of the reasons it's so popular with families and young professionals. There are some well-regarded schools in the area (despite a lower overall grade given by Niche), and there is easy access to essentials, such as grocery stores, pharmacies, and popular restaurants.
Some Upper Roxborough favorites? Taking walks in Wissahickon Valley Park, strolling through the shops on Ridge Avenue on a sunny day, and practicing your swing at the Walnut Lane Golf Club.
4. Somerton East
Not only is Somerton East considered one of the safest areas in Philly, but it may also be one of the most affordable. Its location also ensures it's an easy ride to work for commuters in the Philadelphia area, as well as to New York City and Baltimore, if you happen to work there. Additionally, there are lots of shops within easy walking distance, and residents find that it's a clean, quiet, and safe part of the city. People are friendly and love their little slice of the city, and you'll find essentials like drug stores and grocery stores are easily walkable.
This neighborhood is also close to Pennypack Park, so if you're interested in having a beautiful green park for walking, hiking, biking, or playing with the kids, this could be the place to do it.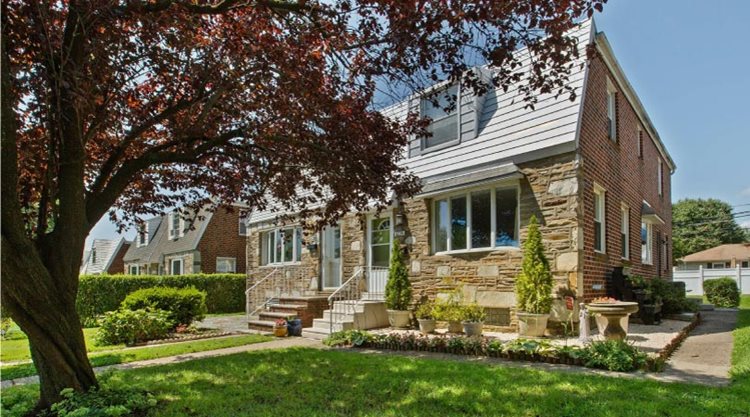 Academy Gardens
(Source: Mike Bottaro, Associate Broker, Realtor via Facebook)
5. Academy Gardens
Whether you're looking for a safe neighborhood in Philadelphia to purchase a house or you want to rent for the time being, you can't go wrong with Academy Gardens. This is a well-regarded neighborhood that may even feel more like a suburb. People take pride in their homes, and chances are, you'll always find children playing outside. Residents feel safe, and, therefore, the area is very walkable. You'll have access to not only some fantastic local restaurants and bars but also to plenty of parks and playgrounds.
Fluehr Park, in particular, is a great area to explore when you just want to get outside for a bit, and the Torresdale Playground is a must for the kids. If you like golf, you're also in luck, since there are two golf clubs in your area of town!
6. Fox Chase East
Average rent (one-bedroom):
$1,325
Average home value:
$306,300
Great for:
Families, diversity, nightlife, safety
An area that is just as good as you've heard (and more) is Fox Chase East, which offers residents a safe, suburban feel that's still close to the city. With plenty of fun bars and restaurants, as well as some eclectic shops, you'll be glad that you're able to call this neighborhood home. Fox Chase is also close to Pennypack Park, which is a great outdoor experience for all ages. Parents love to bring their kids there for a day outside, and other residents love the miles of trails available for hiking and biking.
There are lots of walkable places to grab brunch or lunch on the weekends, and you'll find that living here doesn't give you a bad commute if you're working elsewhere in the city. The crime rate in this area is below the city average, making it one of the safest Philadelphia neighborhoods, and citizens of the community take pride in their homes and welcome newcomers to their neighborhood.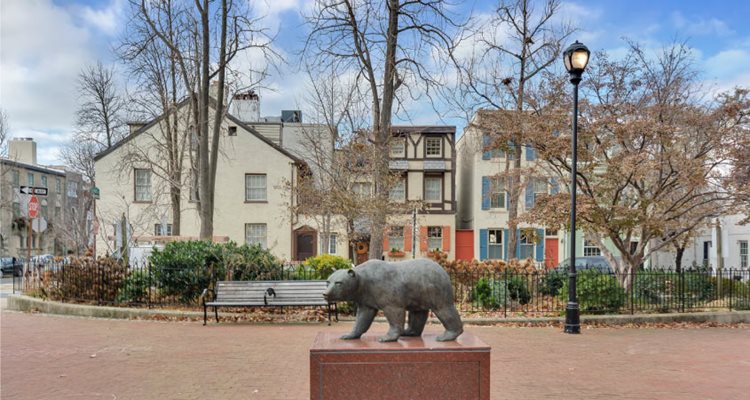 Fitler Square
(Source: Nicole Carter-Your Neighbor Your Realtor via Facebook)
7. Fitler Square
If you're looking for one of the safe neighborhoods in Philadelphia to call home that's close to all the fun but on the quieter side, you should look into Fitler Square. This area, along with Devil's Pocket and Grays Ferry, make up the larger community collectively referred to as Schuylkill. Just a short walk away is a great bar and restaurant scene, and you'll never get tired of trying new cuisines or visiting the trendiest places for breakfast, lunch, and dinner.
Residents feel safe walking around and love to take advantage of the easy access to parks — especially the Schuylkill River Trail for walks and jogs. But with tree-lined streets and beautiful homes, you may just choose to take your walks right there in the neighborhood!
8. Bella Vista
Average rent (one-bedroom):
$2,725
Average home value:
$484,500
If you want to have a good dose of old Philly charm in the neighborhood you decide to settle down in, you can't go wrong with
Bella Vista
. Named after the strong Italian influence it experienced over the years from the many immigrants that called it home, this area is also home to the largest outdoor curb market, known as the Italian Market. While it may be called the
Italian Market
, you can rest assured you're going to see food vendors from all kinds of countries, including Mexico, Cambodia, and Vietnam. This is one of the most popular areas for lots of Philadelphians to come explore, and it's going to be right in your neighborhood!
This neighborhood is very walkable and includes many green spaces that residents love to use for jogging, letting the kids play, or walking with the dog. And if you're a fan of bocce, you'll be happy to know that beautiful
Bardascino Park
has a very active and well-used bocce court for anyone and everyone to enjoy. If you're looking for a safe Philly neighborhood that offers a nice suburban feel but still keeps you close to all the fun, check out Bella Vista.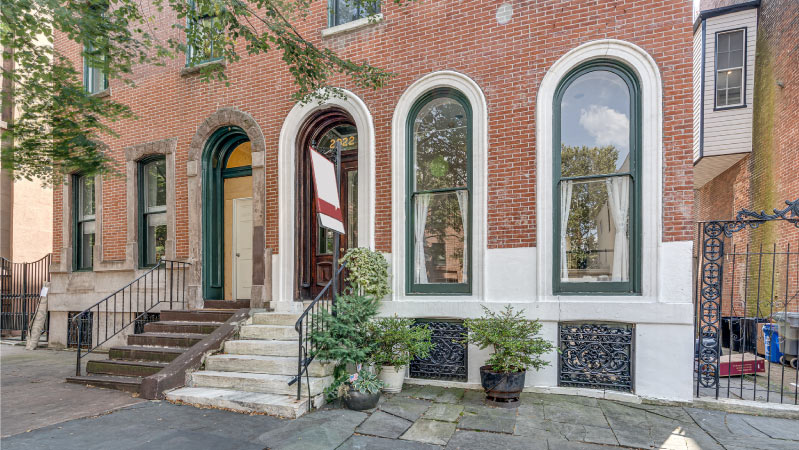 Fairmount
(Source: Steve Brady via Facebook)
9. Fairmount
Fairmount is a safe residential area that gives you easy access to cultural amenities such as museums, as well as a short commute to City Center. You'll have no problem finding green space to enjoy the outdoors, as Fairmount Park and Schuylkill River are very close. There are also lots of coffee shops, restaurants, and pubs all within easy walking distance, but if you need to drive, parking seems to be a lot less congested in this area than in other, more cramped areas of Philly.
Residents take pride in their safe community and look after one another in Fairmount. And the best part? Fairmount is uber dog friendly!
Let PODS Help You Move to Your New Philadelphia Neighborhood
No matter which of these nine safest areas in Philadelphia call your name, you're going to need to start planning how you'll get there. If you don't know where to start, not to worry,
because PODS can help
! Whether you're coming from L.A. or
N.Y.C.
, across the state, or down the street, we have moving and storage solutions that can meet your needs. With one of our storage containers, you can pack and load on your schedule and forget the hassle and stress of moving everything all at once.
Then, when you're ready to head to Philly, our team will load up your unit and safely drive it to your new address. You can unload at your own pace or
ask us for recommended help with the heavy stuff
. If you need storage, that's not a problem, either. You can always choose to store your belongings in a secure
PODS Storage Center
until you're ready to unload.
Editor's note: Monthly rental prices were rounded to the nearest $25 and home values were rounded to the nearest $100 for ease of reading.
Get a Quote
Choose the service you need
Comments
Leave a Comment
Your email address will not be published. Required fields are marked *