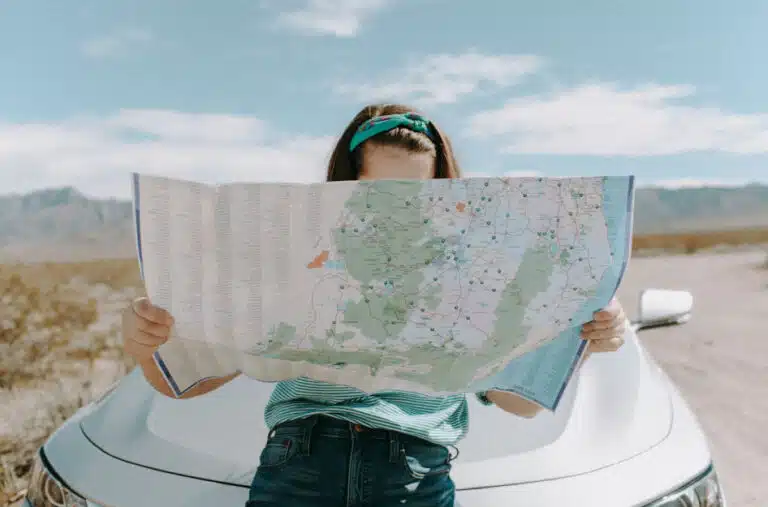 Why Are People Leaving California — and Where Are They Going?
The pandemic was a catalyst for relocations across the country when job losses, a new work-from-home culture, and shifted priorities nudged people out of expensive cities and states — a major one being California. In fact, the Los Angeles Times reported that people leaving California outnumbered newcomers by more than 700,000 between April 2020 and July 2022. California's net move-out numbers reached a record 407,000 between July 2021 and July 2022. And in 2022 alone, more than 343,000 people left California — the highest exodus of any state in the U.S.

Sure, it's easy to point the finger at the pandemic, but, according to the Department of Finance, the truth is, California has been struggling with resident retention for 20 years. Once the golden child for a burgeoning population, California has been losing its residents to other states every year since 2000.
So why are people leaving California? To put it plainly, the No. 1 reason is that California is expensive. The state consistently ranks in the country's top five priciest states — in 2023, the Golden State comes in at No. 2.
According to Zillow, the average home price in California is $747,400. Costs are somewhat stable right now (in fact, down 0.8 percent in the state since last year) but skyrocketed from just $538,000 since October 2018. Increasingly high costs of living, housing, and transportation coupled with an increase in crime, pollution, and congestion has caused many people to relocate to more affordable cities and states.
Businesses have also been on the move out of California. A 2022 report by the Hoover Institution shows 352 businesses leaving California and moving their headquarters to a different state between 2018 and 2022. High rent, high taxes, high costs of living for employees, and red tape are just a few reasons cited by the exiters. In San Francisco's Union Square retail hub alone, from 2019 to May 2023, the number of stores dropped from 207 to 107, and the center now has a 47 percent vacancy rate.
Curious where everyone is headed? We've analyzed the latest PODS moving data to find out which cities and states people in California are moving to in 2023. A few things we noticed they have in common? Green spaces, nice weather, good public transportation, and big city amenities — all with a more affordable cost of living.
Top Destination Cities for People Leaving California
Where are most Californians moving to? More and more Californians are packing up and heading for the stunning scenery of the Pacific Northwest and warm weather of the Southeast. Cities like Dallas, Seattle, Portland, Nashville, and Boise top the list of the most popular cities for people moving out of California.
Here's a closer look at these top city stats and overall appeal:
Dallas, Texas
1. Dallas, TX
It's only taken a few years, but Dallas has usurped Austin as the top spot for people moving from California to Texas. The median household income in Dallas is 35 percent lower than you'll find in Sacramento, while the overall cost of living is 17 percent lower in Dallas. Housing costs are also significantly lower in Dallas, where you'll pay 15 percent less for a one-bedroom rental, and home values are 35 percent less than in Sacramento. All this adds up to more bang for your buck and an adjusted quality of life.
Dallas locals have access to several professional sports teams and a rich nightlife full of decent bars, restaurants, live music, culture, and art. With a population of around 1.3 million, it's one of the biggest cities in Texas, and, when paired with its sister city Fort Worth, the fourth-largest metroplex in the country. The Dallas-Fort Worth International Airport keeps the city well connected, as well. And to top it all off, relocators will also appreciate the lack of state income tax in Texas — one of the big reasons there are people leaving California and booking it to the Lone Star State.
Thinking about moving from Texas to California? You're going to want to make sure you read this first!
2. Seattle, WA
Moving from San Francisco to Seattle will stretch your dollar further, especially when it comes to housing and health costs. Although the median income is only about $20,000 less in Seattle, you'll save the difference in rental costs, while also being able to cut your general cost of living expenses down by almost half. Seattle may be one of the more expensive cities people flock to in the Pacific Northwest, but for those coming from the likes of San Francisco, it'll feel much more affordable.
Seattle and San Francisco are somewhat similar when it comes to weather, with Seattle having more rain and less variation between summer and winter temperatures. And, like San Fran, Seattle is a tech city full of culture, live music, and a relaxed but driven mindset. Residents here have their pick of amenities from national landmarks like the Space Needle (with stellar views over the city), good transportation, farmers' markets and food stalls, gorgeous outdoor parks, and a good sense of community. Seattle is also a super bike-friendly city with great public transit — full of young, progressive, and artistic residents — much like San Francisco.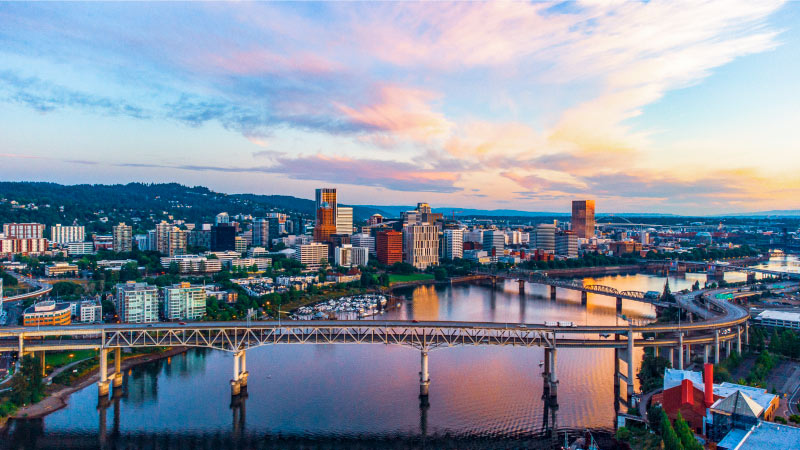 Portland, Oregon
3. Portland, OR
It may come as a shock that the median income is $8,700 higher in Portland than in Los Angeles. When paired with the lower cost of living and drastically lower housing costs — renting a one-bedroom is more than $1,000 cheaper on average in Portland, and the average home value runs about $395,000 less — Californians will see that it's easy to have a higher quality of life in Portland.
Portland may not be as big or diverse as Los Angeles in terms of demographics, but it does offer a strong community vibe that is particularly inclusive to the LGBTQ community. Big-city Californians who move here will appreciate the public transit system, no sales tax, and a surprising variety of excellent restaurants and bars. And whereas Los Angeles is a car-heavy city, Portland is easy to navigate on foot or by bike. Note: Coastal Californians should be prepared to swap beach days with hiking, waterfalls, and bike trails.
4. Nashville, TN
Residents living in Nashville may earn about $24,000 less a year than those in San Diego, but they'll pay a lot less for things like groceries, transportation, and housing. In fact, average home values in Nashville are a whopping $532,000 less than San Diego (which means you'd have to work roughly 20 years more in San Diego to make up for the housing price difference). Renting in Music City is also cheaper at about $1,200 less a month, while the overall cost of living is 32 percent lower, making that $24,000 difference worth even less.
Both Nashville and San Diego have a median age of
around 34
(the Southern California city is slightly older by just under a year), making them both young, energetic locales. And those new to Nashville will appreciate the lively bar and music scene, delicious takes on Southern cuisine, and mostly moderate weather. Live music is available day and night, parks and beautiful green spaces are abundant, and there is a thriving arts scene.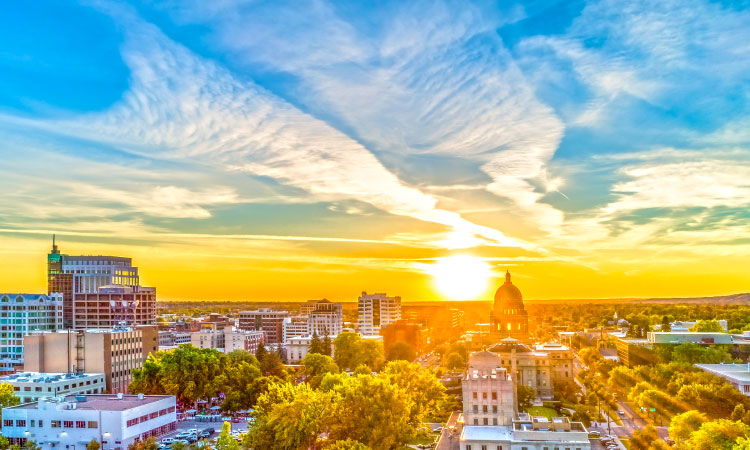 Boise, Idaho
5. Boise, ID
Yes, Santa Barbara is one of the most beautiful places to live in California, but the high cost of living pushes out a lot of residents. The cost of living in Boise, however, is nearly 68 percent lower than in Santa Barbara — but it's the steep dip in housing costs that are the real catch. The average Santa Barbara home is priced at more than $1.7 million, while Boise's average is just over $465,000. Relocators from California will also appreciate Boise's lower tax rate, including the 6 percent sales tax.
Outdoor enthusiasts are flocking to Boise for its small-town community feel and gorgeous scenery (it basically feels like you're living inside of a park). And while there are plenty of bars and restaurants to enjoy, the biggest draw is the city's access to wild nature, miles and miles of maintained trails, and all-season outdoor activities. People are catching on to everything Boise has to offer, including its low cost of living and high quality of life.
Q: What age group is leaving California?
A: According to a study by the Public Policy Institute of California, the demographics of the people leaving California are scattered across the board with no specific pattern or attributes in terms of age, education, or income.
Top Destination States for People Leaving California
Where are Californians moving to in 2023? The most popular move-to state from California in 2023 is Texas, followed by Florida. Washington, Oregon, and Tennessee also made the top five. Again, we're seeing destinations with warm and sunny weather, lower taxes (including no state income tax), and abundant access to nature.
Here's a closer look at the top five states people are moving to from California: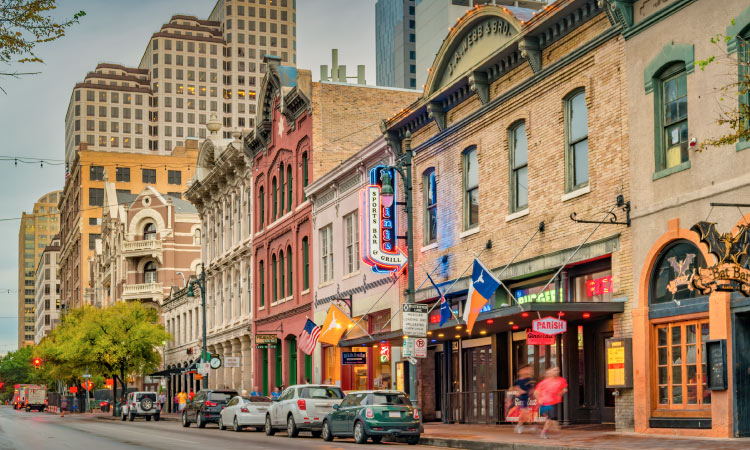 Austin, Texas
1. Texas
For years, the great big state of Texas has been wooing residents from California, and this year takes the lead as the top state for California relocations. For many finance-strained Californians, the pandemic was the final push they needed to call it quits and move to the Lone Star State, where cities like Austin, Dallas, San Antonio, and Houston — all cities that made the top 15 out-of-state destinations for Californians — offer up sunny weather, job opportunities, and culture.
Texas can also boast that its cost of living is lower than the national average index of 100. The median household income may be almost $16,800 less than you'll find in California, but the substantial drop in cost for homes, rentals, and everyday expenses — not to mention the fact that there's no state income tax — are big reasons why people are leaving California and moving to Texas.

Q: What state are Californians moving to the most?
A: The Lone Star State takes the top honors for folks leaving California — for all the reasons we explore above — followed closely by Florida.
2. Florida
Florida may get a lot of flack, but numbers don't lie. The Sunshine State has been a go-to state for relocations, including those from California. Floridians make an average of $22,000 less a year than Californians, but the overall cost of living in Florida is much lower. During the pandemic, many people who wintered in Florida decided to stay permanently. Florida's real estate market is booming, and even though values have gone up by almost 75 percent in the last five years, the average home value is still close to 50 percent less than what you'd find in California.
Florida offers up familiar sunny weather with mild winters and hundreds of miles of sandy coastline, so it's easy to see why this Southern state has attracted so many people from California. Flip flops, t-shirts, and sunglasses are wardrobe mainstays in both states, so you won't even have to shop for new clothes (unless you want to)!
Moving to Florida from California? Here's everything you need to know about how to make the move and what to expect along the way.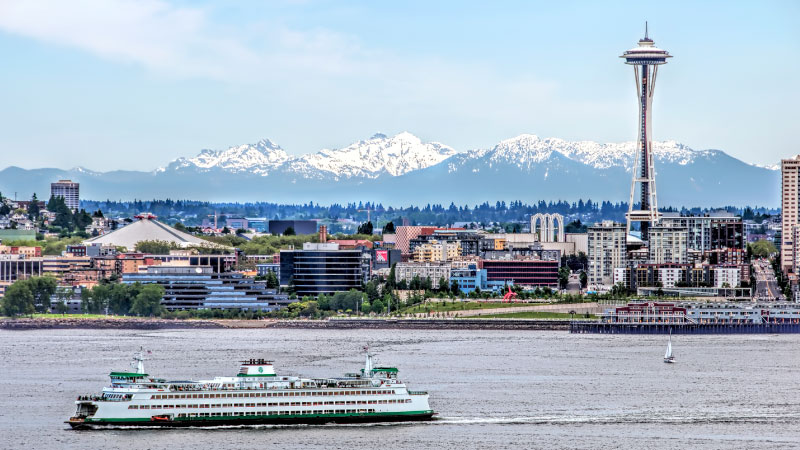 Seattle, Washington
3. Washington
Just a few days' drive up the coast and Californians can cross the border into their new home state of Washington. While the weather here isn't quite as sun soaked as Southern Californians may be used to, relocators coming from Central and Northern California may find it quite similar. Cities like Seattle draw in transplants looking for bustling city life surrounded by nature and mountains. (Sounds a lot like California, yeah?) The average household income in Washington is only a few thousand dollars less, so you'll see the most difference in how far it'll stretch. Housing is one area of relief, as average home values are around 24 percent less than in California.
The moody state of Washington is likely to appeal most to Californians who appreciate the outdoors and are pining for a place with great public transportation. Washington also has a relatively low median age, just like California. Seattle is the most bopping city in the state and where you'll find the highest population and your standard big-city amenities, like noteworthy museums, performance venues, and cultural landmarks.

Q: Is it worth moving out of California?
A: According to the metrics we've demonstrated, leaving California is a smart move — if financial considerations are your only barometer. The state has plenty of amazing attributes, including a gorgeous landscape that varies from desert to mountains to stunning coastline; cultural meccas like San Francisco and San Diego; and social safety nets (you get what you pay for). But for folks looking for a less expensive way of life, the Golden State may be a little too pricey.
4. Tennessee
The median household income in Tennessee may be $26,000 shy of what it is in California, but the change in cost of living in this southern state will have you feeling rich, particularly if you're planning to work remotely with your California-based job. Tennessee's cost of living runs below the national average and ranks a staggering 60 points lower than California. Average home values are over $430,000 less in Tennessee, while rent is around $925 cheaper per month for a one-bedroom. There's also no state income tax here, a major boon for Californians.
Tennessee weather is warm and winters are mild, which can be a particular plus for Californians used to the sun or those who are craving more of it. There's also a ton of tasty food, loads of southern hospitality, and views of the famous Smoky Mountains. Although Tennessee is a landlocked state, residents still have access to waterfronts via the state's variety of lakes and rivers. There's also no shortage of music festivals and fairs, outdoor activities, and whiskey (or moonshine if you want to try something new). Did we mention the out-of-this-world barbecue?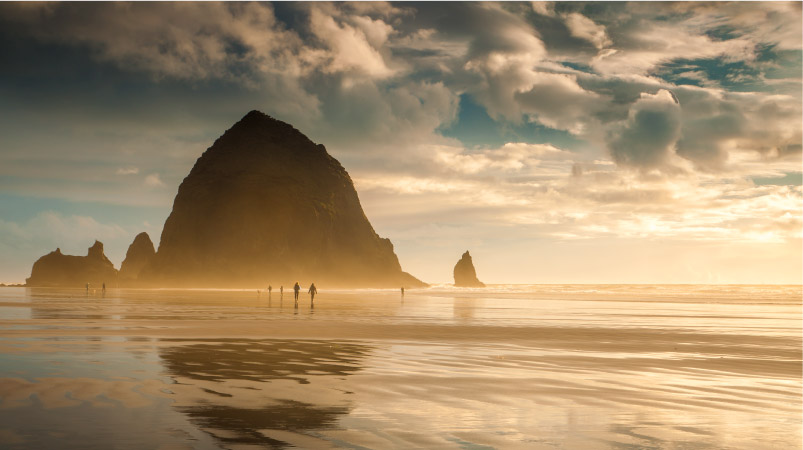 Cannon Beach, Oregon
5. Oregon
Another Pacific Northwest ringer for relocators, Oregon is known for its stunning scenery and outdoor recreation. The cost of living here rests above the national average but is still noticeably below the cost of living in California. The median household income is around $14,000 less here, but the cost of housing is over 30 percent lower than in the Golden State (although, as mentioned, Portlanders actually have a higher median income than some residents in California).
Big draws to Oregon are the wide open spaces, small-town vibes, and gorgeous views from the rocky coast and dramatic mountains to the lush forest and desert. It's a four-season state where fall and summer take the cake with colorful foliage and sunny days that are warm but not oppressive, respectively. The drawback? The rain. Something many Southern Californians may not be used to. But if you can stick it out, you'll be rewarded with a good quality of life, access to a wide range of spectacular outdoor activities, and zero percent sales tax.
Ready to put California in your rearview? PODS makes moving out of California simple with flexible moving options, built-in storage, and flexible scheduling. Even if you're leaving Los Angeles or moving out of San Francisco, we've got you covered with PODS City Service, the easy way to move out of a big city.

Alex Keight is a writer who has lived — and moved — all over the country and the world. She is an expert at packing, whether it's for a long-distance move or a short weekend trip. When she's not writing or on the move, Alex spends her time giving her cat booty pats, cooking up dishes in the kitchen, and buying way more books than she knows she'll ever actually get to reading.

Editor's Note: Monthly rental prices were rounded to the nearest $25 and median home incomes and home values were rounded to the nearest $100 for ease of reading.

(Source for image featured at top: Leah Kelley via Pexels)
Get a Quote
Choose the service you need
Comments
Leave a Comment
Your email address will not be published. Required fields are marked *