PODS VS. U-BOX
Compare us side by side, and you'll see it's hardly a comparison at all.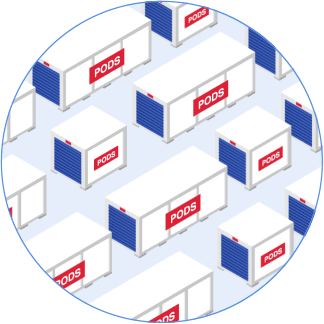 This may take up to 30 seconds.
This may take up to 30 seconds.
We're searching over 200,000 containers to find you the best price.
We're searching over 200,000 containers to find you the best price.
PODS VS. U-Box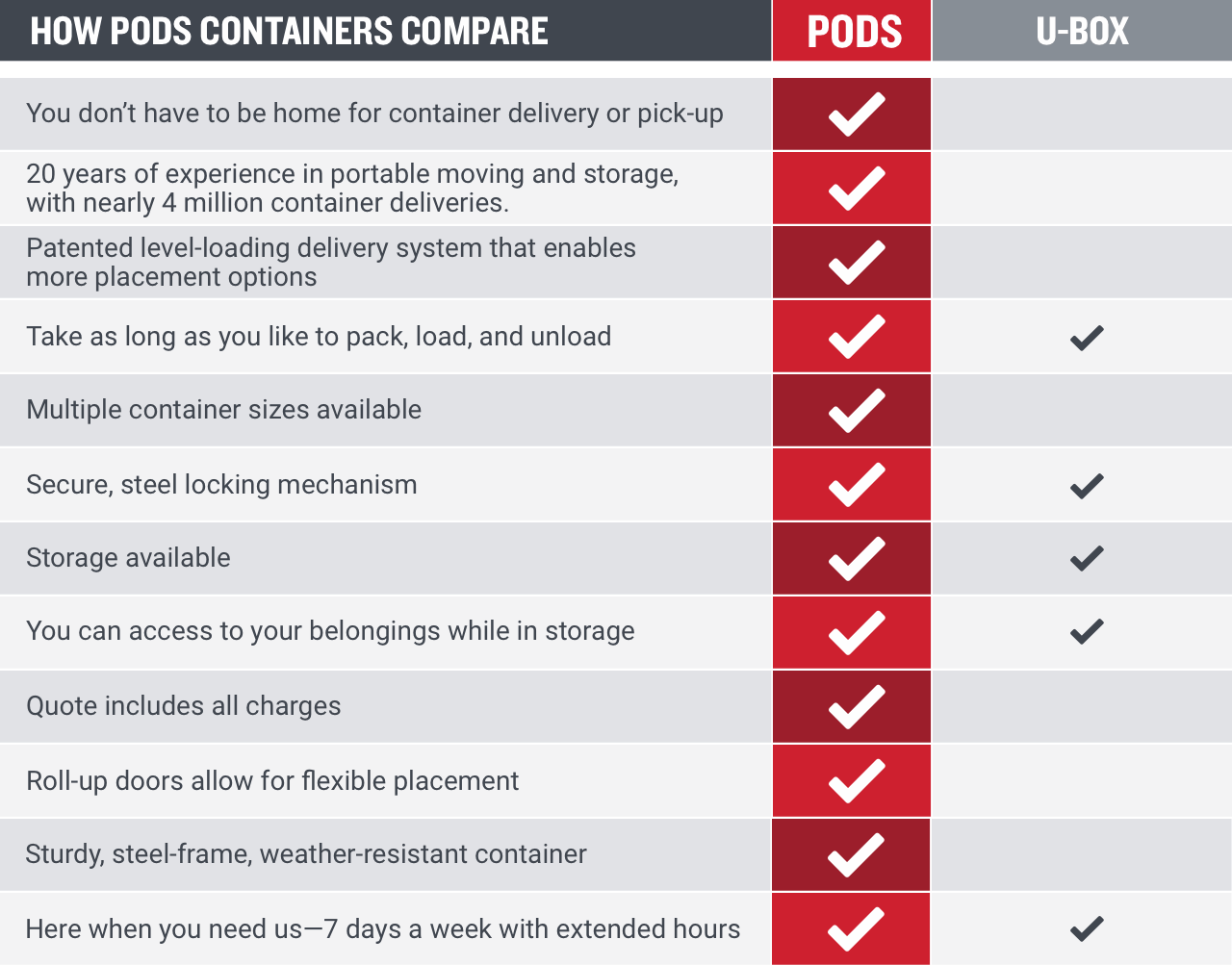 WHY U-BOX DOESN'T MEASURE UP TO PODS
We helped revolutionize moving and storage more
than 20 years ago by redesigning the experience
around you. Since then, copycats like U-Haul's U-Box
service have popped up all over the place. But
if you look at them closely, you'll see they can't
match our experience, fleet size, or huge national
network. In fact, it's not even close. Have a look.
PODS RANKS #1 IN CUSTOMER SATISFACTION FOR MOVING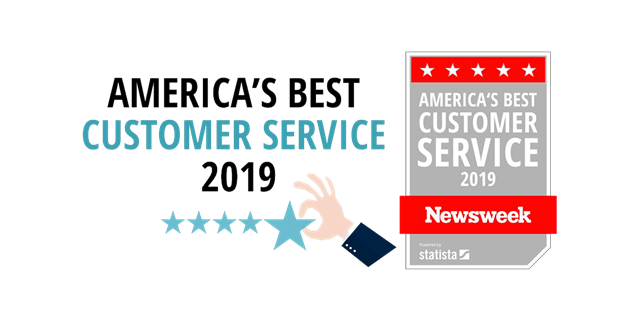 It's always nice to get some love, especially when it's in recognition of how we treat our customers. That's why we're excited to announce that an independent survey commissioned by Newsweek Magazine ranked PODS #1 in customer satisfaction for the moving category, where we beat out competitors like U-Haul.
WHAT TO LOOK OUT FOR IF YOU'RE LOOKING AT U-BOX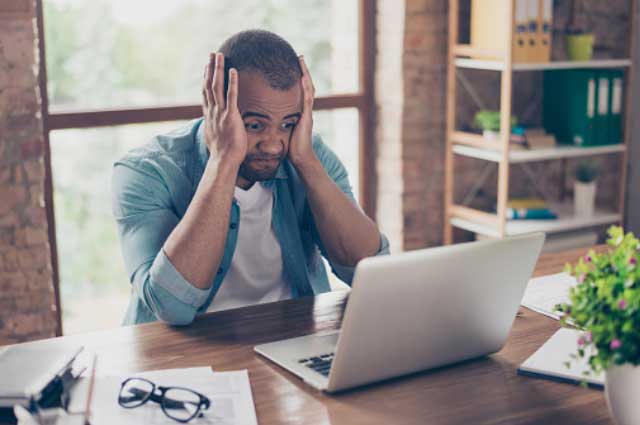 ONLY ONE CONTAINER SIZE OPTION
A larger container is nice to have, especially if
you're moving and storing lots of stuff. But you
can't get that with U-Box. They only offer a single 8'
container size, while PODS gives you 16' and 7'
options. So, you'd have to rent 2 U-Box containers
to get the capacity of a single 16' PODS container.
It's also worth noting that our 7' containers are also
7' wide, as opposed to 5' wide for U-Box's 8'
container. That means our container actually offers
385 cubic feet of interior space versus 257 cubic
feet for U-Box's.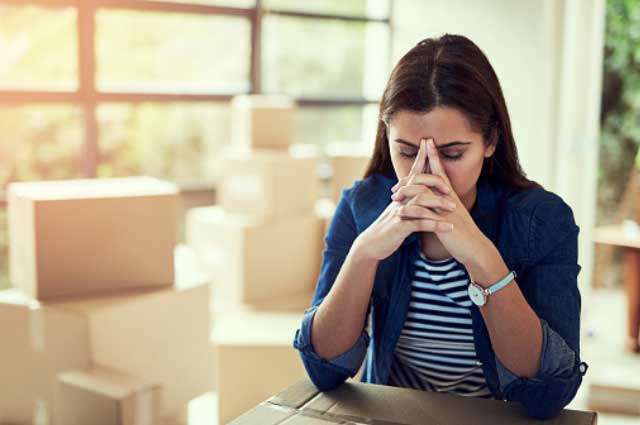 Container Quality
PODS containers are sturdy, steel-framed, and
weather resistant, with thick plywood walls covered
in aluminum or fiberglass on the exterior. U-Box
containers, by comparison, are wood-framed,
plywood boxes covered by a simple tarp, which can
be a hassle to remove and replace before and after
loading and unloading. Remember that we're
talking about your stuff here, so which one would
you feel better about using?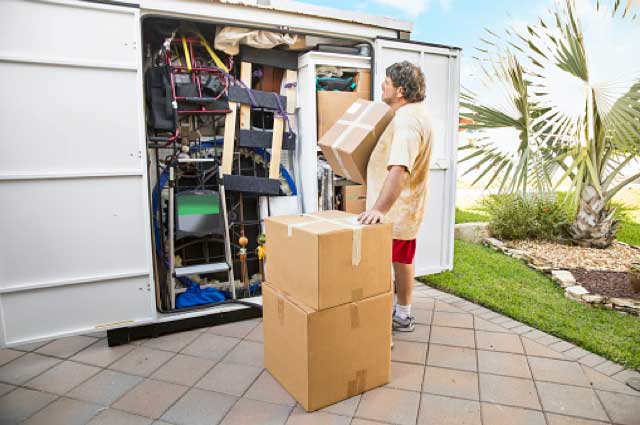 Innovation
Let's face it. U-Box is just U-Haul's attempt to get in
on portable moving and storage. That's great!
People should have options. But PODS has built our
business on portability. We've got far more
knowledge and experience with portable moving
and storage containers. And we've invested in
important innovations like PODZILLA, our patented
level-lift system that gently and carefully moves
your container onto and off of our trucks. U-Box
can't say that.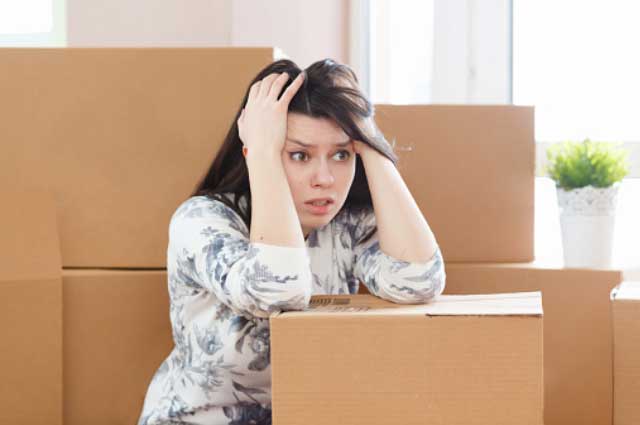 COMPROMISED QUALITY FOR A CHEAPER PRICE
Our 20 years of experience and huge, nationwide
network means we've become very efficient. But
we'll never compromise on the excellent quality of
our service, which is reflected in our #1 ranking for
customer service by Newsweek. So if you see a
better price out there, think about what they had to
compromise on to get there.
We've Seen it All. MOved It all. stored it all.
How PODS Works
Get It & Load It
Unlike other moving companies, we deliver a container to you. Take all the time you need to load it. And if you want help, we can connect you with packing and loading companies in your area.
Keep It
Choose storage
on site
and keep your container on your property for as long as you like to enjoy easy, anytime access to your stuff.
Store It
Why do self storage? We'll pick up your loaded container and bring it to a local PODS Storage Center, where it will be safe and secure until you need it again.
Move It
We'll take care of driving your portable container to your new home, whether you're moving across town or across the country.

MOVING AND STORAGE THE WAY YOU NEED IT DONE 

DIY moving to full-service options

We do all the driving
We deliver and pick-up your container and can move it across town or across the country.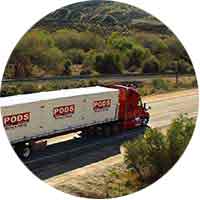 Huge nationwide network
PODS covers 47 states, including Hawaii. So we go where you're going.
Let's Get Started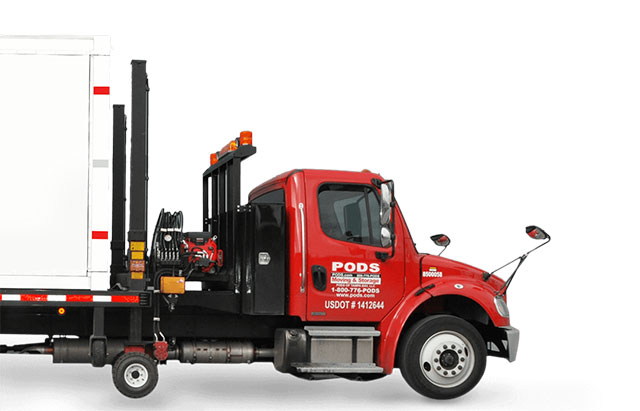 Choose the service you need.