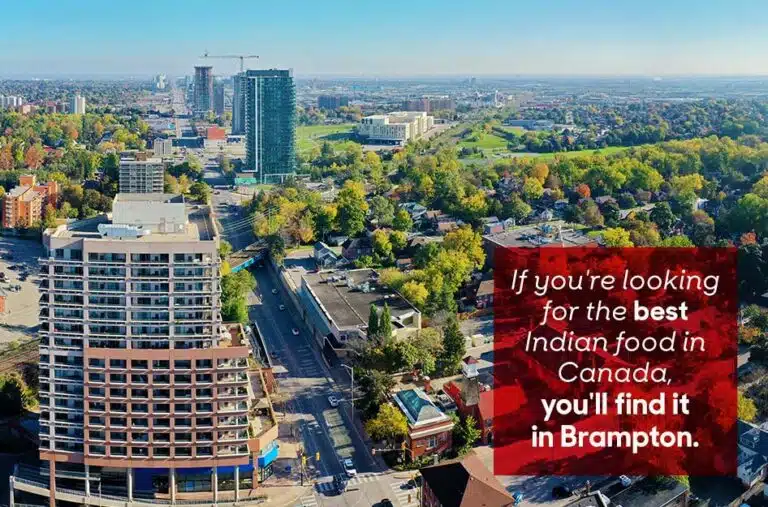 Moving to Brampton — Canada's Cultural Crossroads
Seeking a fun, family-friendly environment with a community vibe? With a focus on safety, culture, and amenities, Brampton fully caters to its residents. Families flock to Brampton neighbourhoods because of the spacious lots, which allow kids the freedom to play and make tons of friends. With pubs, clubs, and lounges, Brampton's nightlife is a hit with young professionals, and residents aged 55+ are drawn to its highly active community and social planning.
What's it like living in Brampton? Brampton is a friendly and inviting city, with a huge emphasis on cuisine, culture, and connection. Nearly half of ethnic residents are of South Asian descent, followed closely by European and Black communities. If you're looking for the best Indian food in Canada, you've found it.
With the youngest population in the GTA, this city is surging with energy and is a hotspot for food and entertainment. Read on to find out why Brampton is one of the fastest-growing cities in Canada.
Brampton at a glance
With a unique combination of urban and outdoor living, Brampton is a wonderful city to live and work in. You're never far from activity-rich conservation areas and sports fields including soccer, cricket, baseball, football, and lacrosse, and there's even talk of a new outdoor sports stadium on the way for soccer, cricket, and field hockey.
You and your kids can explore the colourful beauty of Brampton by riding your bikes through the multi-use paths of the Flower City of Canada. Downtown's Gage Park has lush gardens and shops near it where you can grab tacos and churros, or a treat from one of the many bakeries.
For a memorable date night, Peel Art Gallery, Museum, and Archive (PAMA) and Beaux-Arts Brampton offer a unique experience for art lovers, as well as culinary delights that you can't miss. If art isn't your thing, visit Ctrl-V virtual reality arcade or Battle Archery to feel like a kid again.
As winter approaches, downtown lights up for the Winter Lights Festival and Brampton offers a variety of outdoor sports. You can ice skate downtown, snowboard, ski, and tube at local hills, wander through the holiday light displays, and indulge in international cuisine.
One of Ontario's largest cities, the population of Brampton is over 648,000 (2021). Like much of Ontario, winters in Brampton are cold and snowy; and summers are warm. Brampton weather typically ranges from -10 °C to 27 °C throughout the year, and rarely falls below -19 °C or rises above 31 °C. The four seasons in Brampton make it a great choice for those who seek an adventurous lifestyle.
Is Brampton a nice place to live?
Absolutely! People who live here say they love the sense of community, and the diversity makes it an attractive place for new immigrants to Canada. It's easy to see why so many make this their home.
Paradise for Foodies
A foodie's paradise, the ethnic cuisine here is so diverse that people come from nearby Caledon and Mississauga to treat themselves to all kinds of dining experiences. Among the many options here are goat roti, mammoth poutine, paneer tikka, and fresh fish and chips made from scratch.
From specialty food shops to food courts to fine dining restaurants offering international cuisine, there's (quite literally) a world of food to explore.
Downtown Brampton: A Cultural Hotspot
The city of Brampton is a cultural crossroads in Canada and an entertainment destination in the Greater Toronto Area. Brampton's impressive mosaic is reflected in the local food, theatre, and music scene. Here's a quick glimpse of Brampton's scene.
Downtown Brampton is known for hosting various annual events, such as National Indigenous Peoples Day, the Great India Carnival, Pride, the Winter Lights Festival, and concerts in nearby Gage Park. Gage Park also transforms its walking path into a skating rink every winter.
On Saturday mornings, June through October, be sure to head to Gage Park to visit the popular Brampton Farmers Market, where you can find fresh produce and handmade items. And every summer, from May to September, the city comes together for free cultural and music events in Garden Square, such as Pride and International Women's Day.
Peel Art Gallery, Museum, and Archives (PAMA) collects and shares the stories of Peel Region. Featuring cultural and historical works created by a wide range of artists, at PAMA you will find art from Indigenous Peoples, sports figures, and even Carl Taçon, who creates large and intricate marble sculptures that fool the eye.
Also downtown, the Rose Theatre hosts a full schedule of comedy, concerts, and theatre performances, and with its horseshoe shape, the view of the stage from every seat is remarkable.
Outdoor Activities in Brampton
Your kids will go bananas over the local conservation areas. Take them fishing or get your leg workout in with a paddle boat rental at Professor's Lake. Kids love the shallow areas that have lots of seaweed, where the sunlight reveals the creatures swimming below. Canoes, kayaks, paddle boards, and corcls are also available to rent.
Claireville and Heart Lake Conservation Areas are popular with families, bird-watchers, hikers, and photographers. At Claireville, you can bike the many trails and rent horses for trail rides.
Heart Lake offers treetop trekking, boat rentals, fishing, and the self-guided Watershed TreeCaching trail where kids can learn about tree species and watershed heritage using smartphone technology.
For winter fun, take lessons on the only ski hill in the city at Chinguacousy Park. The resort has a skating trail, snowboarding, tubing, curling, as well as year-round tennis. In the warmer months, Chinguacousy offers paddle boats, splash pads, mini golf, picnic areas, beach volleyball courts, and a skateboard park.
An absolute favourite among Brampton's children, El Dorado Park is a hidden gem. Every year, excited families come together to picnic and watch the salmon run along the Credit River, which is surrounded by gorgeous parks and trails.
Brampton is only minutes from the breathtaking Cheltenham Badlands. Grey, red, and faint streaks of green colour can be seen in the eroded Queenston Shale. Thousands of tourists visit this magnificent geological wonder every year.
Shopping in Brampton
If you're an admitted shopaholic, (or still in denial, we don't judge!), you'll love Brampton's shopping malls. During the warmer months, Trinity Commons outdoor mall is a great place to wander. The favourite among locals however, is Bramalea City Centre. With all the premier shopping and dining options, the mall is a great place to spend the day. Following the lead of many Toronto and Mississauga malls, BCC's rooftop gardens have even been fitted with beehives to boost local pollination and the city's ecosystem.
Why are people moving to Brampton?
Brampton is a popular relocation destination for people from Toronto. People relocate here to take advantage of the lower cost of living, multiculturalism, and family-centred options for entertainment.
If you love to travel or you have family in other countries, being so close to Toronto Pearson International Airport is extremely convenient. The airport has historically been one of the most significant employers in this area — so stay in Brampton long enough and you may find yourself knowing a few people who work there (if you don't end up working there yourself)!
This culturally rich city is full of life and offers something for everyone. Over 200 cultures and 70 languages are represented in Brampton. Young families dominate most areas of the city, but young professionals and seniors also enjoy all that Brampton has to offer.
Residents of Brampton enjoy a safe, high-quality suburban lifestyle, as well as a well-developed economic base. The city is currently one of only five Canadian cities designated as an International Safe Community by the World Health Organization.
This multicultural city in Ontario is home to many Indigenous people, and the growing influx of immigrants in the 1950s paved the way for its development. If you're lucky enough to live here, you can enjoy great food, art, culture, music, and wonderful neighbours.
Is It Expensive to Live in Brampton?
Gone are the days of affordable housing in the suburbs. Brampton's home prices have skyrocketed in the past few years. And while you'll still save if you're moving from Toronto – home prices here are around $300,000 lower — houses in Brampton still sell for an average of $730,000. While your dollar will stretch here more than in the Six, it won't go as far as it would have in the past.
As for your other expenses, the Brampton cost of living ranks it as the 12th most expensive city in Ontario, meaning you'll save some if you're coming from more expensive places, but spend more if not. An underrated bonus? With so many restaurants, salons, and boutiques, competition is fierce among small businesses. Compared to nearby cities such as Vaughan and Mississauga, you'll find clothing, haircuts, and dining out to be more affordable here, and the choices are endless.
Brampton Transit
Getting around is convenient, too. Brampton is served by Brampton Transit, which includes the Züm rapid transit system, making getting around the city very efficient. There are GO train stops in Brampton and Bramalea, which connects to local transportation conveniently, so getting to Toronto is a breeze.
Brampton is surrounded by 3 highways: the 410, 401, and 407 for easy access to Toronto, Mississauga, and the Toronto International Airport. From Brampton, the commute to the GTA is easy, even in heavy traffic, which is common in this region.
Jobs and Entrepreneurship in Brampton
The city's population is expected to grow to 725,000 by 2031, and Ontario has designated Brampton as an urban growth area. Brampton is poised to become a major global economic player. A city of more than 8,000 businesses, Brampton boasts a solid job market and strives to assist entrepreneurs in their endeavours.
Brampton's strong fiscal management, corporate stability, and business-friendly environment is catapulting it to new heights. Rogers Communication just committed $100 million for a new downtown innovation campus, which will create thousands of tech jobs in the city. This 200,000 square-foot campus will be home to 3,000 employees and is in the heart of Canada's Innovation Corridor. This is exciting news for Brampton folks wanting to work in tech and be closer to home.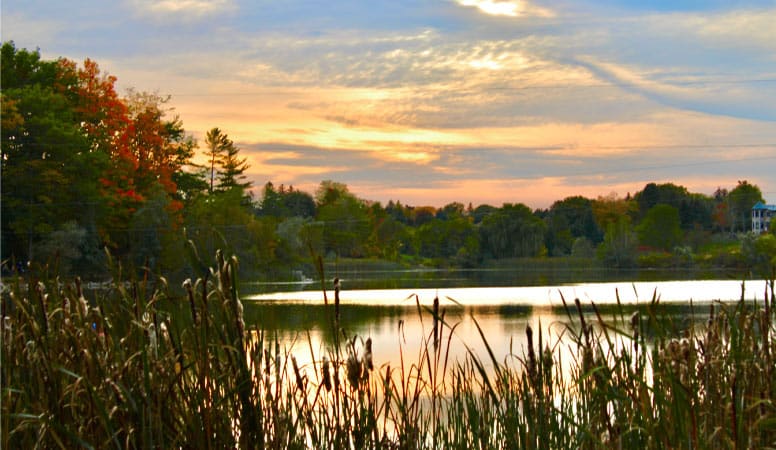 Is It Worth Living in Brampton?
Yes! If you're looking for a city that is multicultural, affordable, and within easy reach of Toronto, Brampton might be it. This city has a lot to offer in terms of leisure, amenities, and focus on the future. And Brampton's City Council seems to think so, too! They unanimously approved Brampton 2040 Vision, an exciting transformation plan for the city.
What Are the Best Areas to Live in Brampton?
If you're interested in moving to Brampton, check out these five popular neighbourhoods:
Peel Village
Peel Village is unique in that it combines residential and industrial components. This planned community is walkable and conveniently connected to transit. It provides easy access to downtown and the Brampton mall. This area is popular with young professionals, seniors, and families because of its local employment, easy transit, and proximity to the city.
Southgate
Located in a village setting and known for its classic homes and large lots, Southgate is an older neighbourhood. This is a community that was built in the 60s and 70s, that offers lots of schools and green space. The location is close to highway 410, making it convenient for commuters who work in Mississauga. Southgate is also in close proximity to downtown and provides a variety of amenities.
Fletcher's Meadows
This community was specifically built for families, and people come from all over Brampton to use the popular Cassie Campbell Community Centre. Fletcher's Meadows is known for larger lots and homes and the GO station is right in your backyard so the commute to downtown Toronto is quick. Only 20 minutes away from the Toronto Pearson International Airport, this neighbourhood is perfect for jet-setting professionals or families with frequent visitors.
Snell Grove
One of the smallest residential areas in Brampton, Snell Grove borders on Caledon and is known for its slower pace tucked away in the corner of the city. Because of its proximity to the 410 and balance of access to green space and shopping, this neighbourhood also appeals to families.
Vales of Castlemore
Vales of Castlemore is known for its upscale estate homes ranging in size from 3,000-6,000 square feet. Some of the city's largest mansions are found in this neighbourhood, which was built in the 1990s and early 2000s. People like this area for its easy access to highway 427 for quick trips or commuting to Mississauga, lots of sports fields, trails, and schools for the kids, and a real sense of community that's characteristic of Brampton.
Tips for Moving to Brampton?
With its many work opportunities and diverse cultural offerings, Brampton, Ontario, has a lot to offer and continues to attract residents from all over the country.
If Brampton is on your radar and you're getting ready to plan your move, you need to dive in and make a decision on how you'll get there. You have some choices to make:
Full-Service Movers
Although full-service moving eliminates much of the stress associated with moving, it isn't the cheapest option. Full-service movers pack, load, transport, and unpack everything on your behalf. Make sure to ask a lot of questions of your Brampton movers, including if they're insured. Get at least three quotes and make sure you have everything in writing. Consider if Brampton storage is required depending on where you're moving from.
Rental Truck
A DIY move with friends and a rental truck is a less expensive option. However, when you add up fuel costs, insurance, and other expenses along the way, it can still be pricey to rent a truck and spring for pizza for your friends. See how moving containers compare to renting a truck.
Portable Moving Containers
When you're ready to make your move to Brampton, consider making it a flexible one with portable moving and storage containers. You can have a container delivered right to your driveway where you can take your time packing and loading at your own pace. Once you're ready, PODS will pick it up and take it directly to your Brampton home, or keep it in a local PODS Storage Centre until you're ready for it. A great option if you don't have your perfect home locked down yet or need some extra time to move in.
No matter which neighbourhood you choose to move to or how you get there, Brampton is a haven for those looking to live in a diverse, growing city with an eye toward the horizon.
---
Karen Bodkin is a Canadian freelance writer who is a frequent contributor to the PODS Blog. When she's not writing, you can find her exploring the great outdoors.
Get a Quote
Choose the service you need
Comments
Leave a Comment
Your email address will not be published. Required fields are marked *